The RV had just had it's B-service from Mercedes Benz and also had to have the brake light switch replaced which the dealer said failed because we were towing on the last trip to Yellowstone & Utah – still working to verify that. Anyway, we decided to do a run up the coast (no Subi behind us) to Kirk Creek Campground which is about 20 miles north of Ragged Point up Hwy 1 in Big Sur. We had reservations for midweek Monday to Thursday and as luck would have it a storm was also forecast for the same.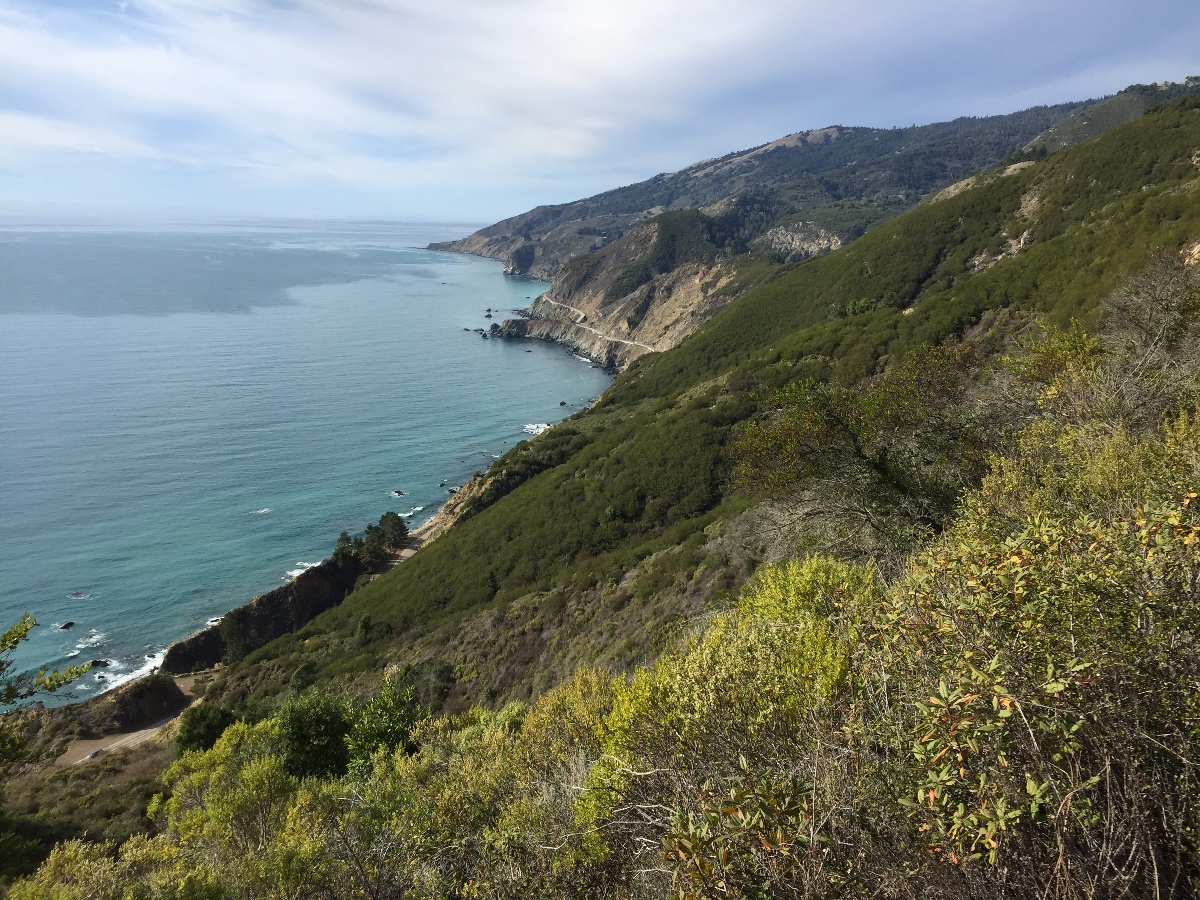 Monday afternoon was still good weather so we set off up Vicente Flat Trail that started right behind the campground. Challenging trail with great views up & down the coast, as we worked up a good sweat crossing many contours till we reached 1800′ at just under 4 miles.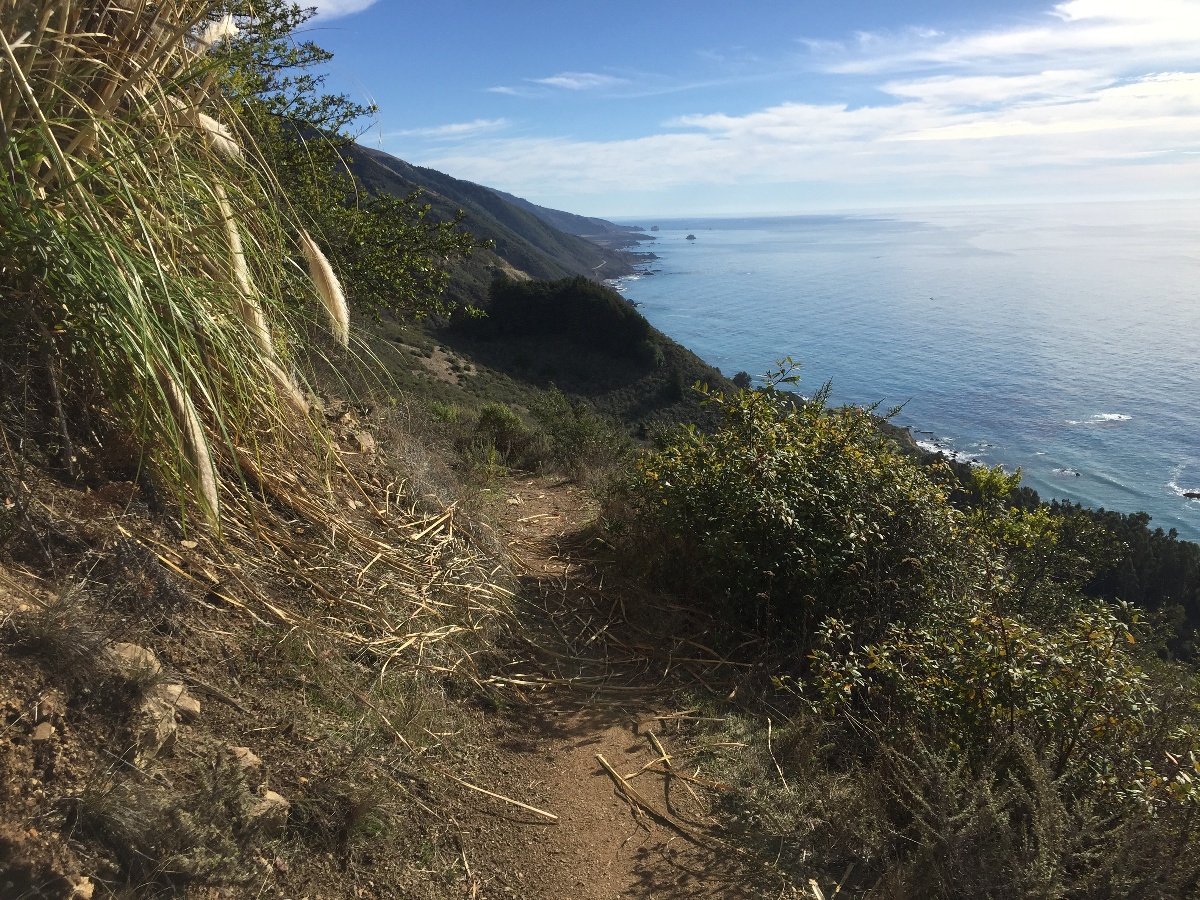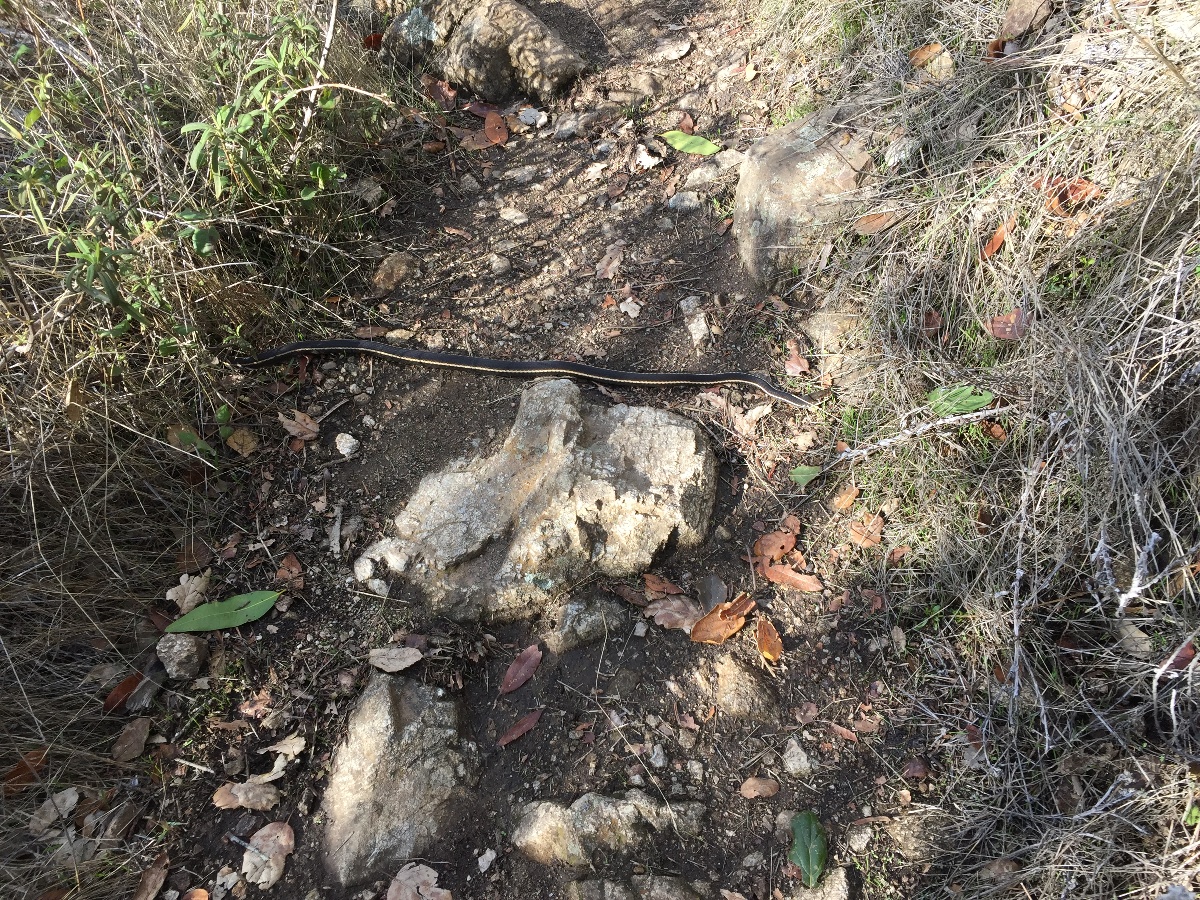 Rose is in front and comes to an abrupt halt when she spots this snake forming a barrier almost as if to say "you go no further unless you step over me". The trail was not conducive to easily go around the guy so we stood there debating. It's amazing the psychological hold a snake has over me and I could not bring myself to quickly jump over his tail. I then announced it was motionless and maybe dead. Rose countered with "No, his head moved". I finally jumped over him and he did not budge. Rose followed and we surmised that he was soaking up the soft winter warmth. Found out later that "snakes are ectotherms, and unlike mammals they do not rely on cellular metabolism to maintain their temperature, instead they obtain their heat from external sources such as the sun". I guess I should have known that.
This came about because I looked up what type of snake it was, a Gartersnake but he had two yellow stripes on his sides rather than one down his back so I am guessing a "Two striped gartersnake".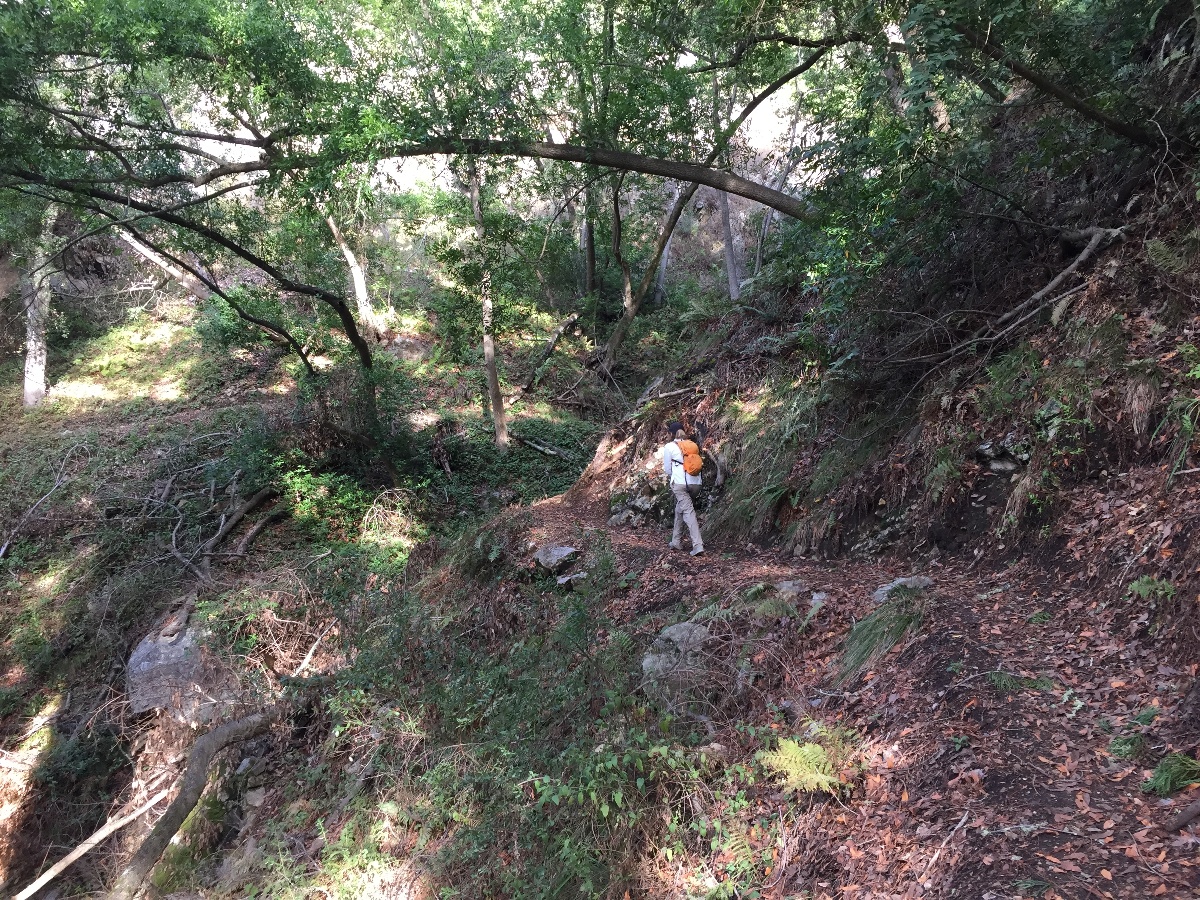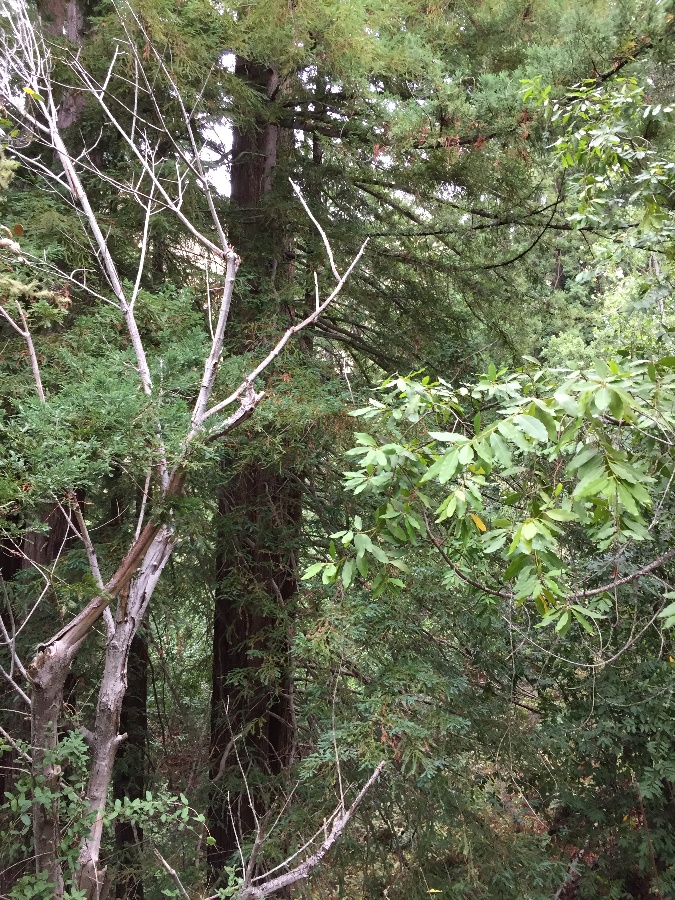 At our turnaround point there were these beautifully erect trees, looked awfully like redwoods but I had never heard of them growing here. Of course I was wrong and they were indeed beautiful specimens and this trip warrants a revisit to explore further.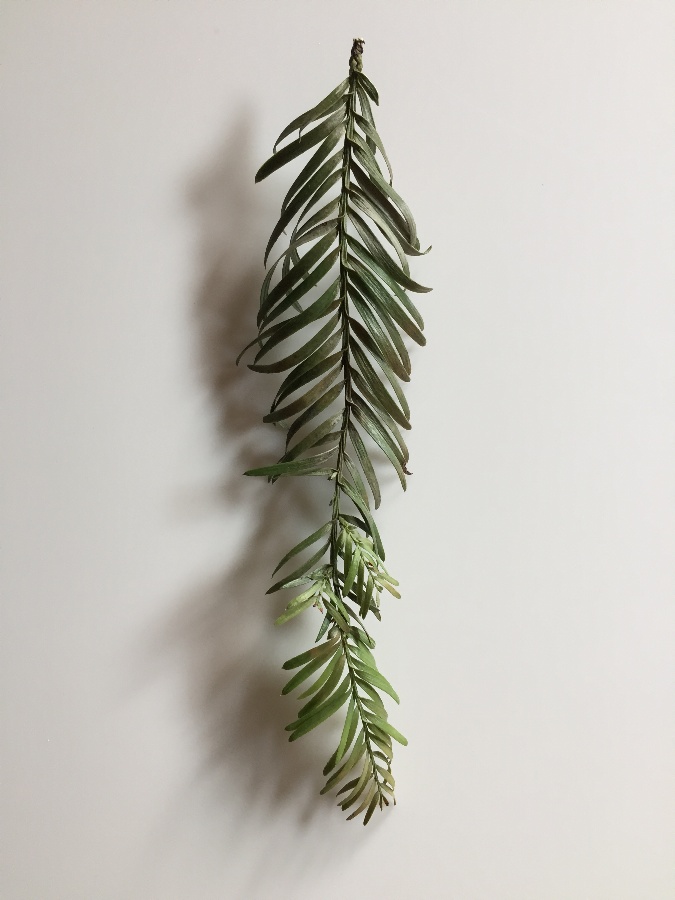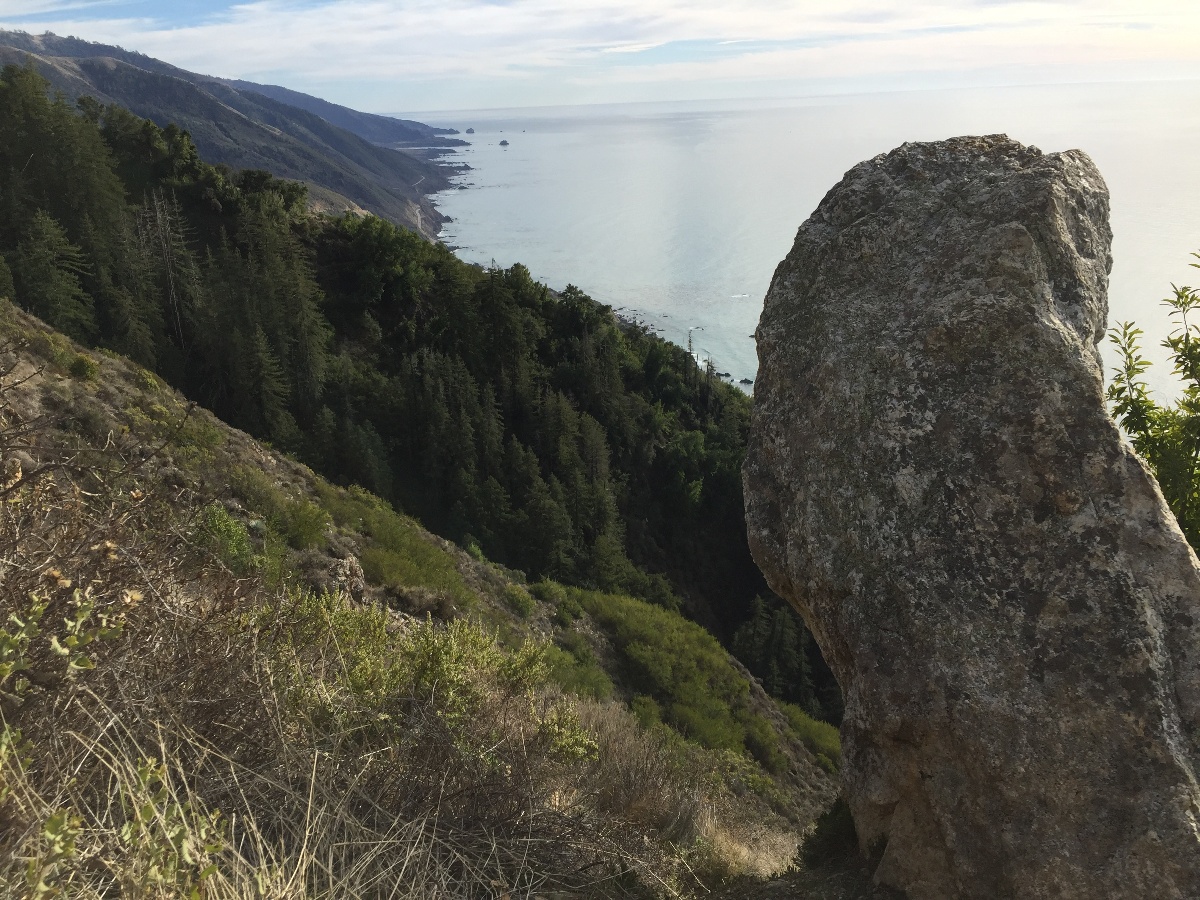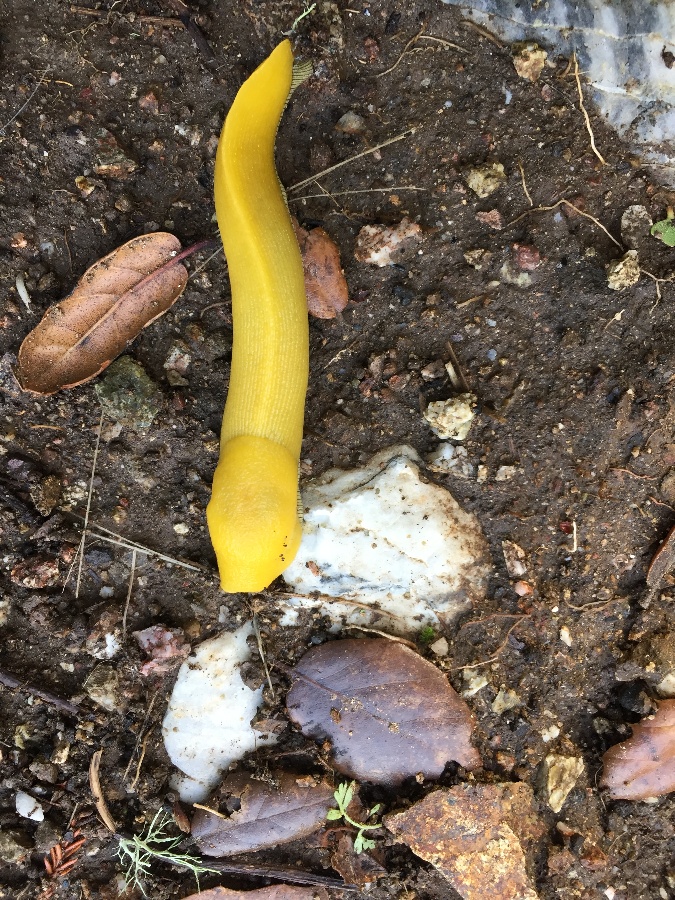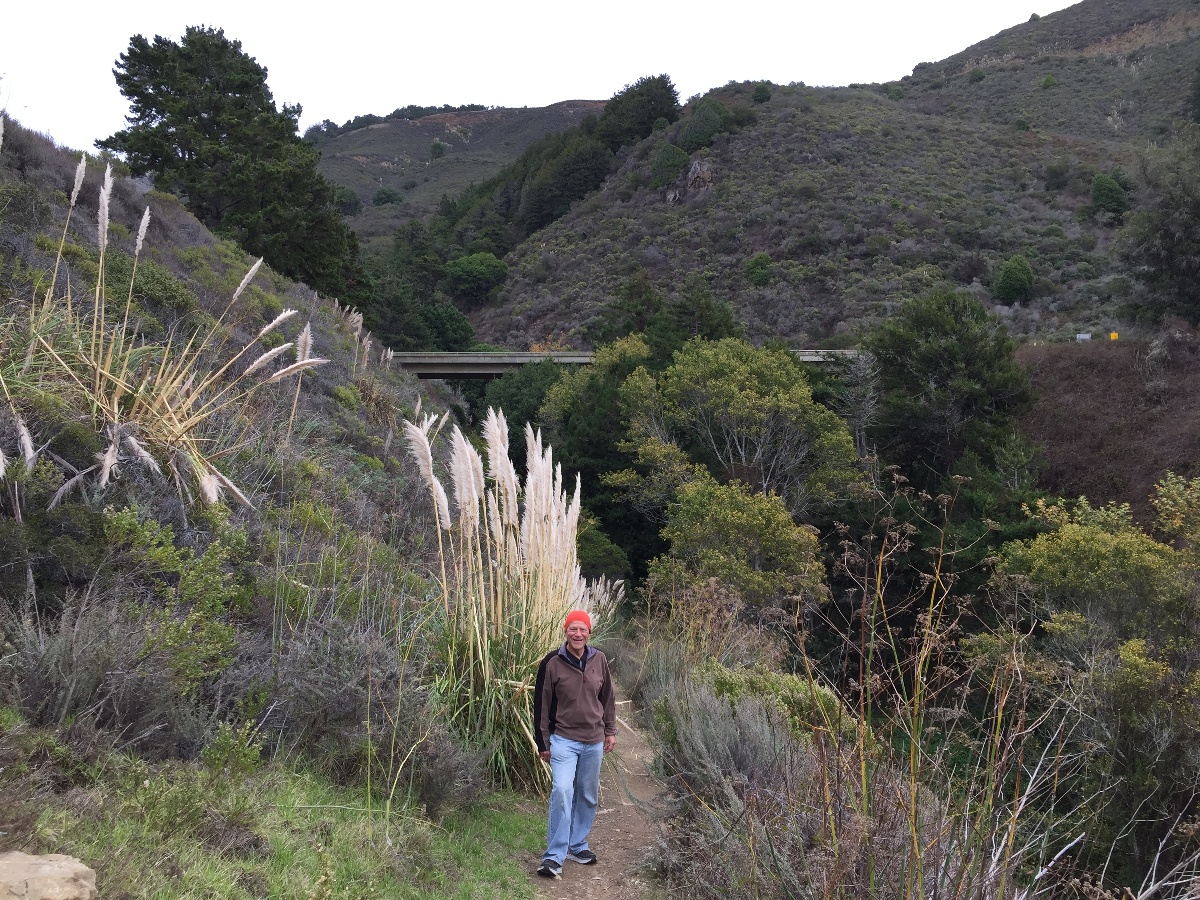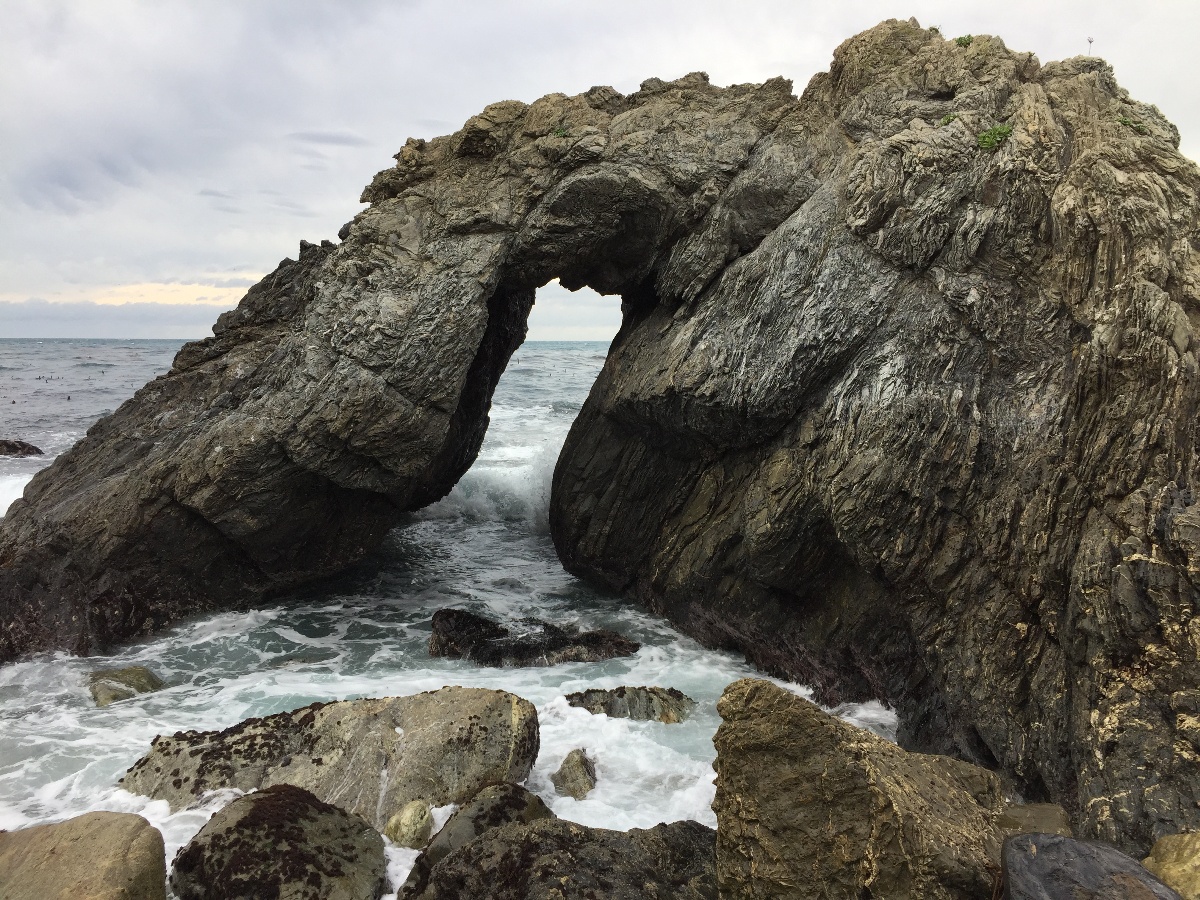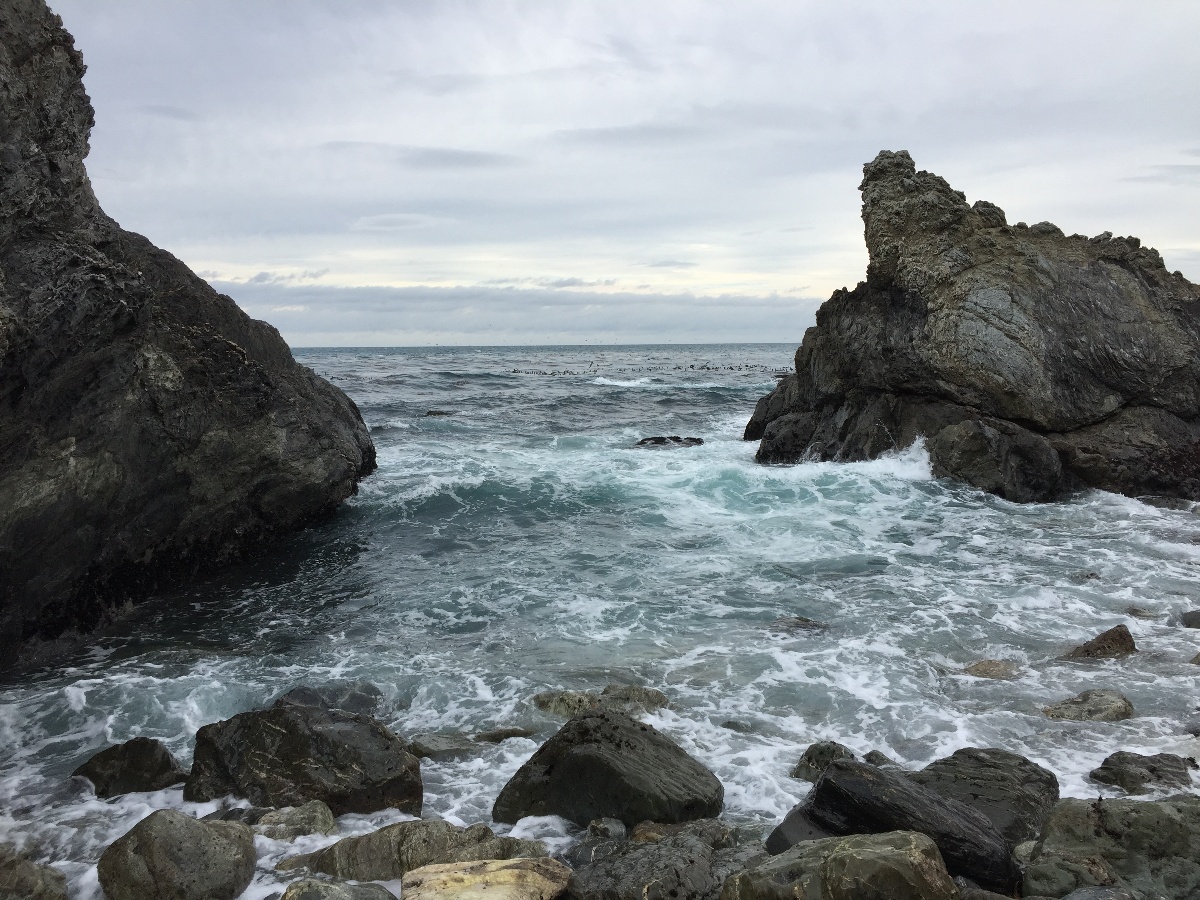 I think the campground has a bit of a cult following, it is reasonably small, 33 sites, and situated on a bluff west of the Hwy with brilliant views of the coastline. There are no other facilities besides long drop toilets. No water, no electricity, no cell phone reception, but that's why we're here – for the views and hikes!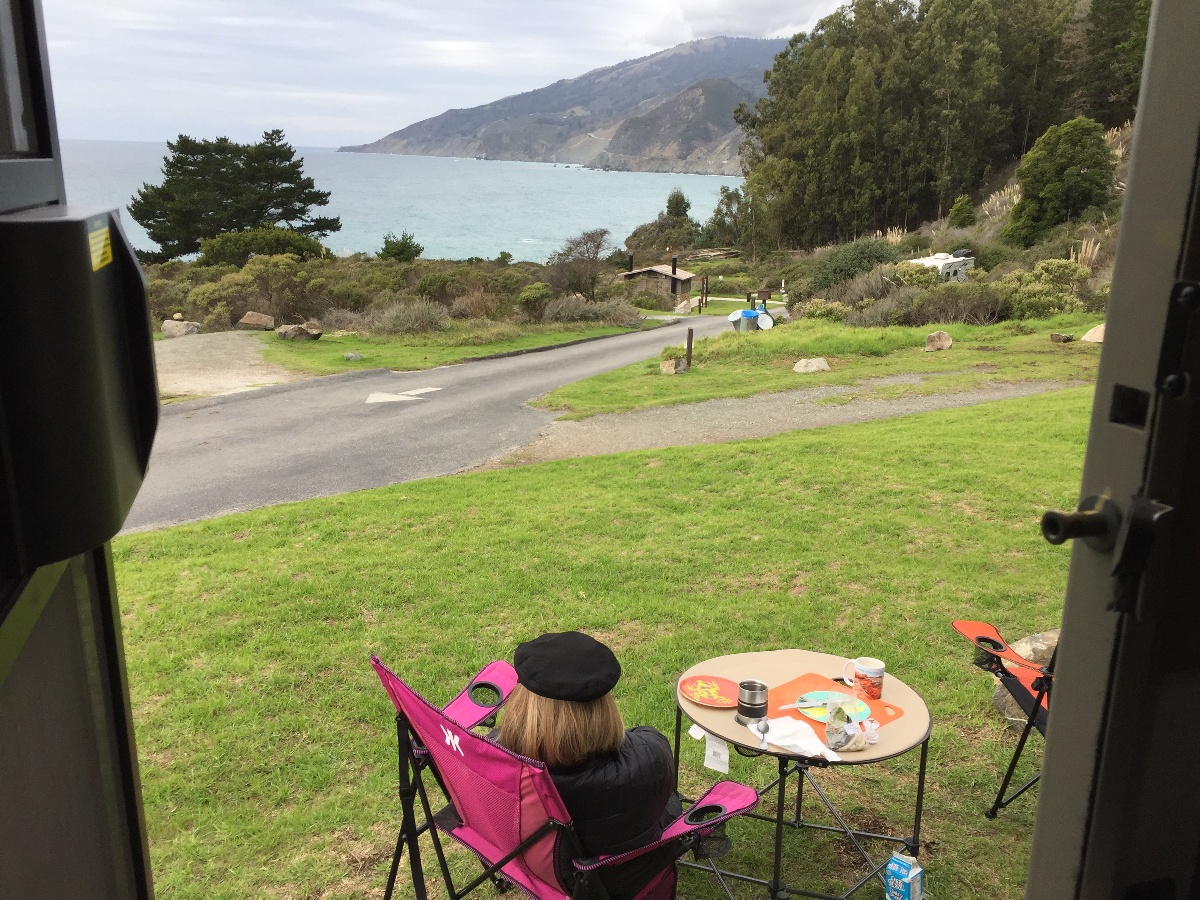 For our last full day we ventured out for a hike up little used Nacimiento-Furgusson road, dry on the way up but then the rain started and got even heavier in the afternoon when we were back inside the cozy RV with our oceanside views.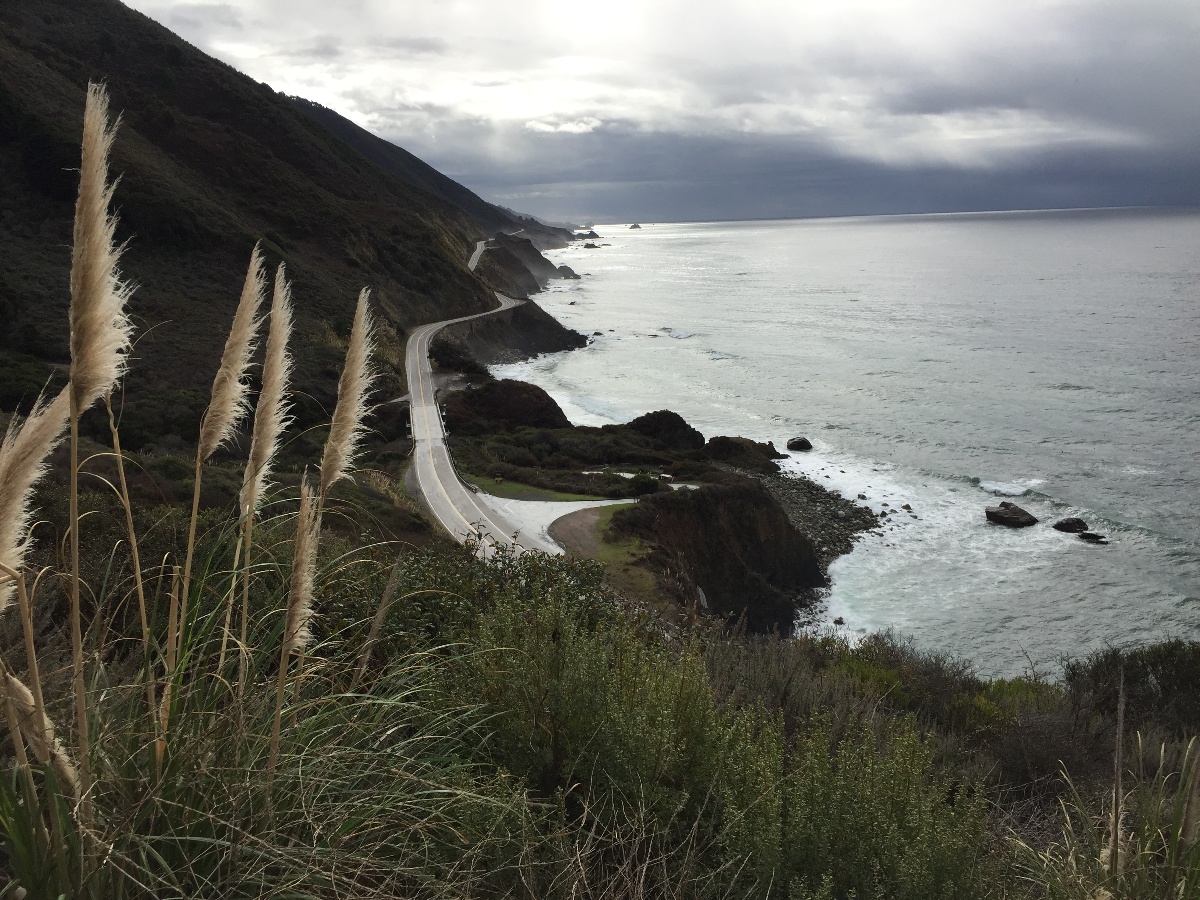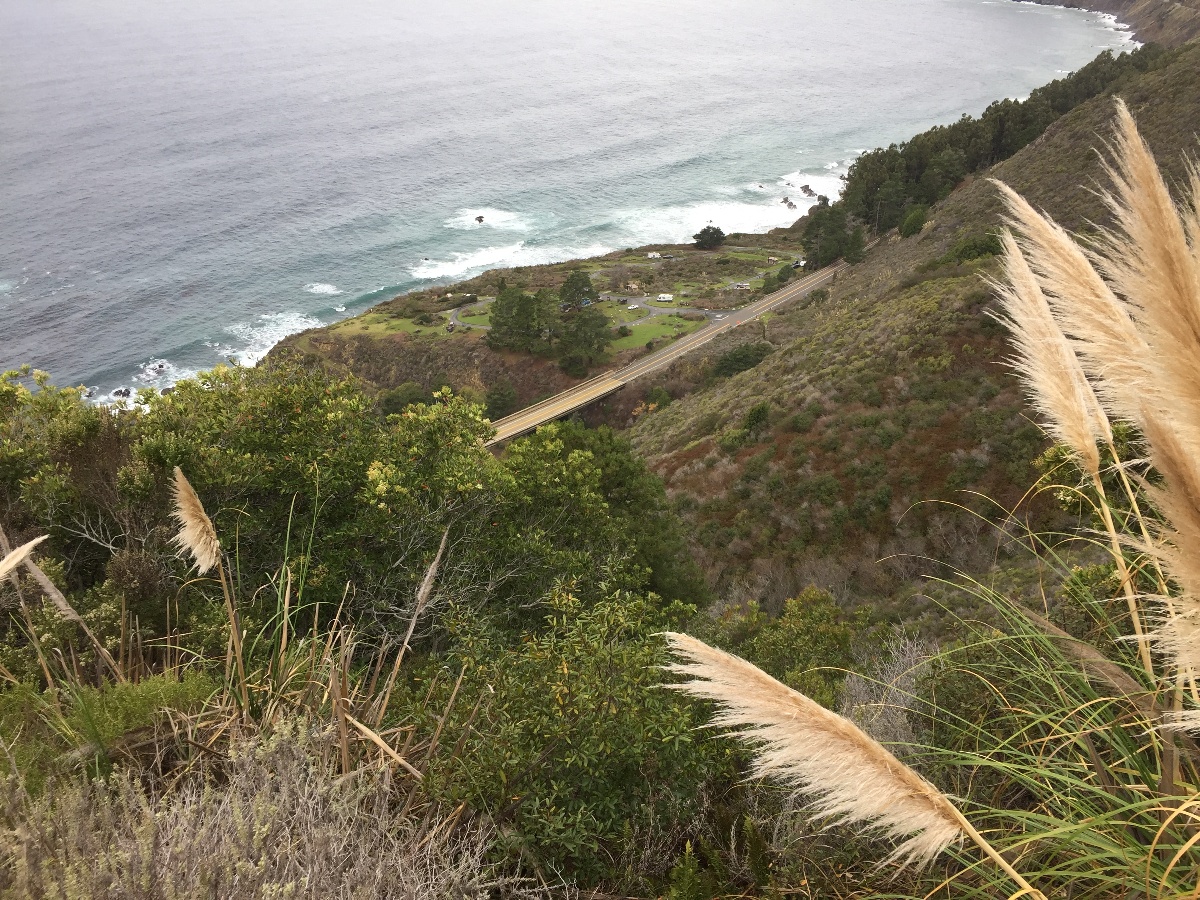 Our time was up and we drove down to our good friends Charley & Chris in Arroyo Grande where we have a piece of their driveway reserved for such visits. Grateful for the fact that we can do some maintenance and was able to change the generator oil, replace the exhaust hanger that had had an altercation with a curb in Venice, installed a hardwired Progressive Industries EMS-HW30C surge protector and GMRS radio.
The reason for the radio is that in January we are off to Arizona and joining a RV caravan for a month long trip down to Mazatlan and the Copper Canyon in Mexico. First time south of the border so we decided to go with a group for a bit of hand holding and introductions. Really looking forward to it.