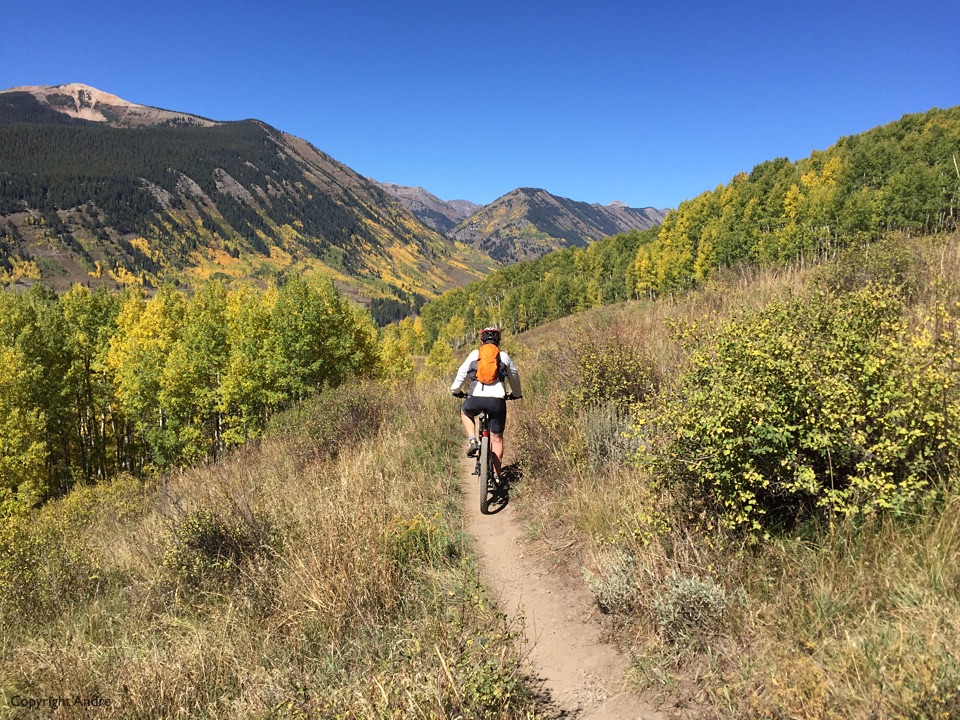 Sunday night and we're back in the RV which had been sitting in the "free" ski resort parking lot. What the heck, we'll spend our last night in Crested Butte in the RV "Walmart style" and be out of there come Monday morning. But first some activities and it was embarrassing to say we had not even unpacked our bikes yet.
Lupin Trail looks like a good introductory run, we can easily reach the trail head from the RV and finish in downtown CB for after ride nourishment. First some paved roads and then some steep'ish, for us, single track up the side of the mountain. We're both pooped and the ride has hardly begun! Blame it on the altitude of around 9,000′ I guess.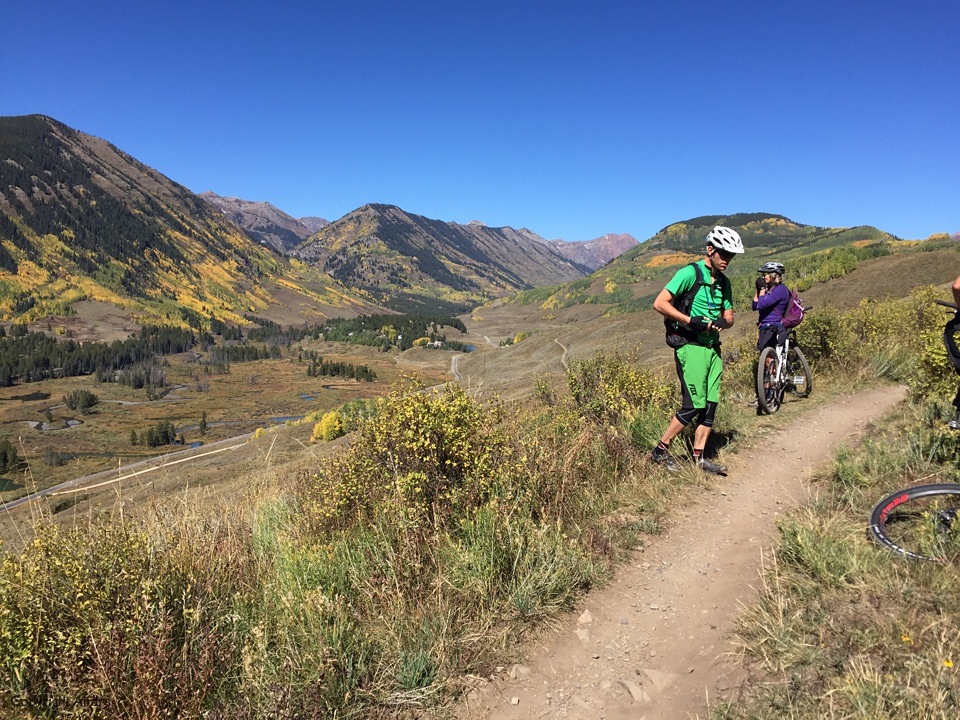 We settle into the stride and start to get some great views up Slate towards O Be-Joyful where we were a couple of days ago. Yes, there are other riders on the trail but we all weaved between each other to settle on our natural paces.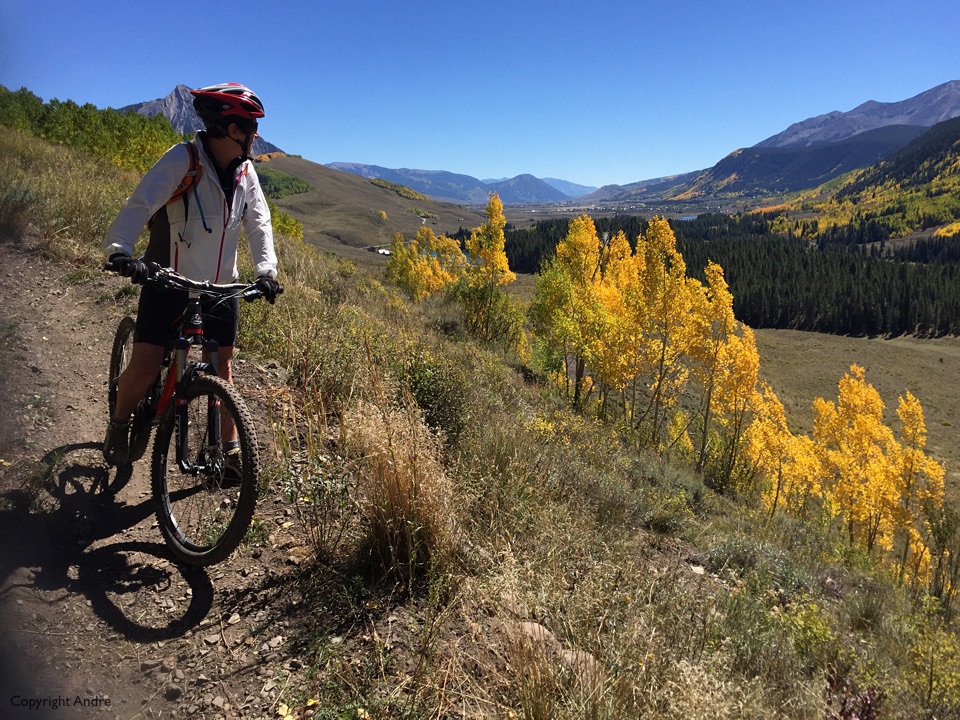 Start to really enjoy it with plenty of fall color interspersed into the picture frames.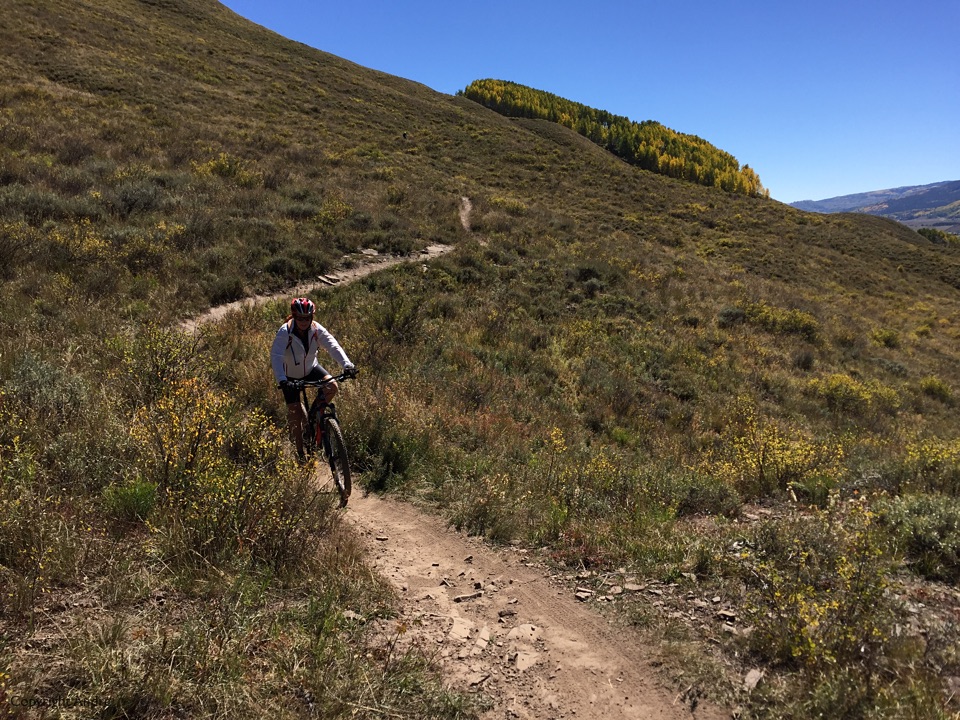 Lupin splits, well the original trail branches off down to Slate road but we have been tipped off to take the fire road to the right, "goes uphill for a while", they say. Grunting up more than I had expected but just as I was about to stop and do a "map check" we see a couple of riders and a sign. Time to branch left off the road and head down through the aspens on the Gunsight Connector trail.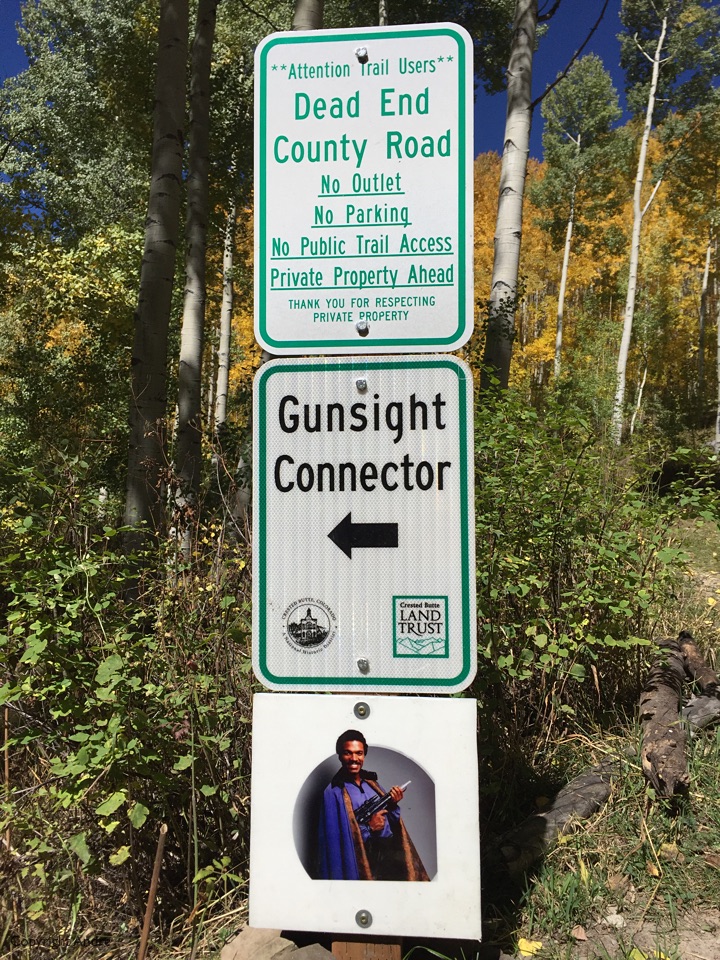 Wonderful rollers through the trees and you can see we are almost exactly opposite O Be-Joyful on the opposite side of the valley. We ride down, cross the road and pick up Upper Lower Trail back to town.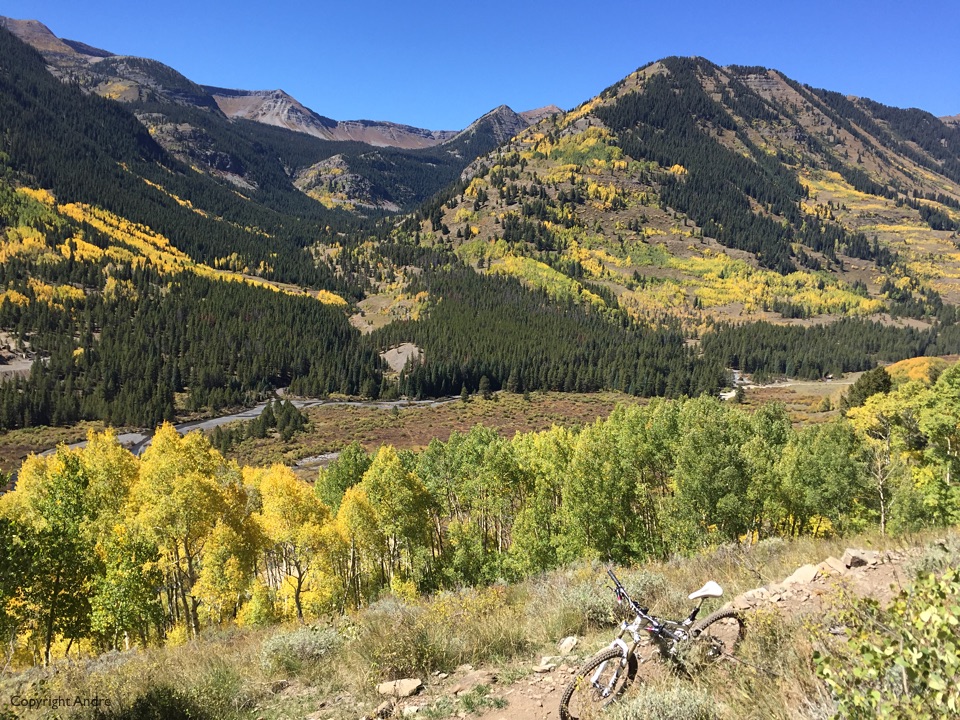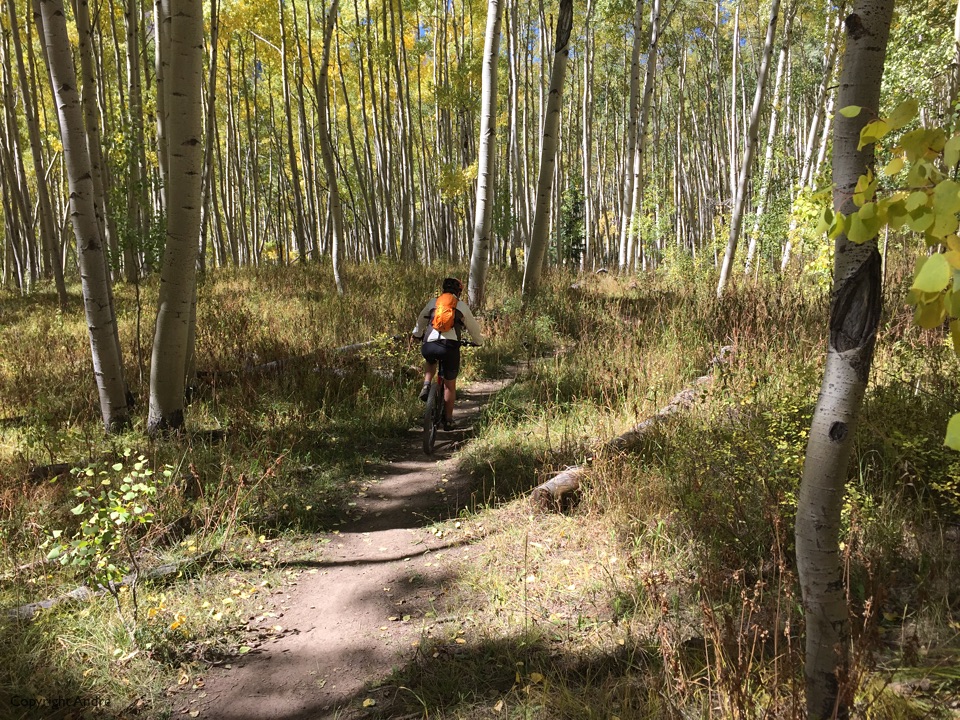 The ride finishes in town and being exulted, hungry and thirsty we are easily waylaid to the outdoor garden of Brick Oven Pizzeria & Pub.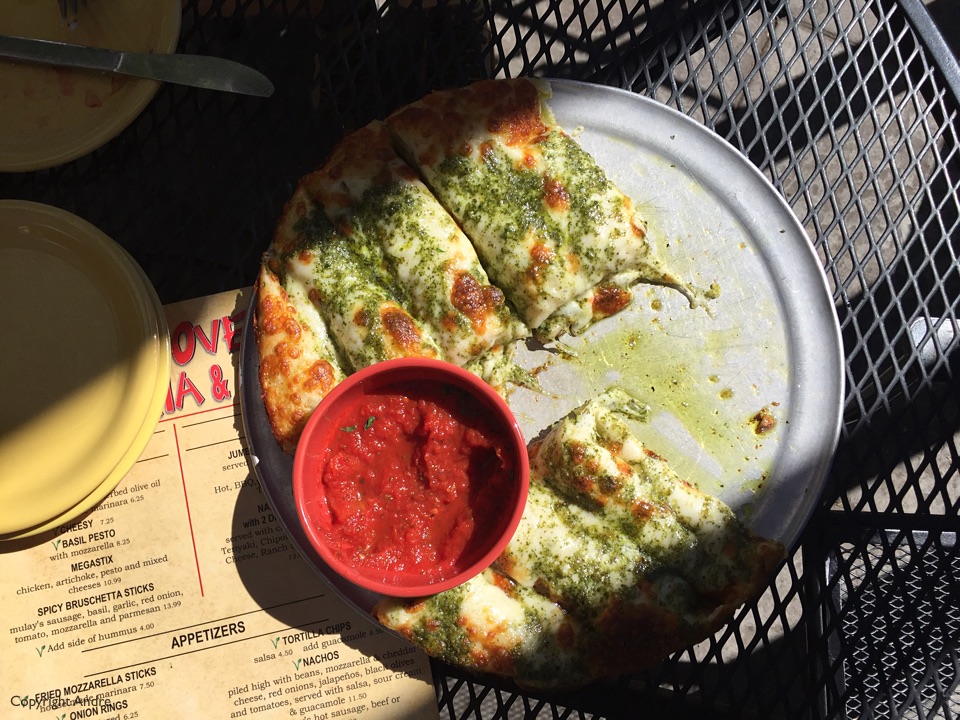 We survive the parking lot for the night and head over to Black Canyon of the Gunnison National Park.  Weather forecast was for cloudy & rain but we drove up to the southern plateau of the canyon and thought we'd sit it out there. They have basic camping and we found site A16, nice & secluded, and close by some mule deer in a site nearby.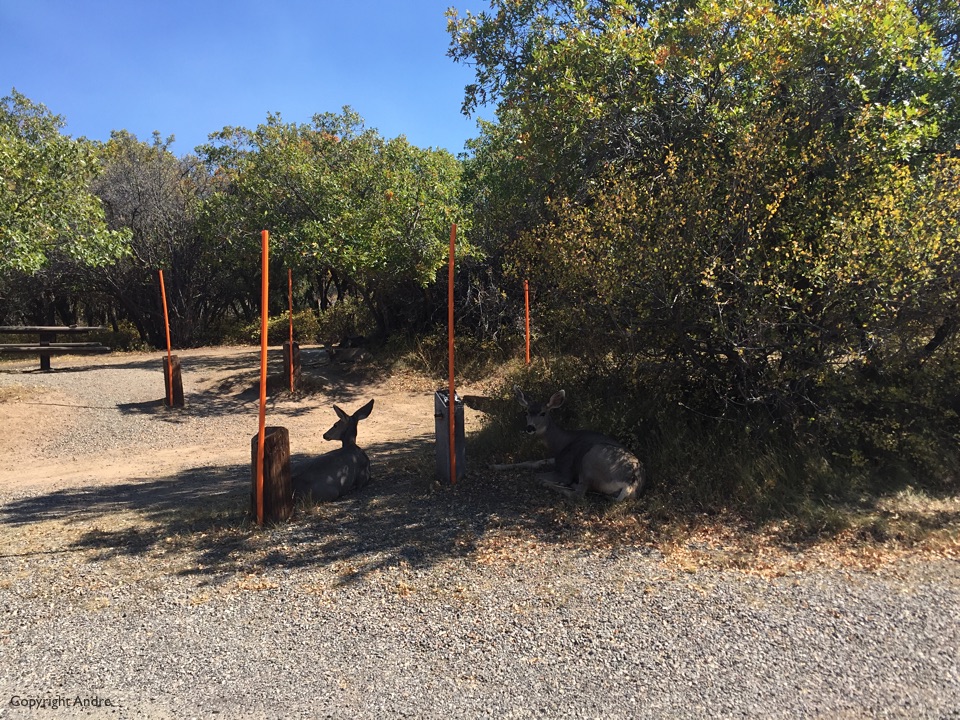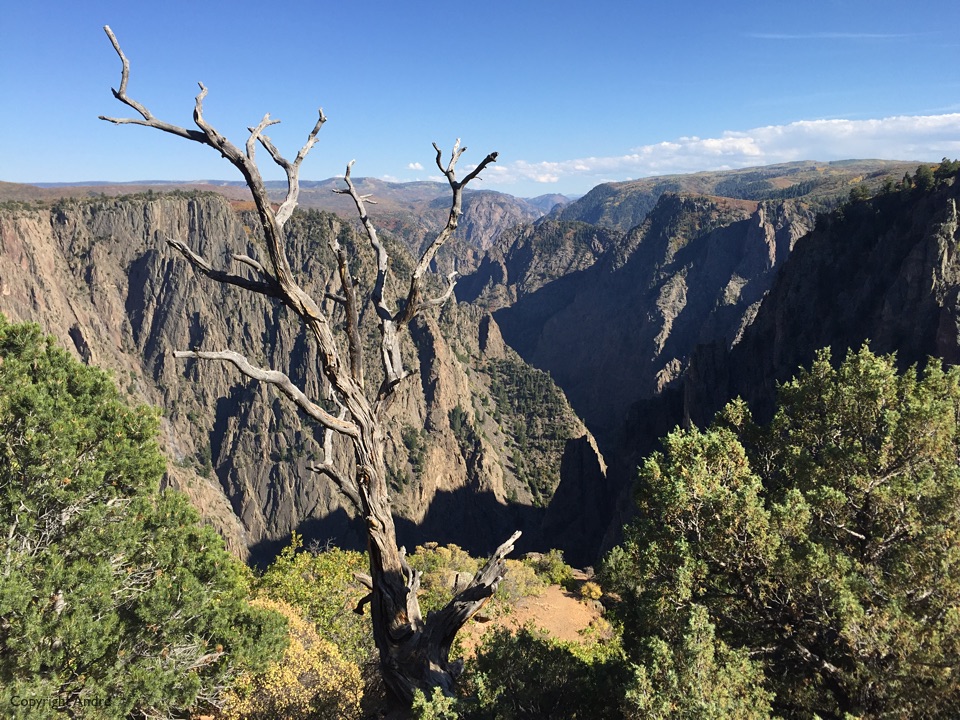 There are numerous viewing sites where you can pull over, take a short walk, and view the canyon all of which are pretty impressive.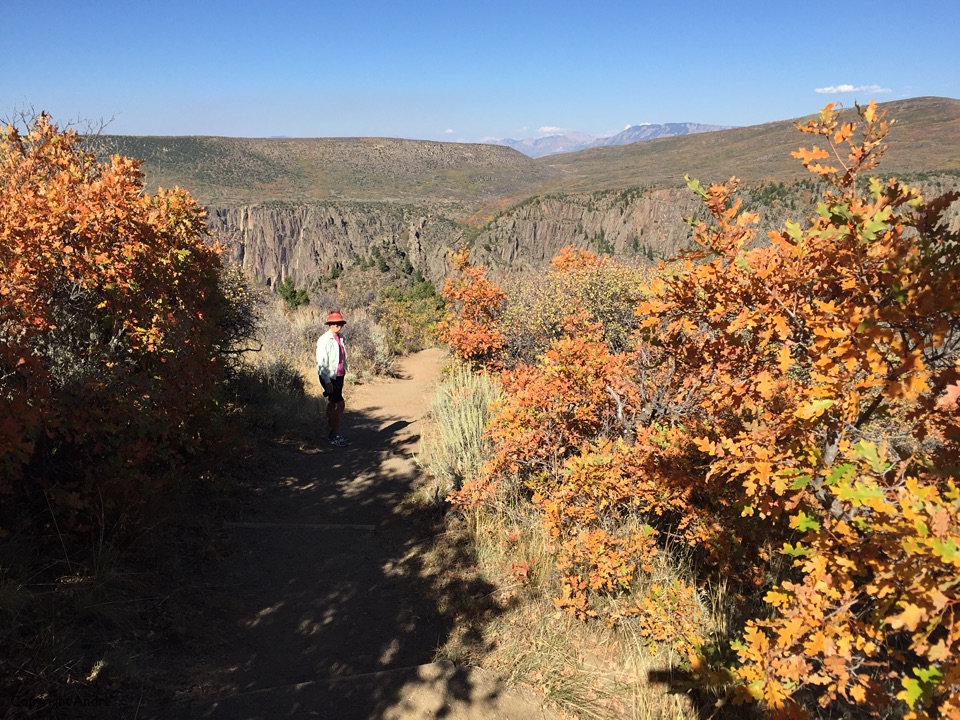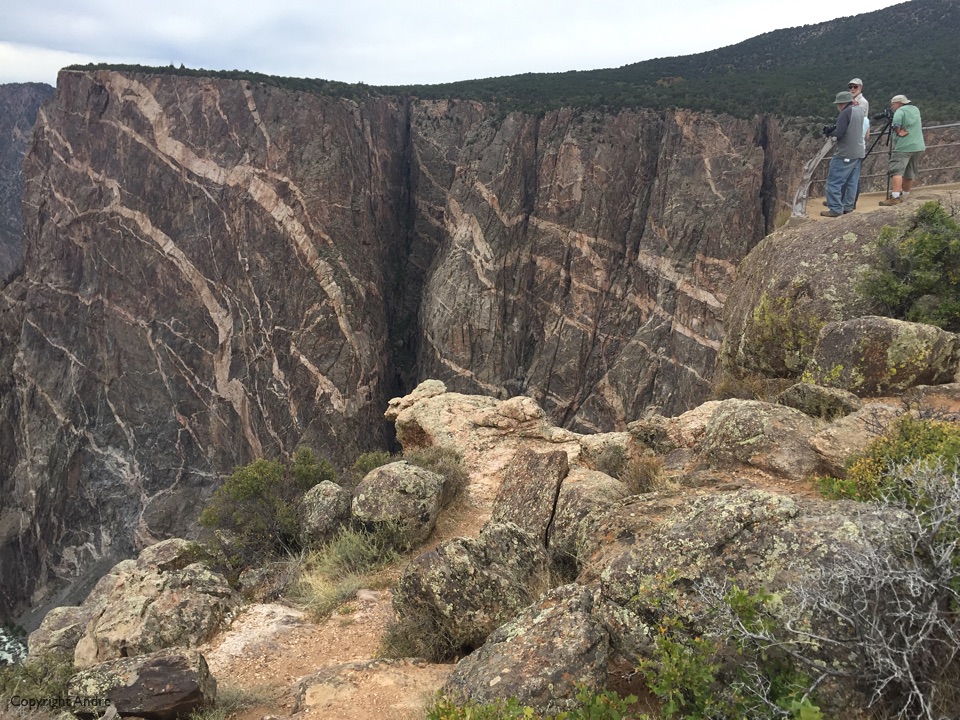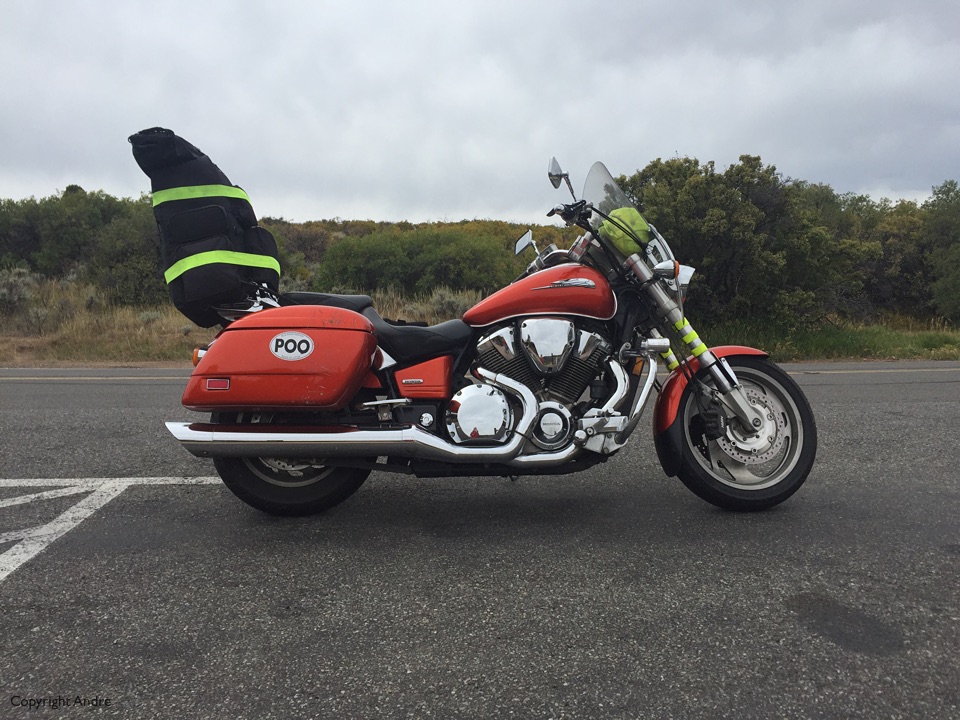 I'm mulling about the visitor center and overhear someone inquiring about hiking down to the river. I was in lazy tourist mode and not keen to venture far off the beaten track but later I ask Rose; "How about it? Up for a 1,800′ drop to the river?"
Next day has a forecast of scattered thunderstorms but they look scattered to me and I'm back at the visitor center requesting a permit to day hike down the Gunnison Route. They don't want to call it a "trail" so settle on "route" which ends up confusing the uninformed as to the lack of "pathway" they are about to engage on. We are shown pictures of the non-existent trail, read the riot act as far as footware, food and "you're on your own, we're not coming to get you" go.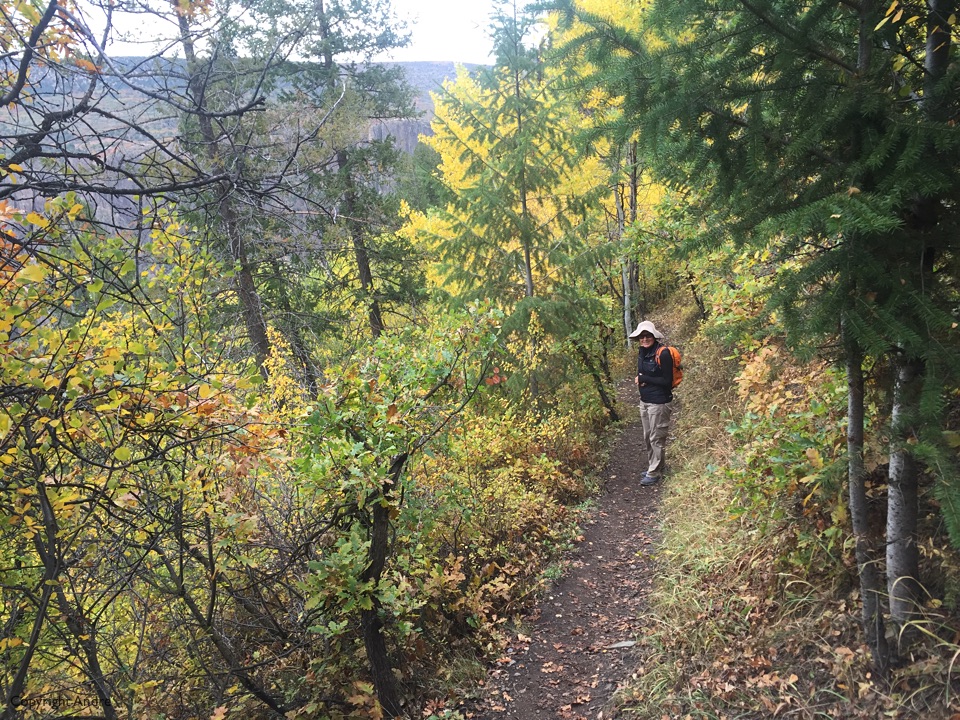 Starts off on the official "trail" system but soon you come to a sign indicating "permit required" and you find yourself quickly in a scree gully where every footstep must be carefully placed to avoid mishap.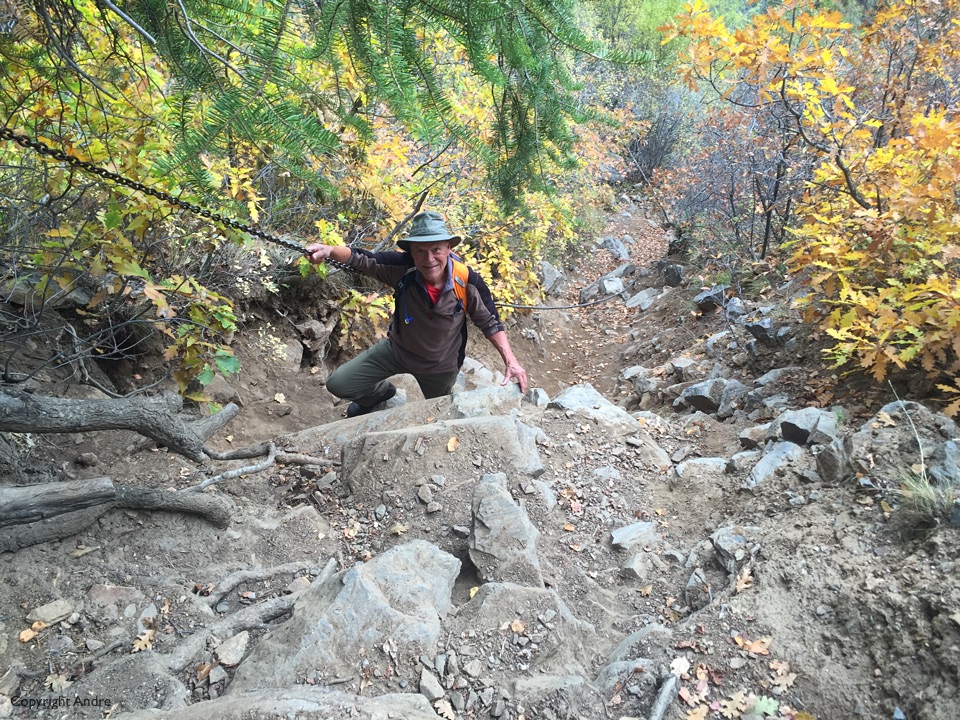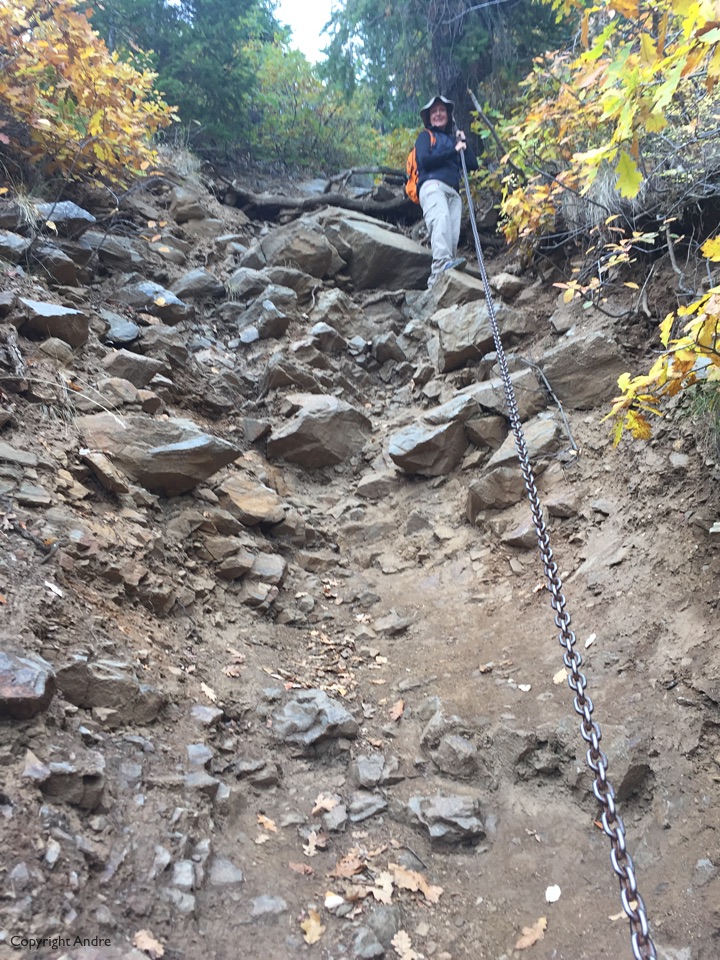 The ranger had told me "Stay in the gully, do not climb out onto the ridge – you will hit a headwall". He also reiterated the well known tip of "Keep looking behind you so you will recognize the route out".
We're happily descending as the scree reminds us of Sawtooth Pass in the Sierras and we hear voices. Gee, someone is on their way out. A while later the voices turn to cries for help as they don't know the way out. We pause and coax two folk down off the ridge (remember, don't go there) and give them directions up the gully we have just descended.
I might as well finish this story here. So, a while later we are ascending our way out and are about three quarters way up when we hear a conversation above us. No it can't be. Not those same two folk. Sure it is. They have latched onto two young kids on their way down and these kids were even taking them back up.
We turn up and rescue the kids and allow them to continue their hike. The two folk are on that cusp of becoming tourist statistics. She is exhausted and must rest every 20 feet. They are both totally unprepared at having to route find for themselves and find it difficult to decide which way do I go, left or right, when there is a myriad of choices all leading in the same direction. Rose has more patience with them that I do but we get them up to the top without having to carry them out.
As lauding a story it is, it is also a reminder to be conservative in ones abilities as you never know when you are going to have to call on all your reserves.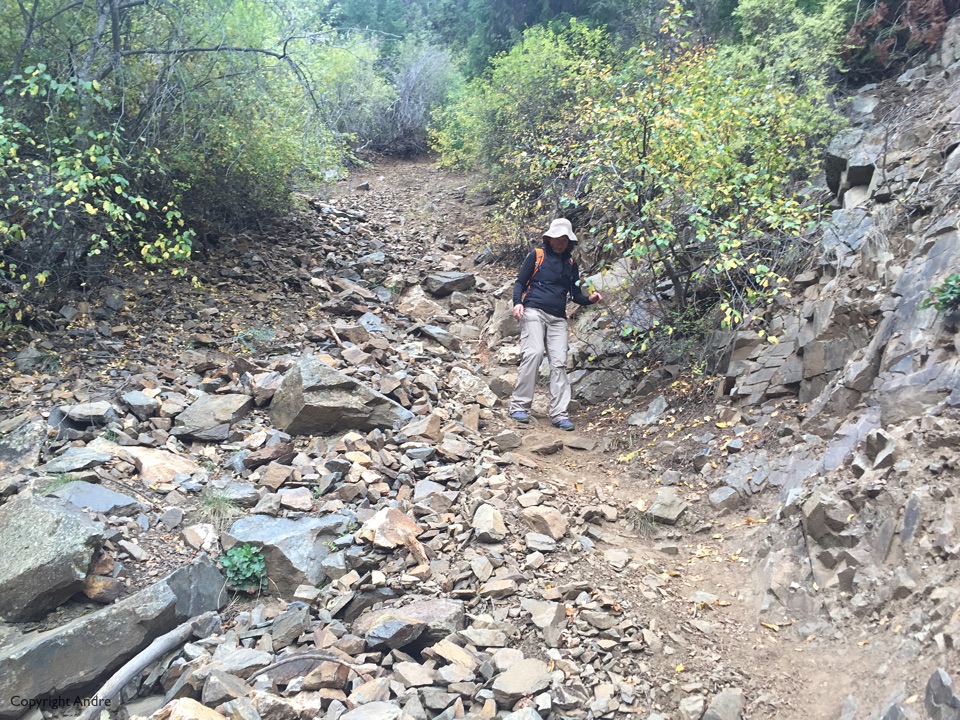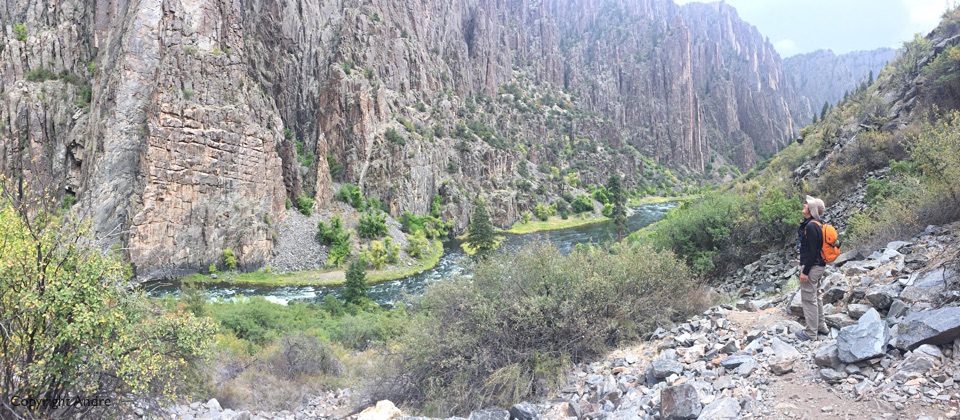 We had a very enjoyable time. Descending down one is drawn by the green and the flowing waters at the base of impenetrable cliffs. I thought of that "paradise-like valley" described by Zane Grey in Riders of the Purple Sage and felt happy and safe rather than scared and remote as we explored a bit upriver from where the "trail" dropped us.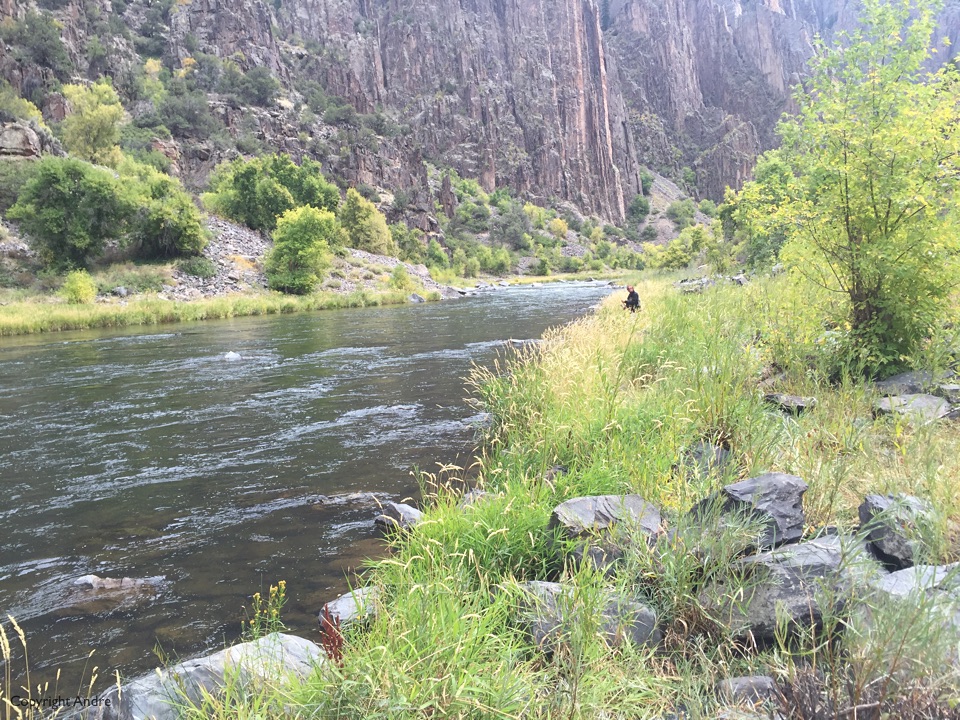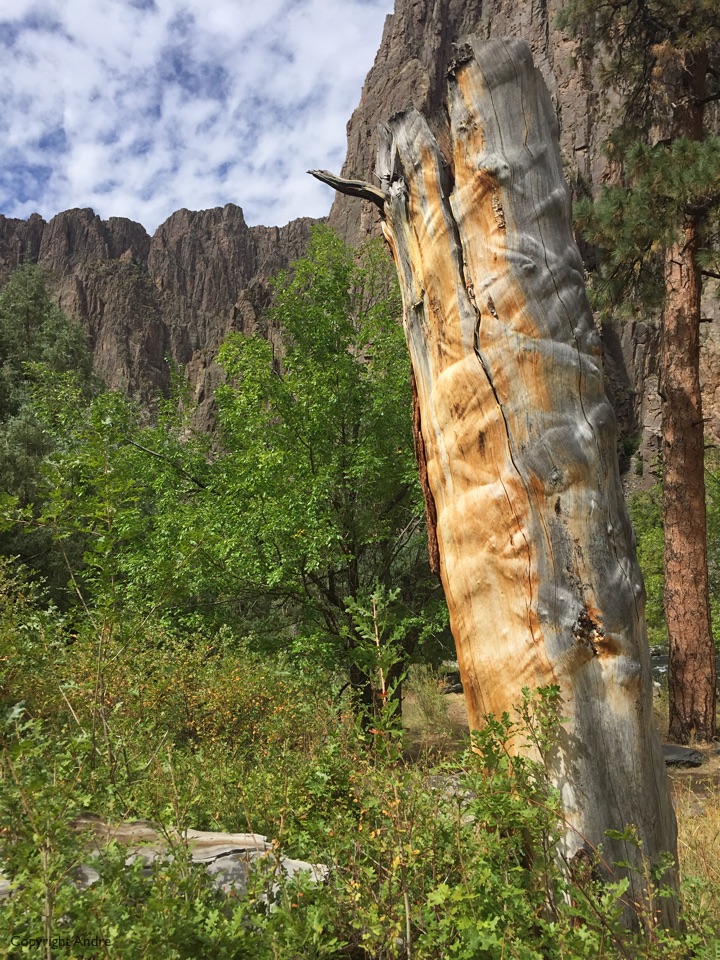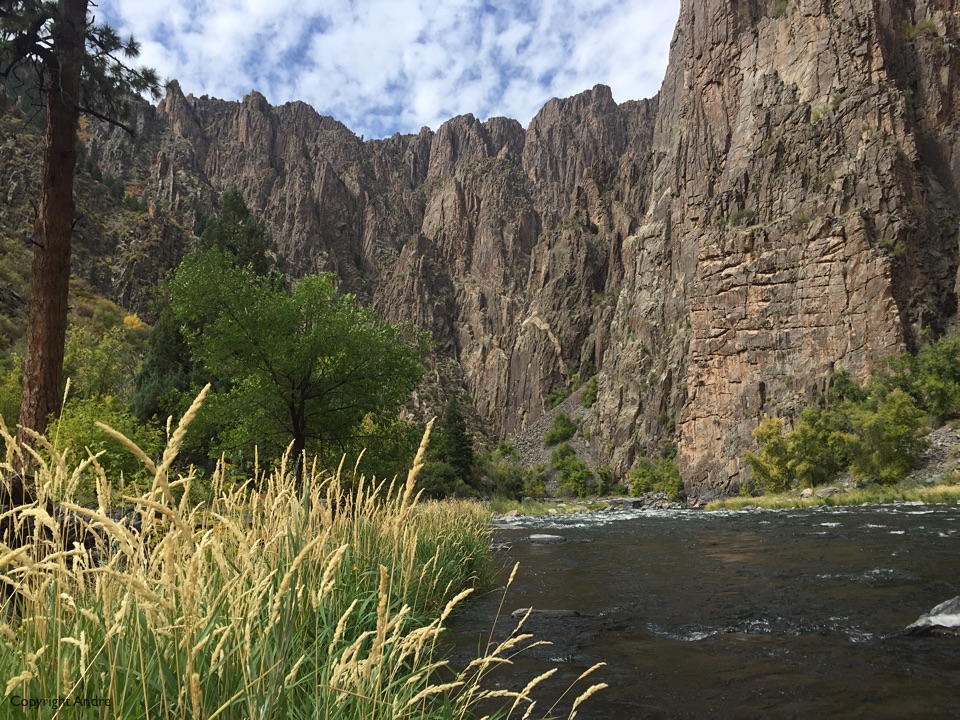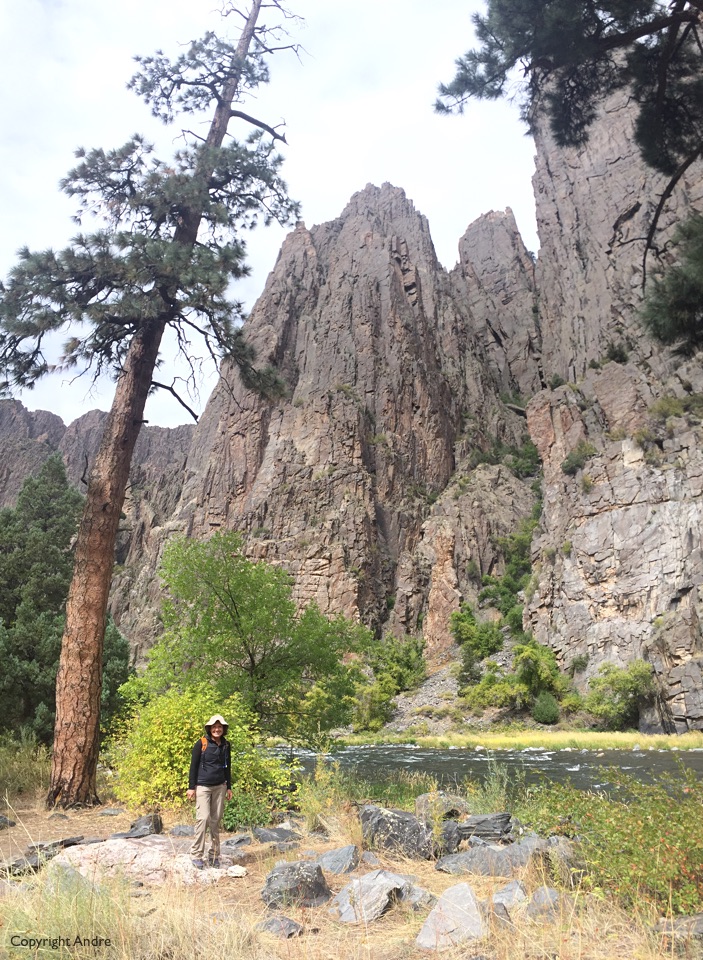 Just wonderful!