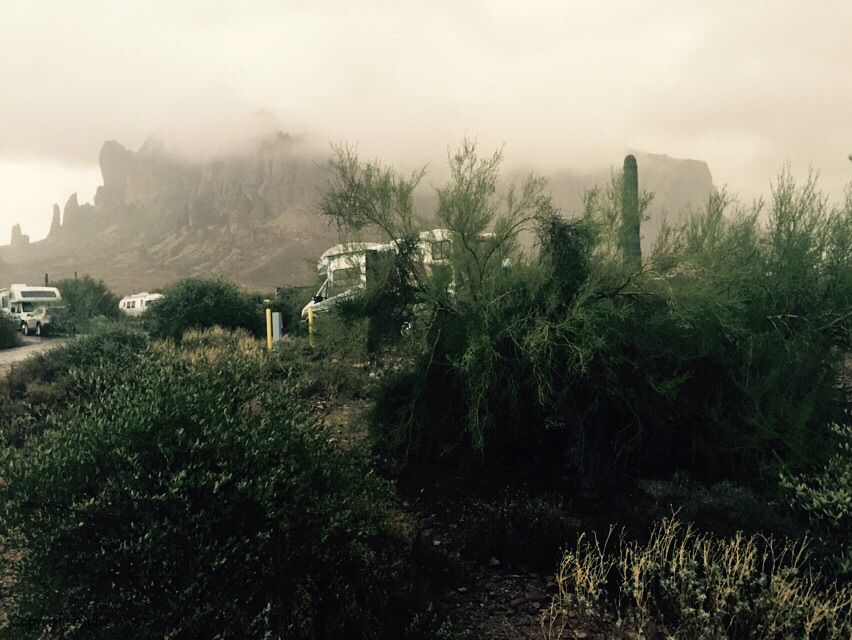 We had a layover day in the Lost Dutchman State park and had planned a hike up to Flatiron. It rained intermittently during the night and the morning dawned wet & cold. I was in no mood to go hiking in the rain so we stayed inside, drank coffee and made poached eggs in the microwave – that's what I call camping in style.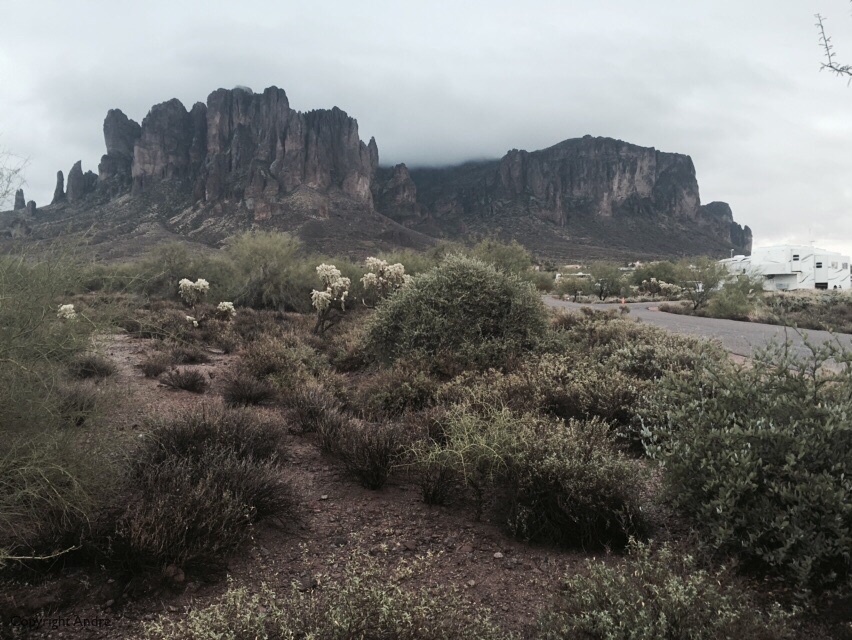 By 1 pm we had cabin fever and convinced ourselves that the rain was past so we headed out the Siphon Draw trail which later turns into the steep Flatiron scramble. Quite a few others out both going & coming. Halfway, at the end of Siphon Draw the trail disappears and is replace by strategic white dots on the rocks the first section of which is a smooth slab of rock. We venture up but it clouds over and starts to rain and we see others slipping and sliding down the slab. That's it, I'm turning around and we head back to the campground in the drizzle. Young kids are scrambling past us in sneakers and cotton T-shirts. Am I chicken for going down or are they crazy to go up into the clouds?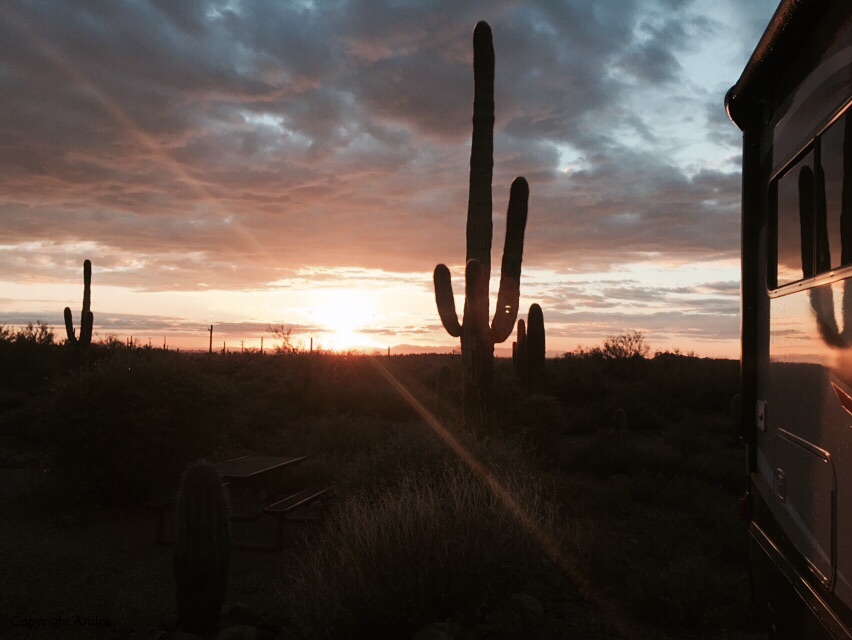 It clears up in the late afternoon but we are content to cook dinner on the stove and sip red wine while the sun set over the desert.
Next day, Sunday, was a travel day for us even though the the crispy morning had a cloudless sky above. We packed up and were rolling by 9 am. One stop at the dump station to lighten our load by emptying our waste holding tanks and then we were back on I10 heading west. I knew that we were not allowed to bring fresh fruit & vegetables into California (they don't want any insects to infect their agricultural industry) and that diesel will cost more. No problem, we ate apples on the way and I'd stop at the last diesel station in Arizona. Problem was that that last diesel station was a Flying-J station and it came by so quickly I did not get off the freeway in time and the next thing I saw was the Colorado river, California, and the agricultural inspection station where all vehicles must stop. Shit, we still had apples to eat and I did not want to give them up. The line of cars slowed to crawl but they were waving most through, including us. So I got to keep my apples but had to pay $2.85 gal for some diesel because I missed the last $2.30 a gallon Arizona station.
I had this romantic view that we'd spend out last night on the road in Joshua Tree National Park, then register the RV in the peace & quiet of tiny Twentynine Palms DMV office and then mellow down to Venice & home. Joshua Tree had an ice cold wind blowing that kept us indoors and rocking all night. The DMV (Department of Motor Vehicles) was indeed quiet by the helpful lady said we need a smog test, more paper work filled out and sent us on our way and cheerfully said "make another appointment when you're ready". Subdued, I wrestled with the steering wheel as we fought the winds along I10 outside Palm Springs and braved the LA traffic home.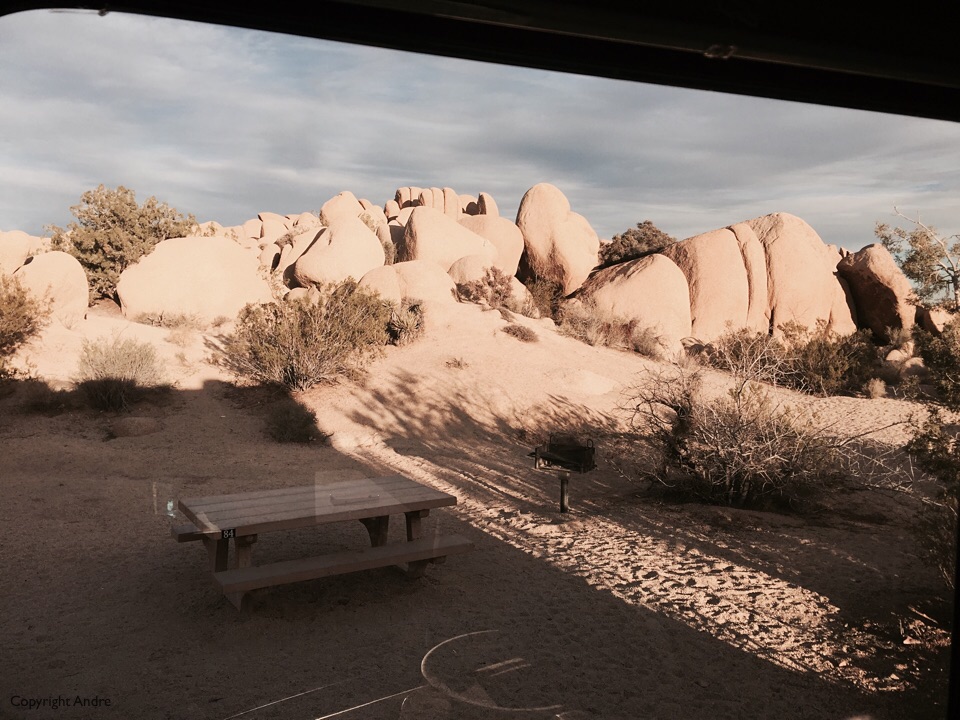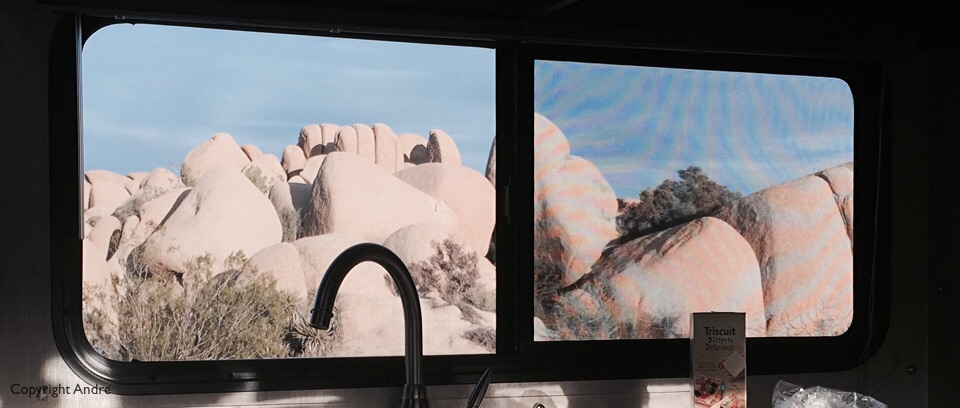 But we got home safely, 1980 miles, 15 mpg and a good dose of fun.