The winds were blowing as we left the RV park and headed south on Hwy 86 towards the town of Salton Sea. If you look it up on Google maps you will initially see a maze of streets which you will think is a nice fair sized town. Switch to satellite view and you will see the dusty streets with less than one house per block as the photo below alludes to, a town that never developed.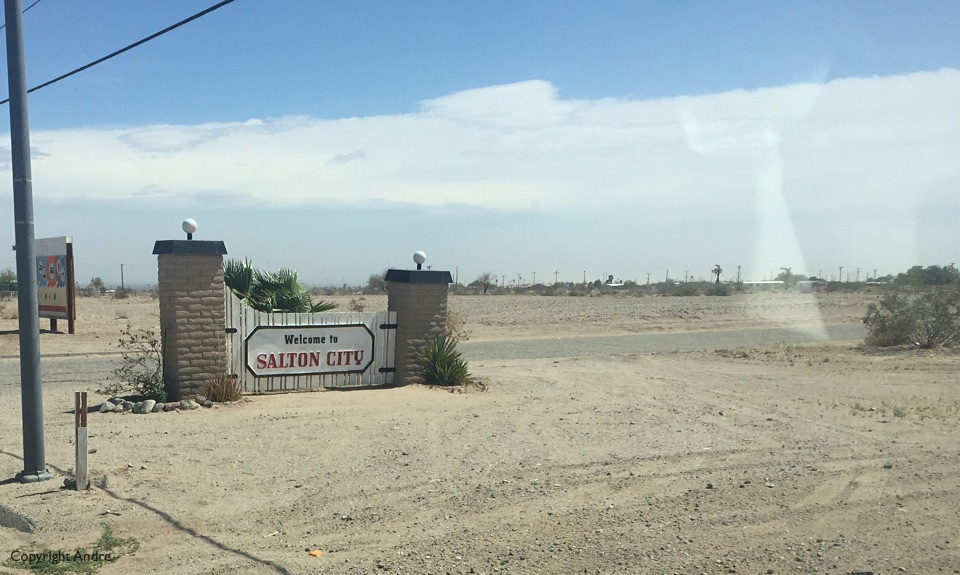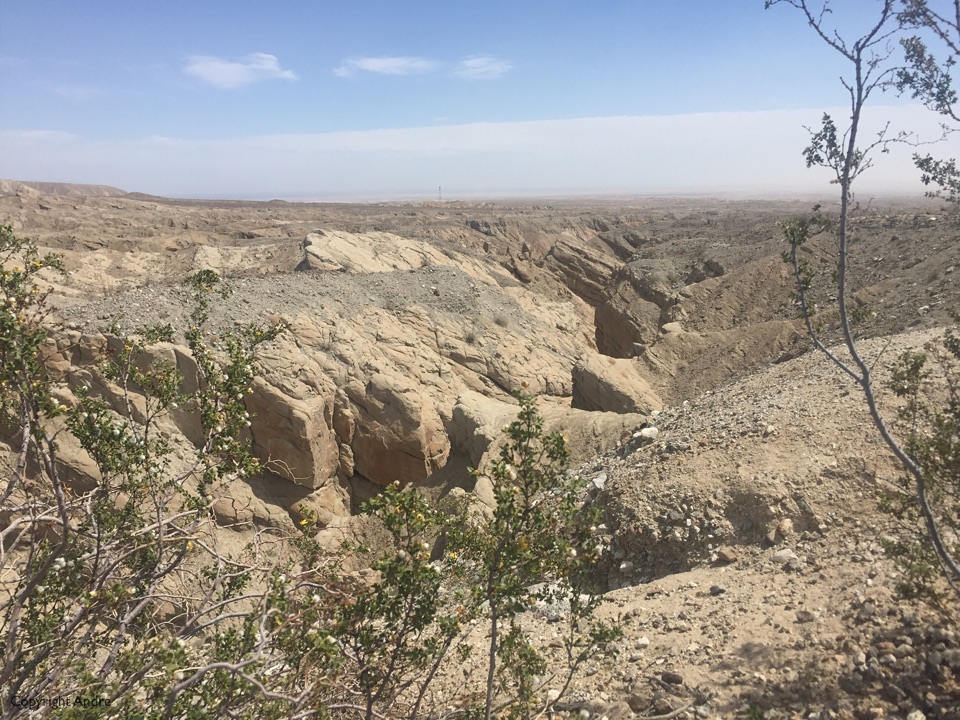 Turned west onto Anza Borrego Salton Sea Way, took a stop on the way to view some badlands, before heading for our reserved campsite at Palm Canyon. Weather forecast was still predicting winds so we postponed our bike ride till a day later and went for a hike instead. Panoramic Overlook is a one mile out & back, 300 foot, hike up a ridge behind the campground. Most turnaround there but the ridge continues to climb up towards the San Ysidro mountains and we scrambled up another 3 to 400 feet to see what else could be seen. A better birds eye view I guess as we lounge in the sun and took in the vistas.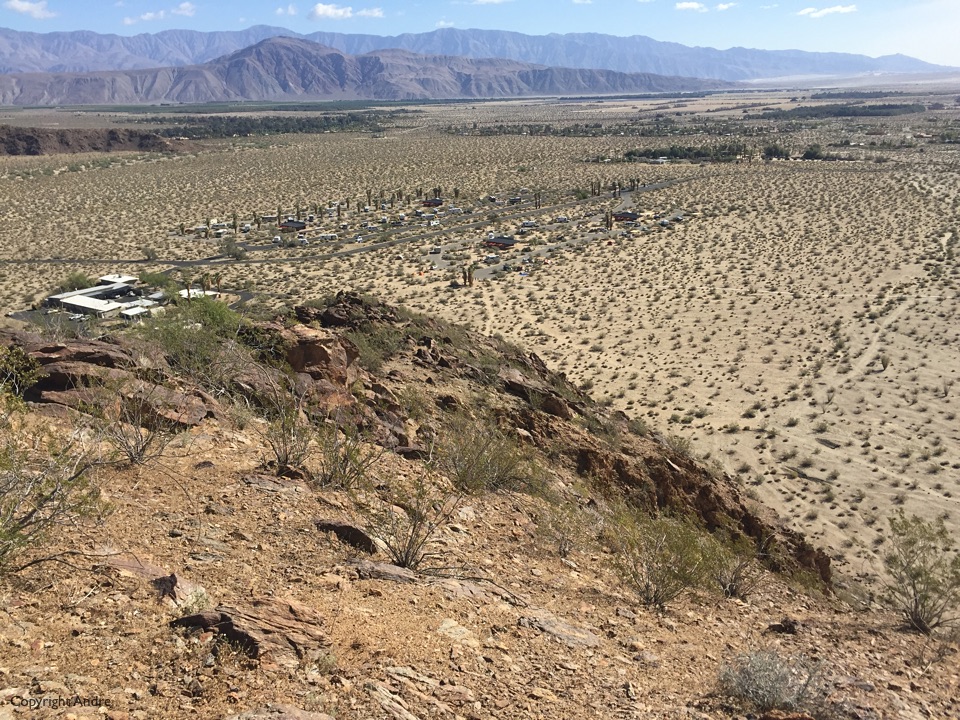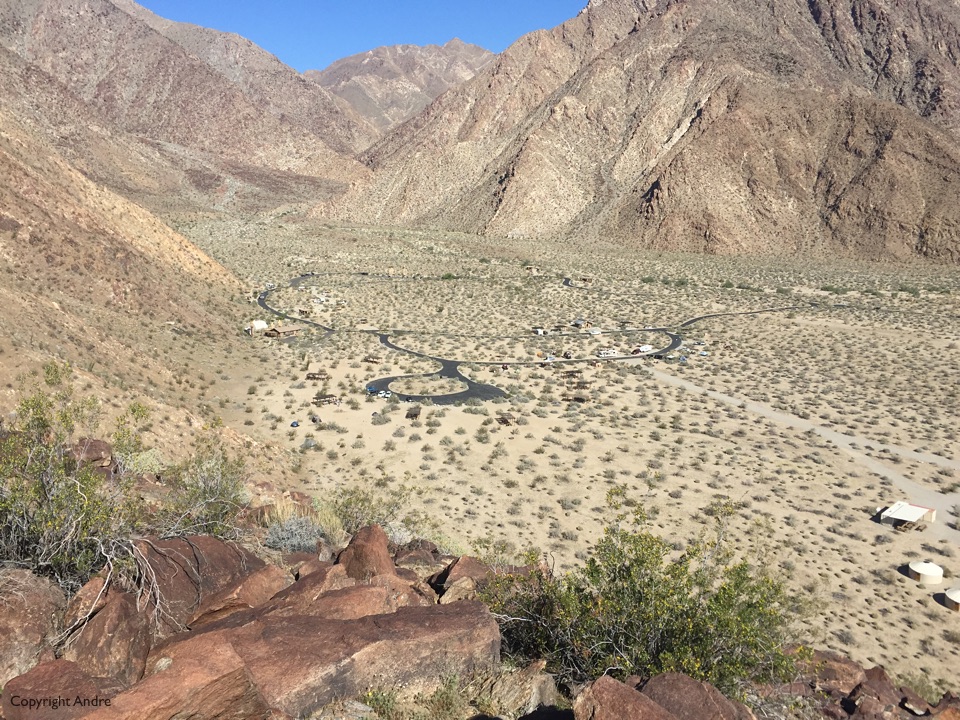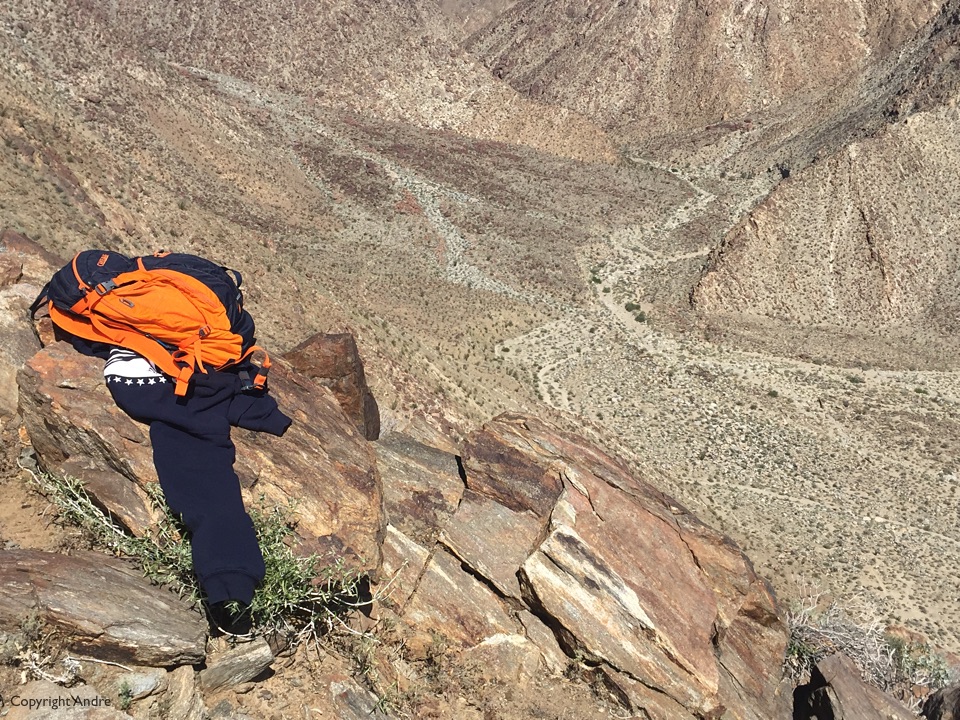 Back down we cut across to the visitor center which has nice little garden with names of all your favorite desert plants. From there there is a 1 mile paved path back to the campground.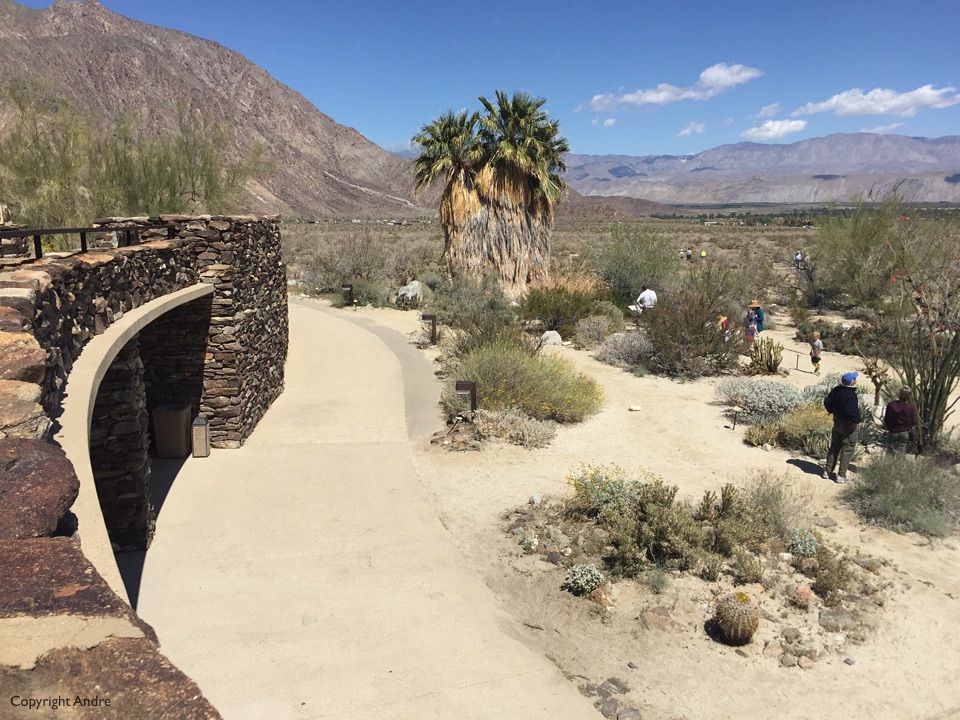 Wednesday was our last full day in Borrego Springs and we knew we had to do the ride today or forever lament over it. We had previously done a 50 mile road bike loop but this one was going to be different, a 42 mile hybrid. First 12 mile climb up Montezuma grade, then an unexplored 13 descent down Jasper Trail & Grapevine Canyon followed by 17 mile on pavement back to Borrego Springs. 4800′ of respectable gain made for a good workout. Tools of the trade were our old Tomac mountain bikes refitted with less knobbly tires to lower the rolling resistance on pavement but good enough for dirt roads.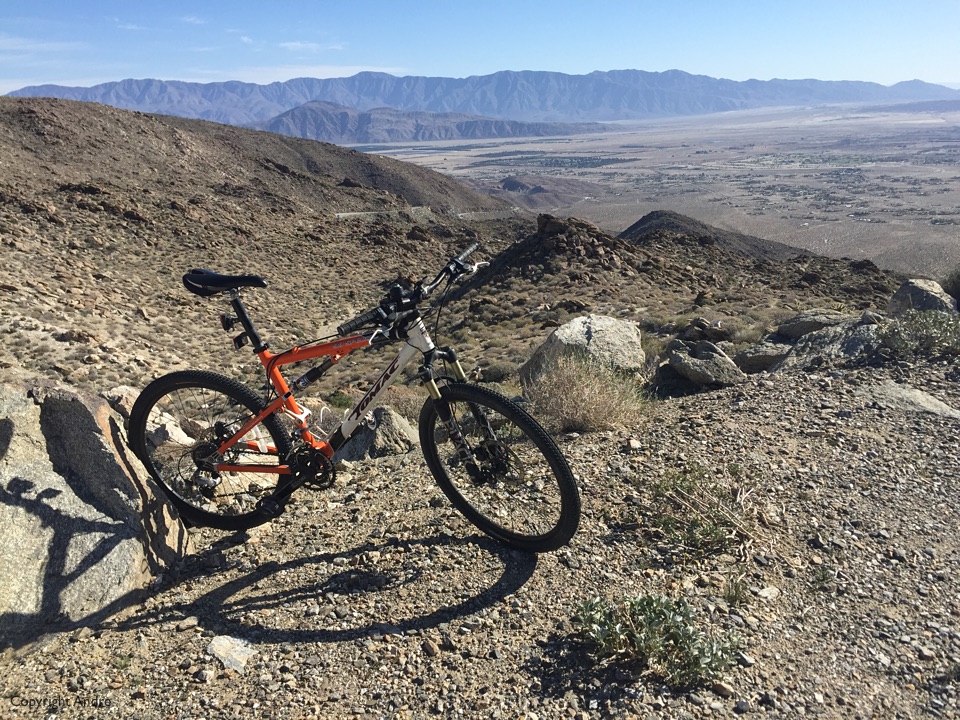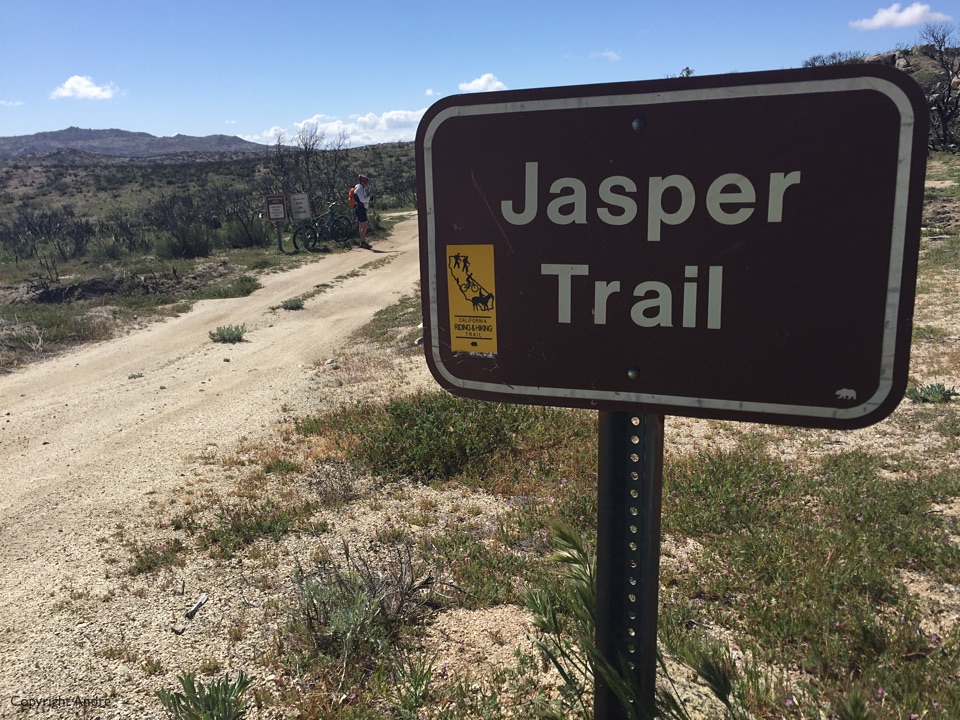 My adrenaline always goes up when set off on a new trail. Did I miss something in the research? What if I break a chain? Will anyone ever find me here? The wind was a bit cold and what the hell, this was a 4 wheel drive trail not some technical single track, so off we went.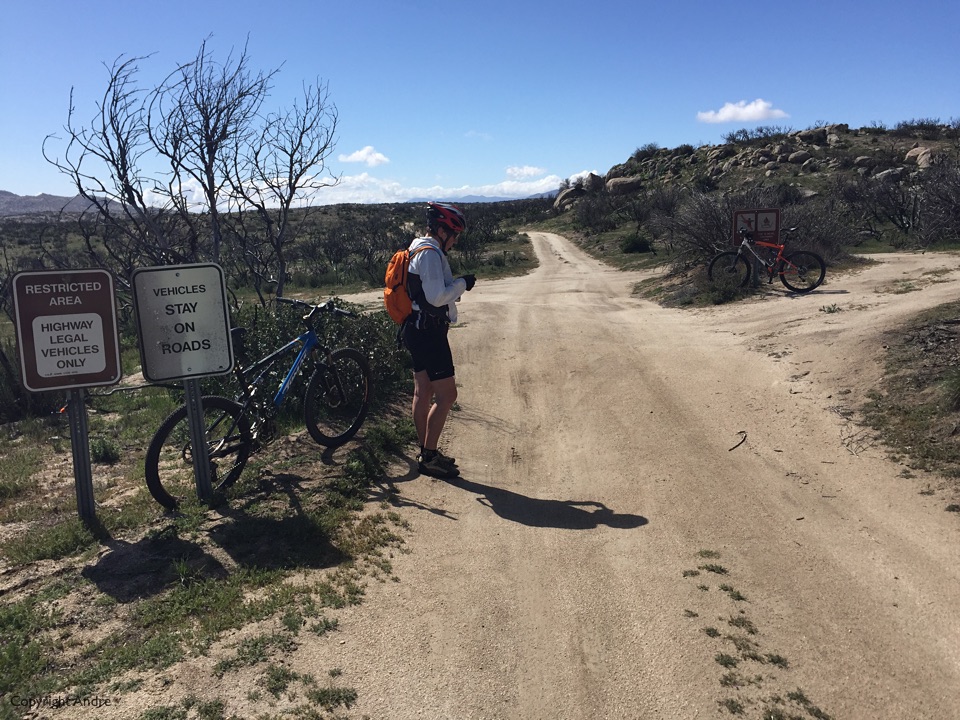 A mile in we come across a solo guy parked in his SUV, eyes glued to his 4″ screen. I approach and the window glides down: "Excuse me but this is our first time here and is this the Jasper trail?". "I don't know. This is also my first time and I'm looking for the Mt Wilson trail head". Well that was not much use and we continue on. Going down a dip in the road I spot a vehicle approaching from the opposite side, taking it's time like a cautious driver should. We meet at the bottom and a cheerful couple start effervescing as  to how great it is out here. Now this is more like what I want to hear and it transpires they have climbed up the road we are descending. Good, we are on track and the adrenaline recedes.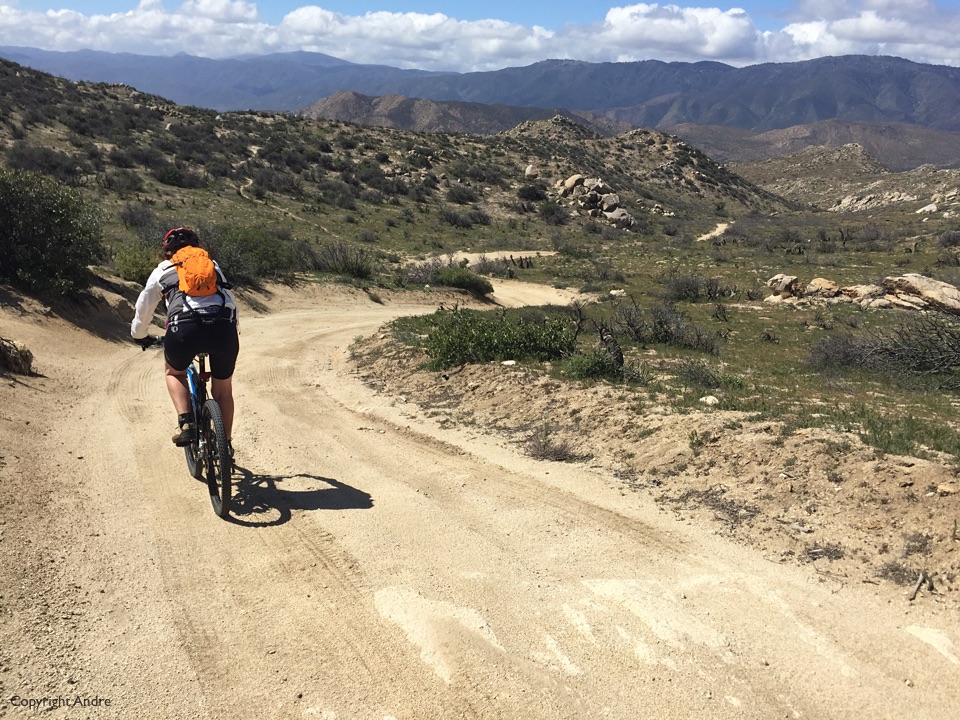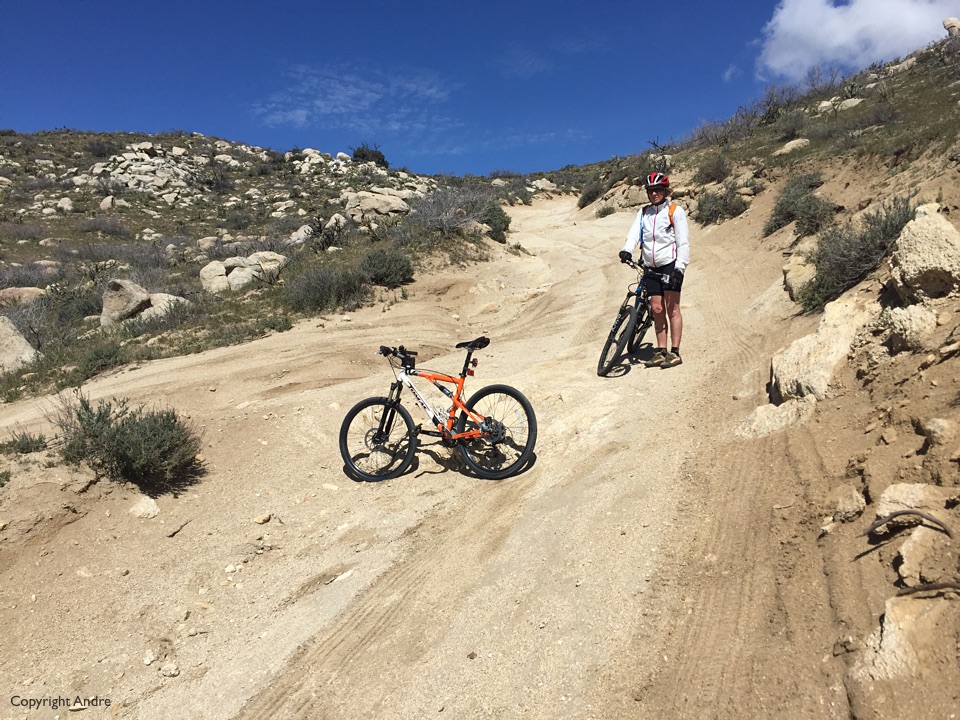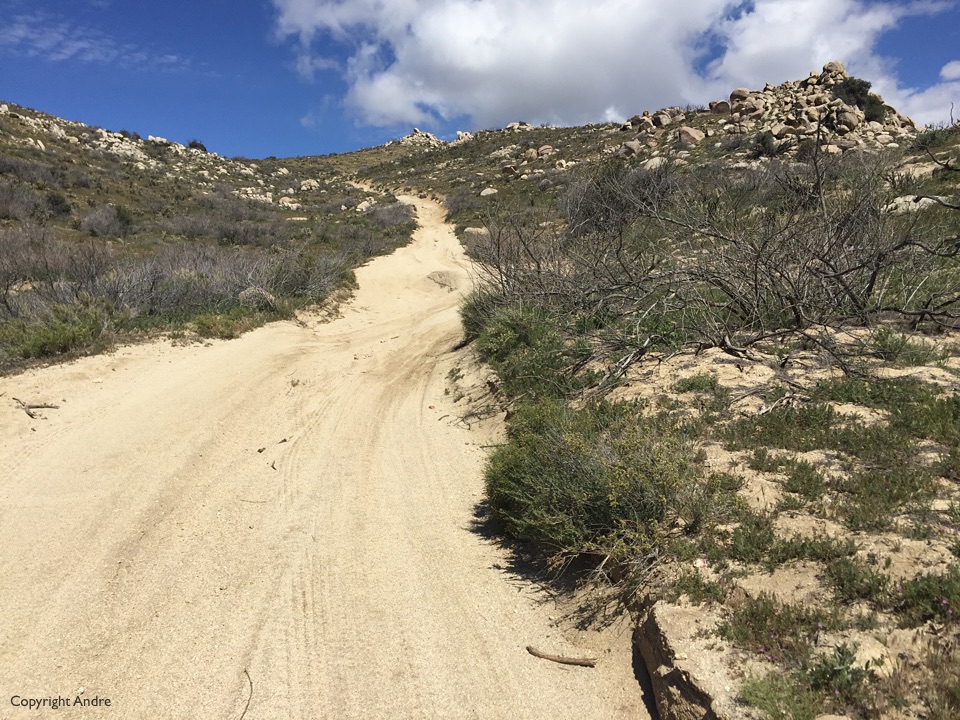 For some or other reason I stopped taking photo's as we entered Grapevine Canyon started heading out. This was a more popular 4×4 trail and we met 2 older gals in a SUV, a string of jeeps looking for trouble and even a couple of hikers. Once you join the pavement at Tamarisk Grove there is a climb up Yaqui Pass and a long downhill into town.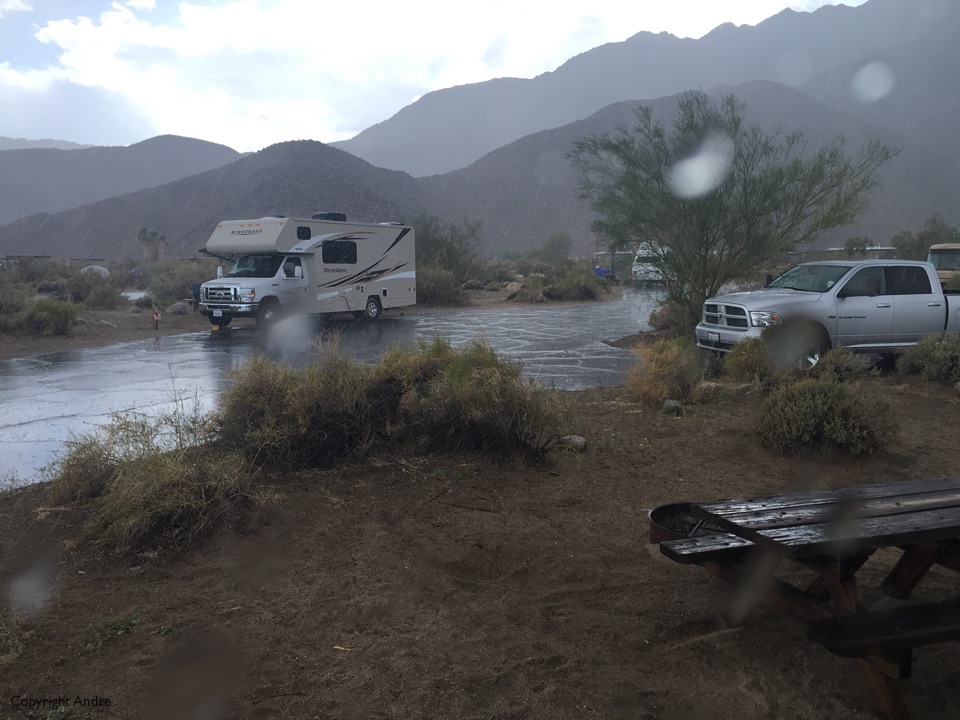 Back at the RV we just had time to clean up before the heavens opened up for  quick downpour – love the smell in the desert after the rains! Morning after it was crisp & clear as we slowly packed up and moved down to Agua Caliente Regional Park.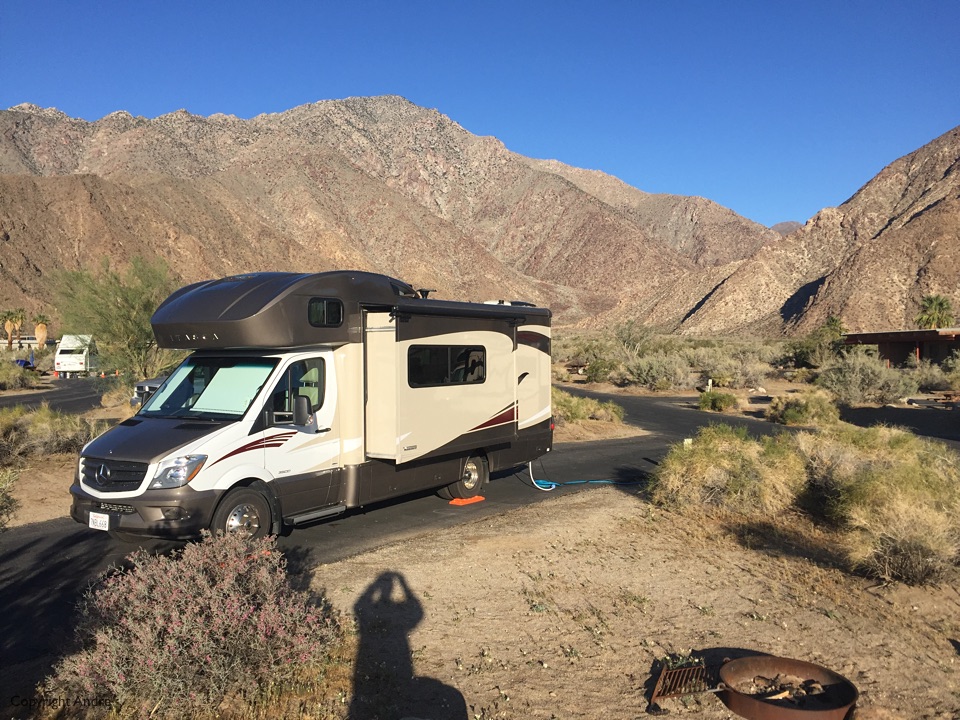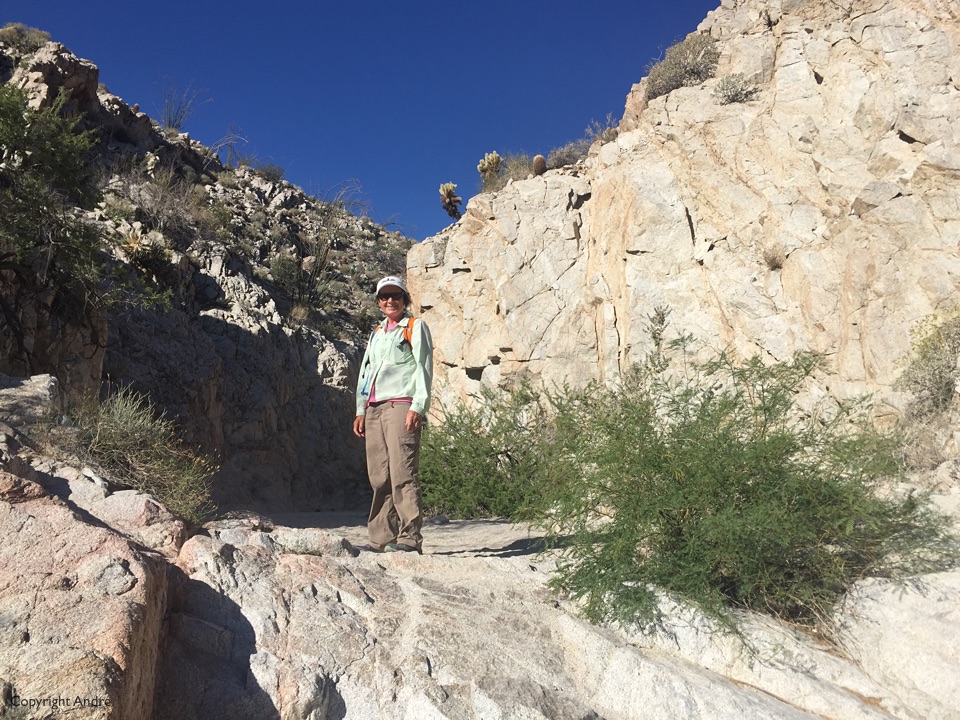 A nice 2 mile loop hike up Moonlight Canyon Trail, surrounded by private land so they try to keep you from exploring and to stay on the trail.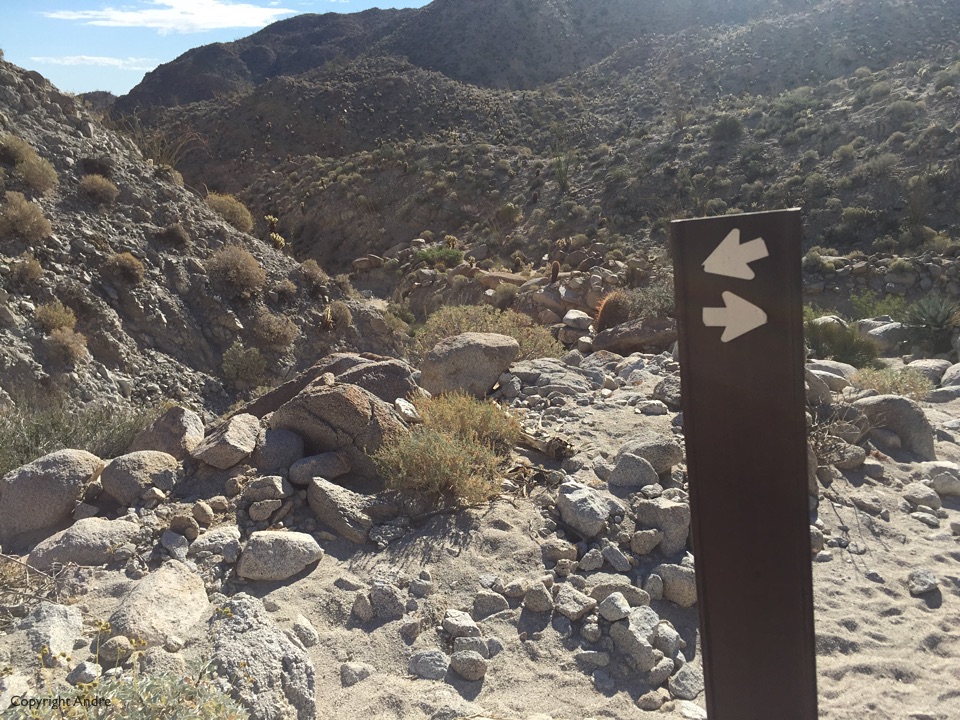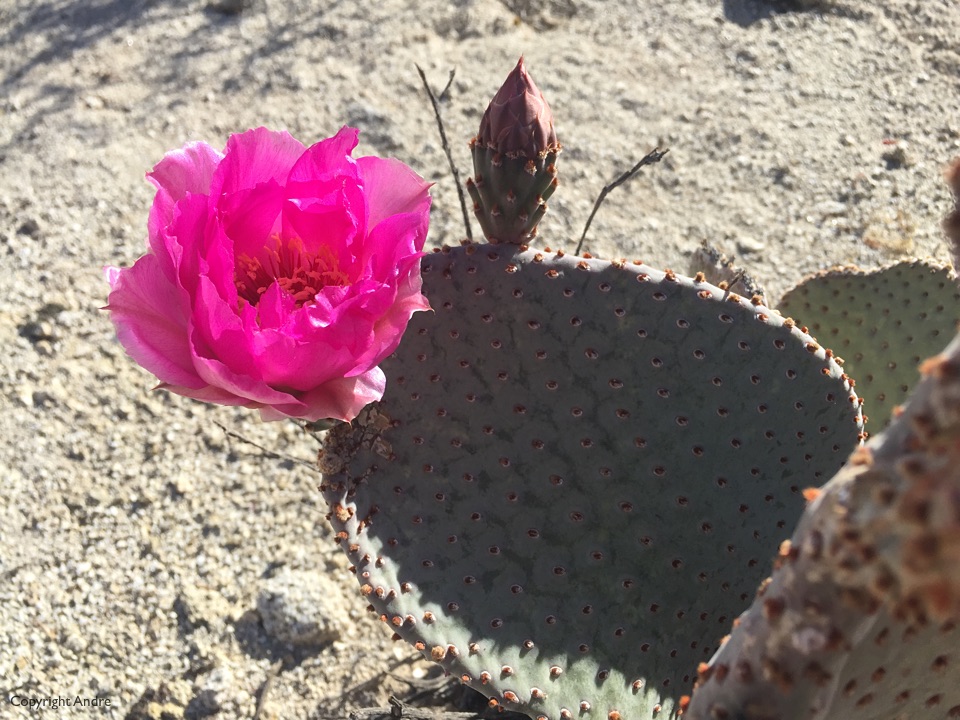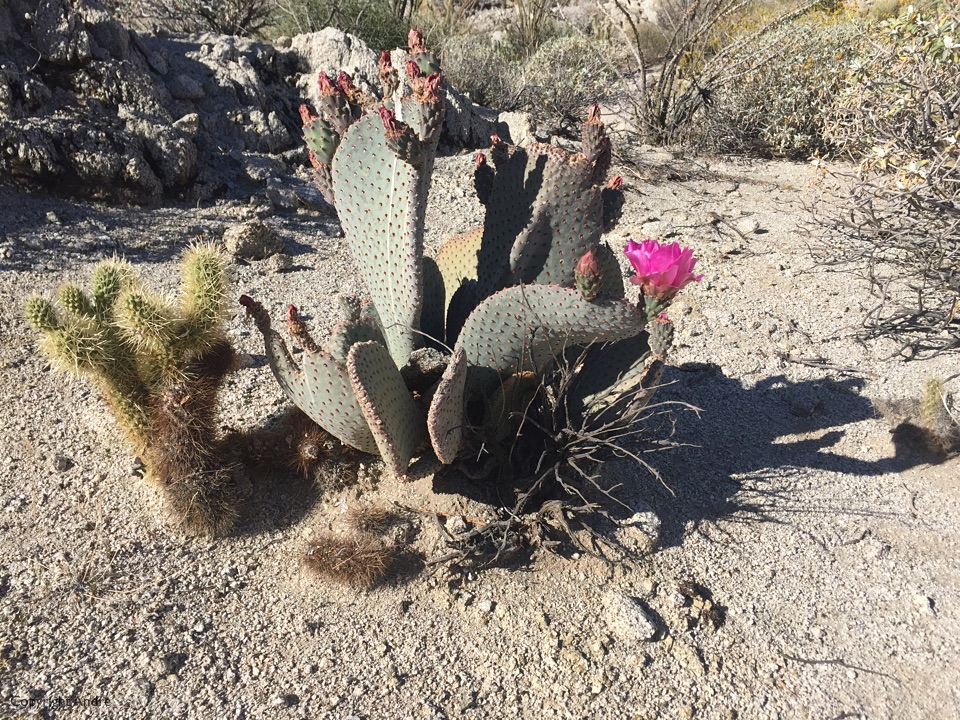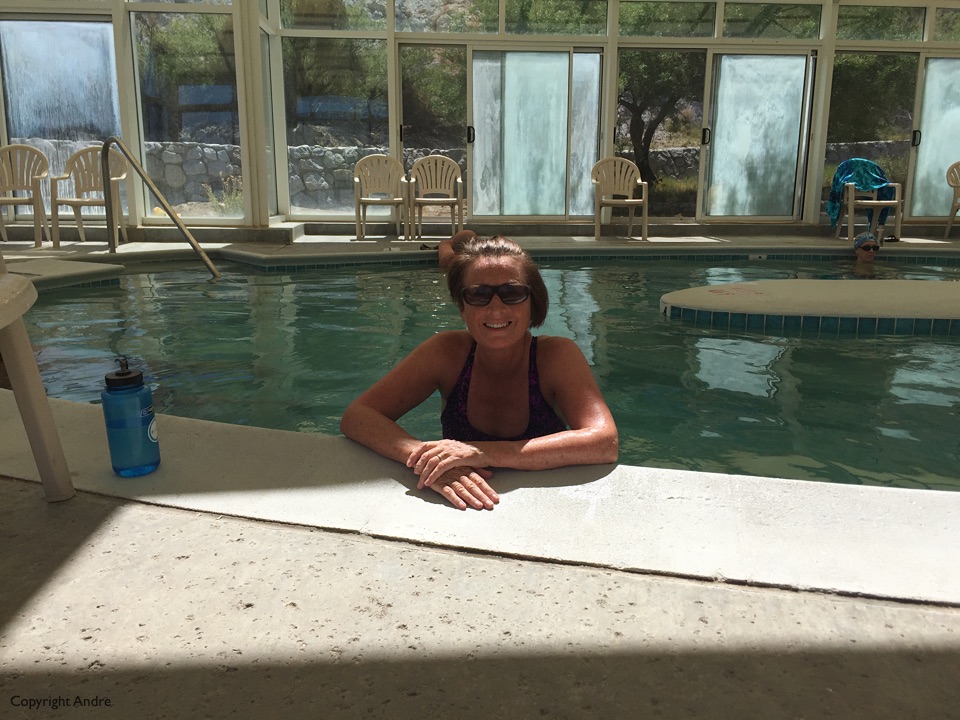 Looks all quiet and we enjoyed the relative peacefulness before the crowds arrived for the weekend. Plenty of San Diegans turn this into a popular family resort – our neighbors had four young girls that were obsessed with trying to catch frogs in a nearby creek. We left them and had money on the frogs with their deceptive omnidirectional croaking.