I have to go back to the day in Bedoin and the ride up Mont Ventoux. Back when I was first looking for a Provence cycling tour and found the nice circular route around Avignon I did not know Mont Ventoux (windy mountain) even existed. Upon reading the fine print and seeing it sitting there next to Bedoin it was as if a gauntlet had been thrown down. There was no way I would ride through Bedoin and not attempt the challenge!
Rose & I started training which included a  ride up to Whitney Portal which had a similar grade albeit a bit shorter in length. The strategic breakdown of Ventoux's 22Km is a 6Km "warmup" to Saint-Esteve, then the relentless 9% climb through the forest and breaking out into the barren Alpine zone at Le Chalet Reynard. Then the final haul to the radio tower through bare limestone and a steep 12% finish.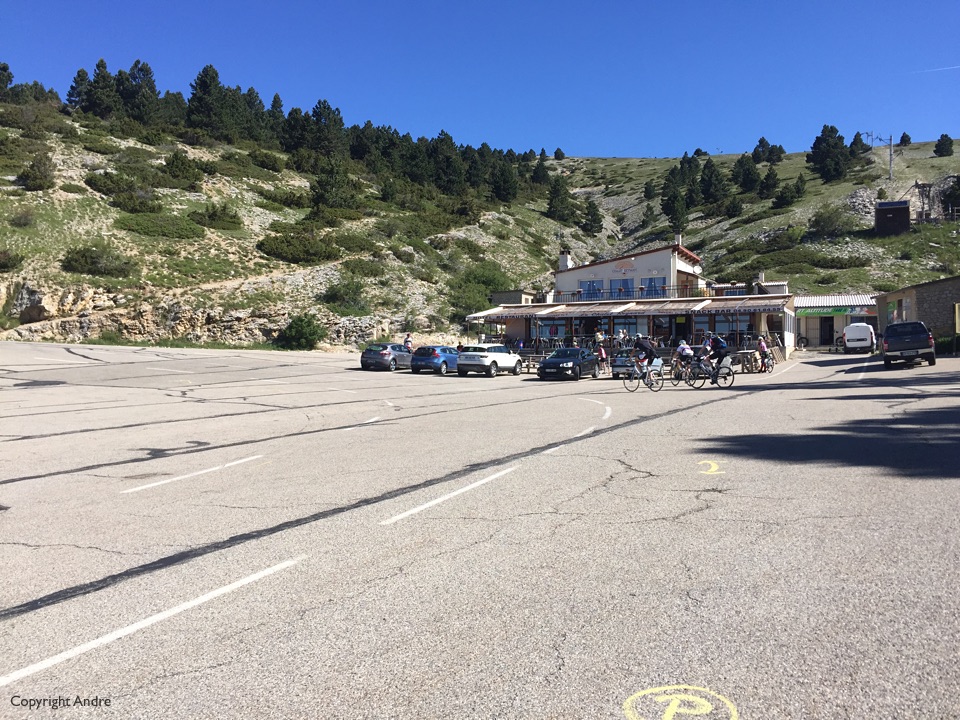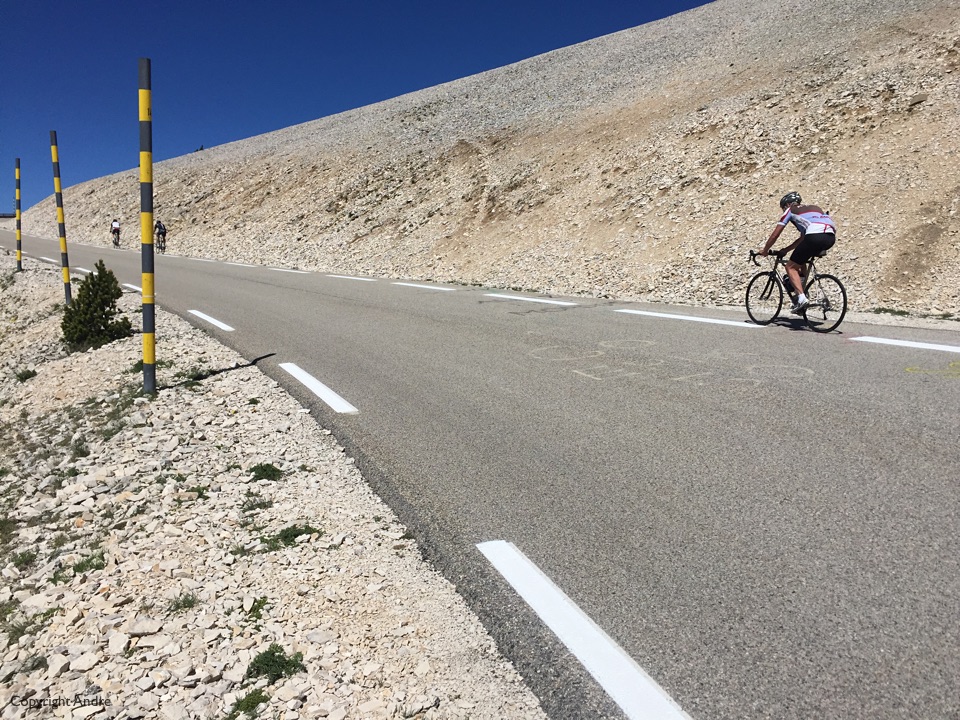 Near the summit there were a number of photographers hoping to get your business. I've learnt to play to the camera but this one came out pretty well.
I had a good ride, was exulted at the top and mellowed back down filled with warm satisfaction. The girls had organized a professional cyclist massage for everyone back at our hotel La Garance what a wonderful reward!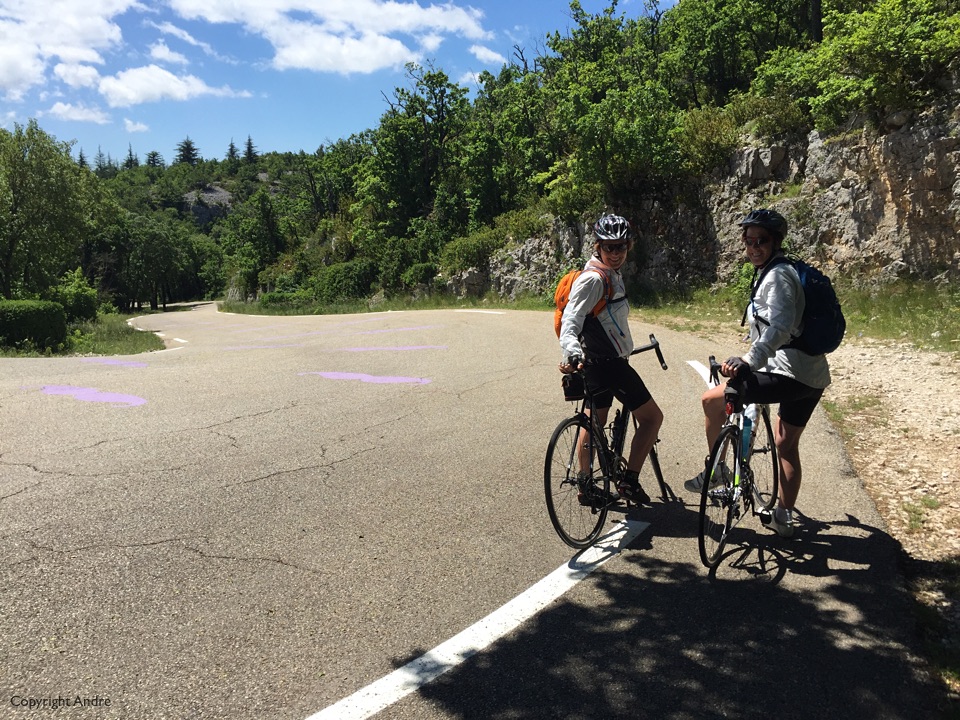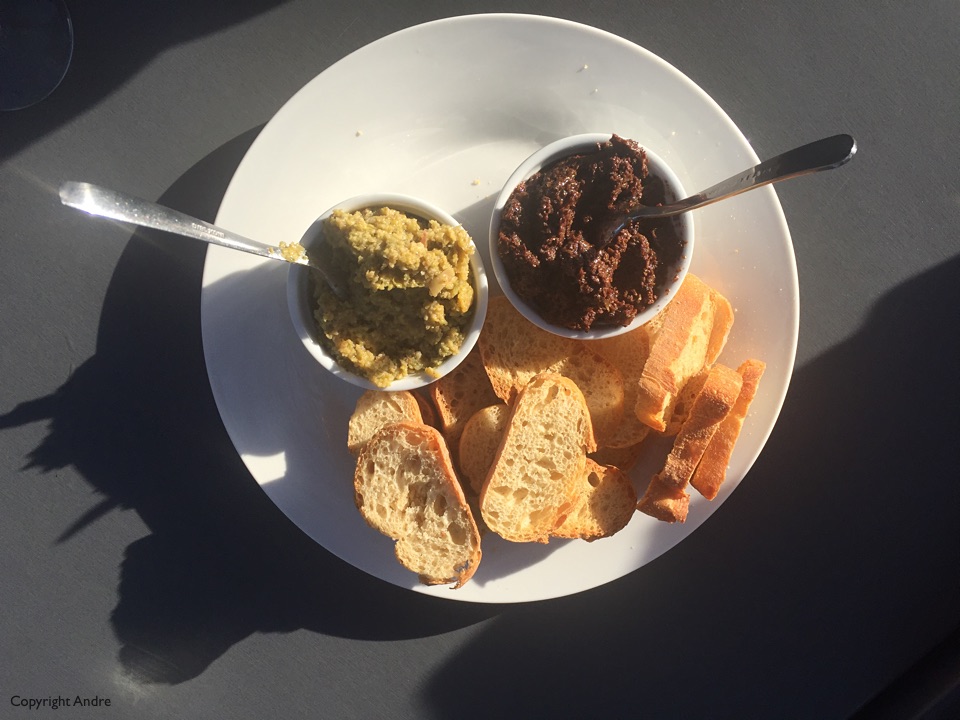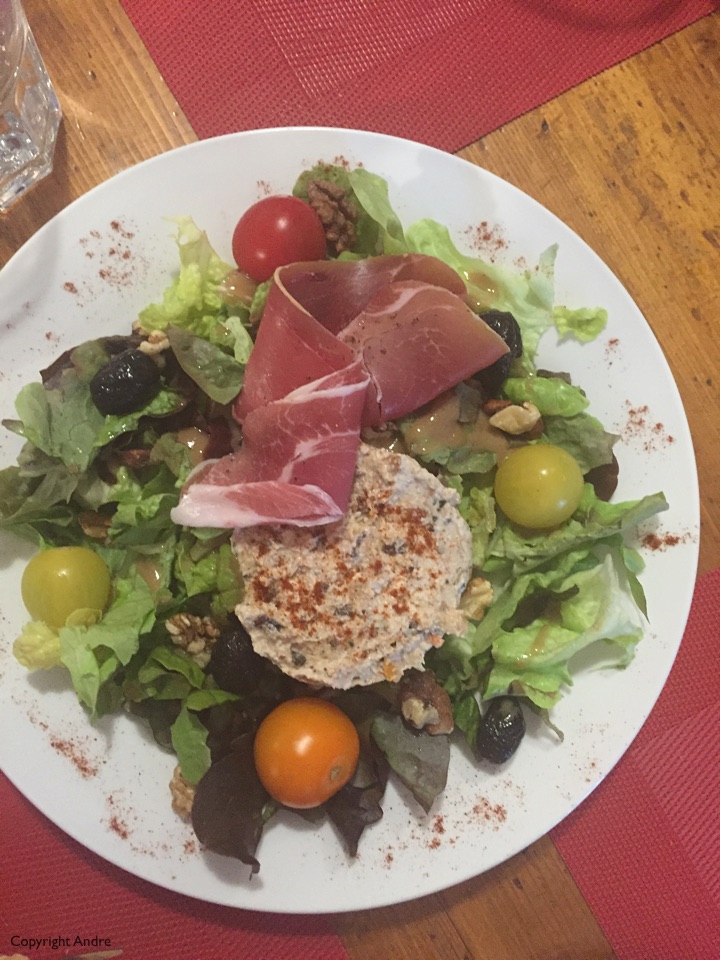 Friday it was time to move on and we had about 46 miles and 3700′ of climbing. Two attractions along the way were the Fonteine-de-Vaucluse and thereafter the hilltop town of Gordes.
Our early morning start was from a position of altitude advantage – we coasted down through the vineyards & farms to the town of Flassen while I for one eyed the hills in the distant trying to guess which one we would climb over.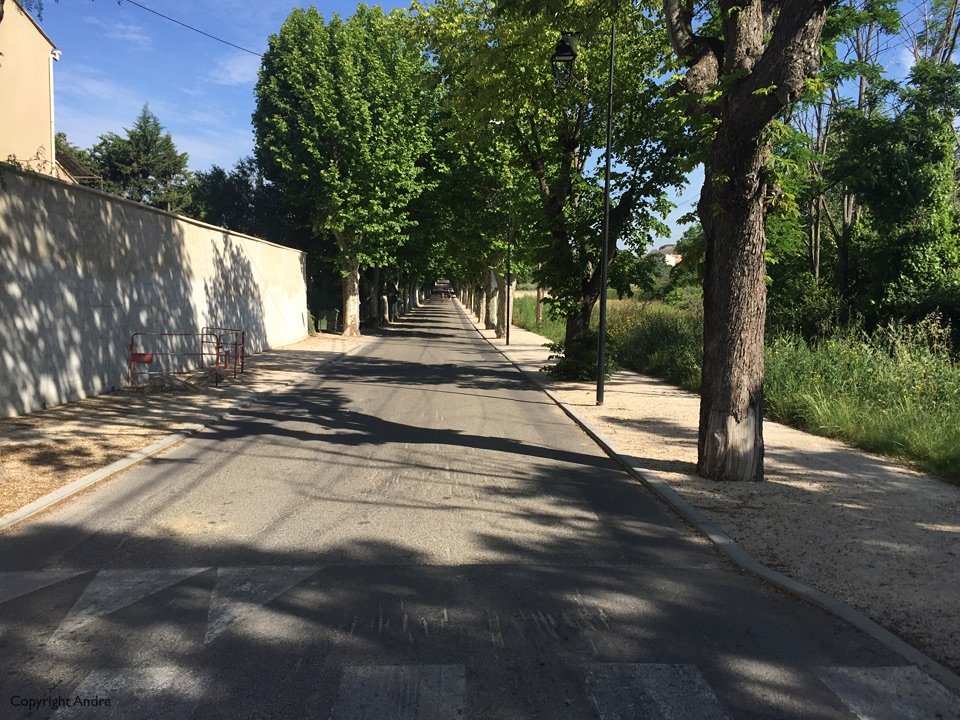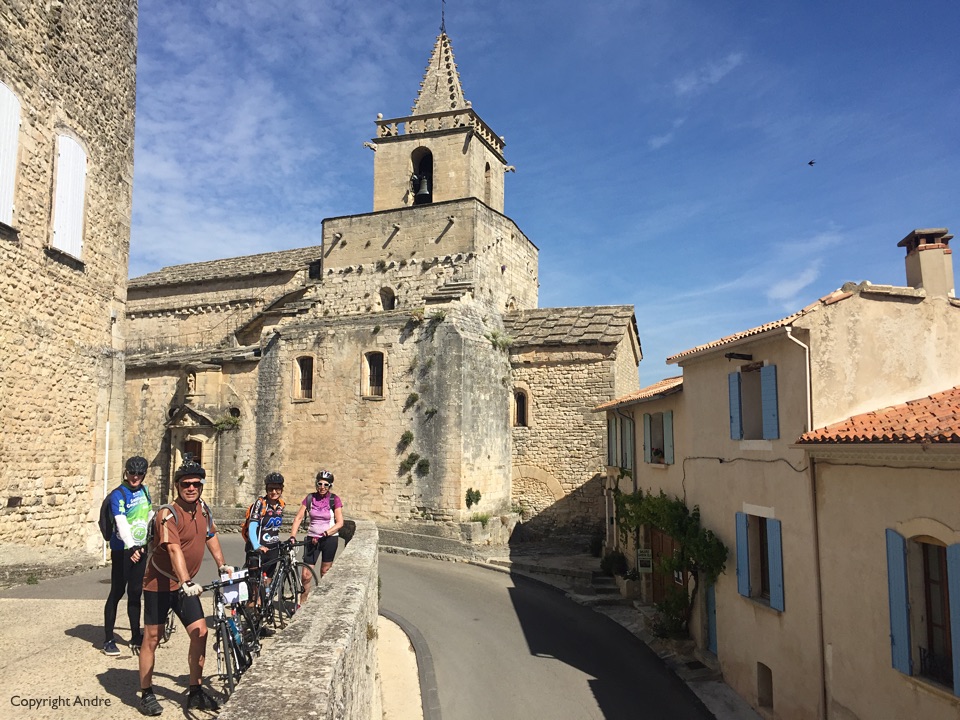 Venasque was one of those places where my navigation went through a period of solar static. "Keep going straight to the center of the village" read the cue sheet. There is no straight way entrance to the hilltop Venasque but I was intent on finding it as the next instruction was "By the church, turn left". We ended up taking a road up, any road, to find the church & our bearings. On top I was still befuddled. Saw this solo cyclist on a bench and approached with a "Parlez-vouz Anglais?". Back came this limey accent from SW England and we were off & running. He assured me I had to go back the way I came up and look for Le Beaucet, our next village, signpost. All other roads went the wrong way. Limey was right, we did get out of Venasque and head towards Le Beaucet but not after also finding the backdoor road to the hilltop which would have saved us some of our descent.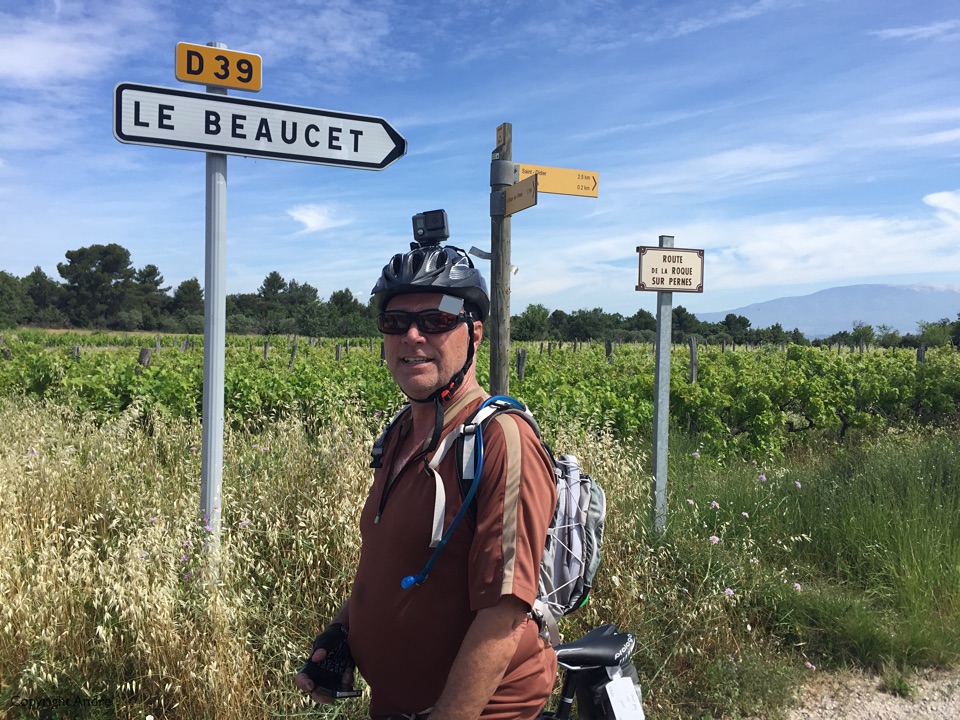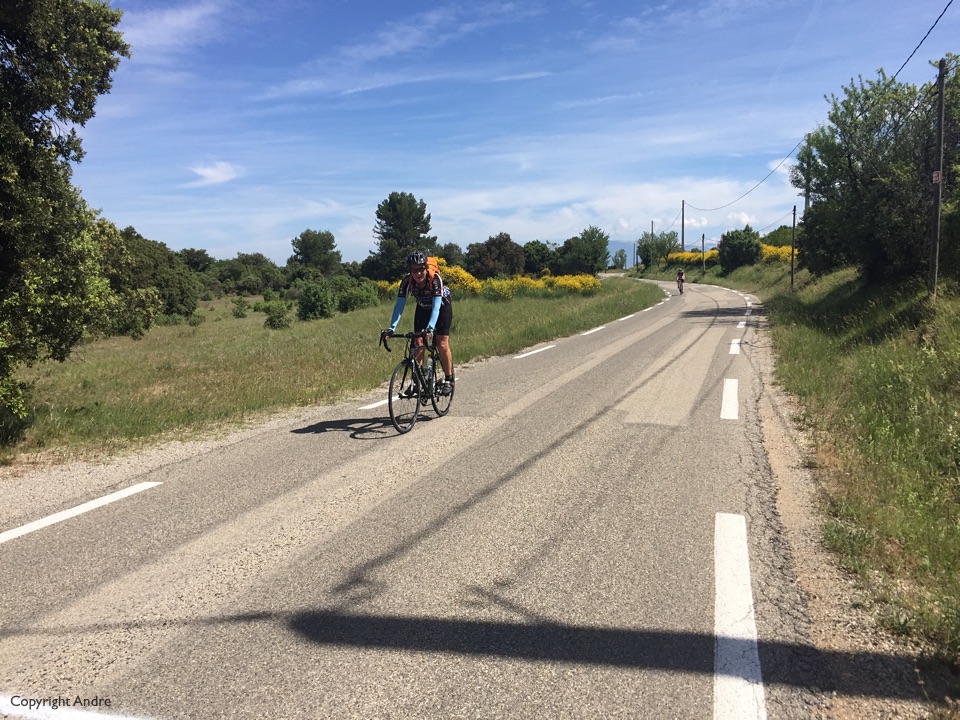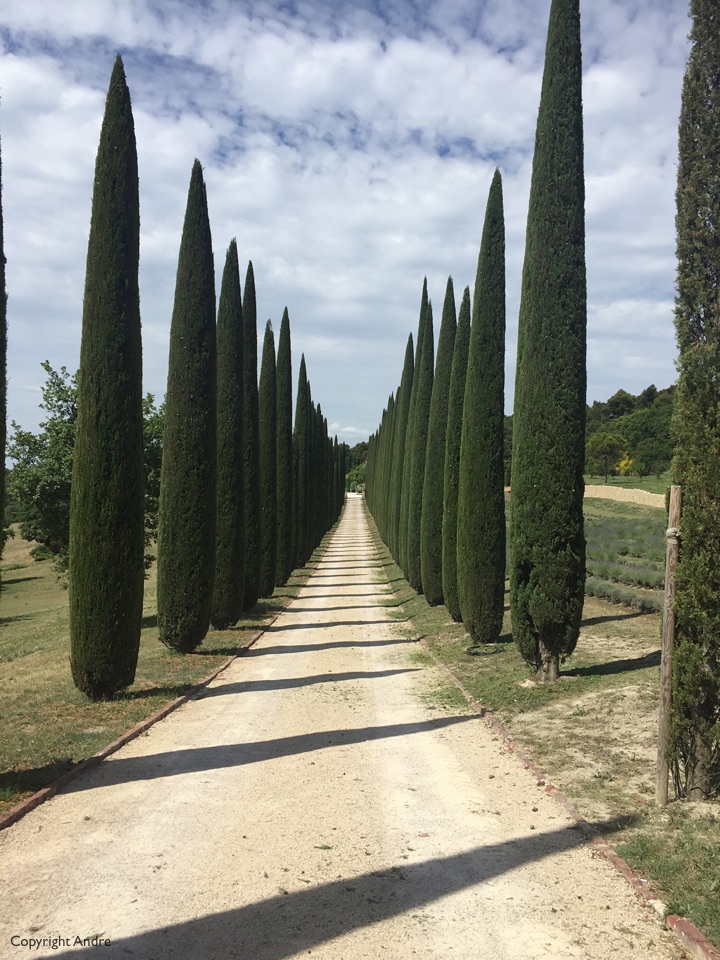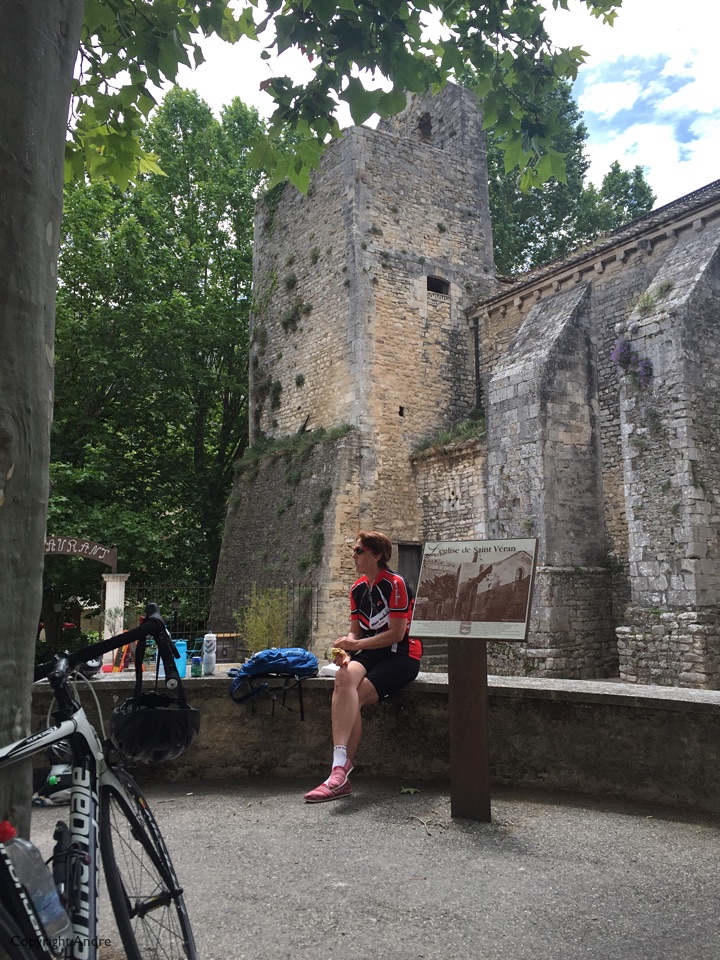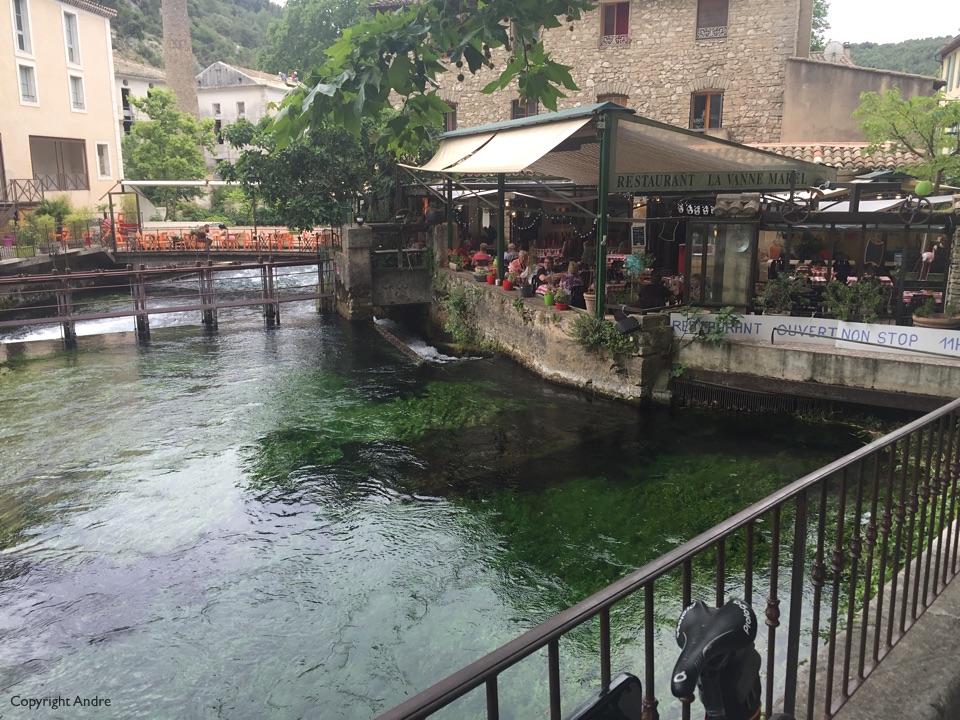 The uniqueness is that a short walk from the above photo is a "resurgance pool" where water collected from rainfall in the Plateau de Vaucluse gushes forth from underground to form the source of the Sorque River.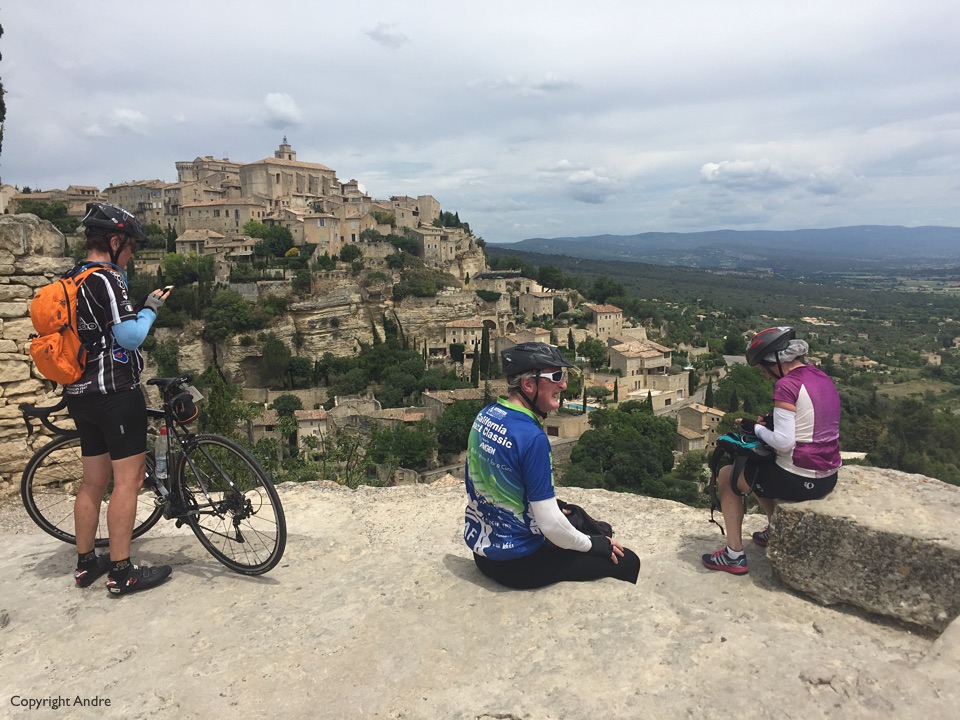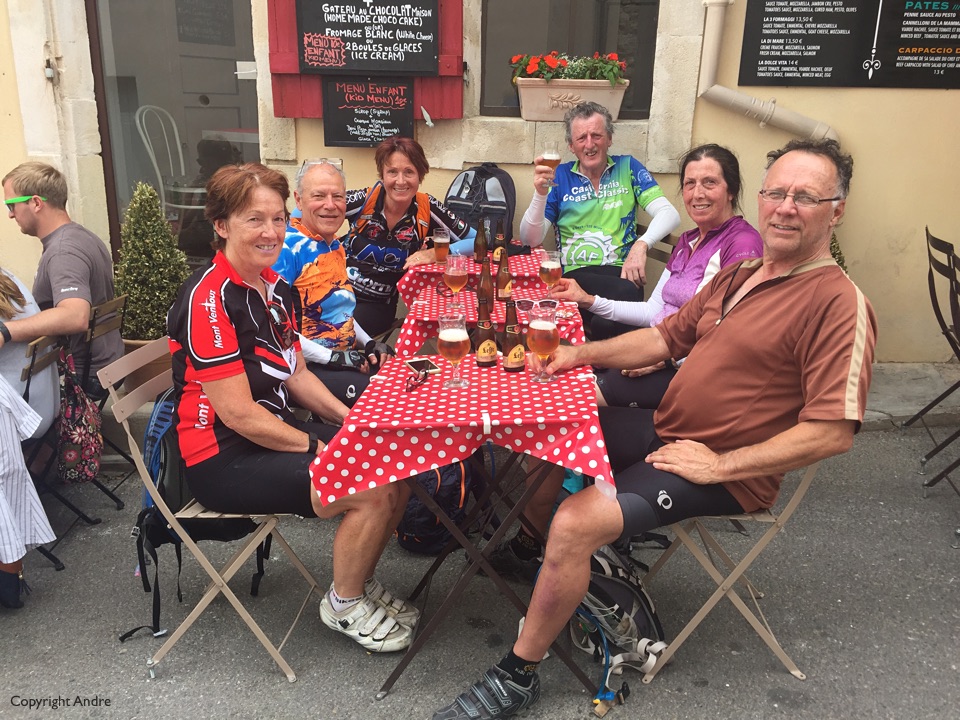 Gordes is a charming village full of touristy, narrow, winding lanes that beckons one to wander and absorb. We all looked at each other and collectively thought: "We're 12Km out what harm would a nice cold beer do?", so we found a red polka-dot table and relaxed a while.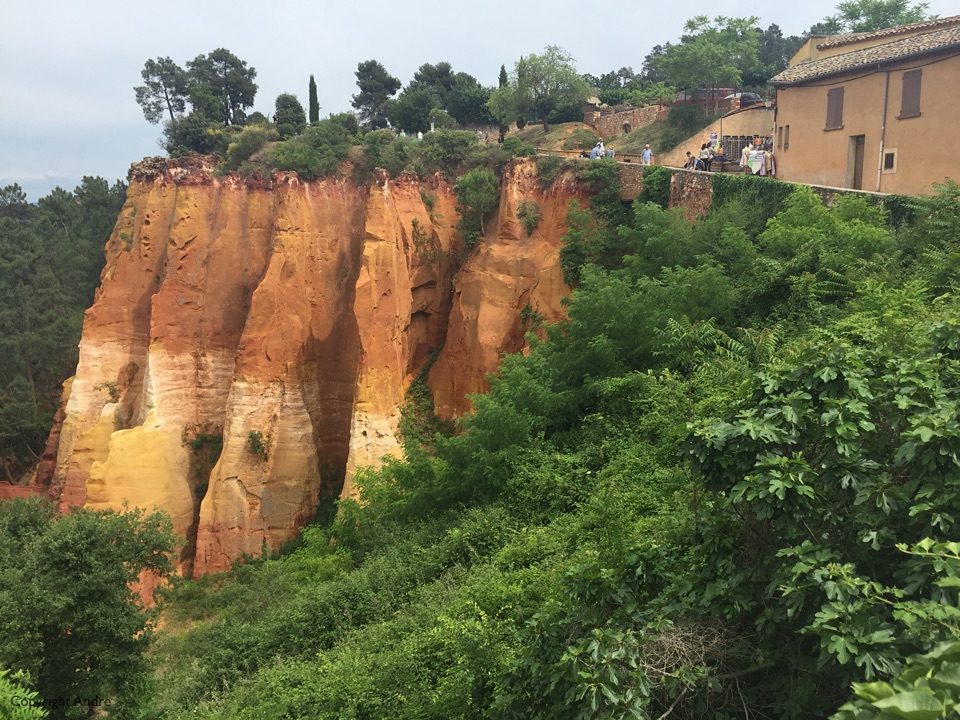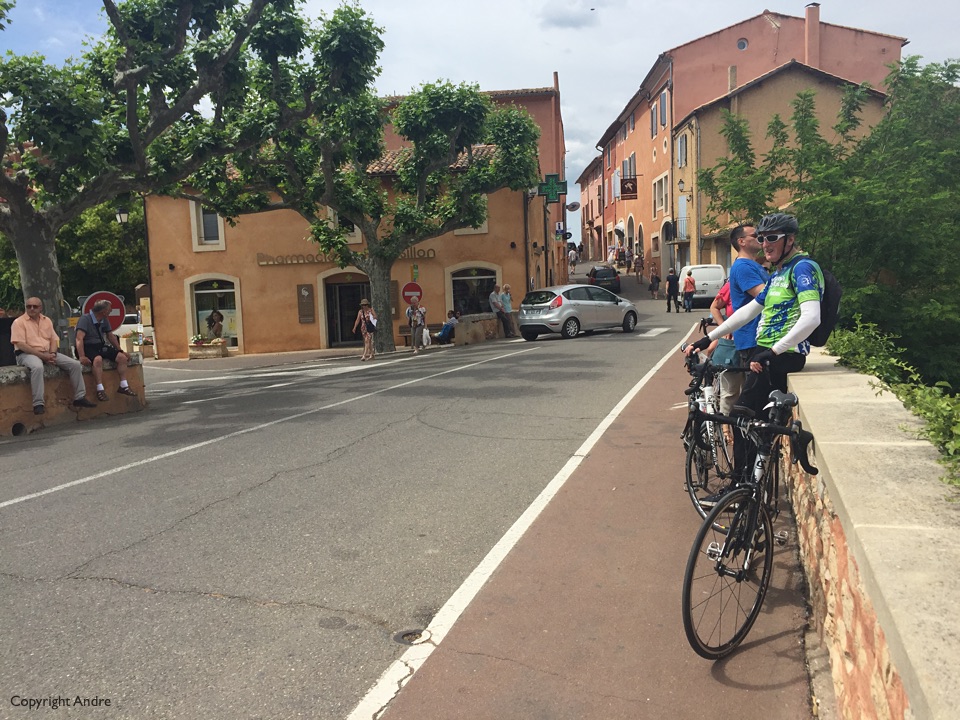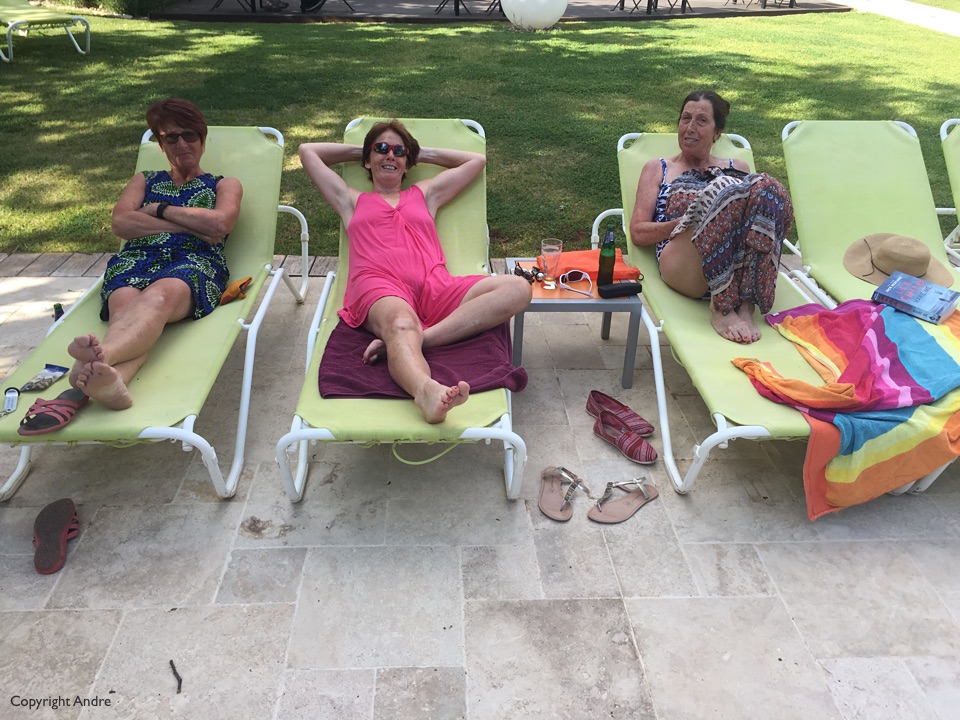 Could be a misplaced photo but no our hotel, Les Sables D'Ocre, has  wonderful gardens and a pool.