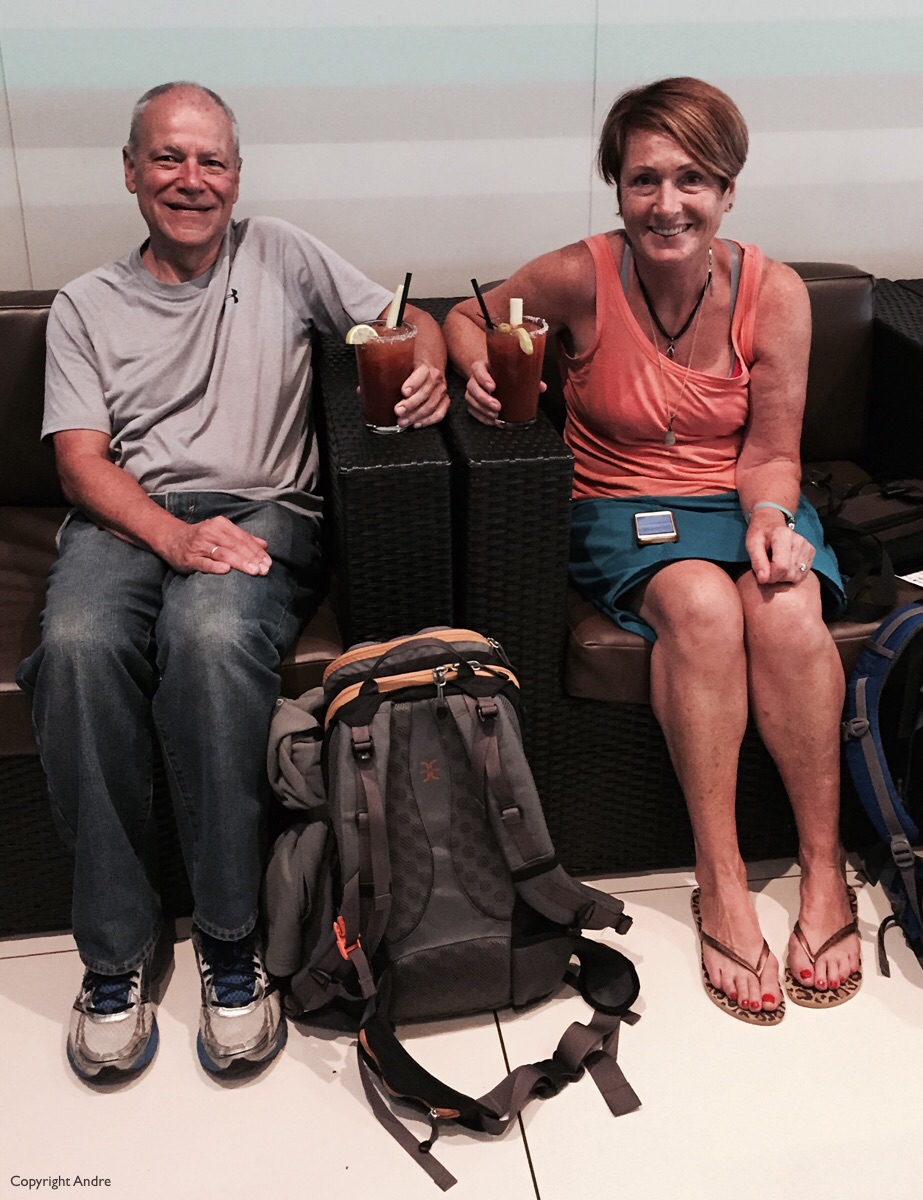 The worst for me is getting out of the house. I've packed but am not sure if I have the right things, what have I forgotten? Do I need this? As I stuff random articles into corner spaces overloading my bag.
Then I'm committed to getting into the taxi I just called and it's all over. What's with me is going and what isn't , well it isn't going. Dropped the bags, got through security with our bagels and cream cheese intact. Right opposite our gate was was the "Corona Beachhouse" and we settled into two bloody Mary's at $14 a pop just because it's across from gate 86.
Next stop is Chicago and our critical connection to the Brussels flight. Many segments but that's just the way it is this time.
The Brussels flight left O'Hare pretty much on time much to my relief as we had our 90 minute connection to look forward to. When booking in a very unusual move for myself we had paid a premium for this leg and selected "Economy Plus" for our seats, reserving both the window and aisle seats with the middle one empty. Luck was with us and it remained untaken as they doors closed so we could spread our two bodies over the 3 seats which made the 8 hour crossing much more bearable.
On time touch down at 9 am but the pilot announced that there were no open gates for us so we parked on the tarmac and had to get bussed to the terminal – not the best. Inside we found ourselves behind another flight from Africa as we queued for immigration, hordes of people but the long snaky line moved and we got through in 20 odd minutes. Security was not too bad and we found our gate with 15 minutes to spare. Even managed to hit the ATM and much to my joy my card worked fine and I became 300 euro richer.
From Copenhagen we had one last commuter flight in a turbo-prop for the 45 minute flight down to Sonderborg where we were welcomed by two smiling familiar faces of Inger & Alvaro. So nice to be welcomed and fed a meal as we desperately tried to adjust to the jet lag and get into our European time zone.
Thursday 20th:
Dragged myself out of my magnetic sleep to join Alvaro for a cup of coffee at 10 am. Once up I seemed to wake up and start the day. Picked up our Avis Opel Corsa, drove out to Naldmose Camping where we had reserved cabin for a few days, then back to see Kalle and finally a braai at Al & Ingers to meet with Cecelia and Theis. More about that all in later posts.