This was some time in the planning. First of all I decided to spend my 70th birthday in Kauai and then I started searching for thing to do. The Kalalau Trail was one of them but due to it's popularity the State Park bureaucracy jumped in and to get a camping permit for this overnight hike you had to be up at 12 am Hawaii time, that's 3 am in California, and request a permit 30 days ahead. The limited availability go in a matter of seconds.
I got lucky so the hike was on. We decided to travel light and packed our day packs with a tent, summer bag & sandwiches for breakfast, lunch & dinner. 7:30 on the allotted morning we showed our passes to the attendant and headed up the trail.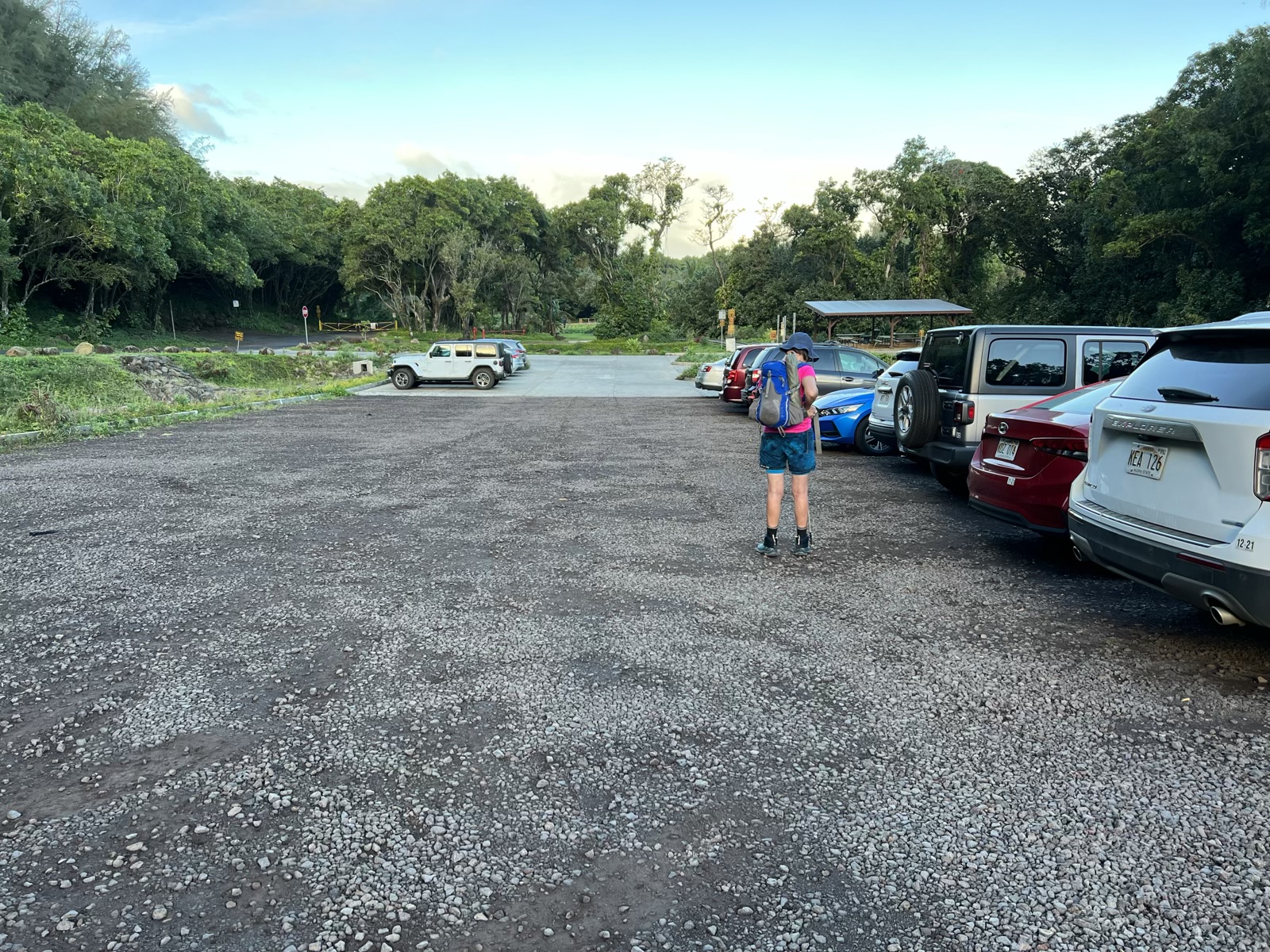 The trail heads up straight out of the gate and you quickly realize it's rocky, uneven and muddy.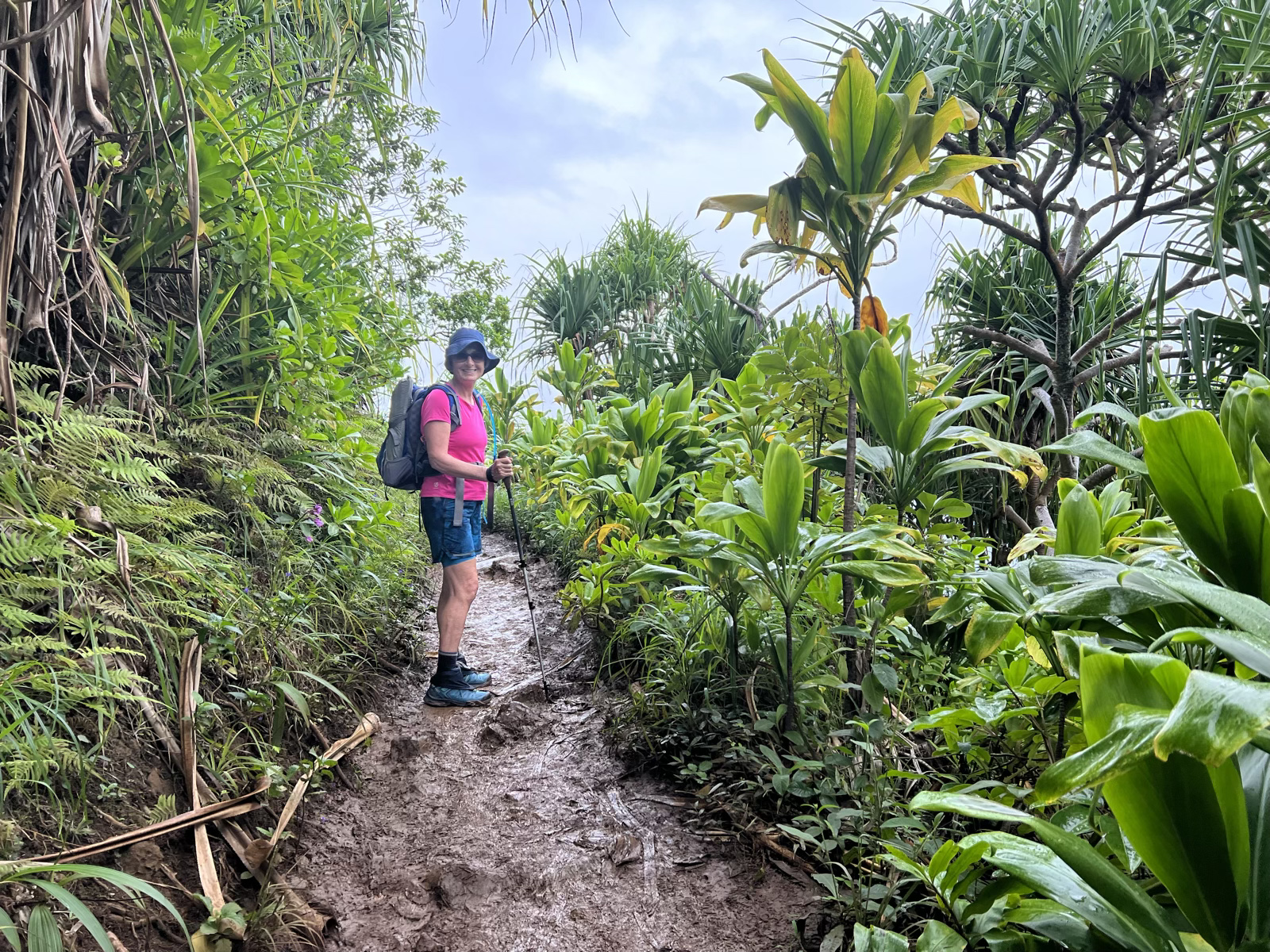 Half a mile in I check my pack and realize I'd left the permit in the car. Shit. What a start. I was petrified of getting confronted by a ranger and get told to turn around so I leave my pack with Rose and quickly add an extra mile to my already full itinerary. Turns out enforcement is lax and I needn't have worried about it after all.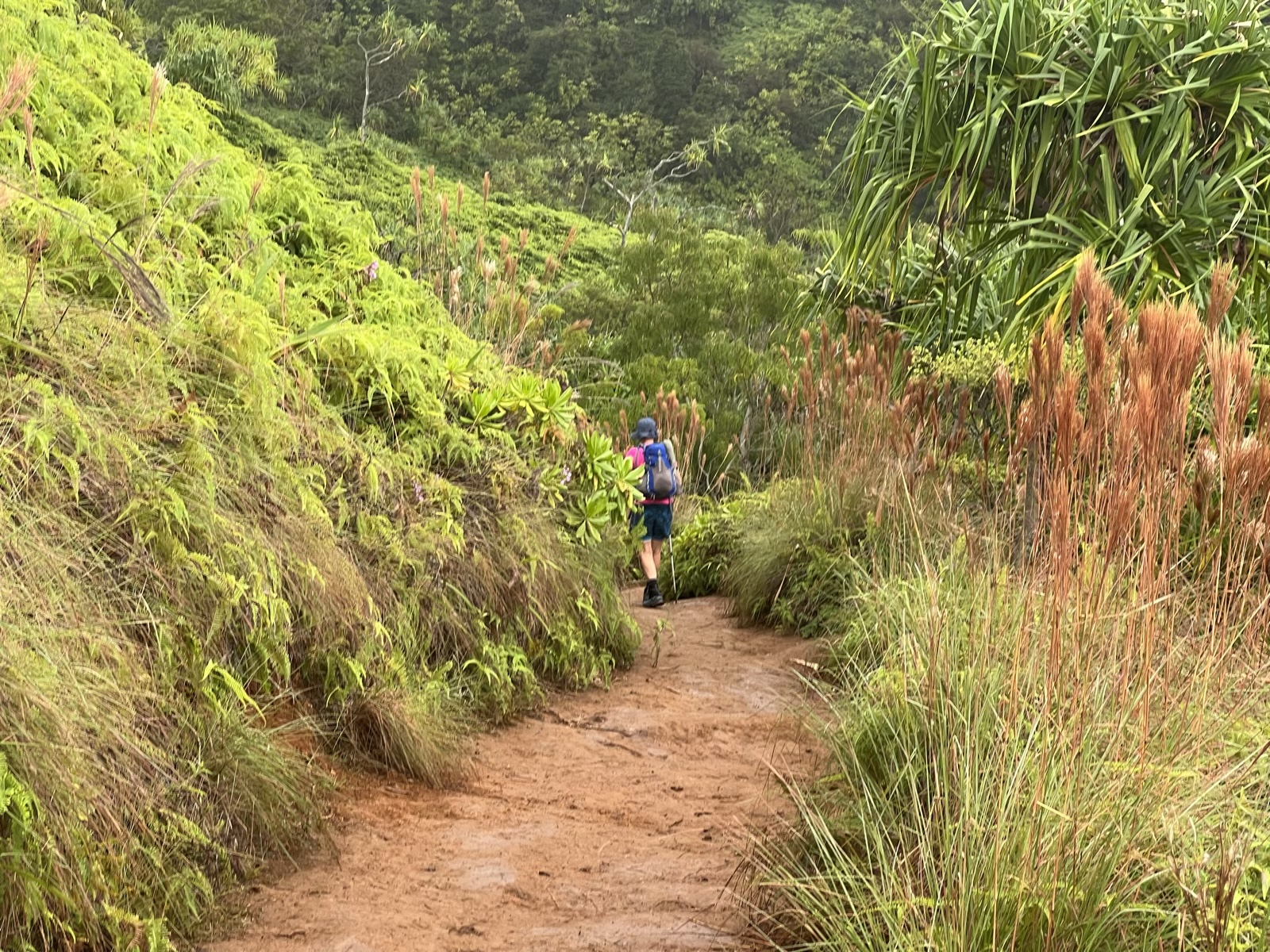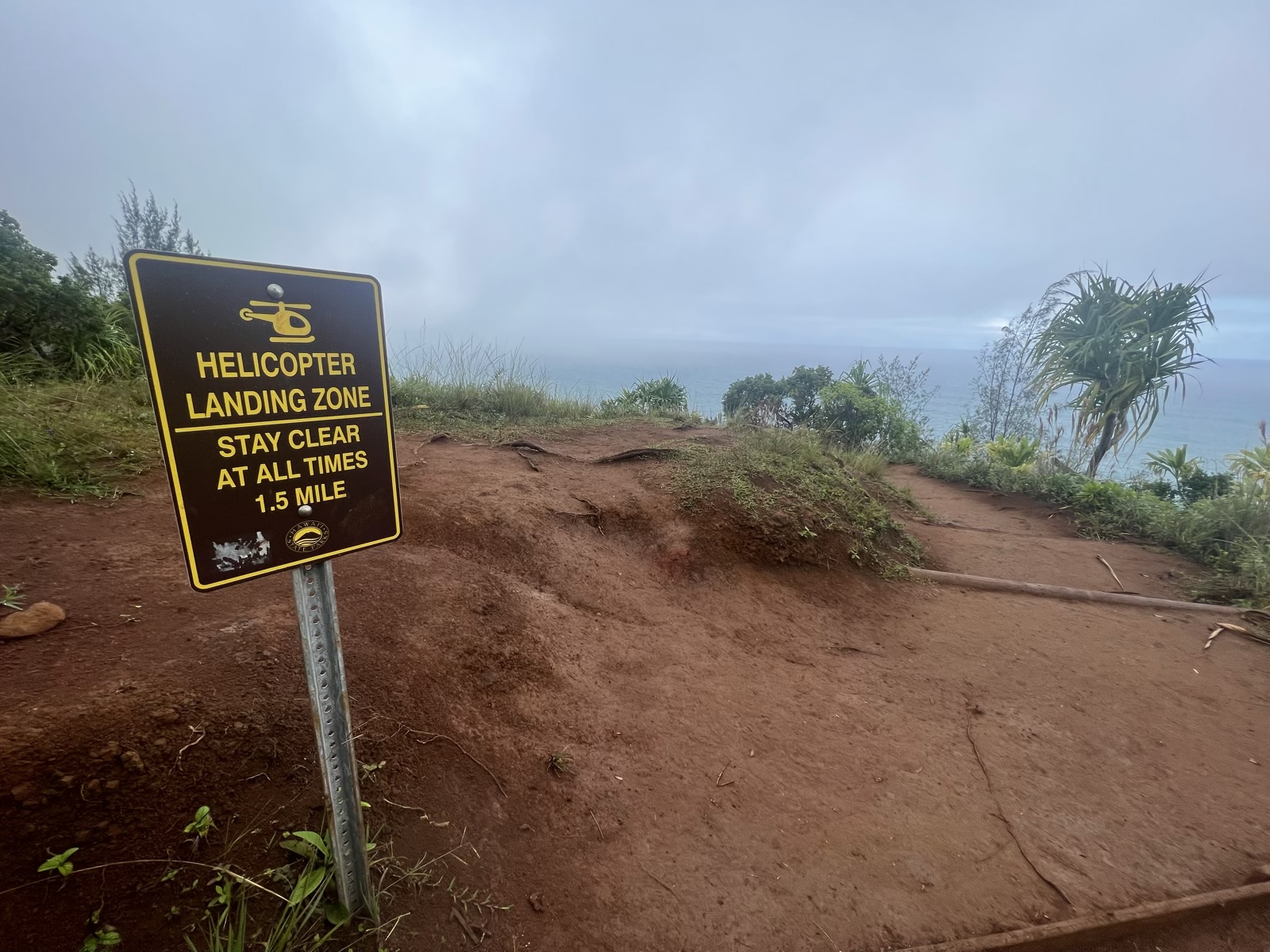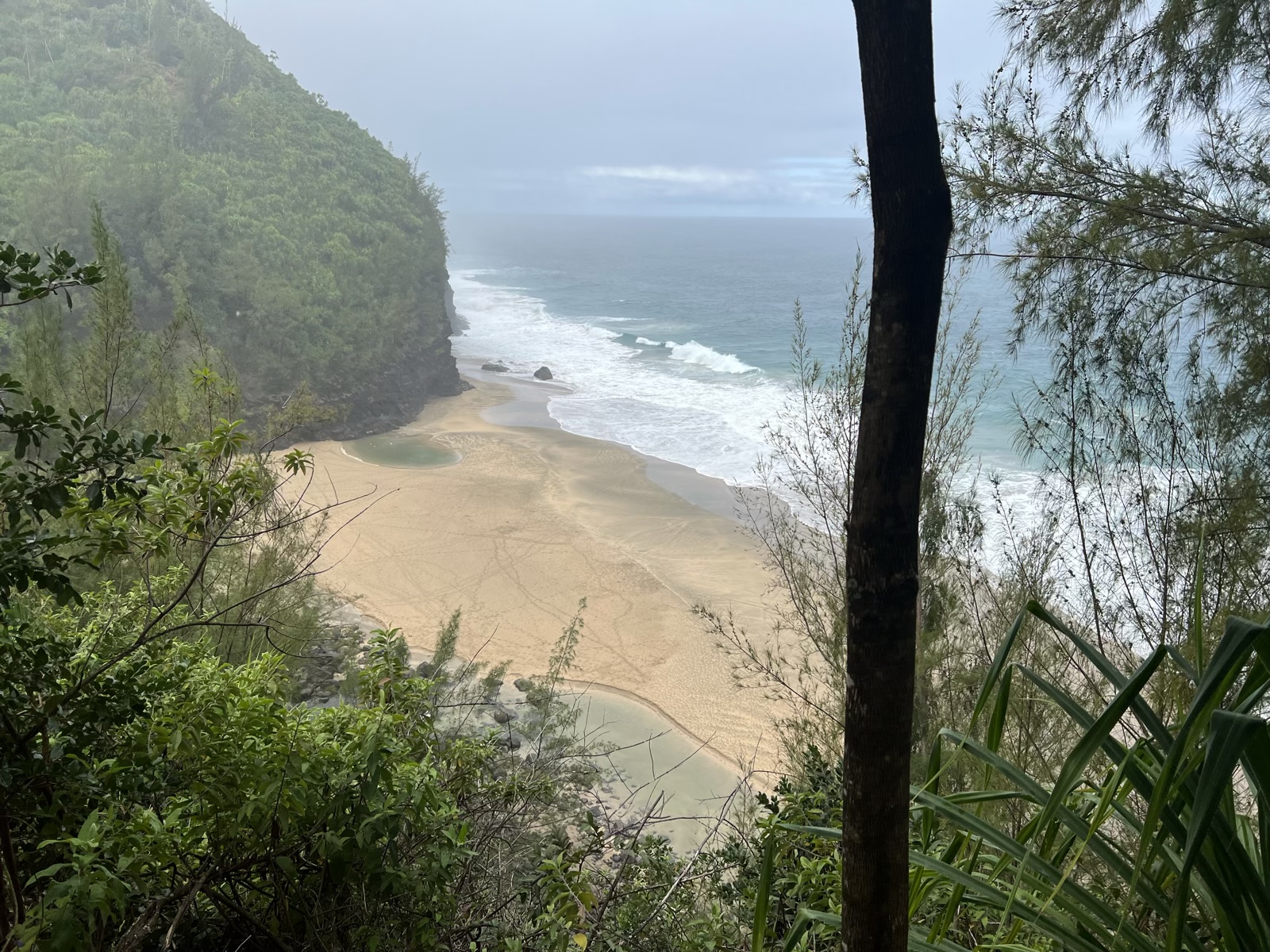 We had about three major river crossings, ones where you had to perfect your jump & balance to get across. Swollen rivers are major problem for hikers as a sudden downpour can make them impassable and the associated panic of being unable to get home.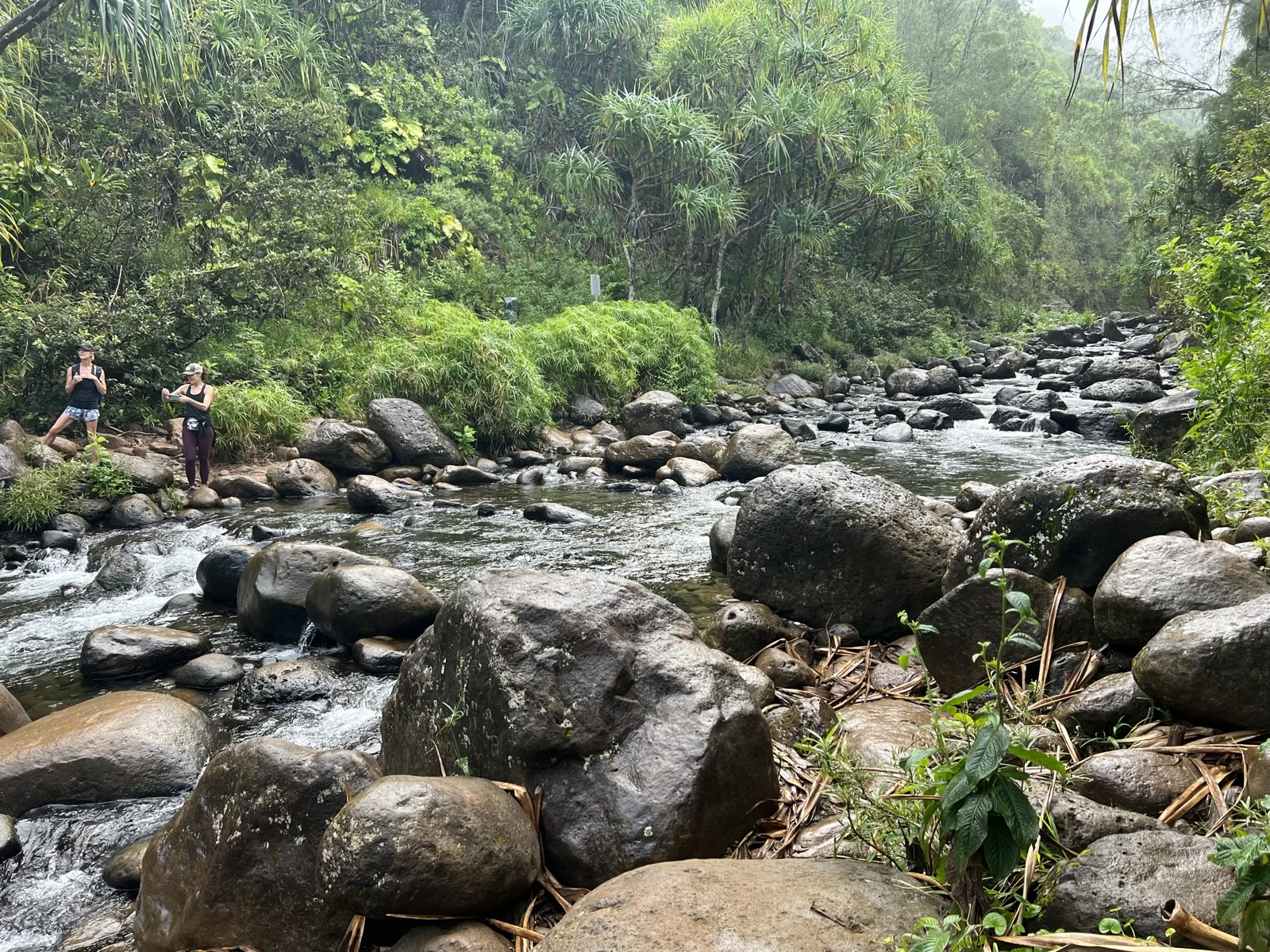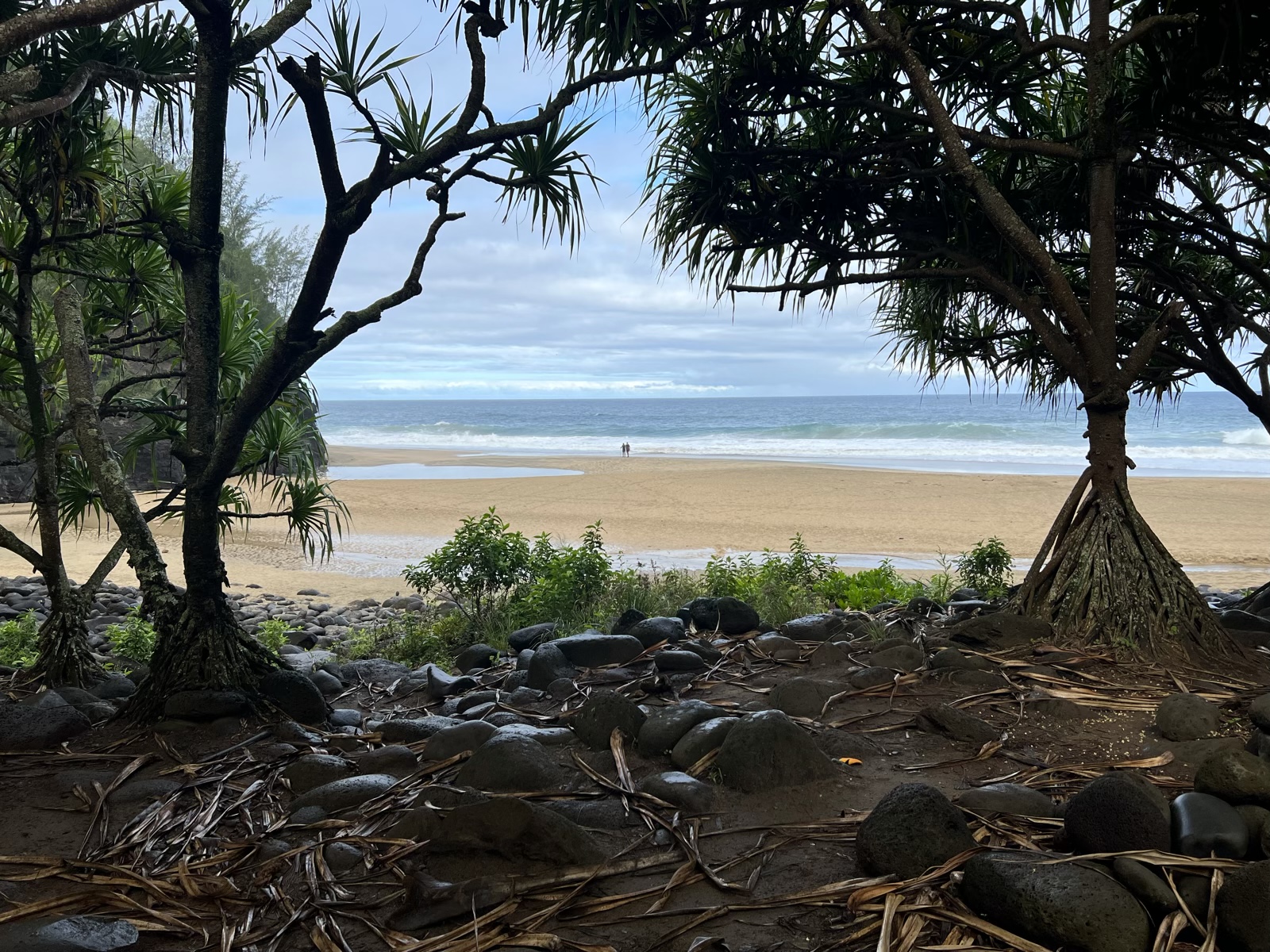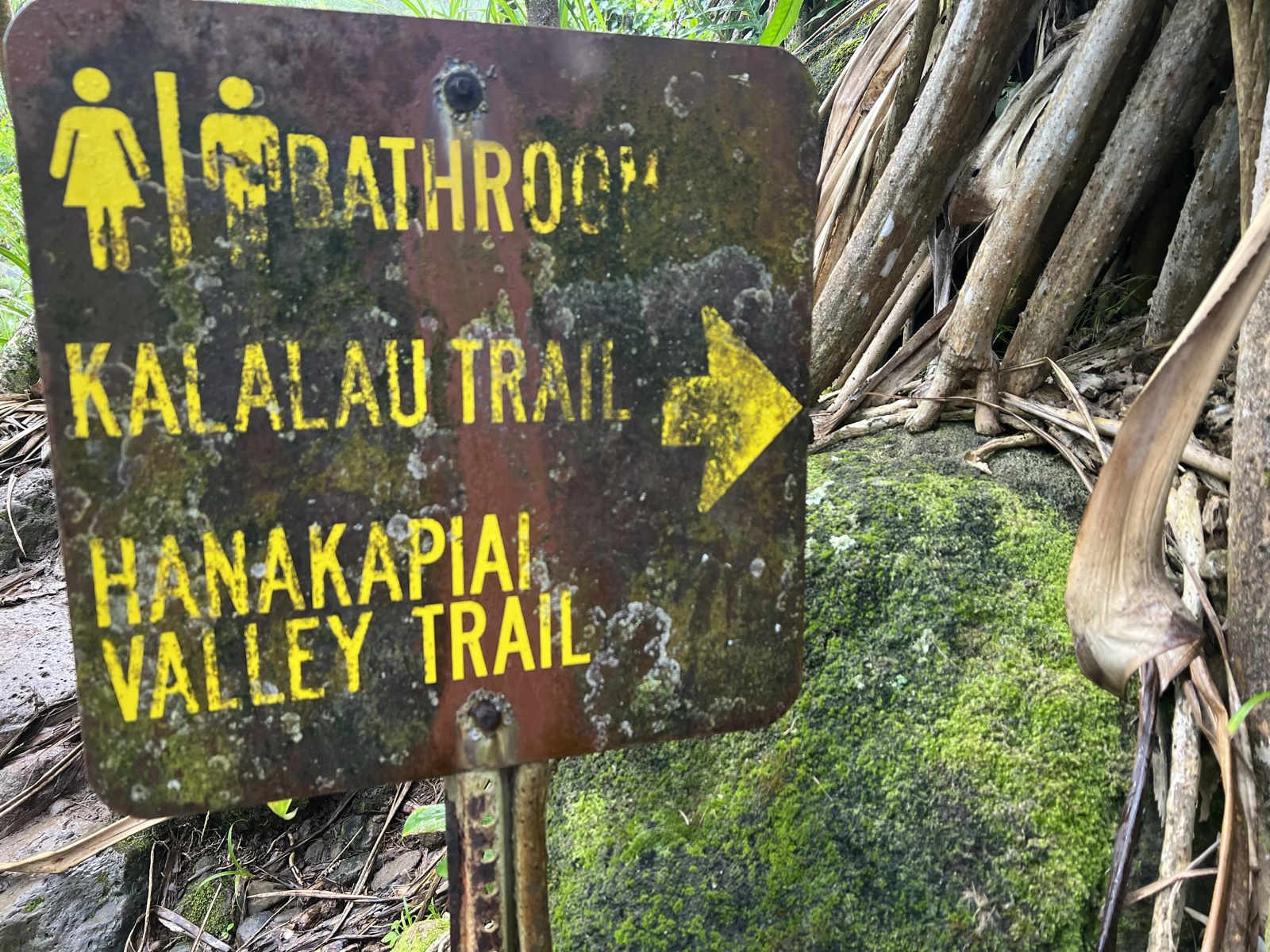 Now it becomes more of a jungle hike, narrow trail and overgrown. We each had a hiking pole which became invaluable for balance and stability on the slippery sections.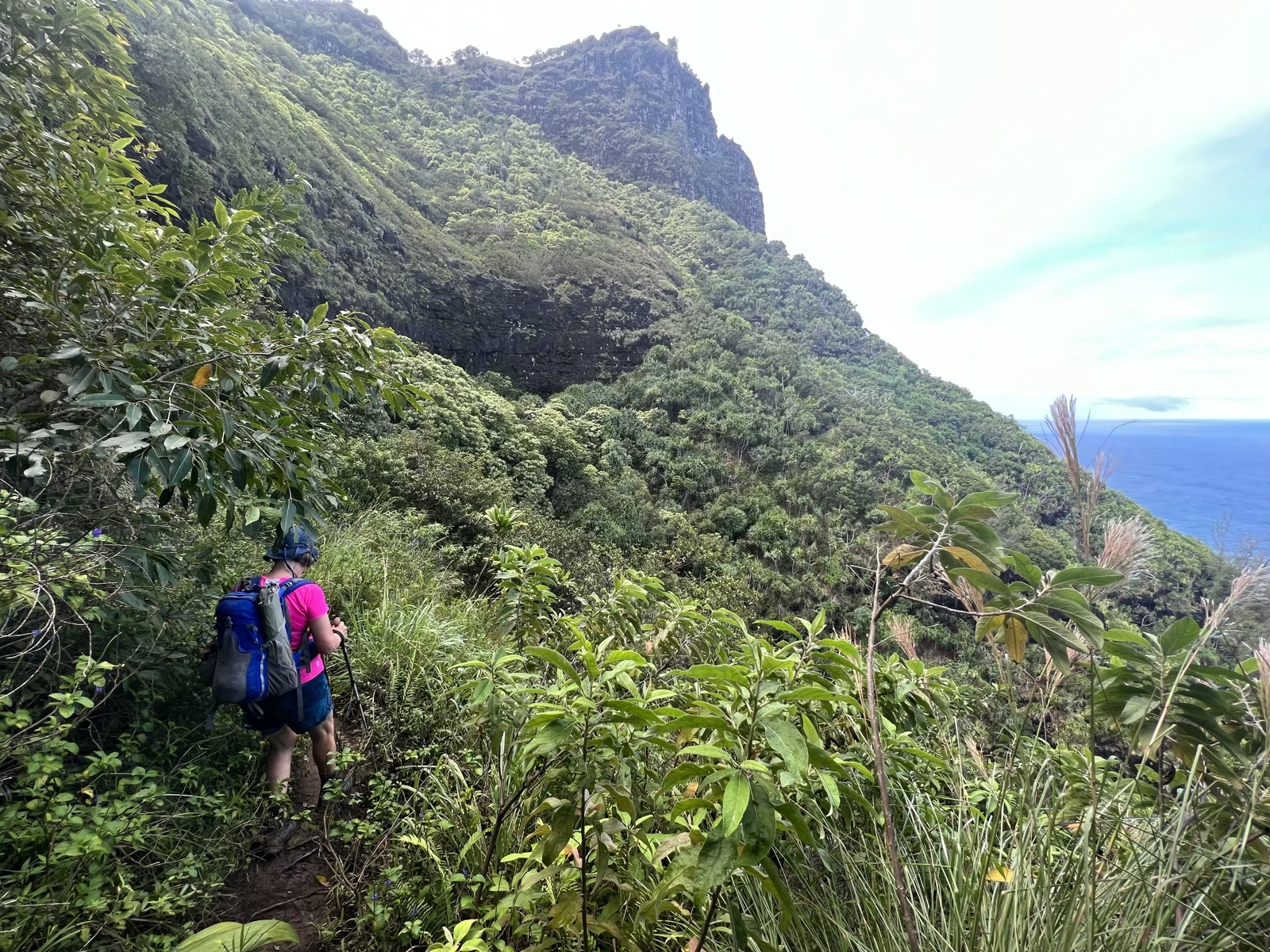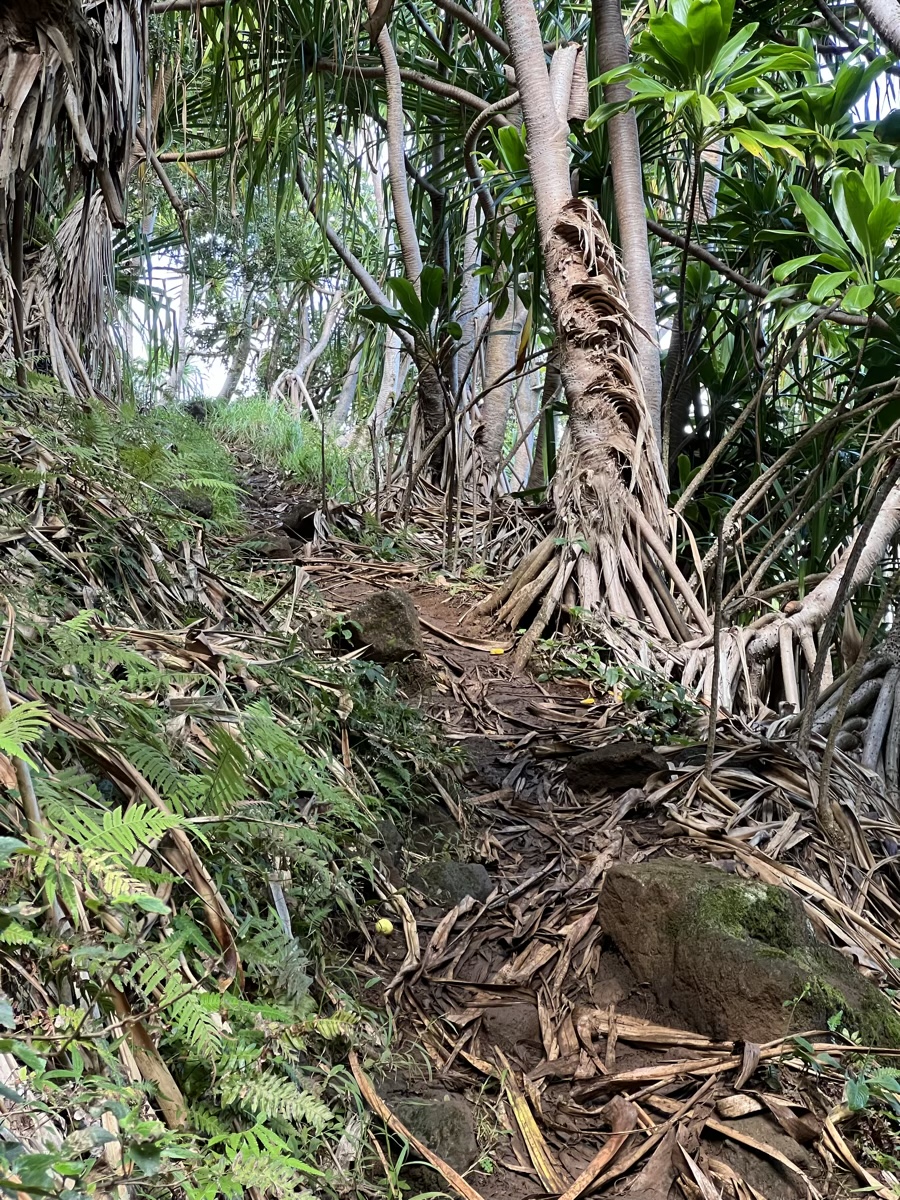 The trail constantly changes with a lot of it undercover, humid and sweaty. Then you breakout for a fantastic view of where you are you get to bask in the sun for  while.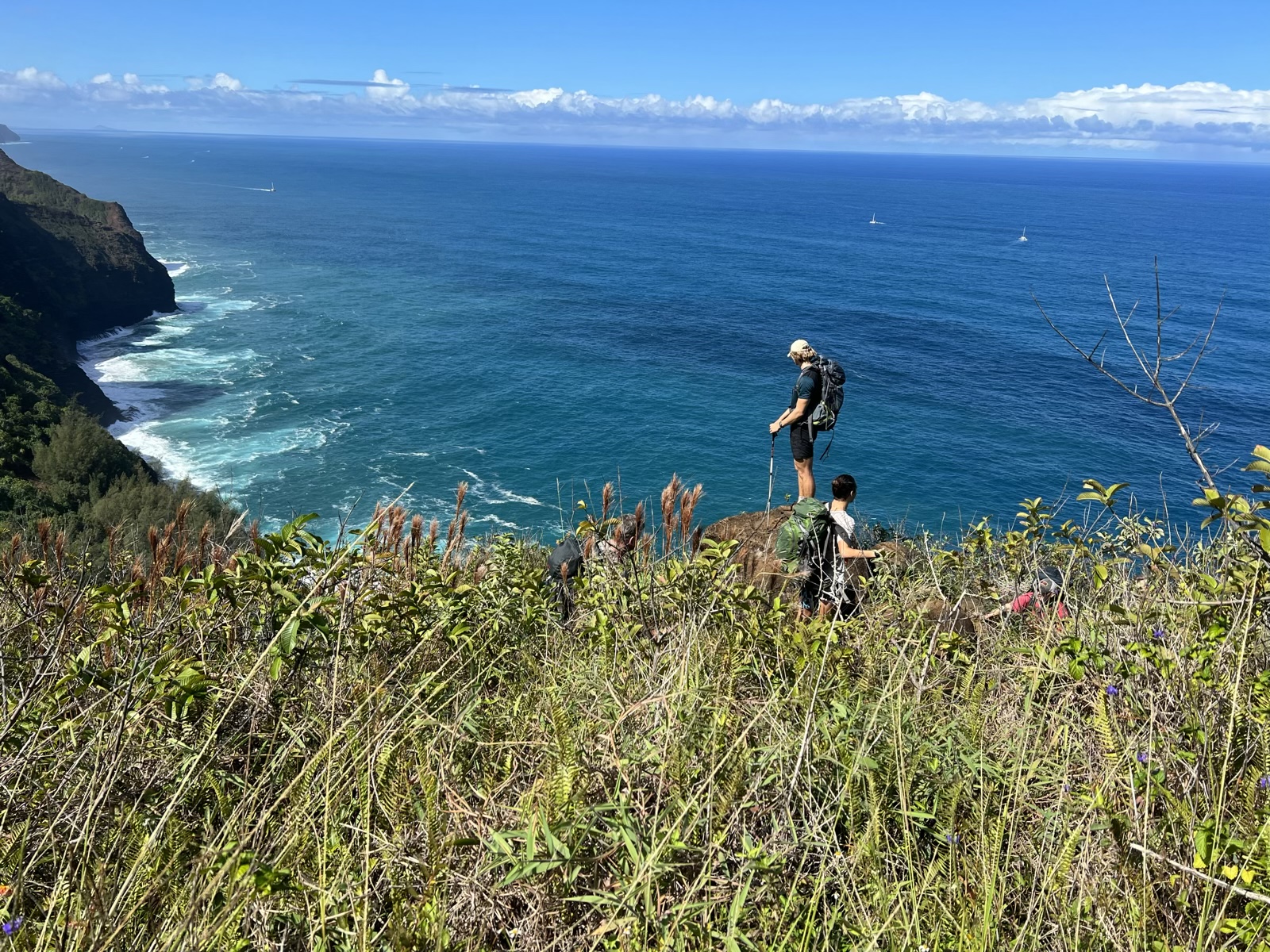 Now that we're back at our vacation rental and I reflect back, look at the photo's like one above, I get mixed emotions between the beauty in the photo and the sweat filled tiredness of me on the trail.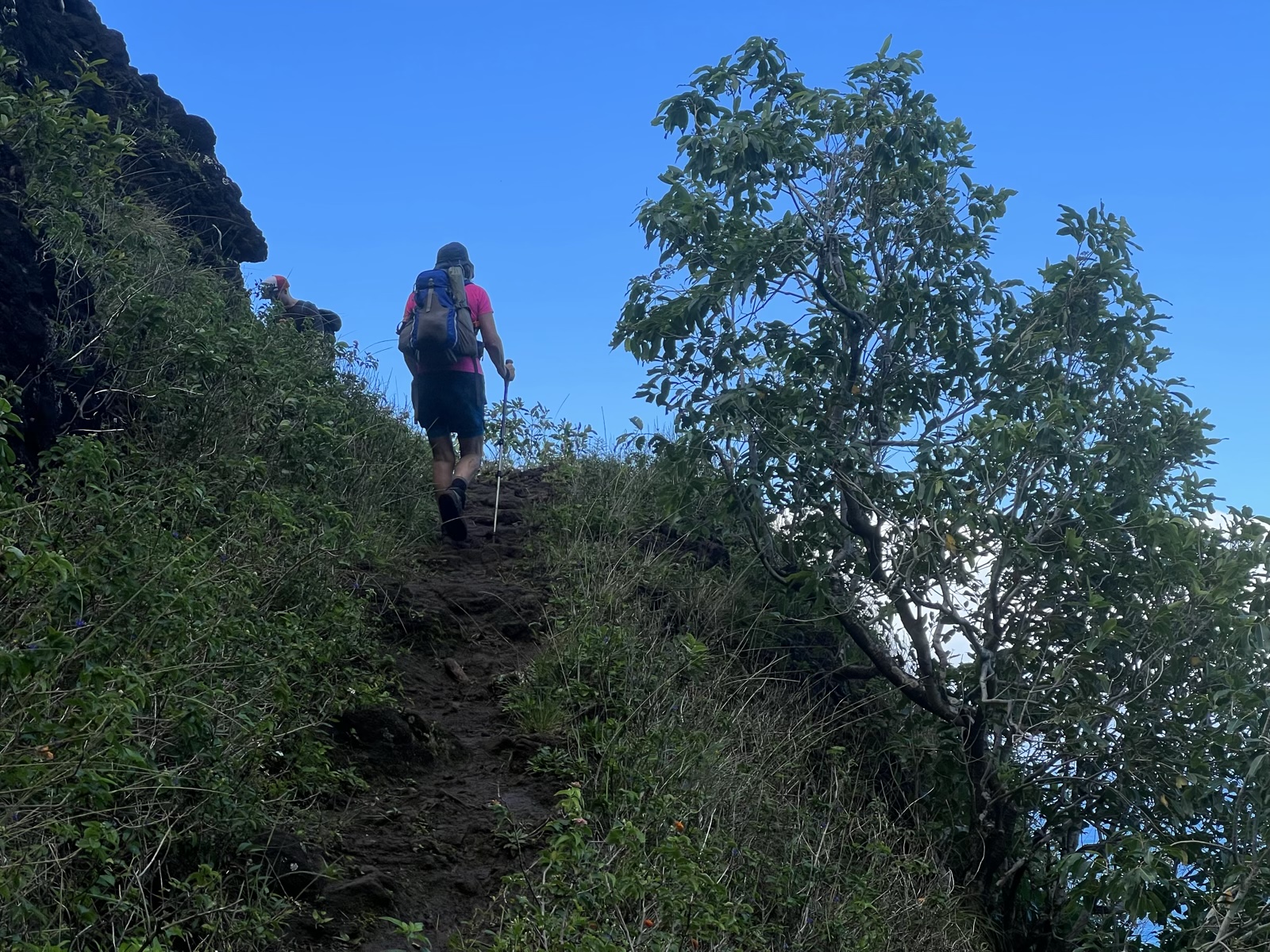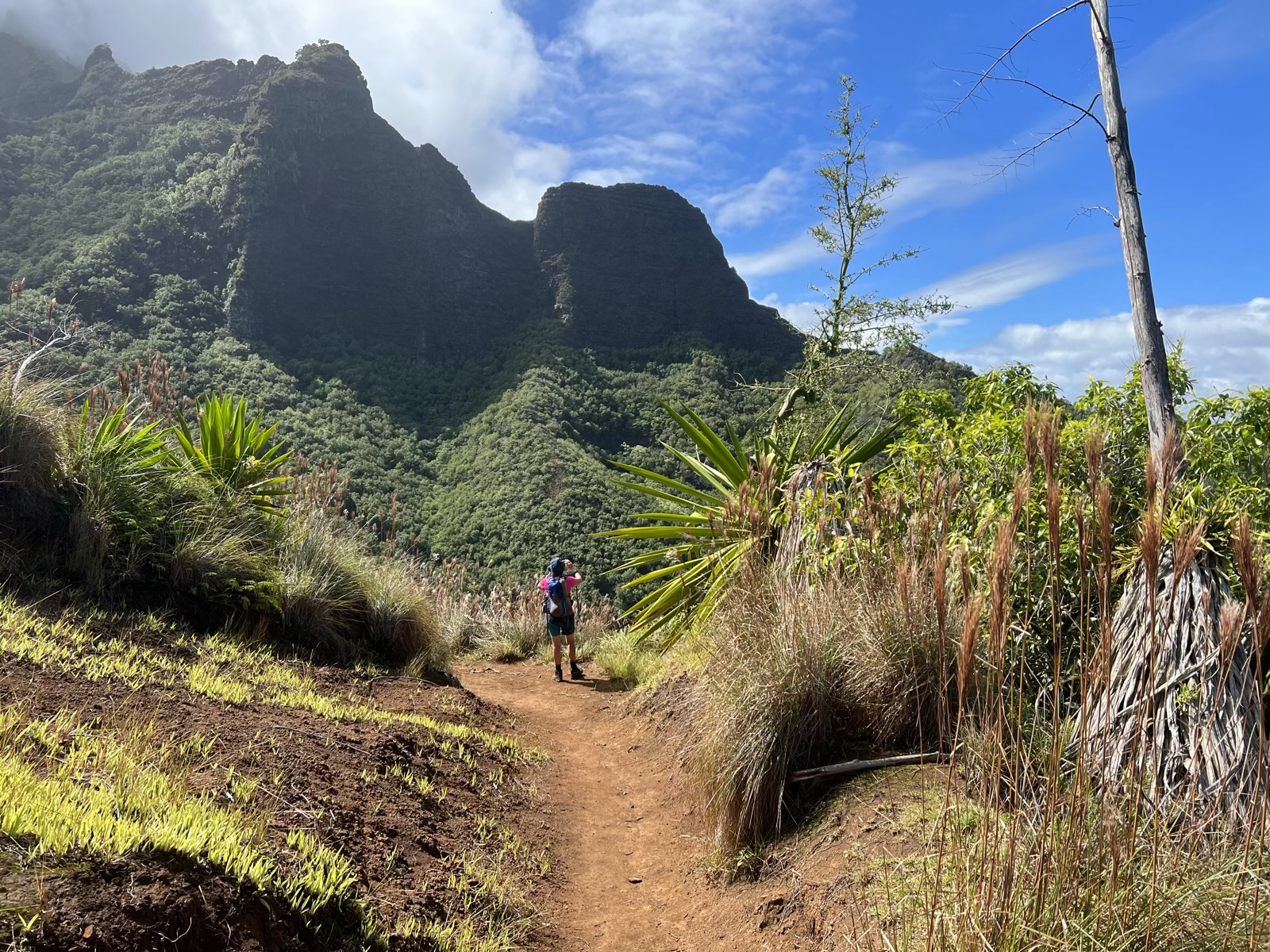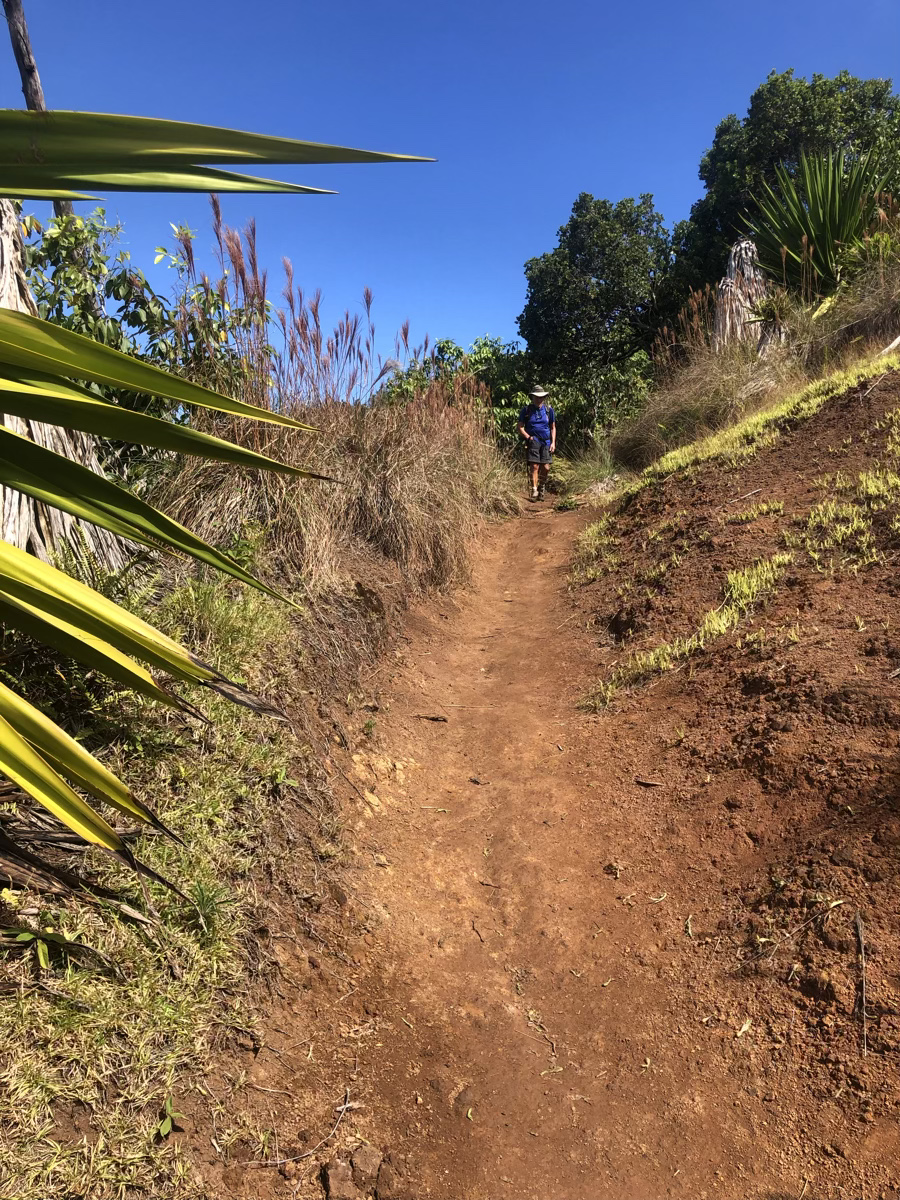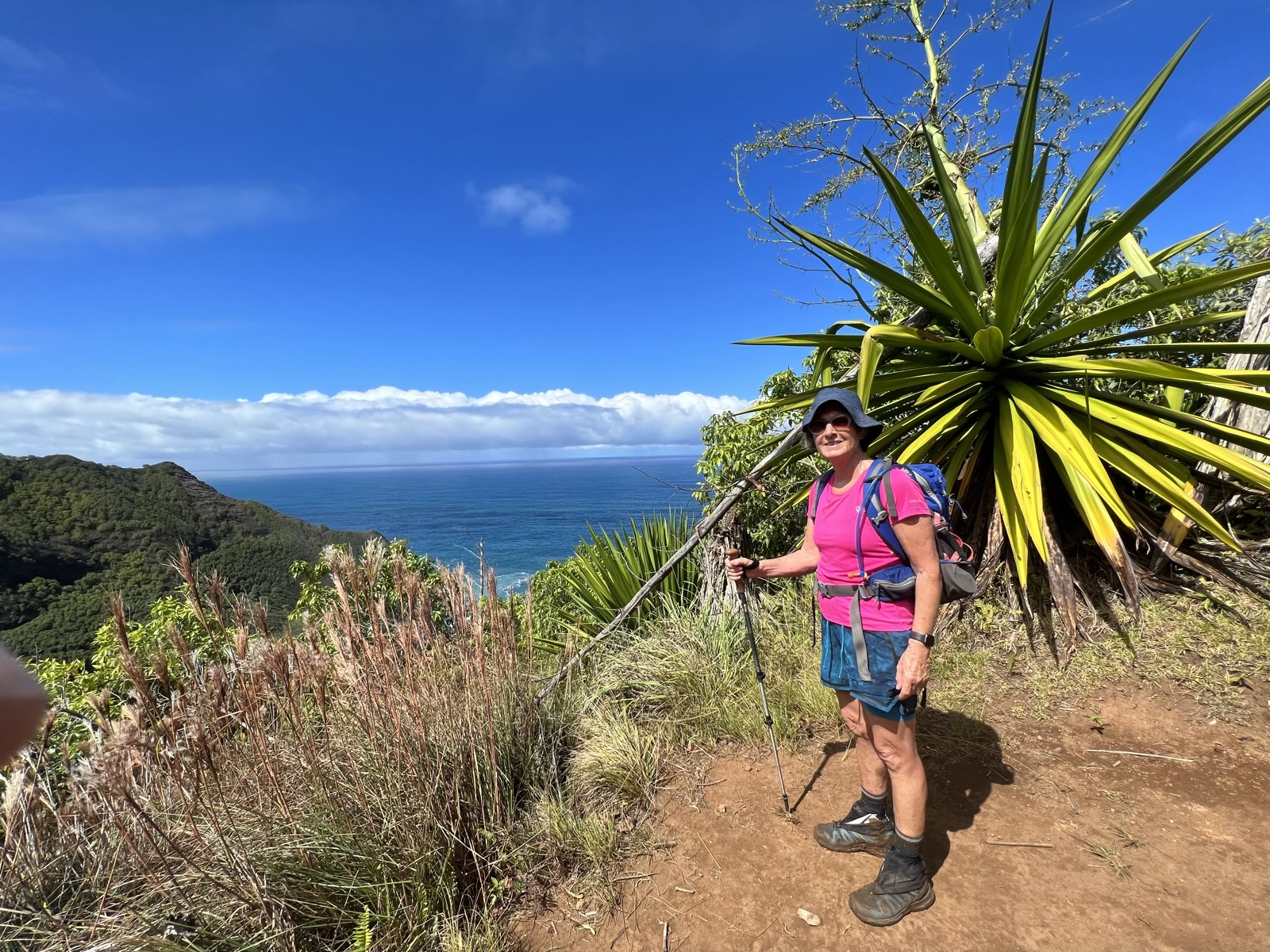 If you read up on the hike  a lot of attention is given to the section referred to as Crawlers Ledge. Now the majority of the trail is undercover with no sensation of exposure so when you get to an exposed section all the newbies freak out as if some physiological force is going to claw you away from the, admittedly, narrow, trail.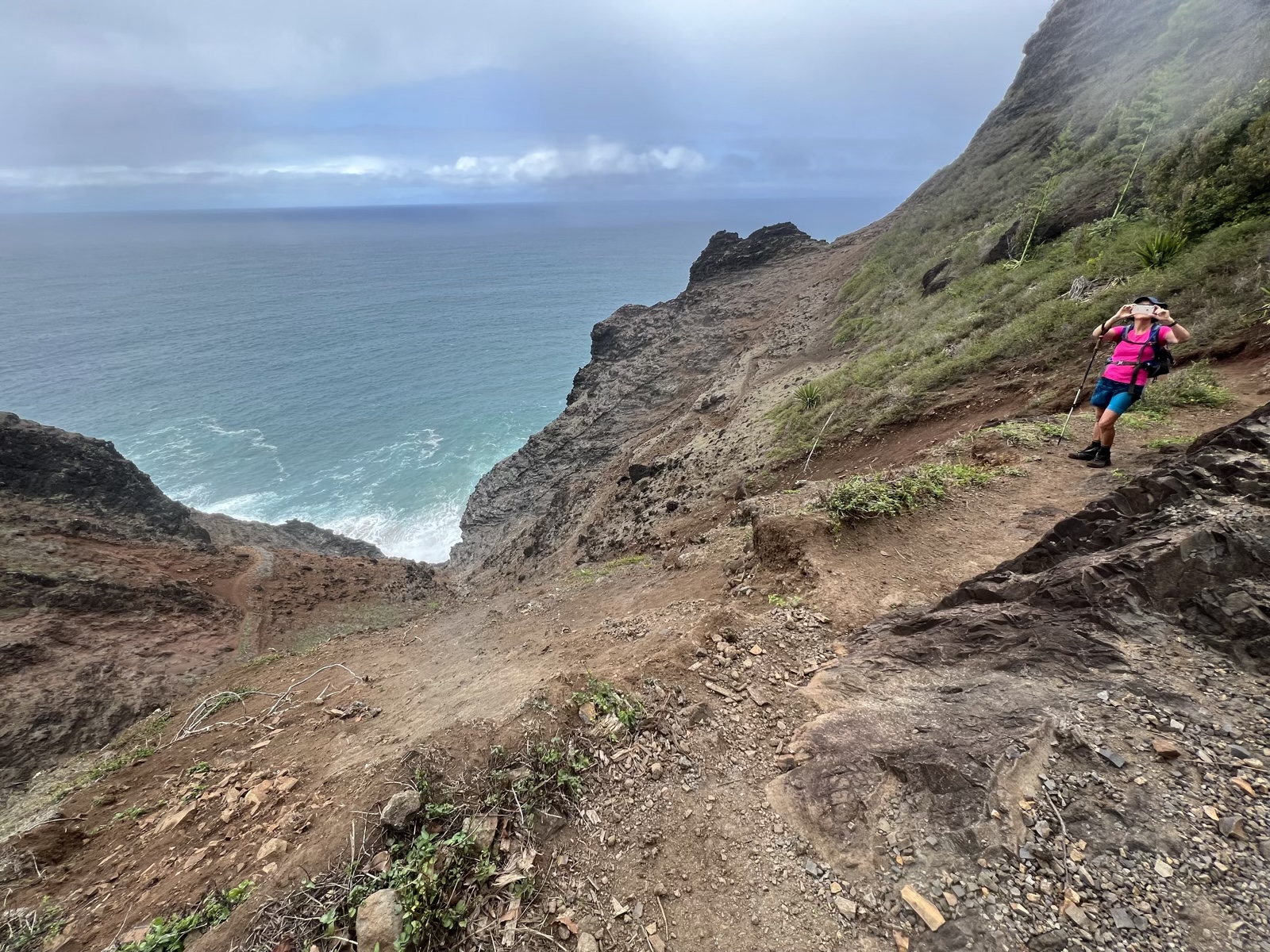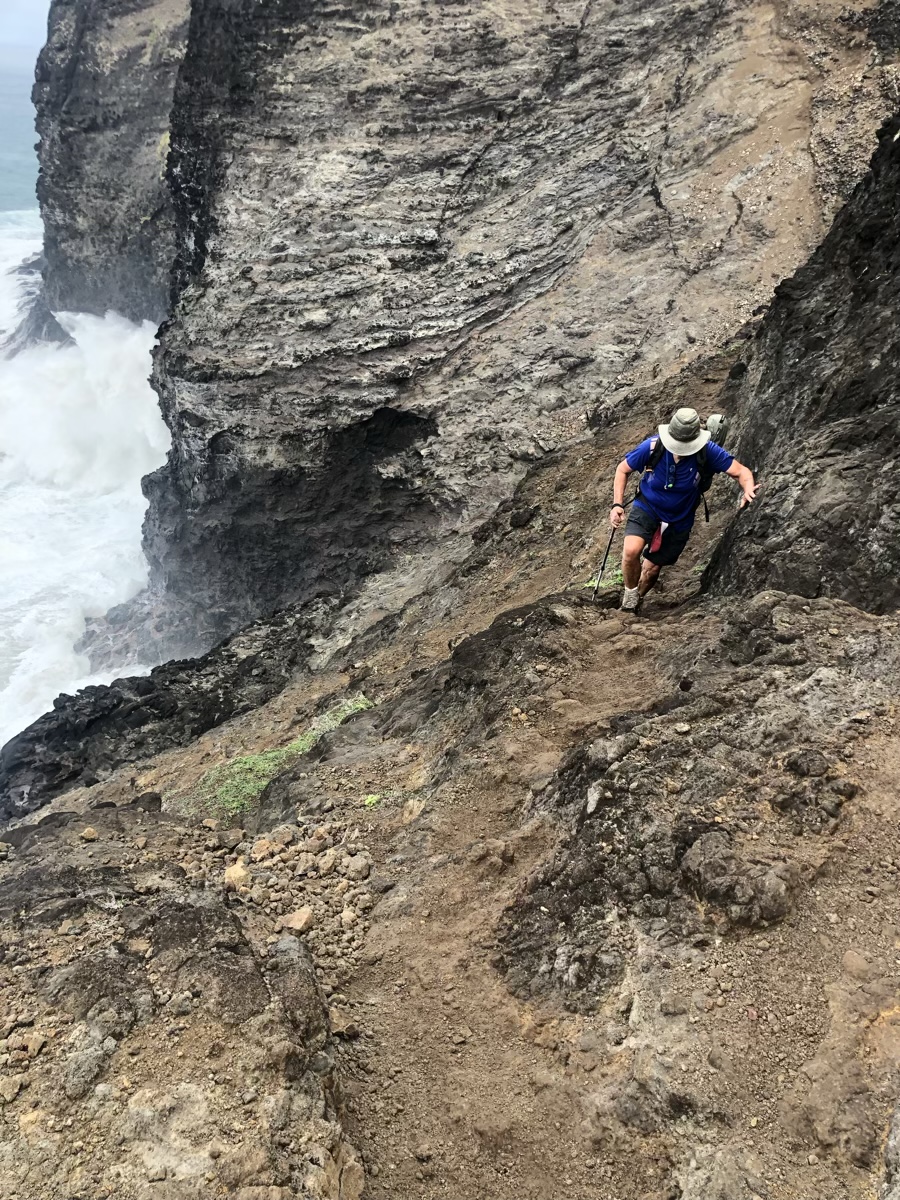 The attraction for me was the incredible forceful wave activity below me but there again watching that is likely to freak you out even more.
Then we come around a corner and see this guy performing balancing poses in front of a camera, must be a YouTube channel. Later on the next day he came past our campsite, also heading back after only one night. Nice & friendly as most of the Kalalau hikers are.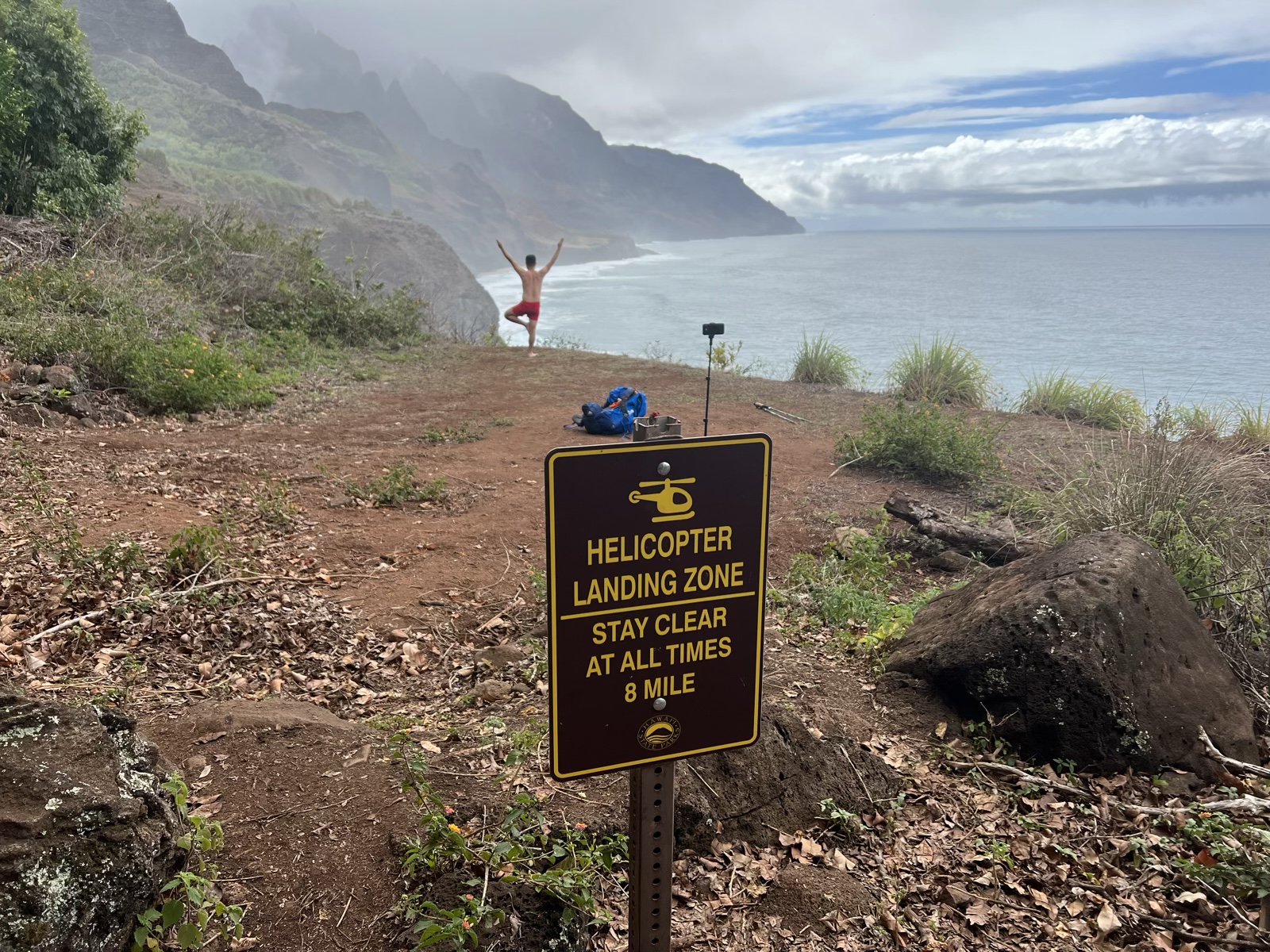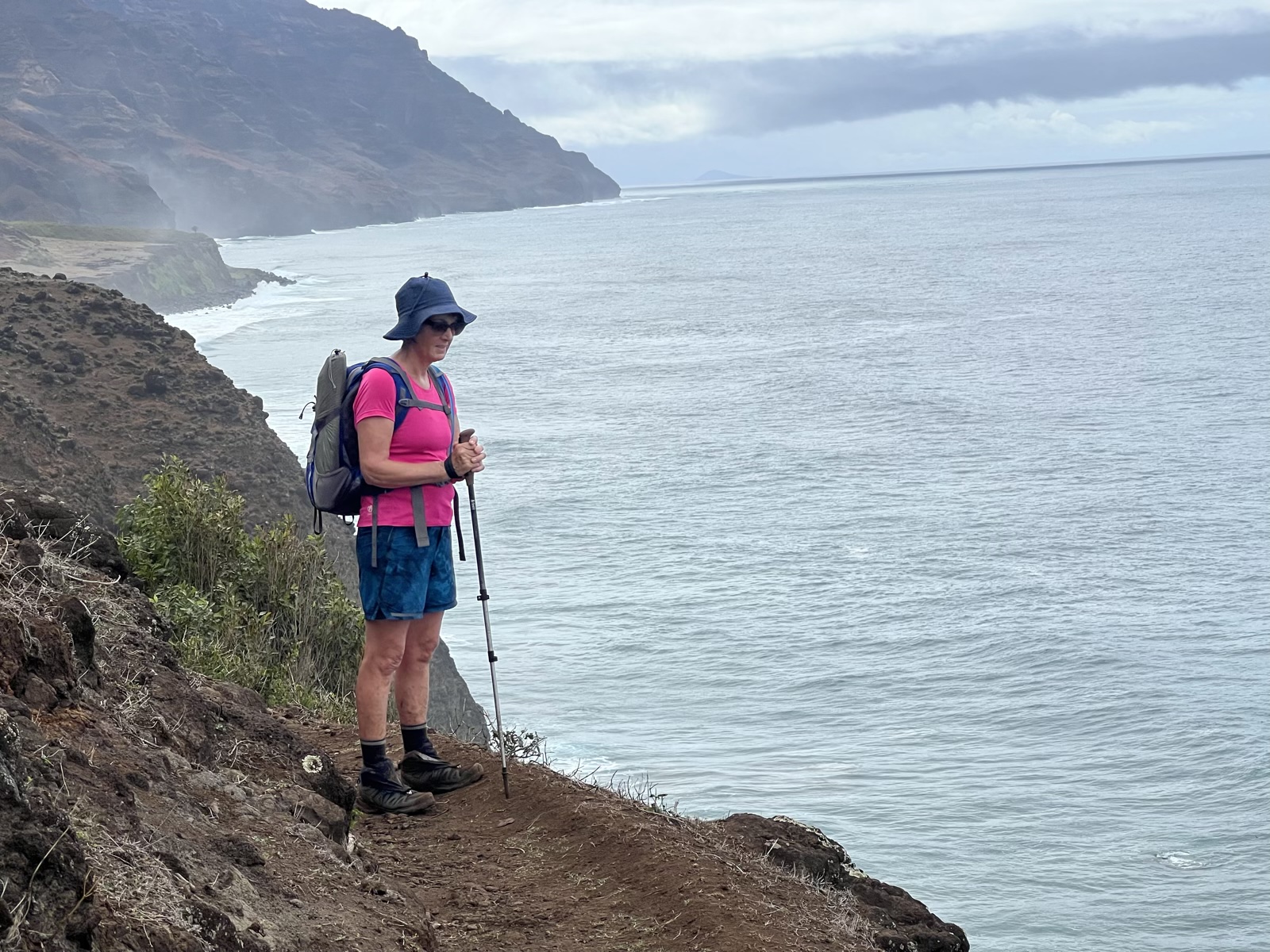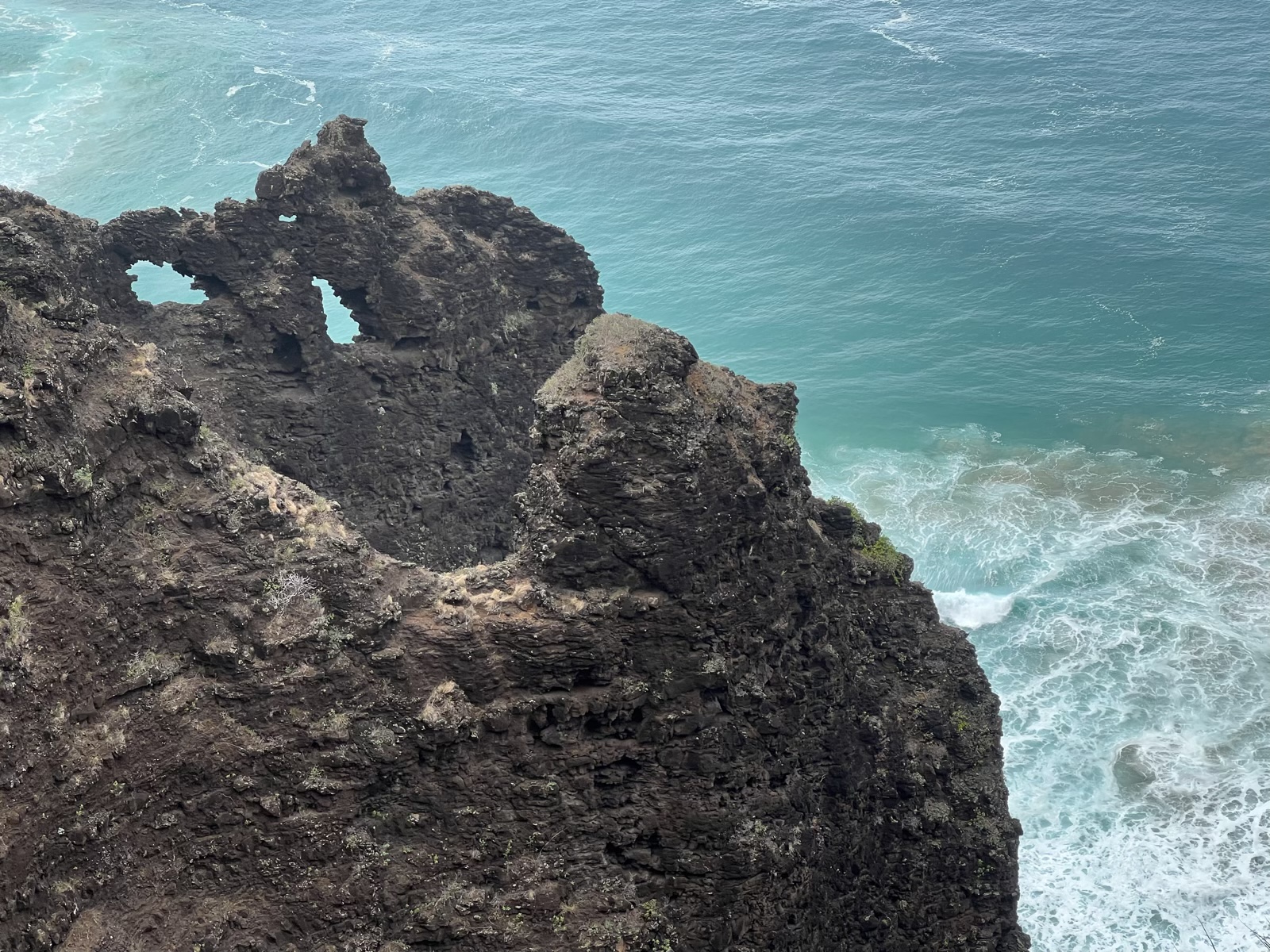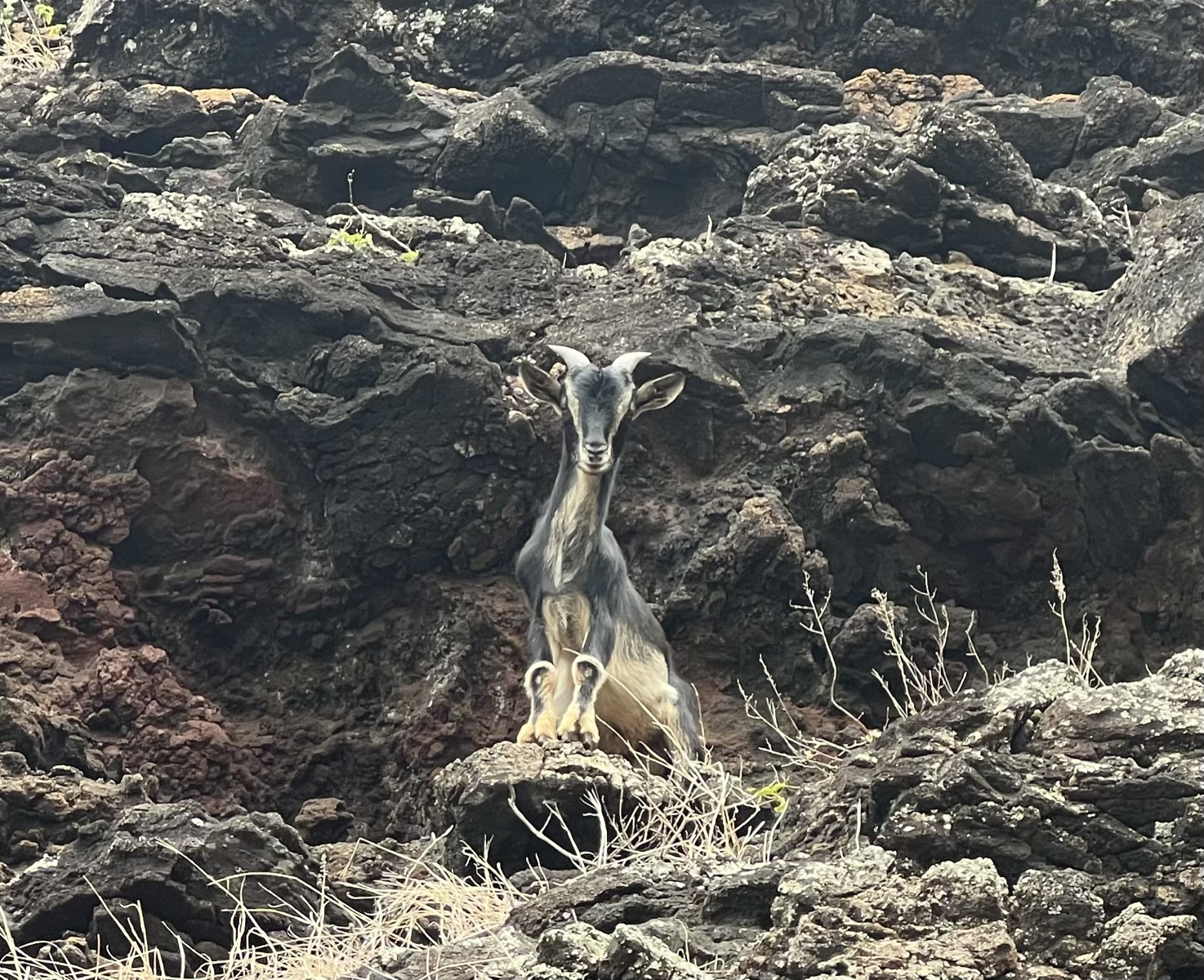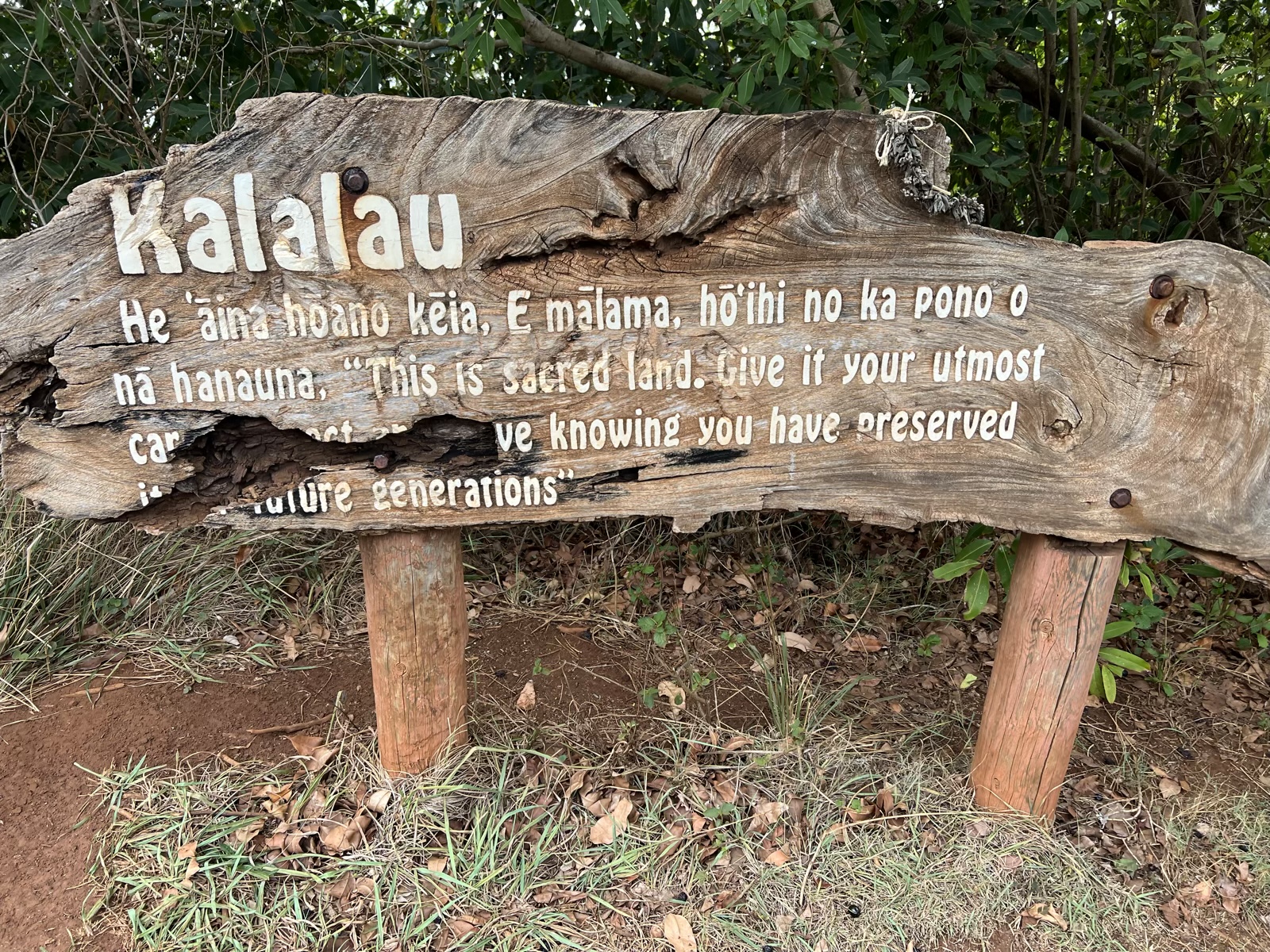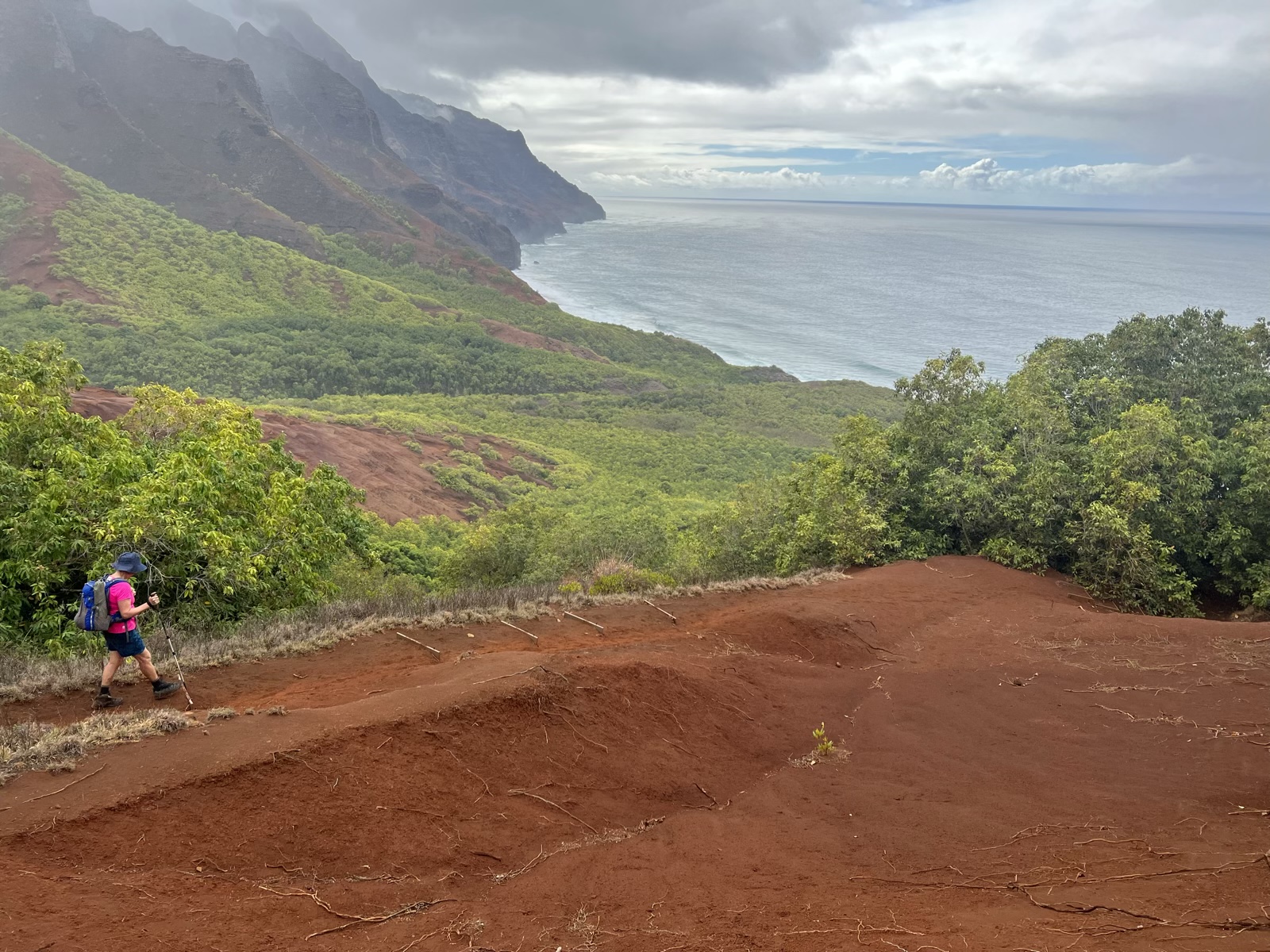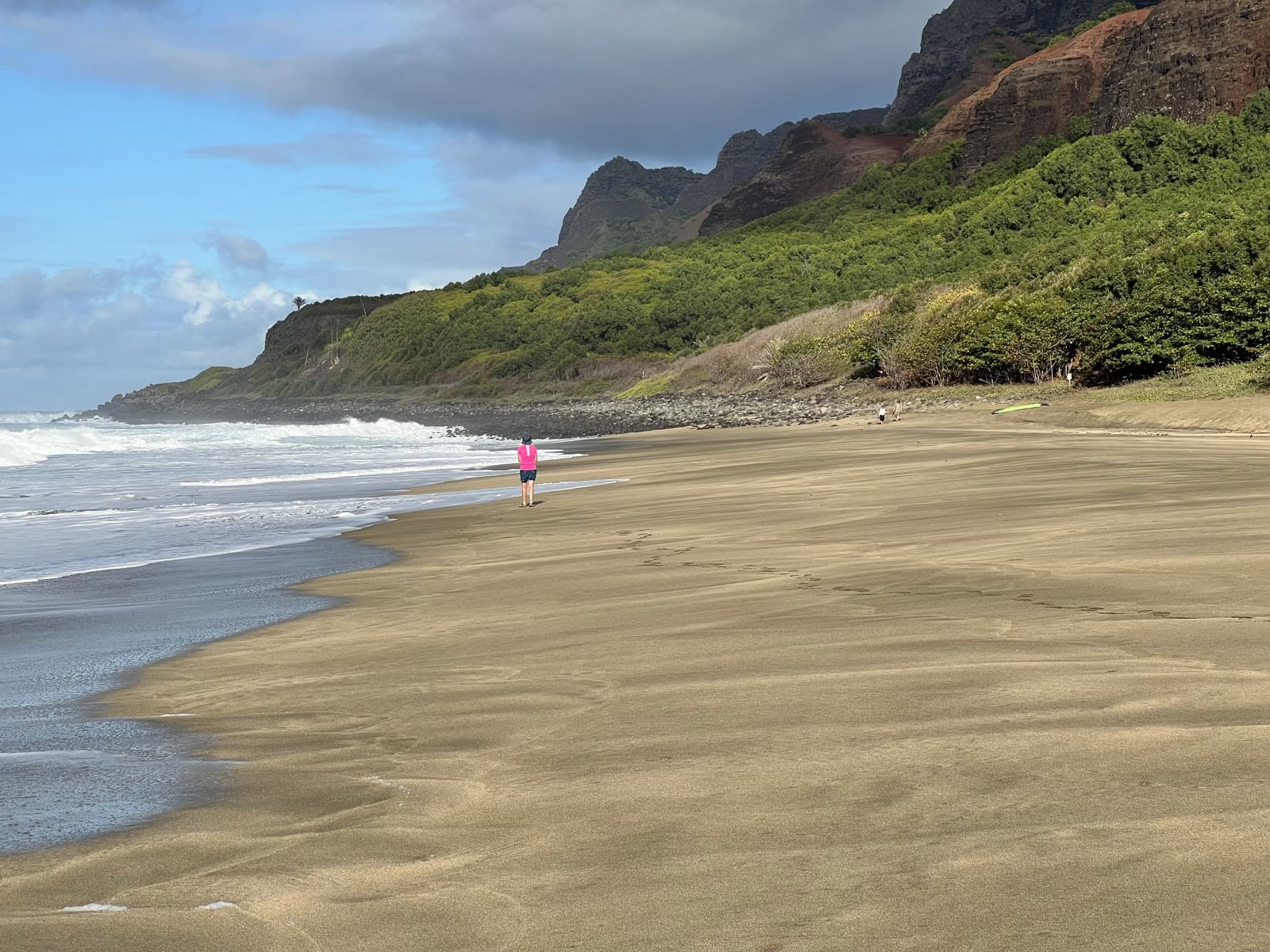 The beach was almost deserted and hard packed as the tide was out. Spectacular views, especially up to the fins in the mountain behind.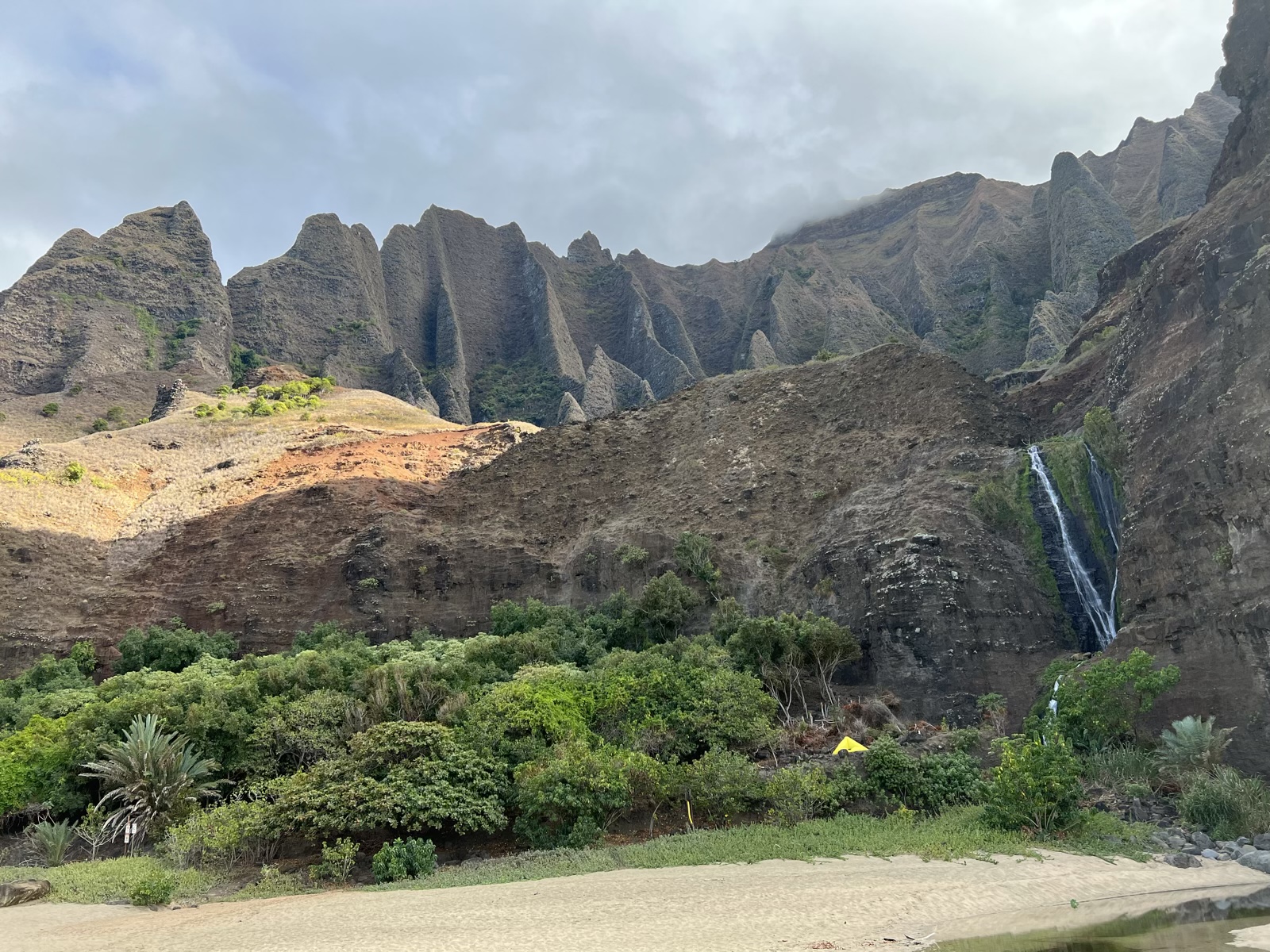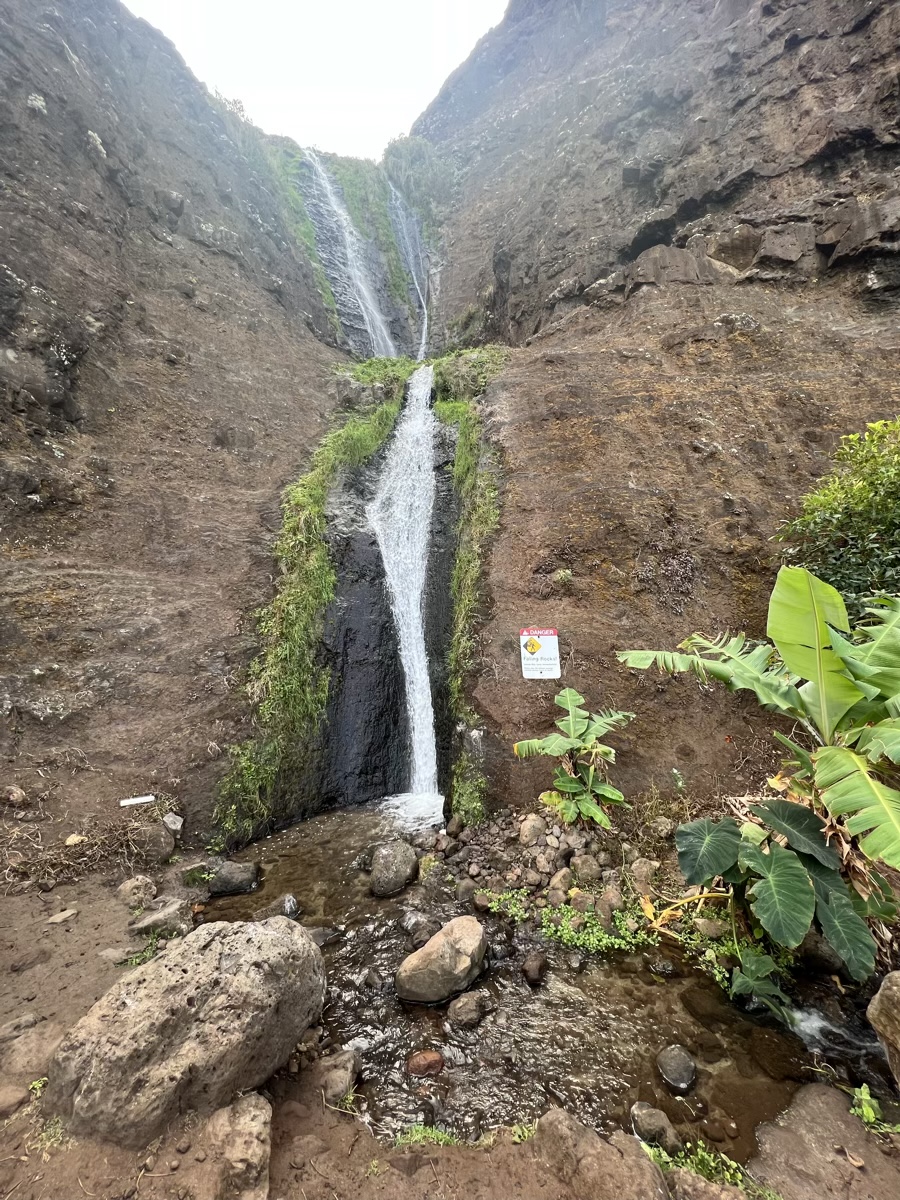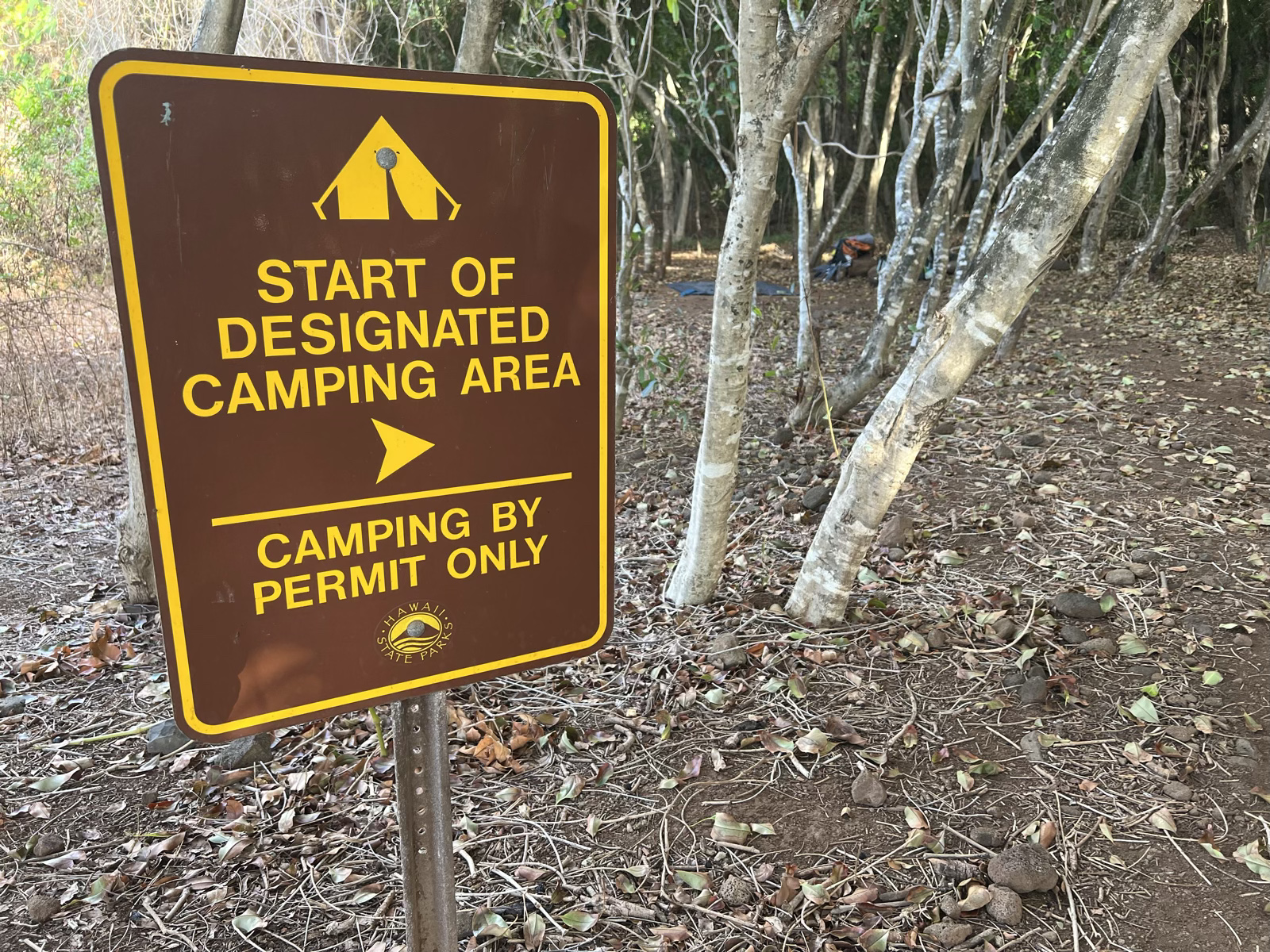 We could walk 30 feet from our tent and onto the rocky shore to enjoy our baguette dinner and watch the sun slowly drop into the horizon.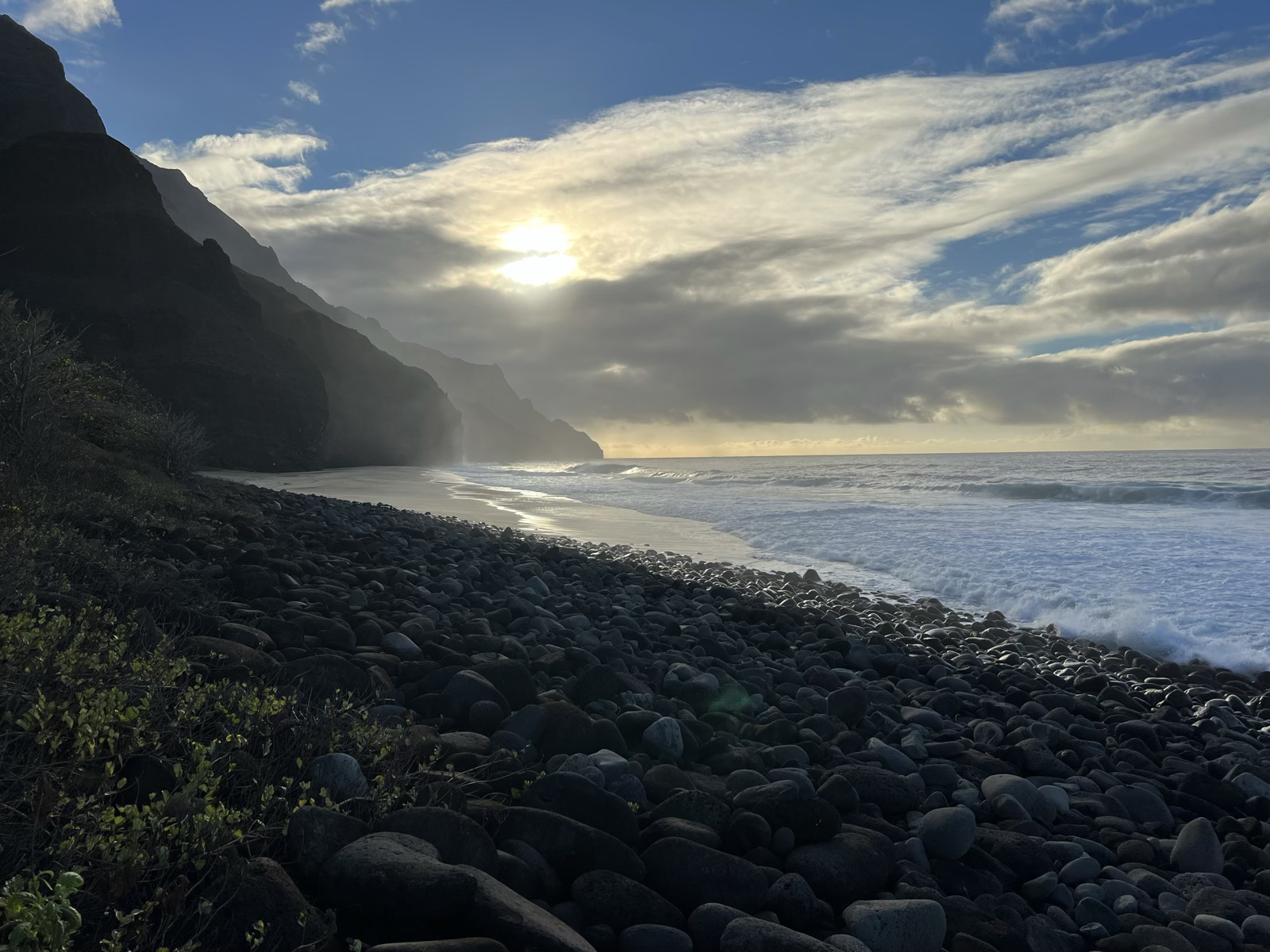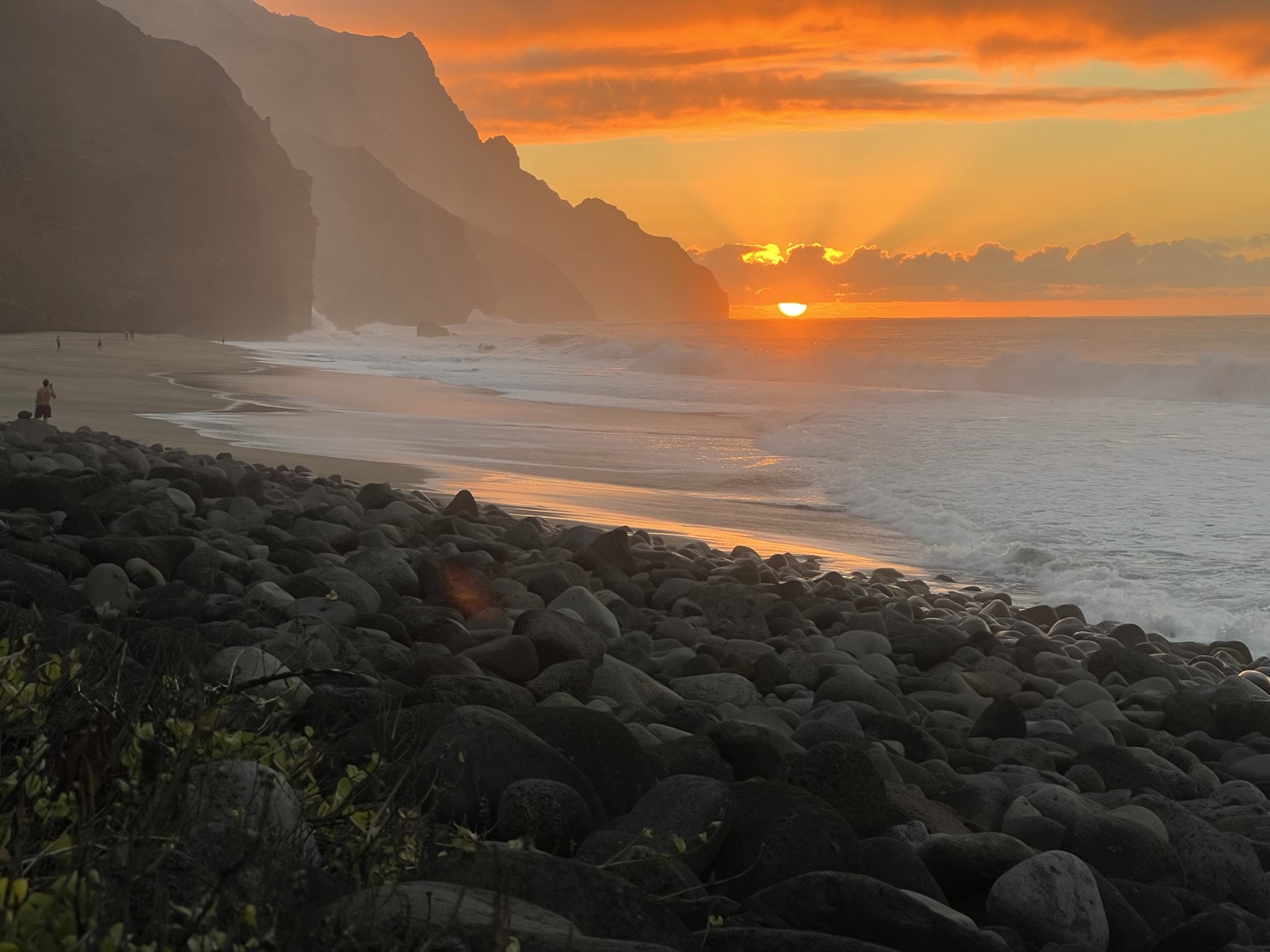 Into the tent as soon as it got dark after 6 pm and it felt like I tossed and turned for the next 12 hours but Rose said I snored so I guess I slept pretty well.
Relaxed start to the next day with two groups out ahead of us but we were walking at 8 am enjoying the freshness of the morning.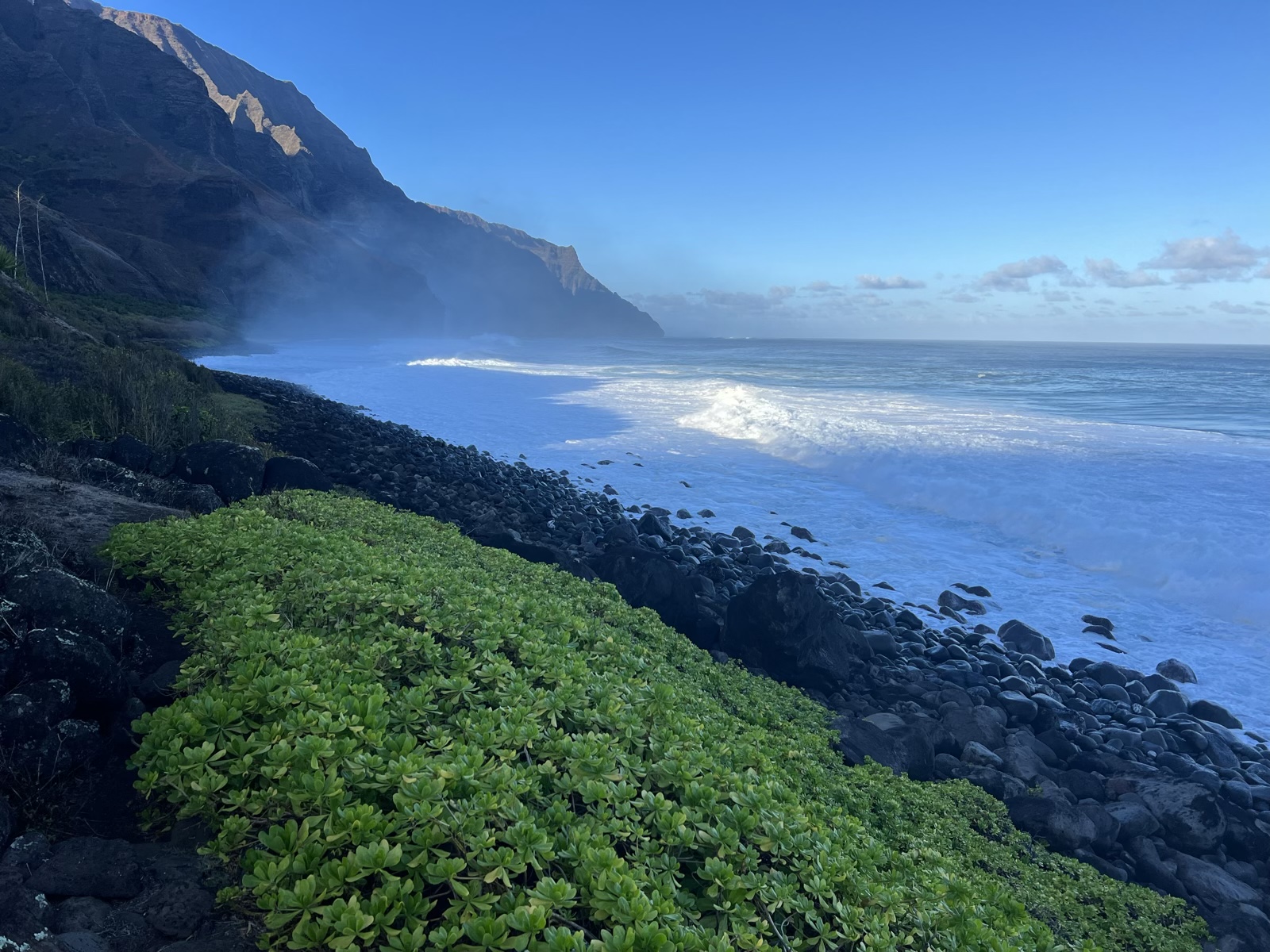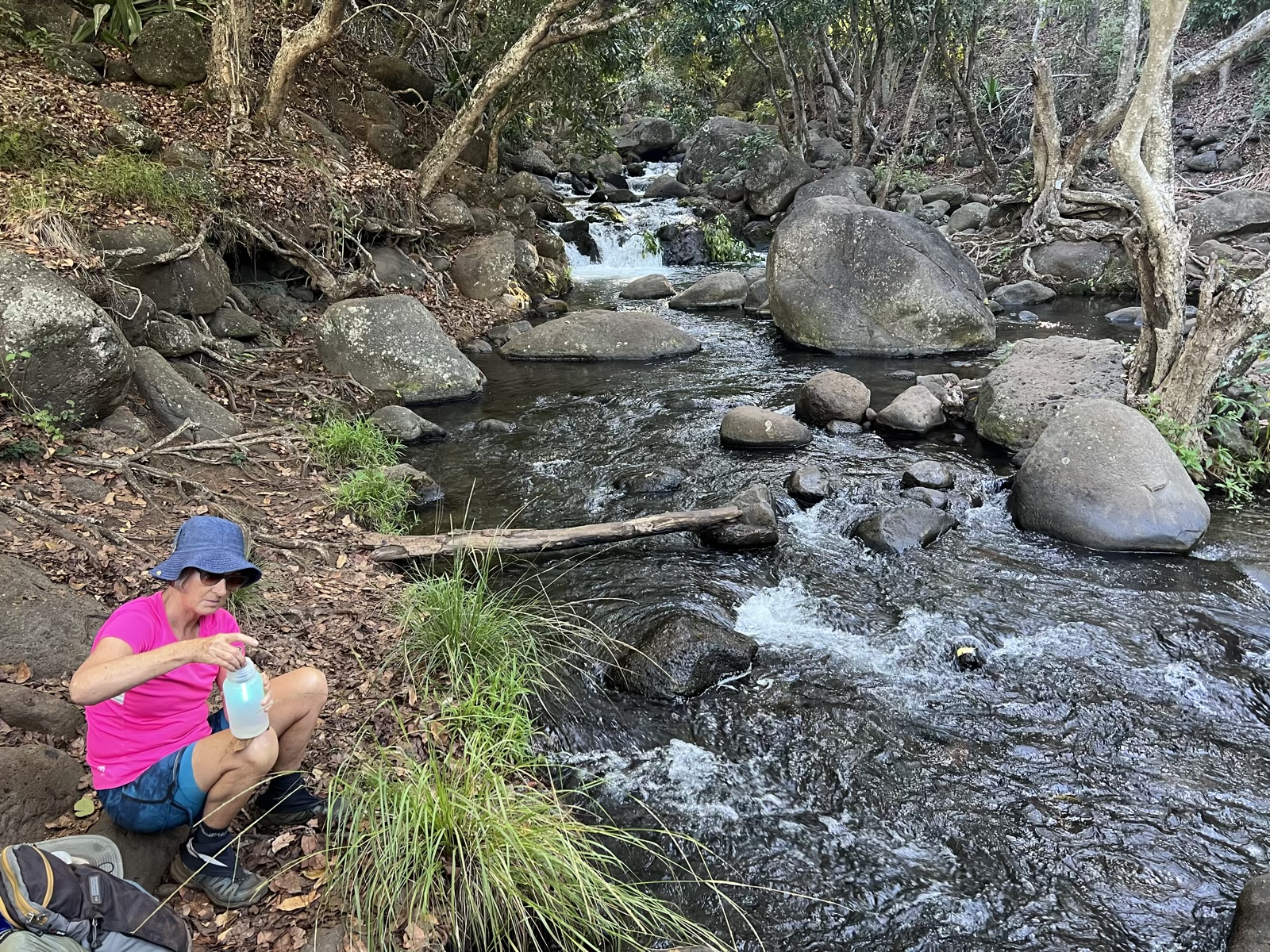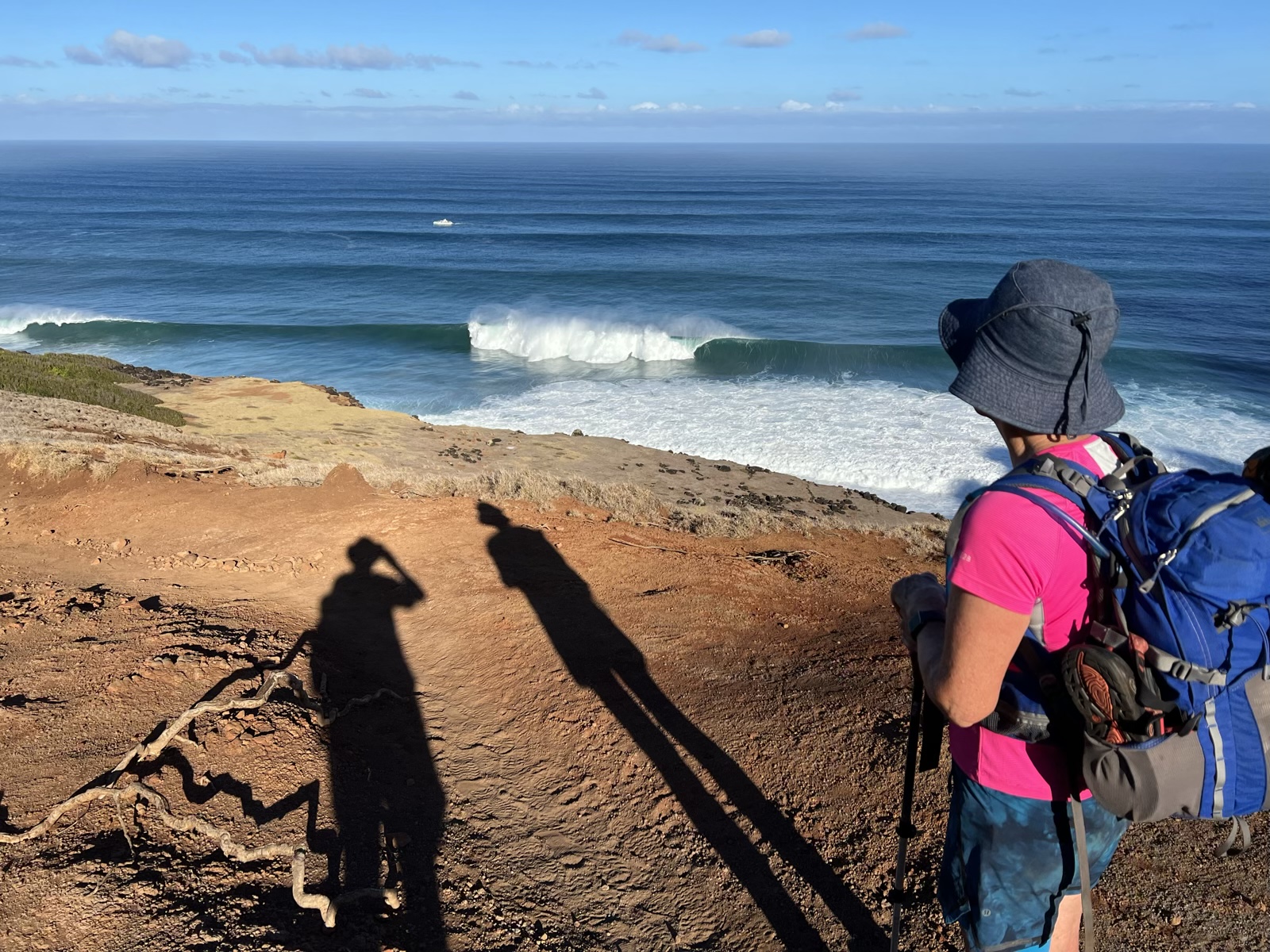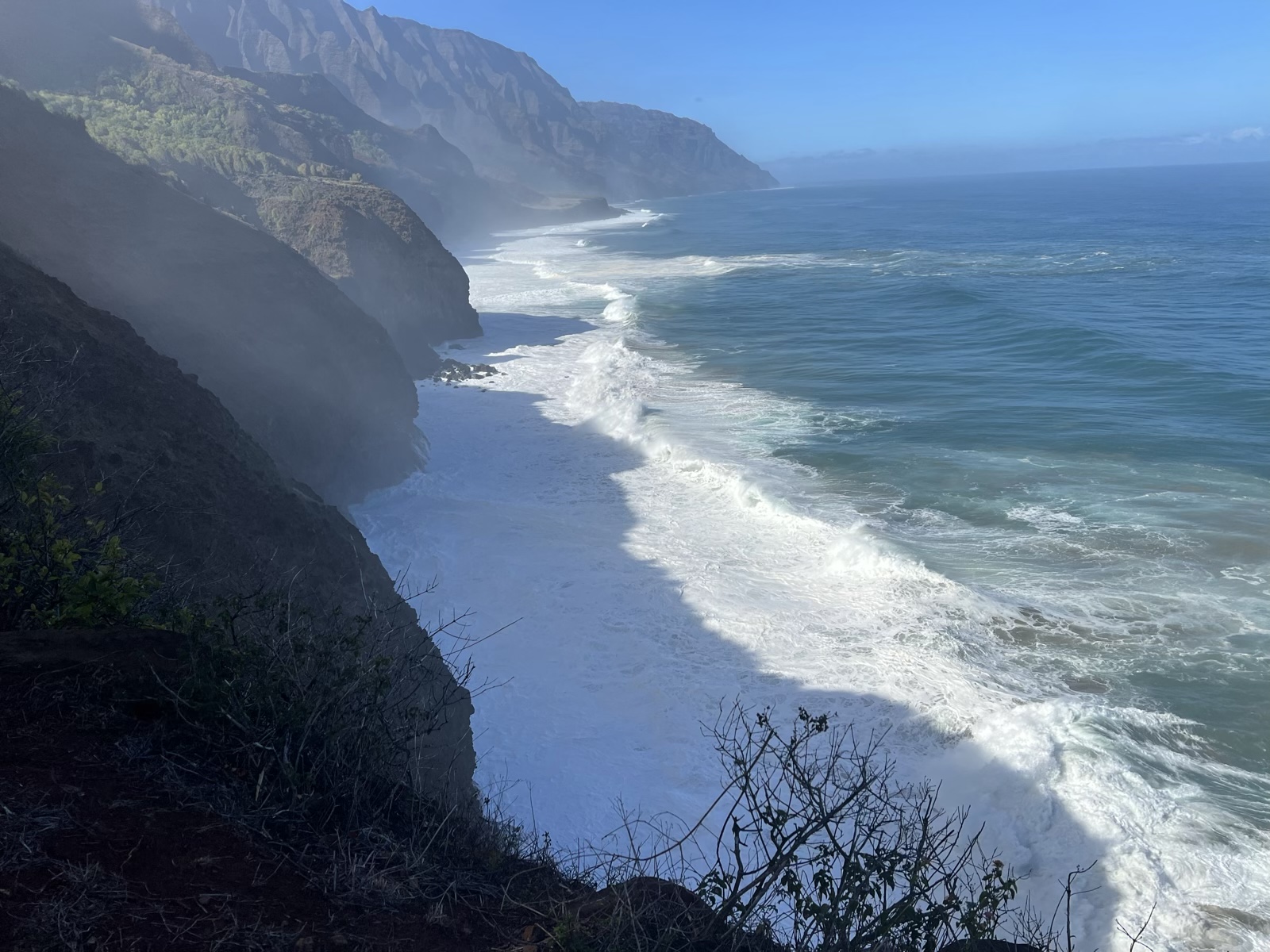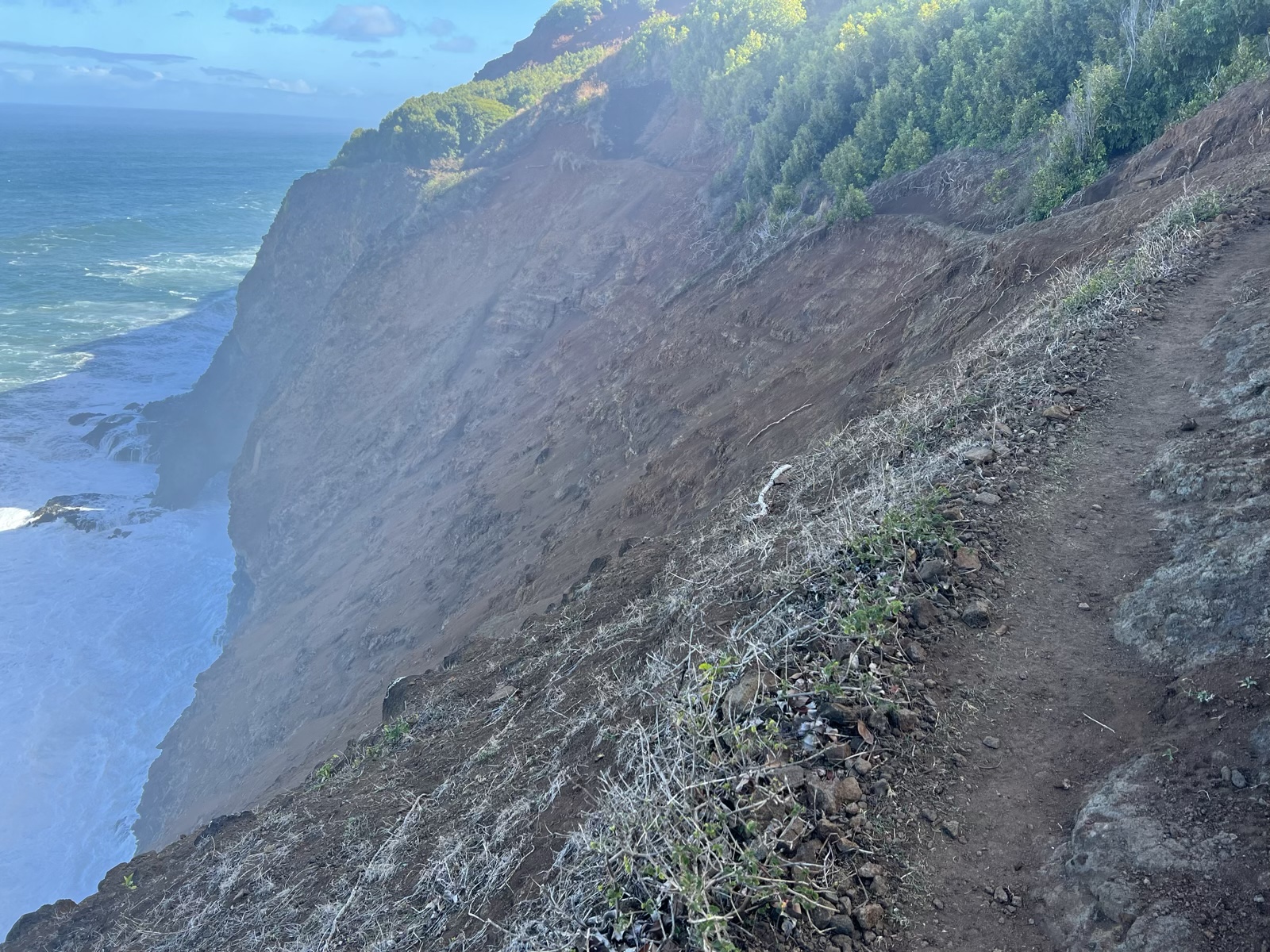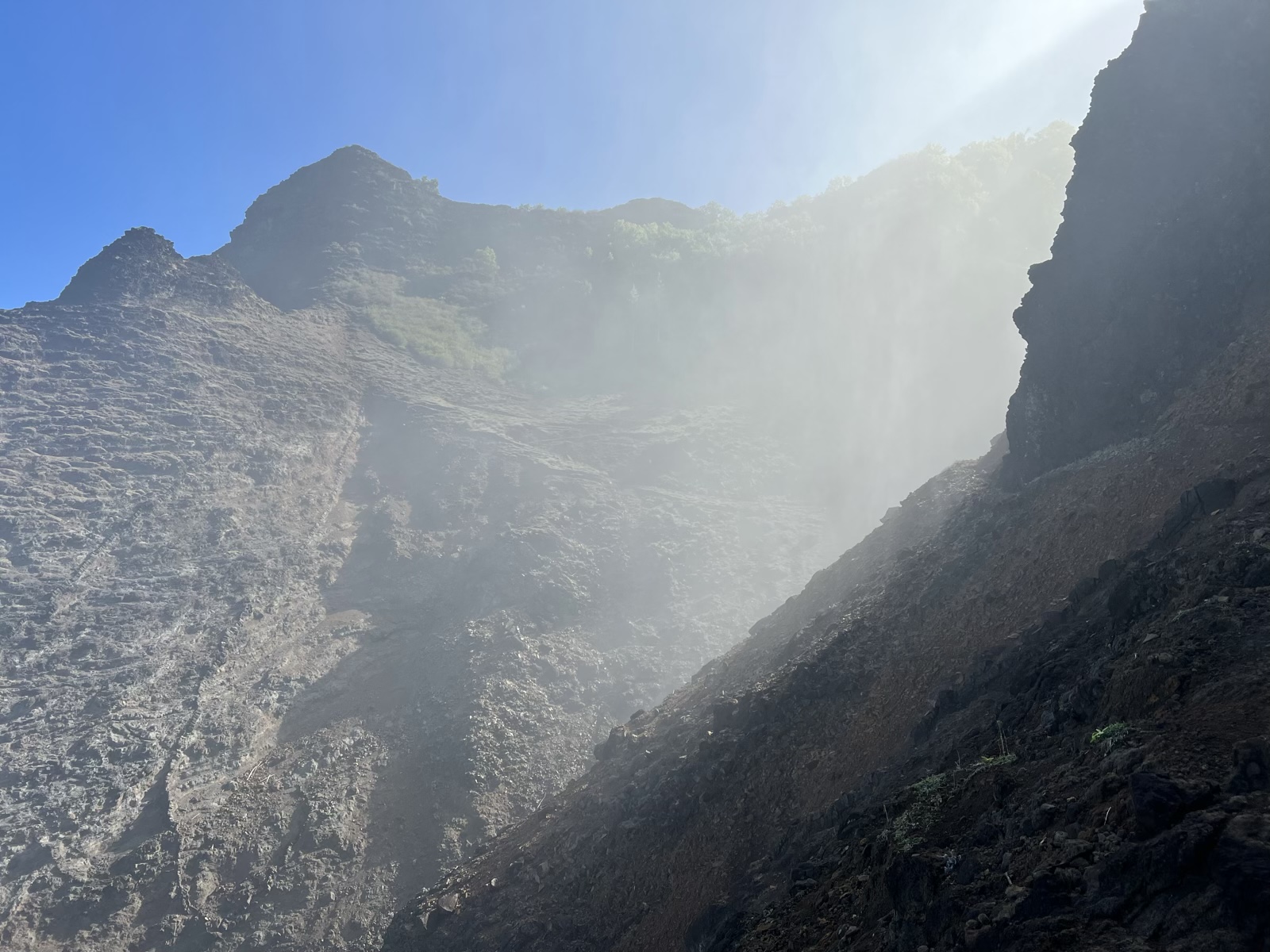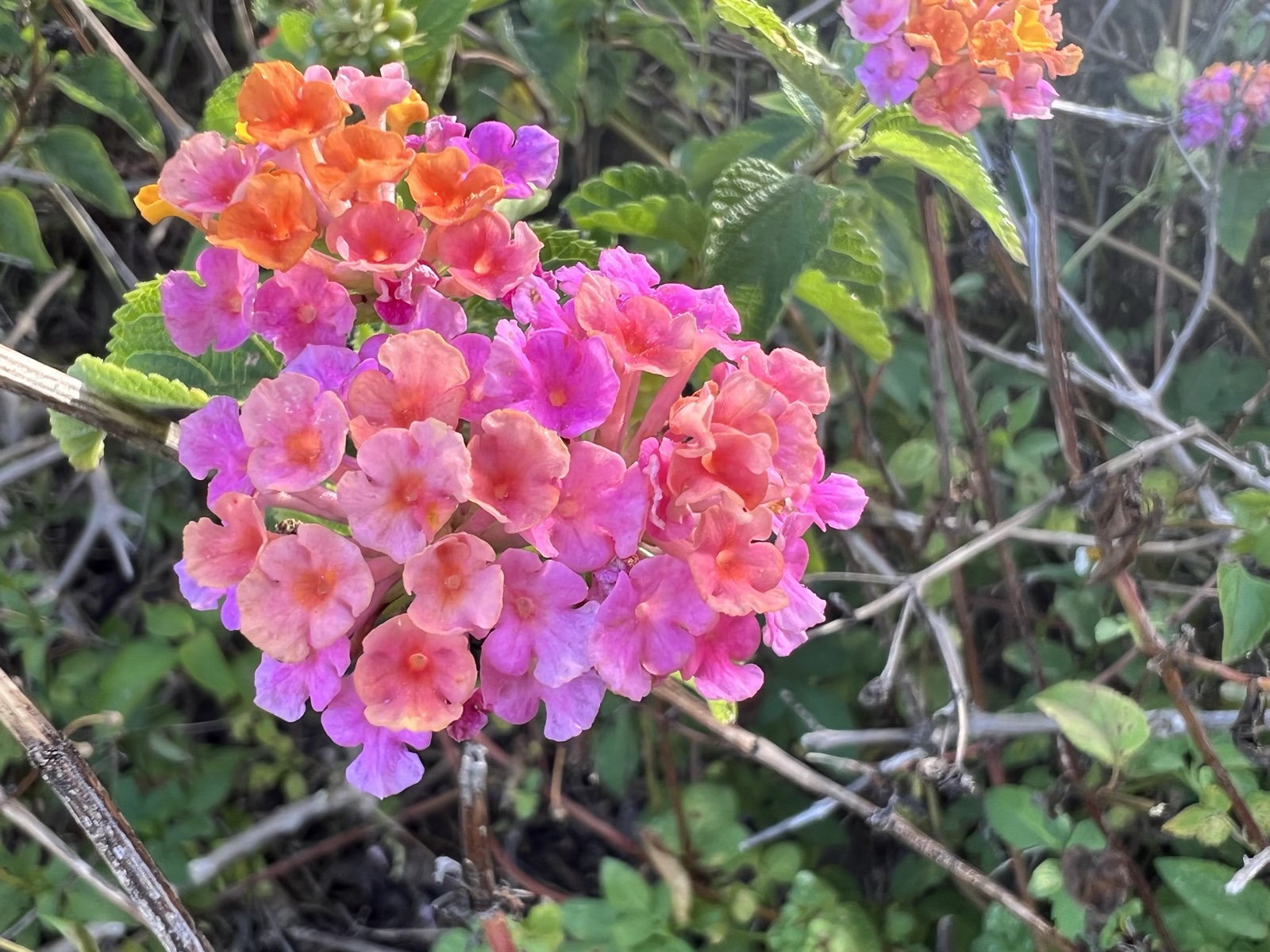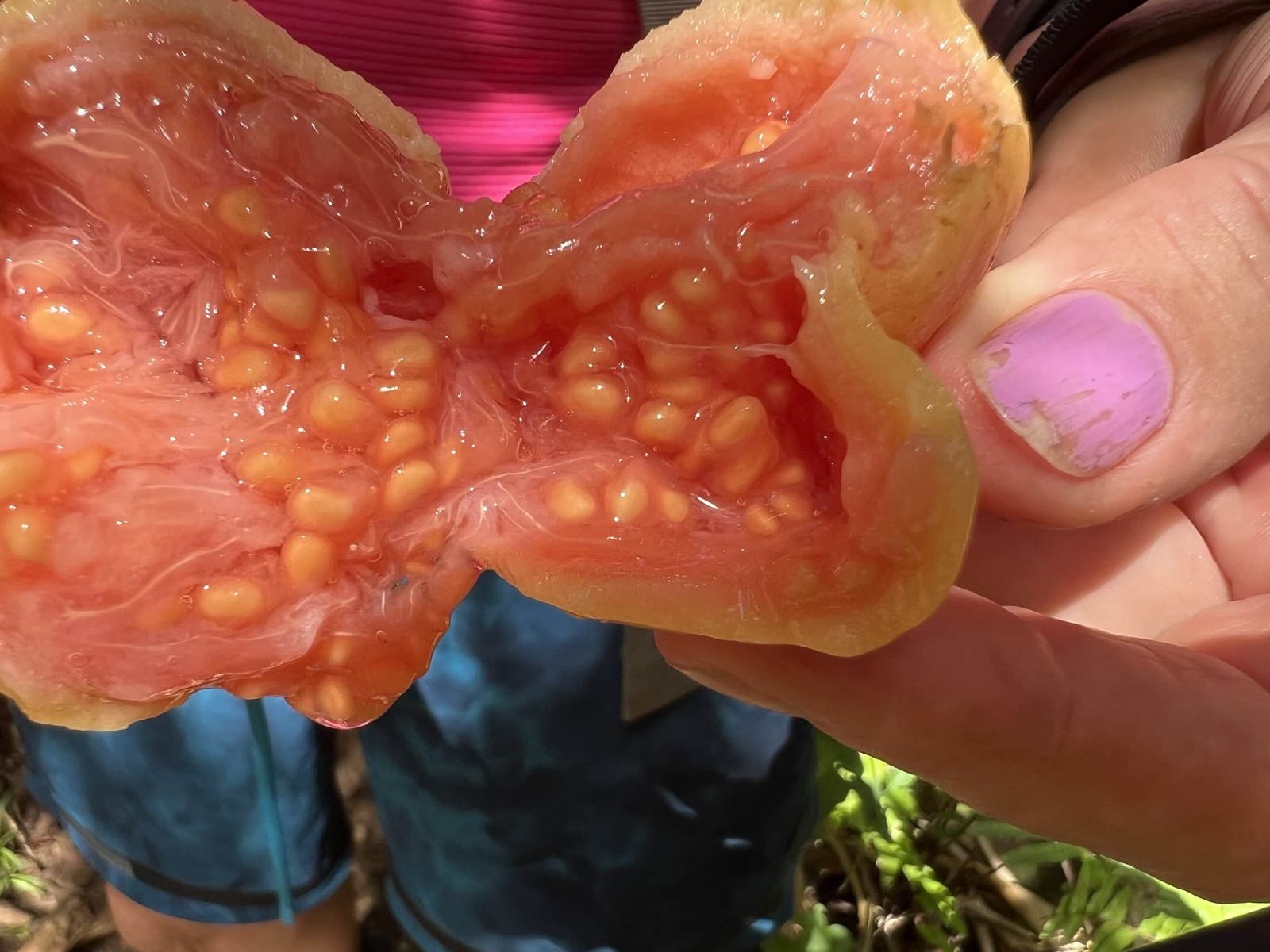 There are plenty of guava along the trail, the trick is to find the ones that have recently fallen (are ripe) but before the flies get to them. Split them open and eat the soft flesh inside.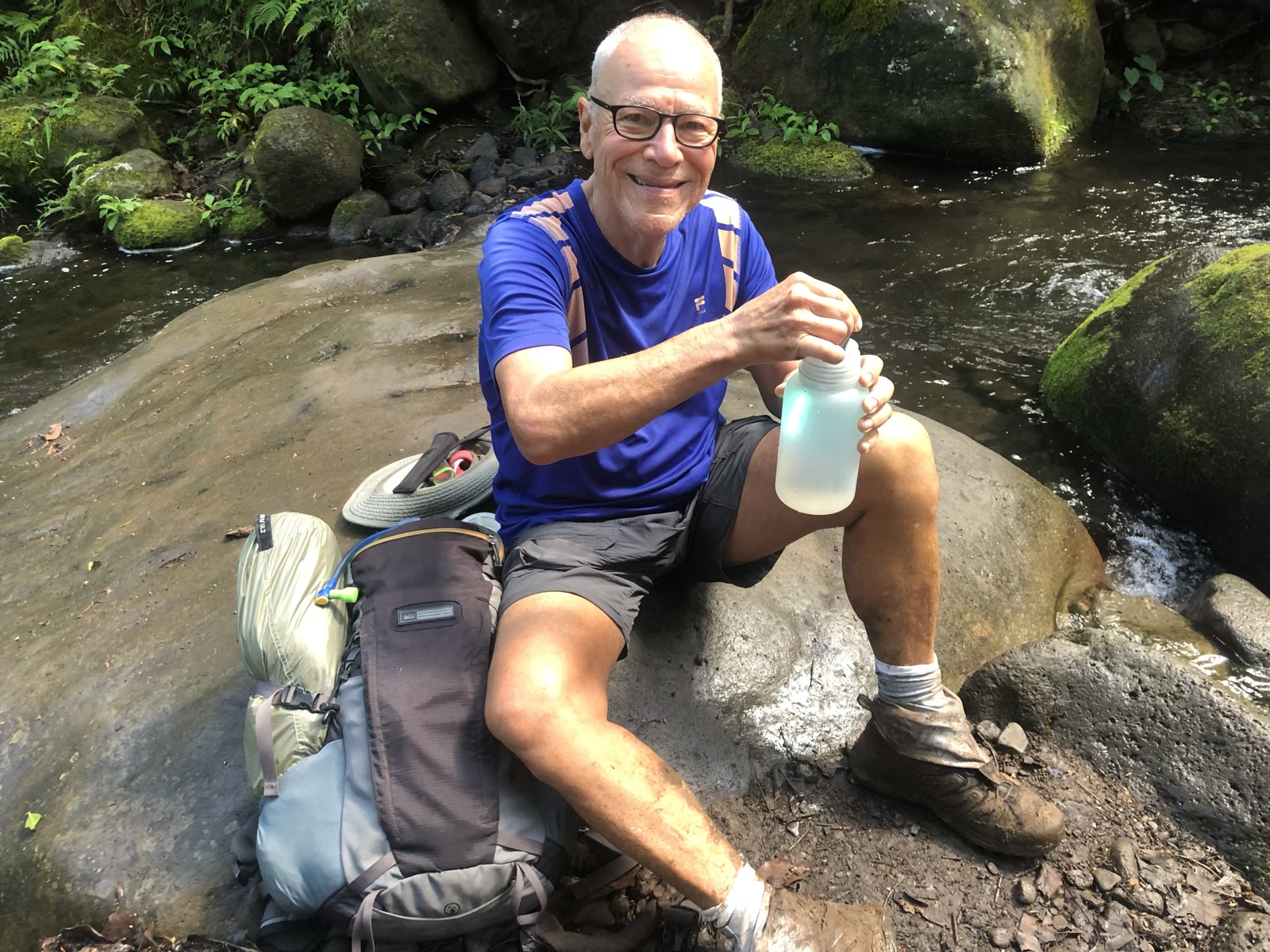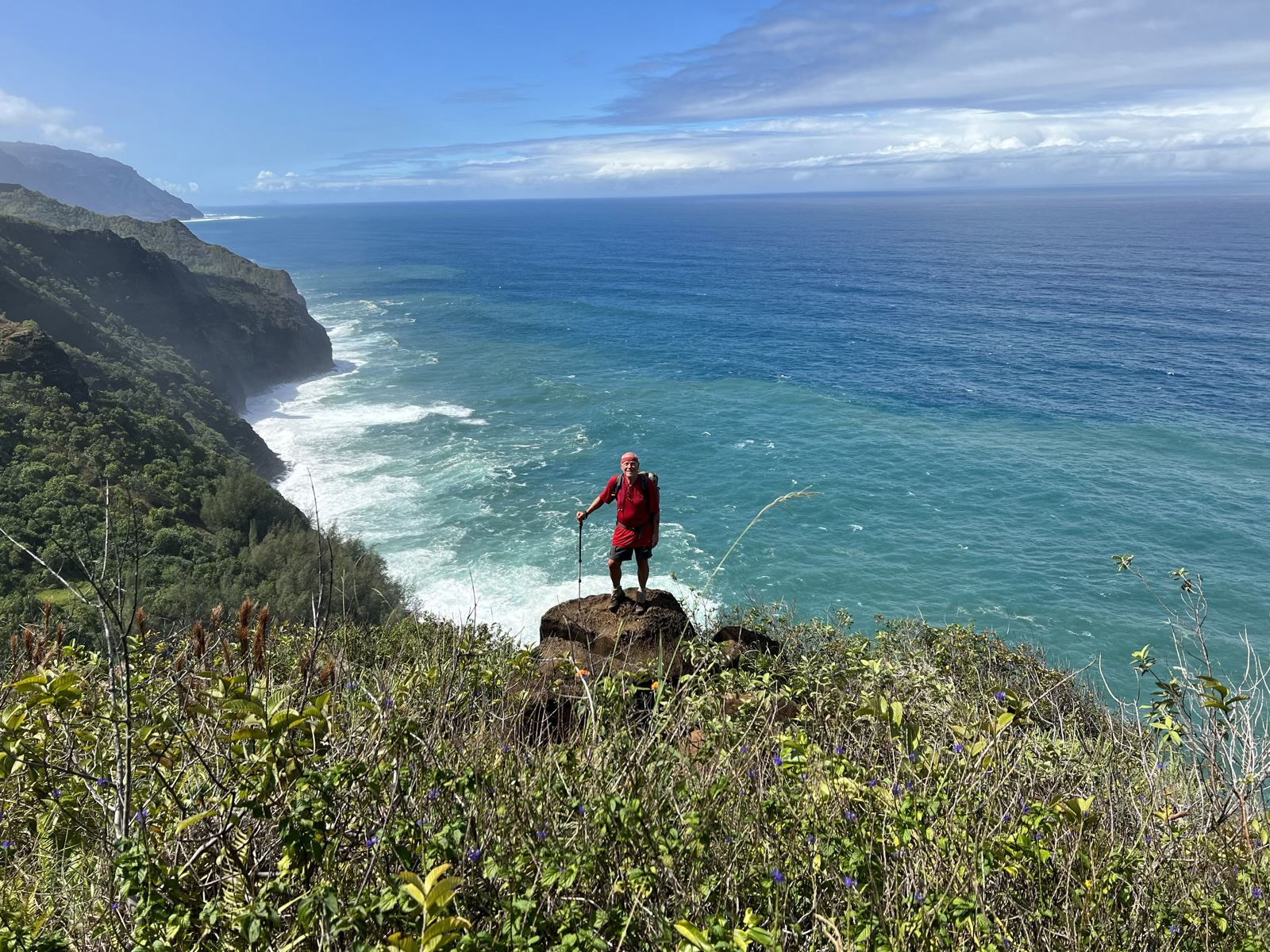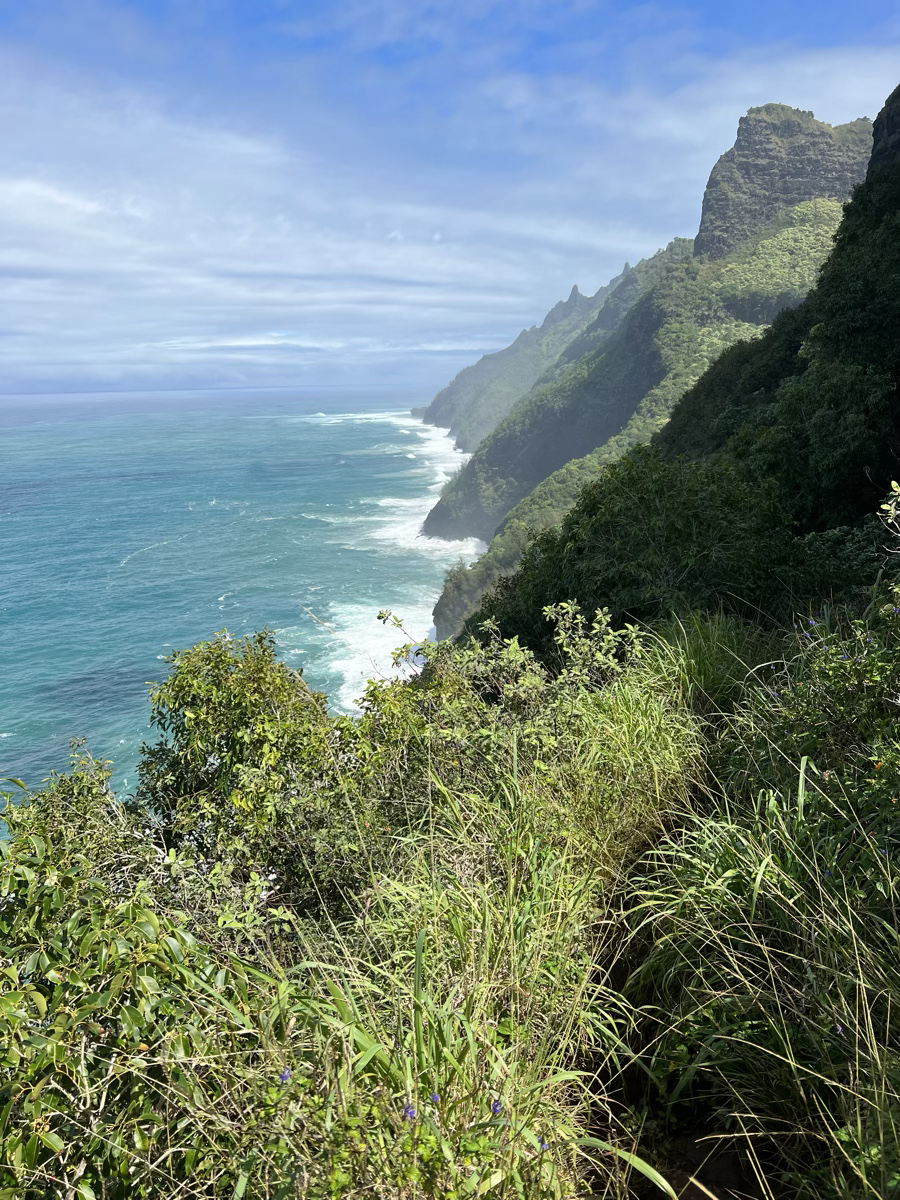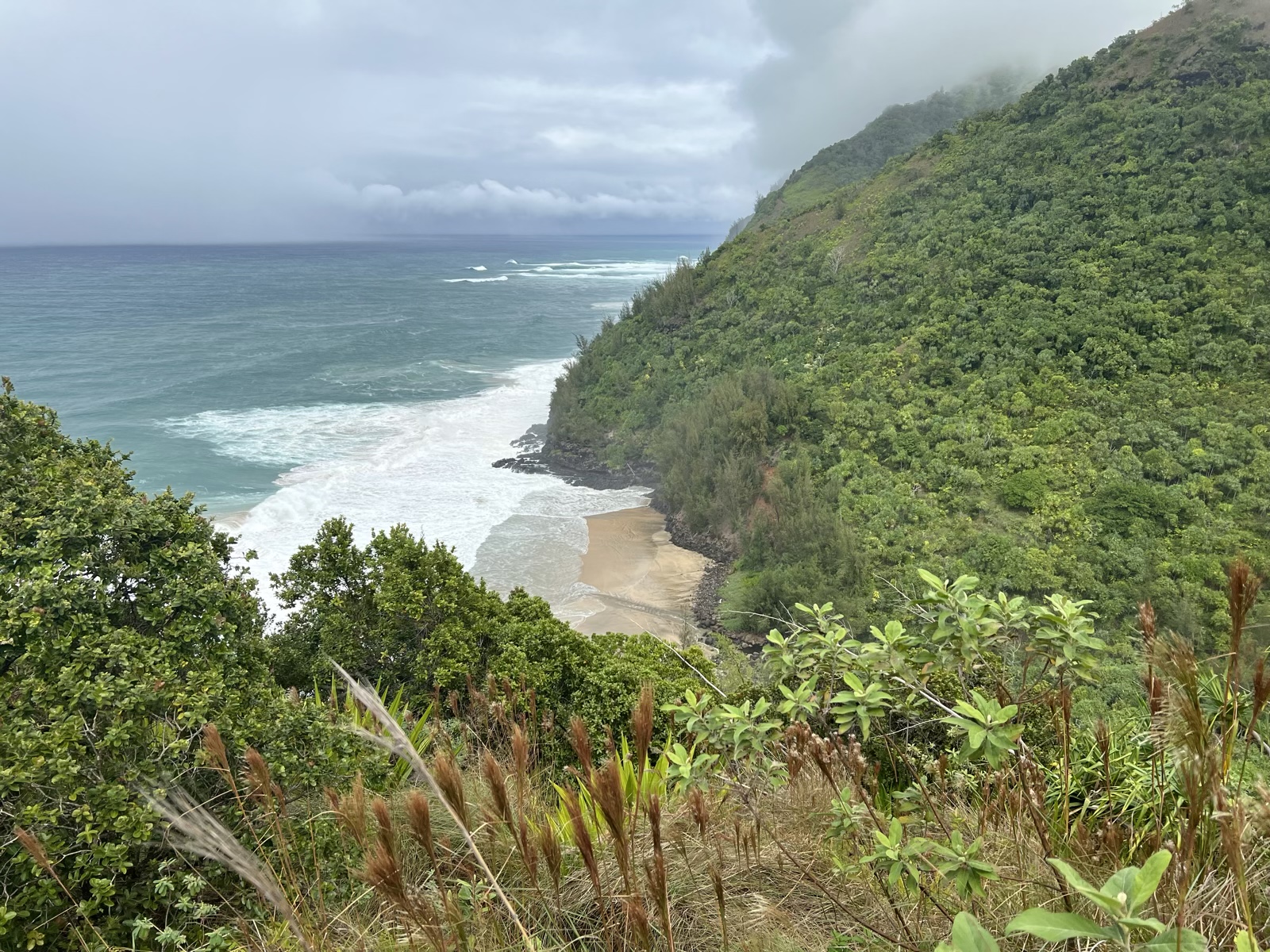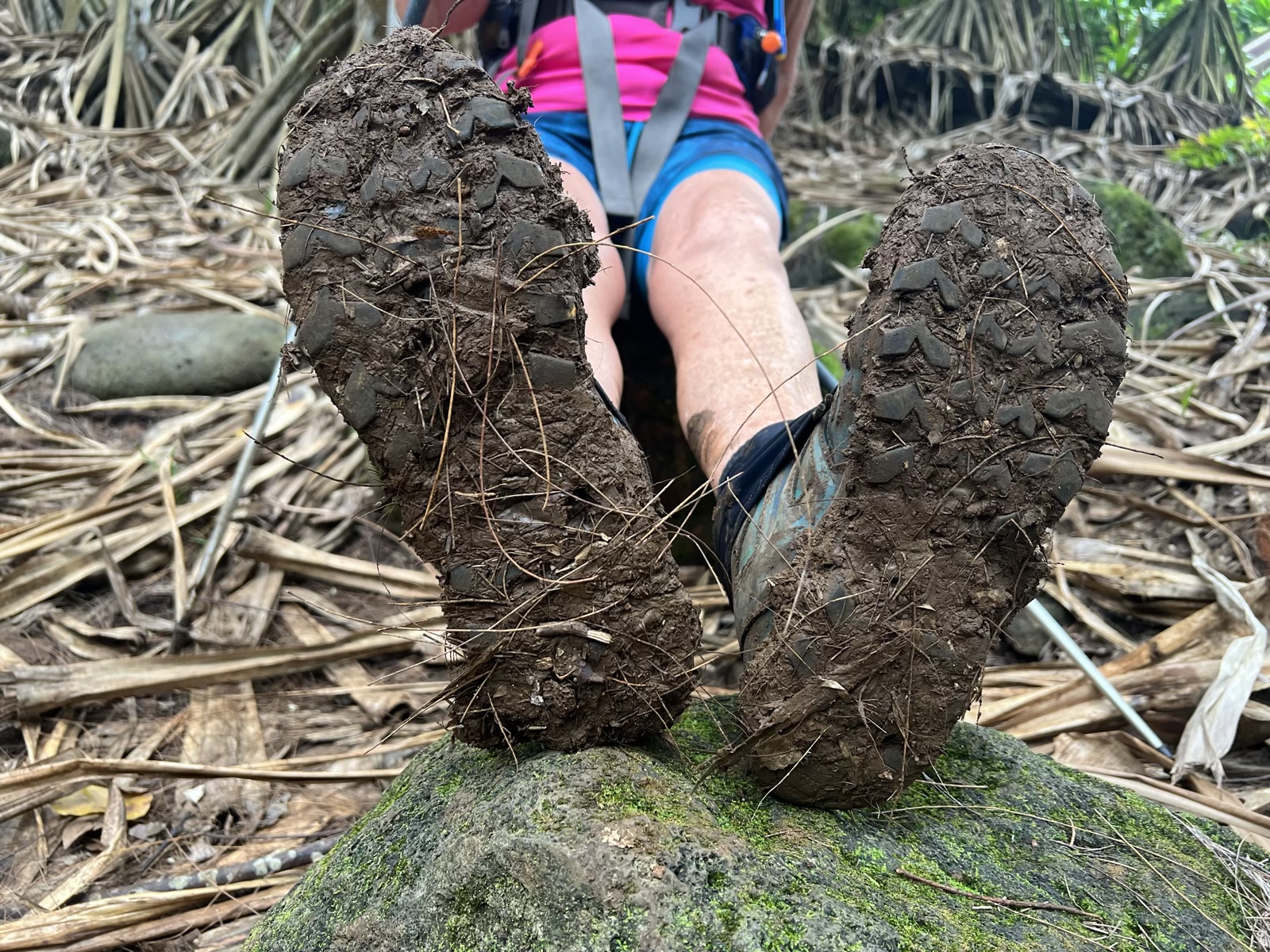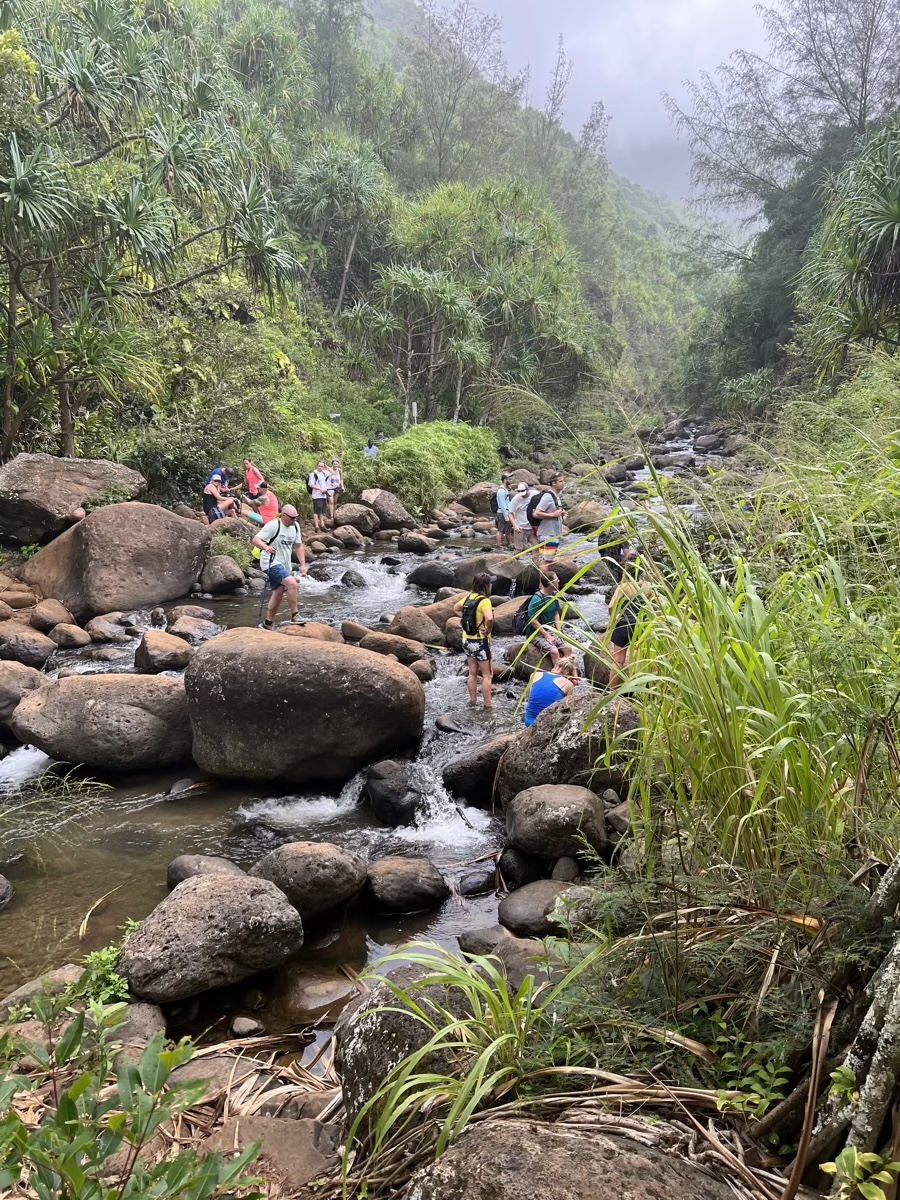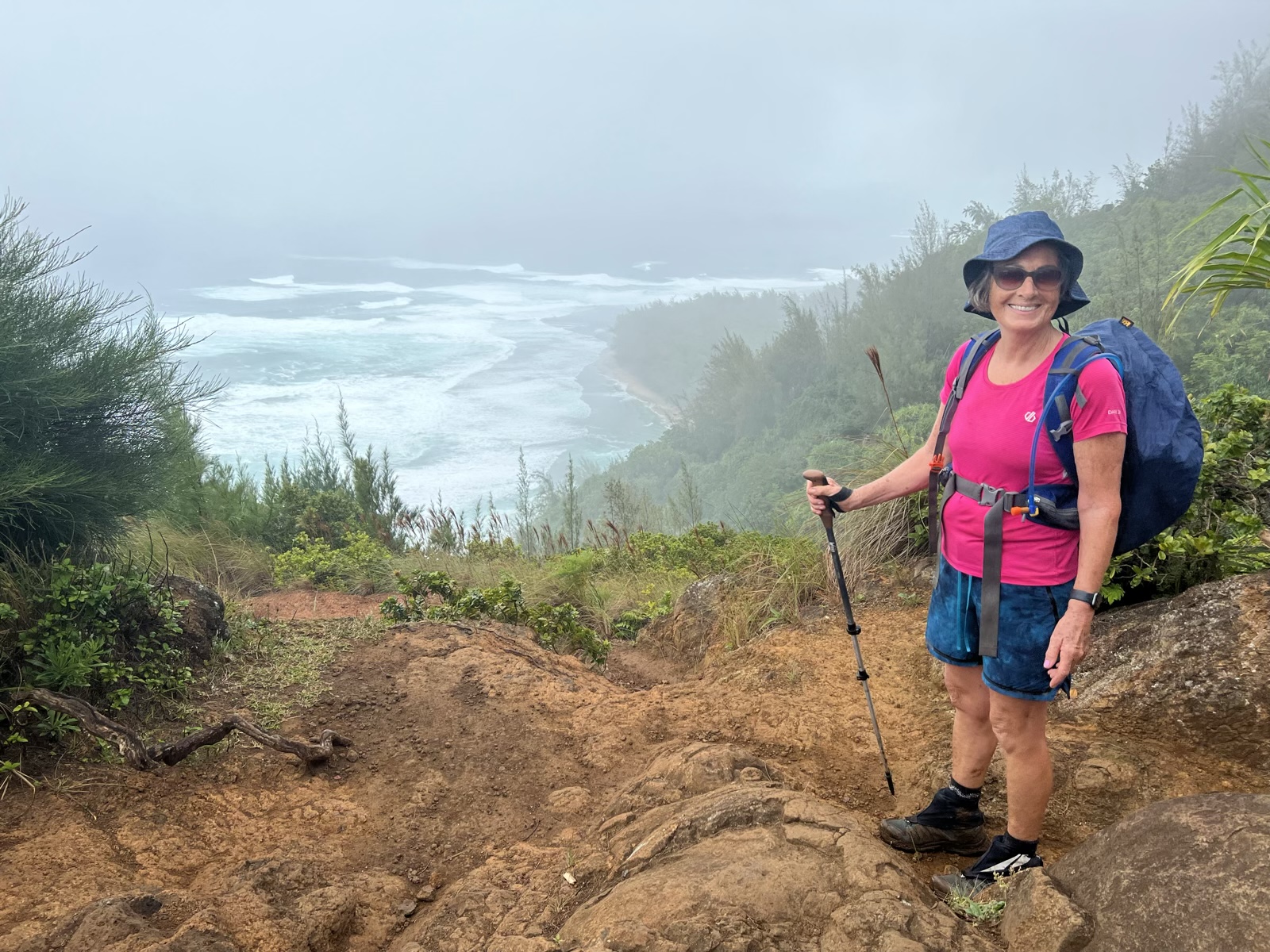 We hike out in a steady rain and are thankful that it is now and not before when we might have had to pitch a tent in it. Relaxed exuberance that the car is just around the bend.