Derek & Lucy have a piece land they call "the farm" on the outskirts of the Cedarberg between Citrusdal and Clanwilliam to the north of Cape Town. They invited us to visit and we tagged on two days to get a broader feel for the area that is one of my favorite hiking areas.
Various social media services helped us pick Arborea Cottage, a self catering cottage on a farm. Emailed the owner, Les, and he said come on up  and you can pay me when you get here. Google maps showed it 16Km up a dirt road outside of Citrusdal. Didn't think much about it at the time but once on it I realized it was truly a remote farm road.
I see a white bakkie (small pickup) coming towards us and pull over to let him by. He stops and the window rolls down and this perfect stranger greets me with "Andre". "Les" I quickly reply and so we were introduced, not many little blue rental cars out on this road I guess.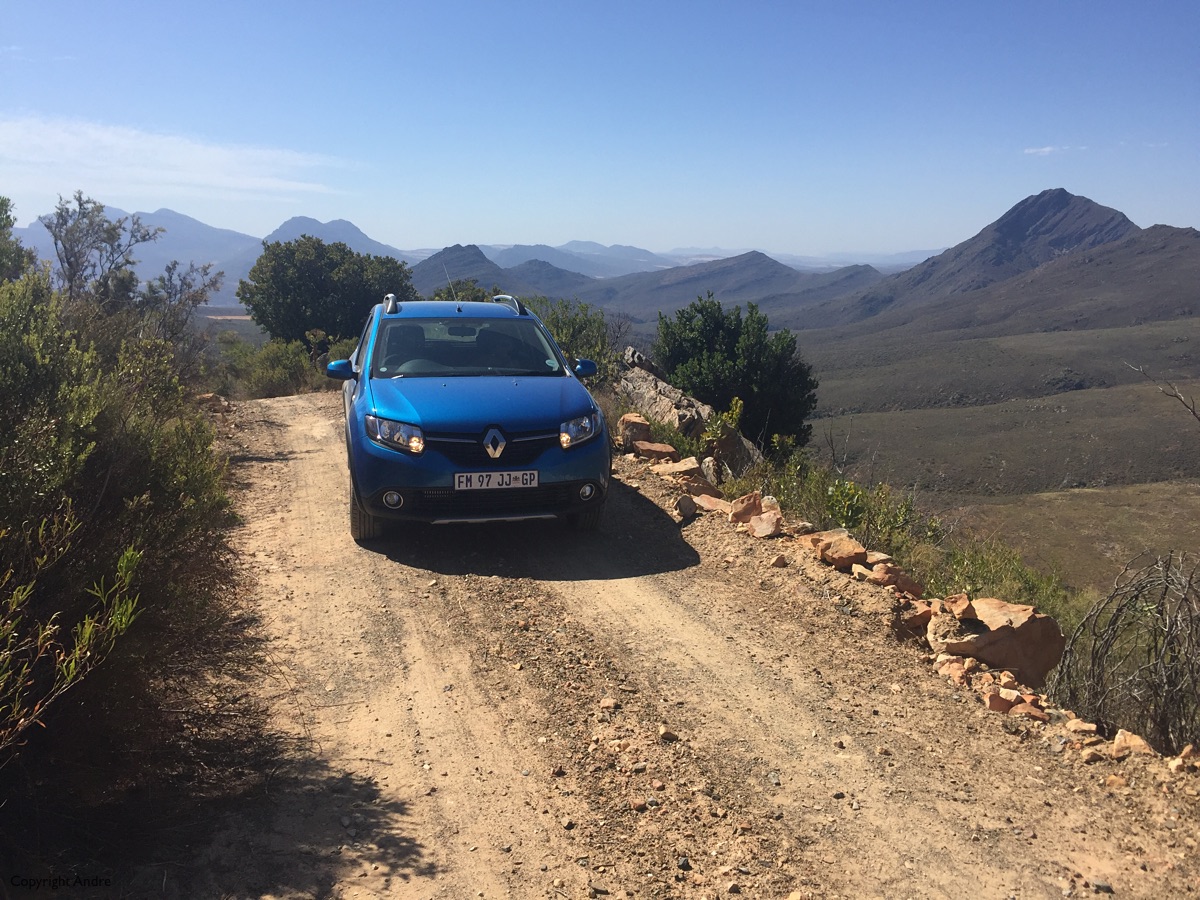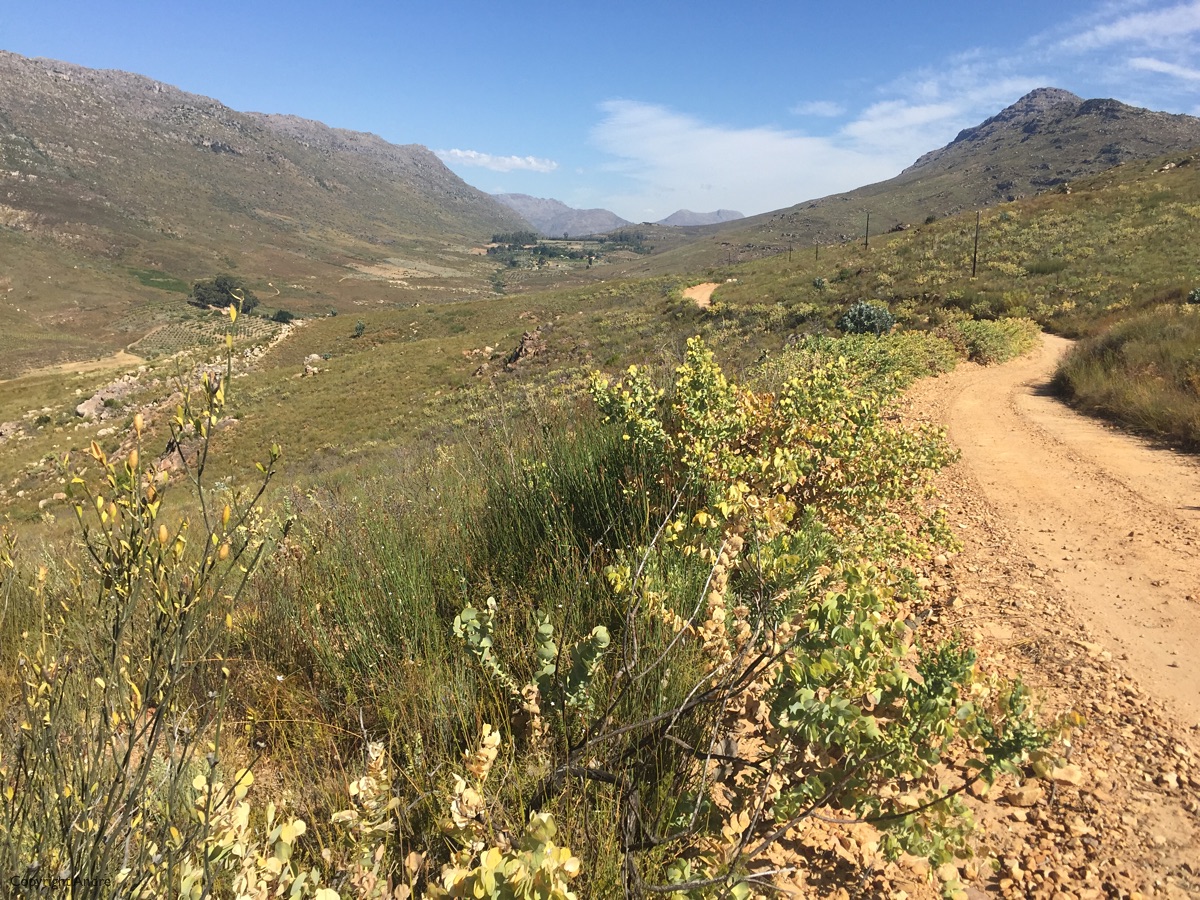 It's first and second gear all the way and Les's son welcomes us and gives us a quick tour of the typical farmhouse that had been renovated for today's eco tourists.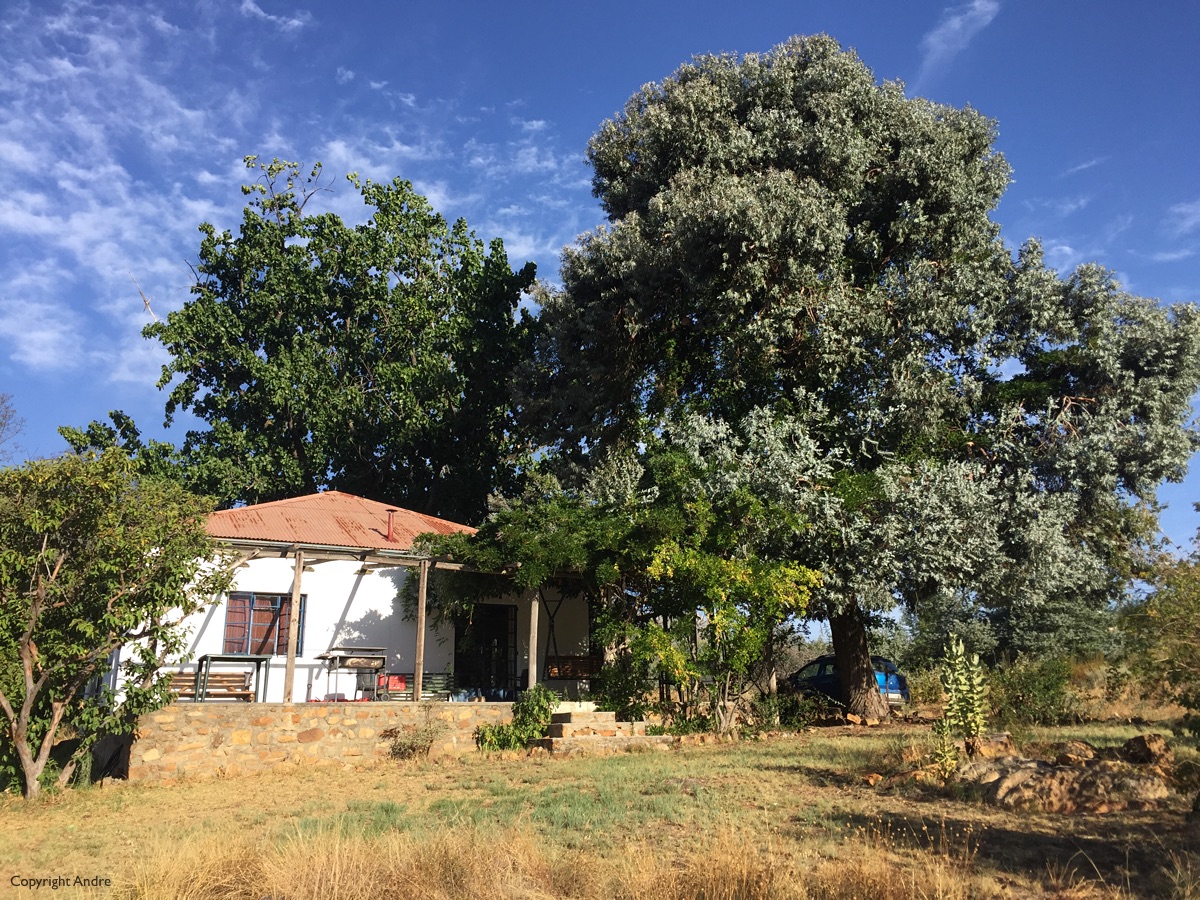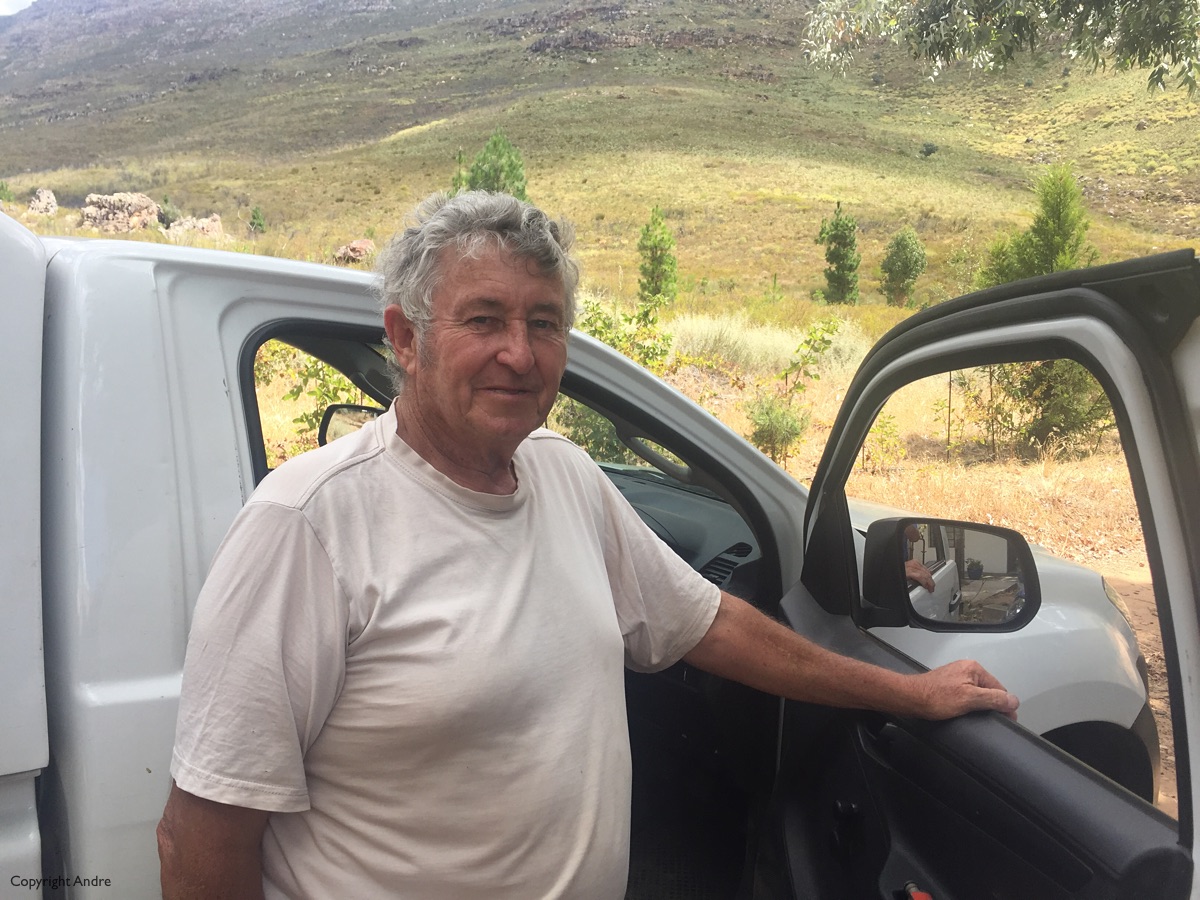 Les stops by and after the exchange of formalities chats a bit, always curious as to know who is guests are. He left high school one year behind me and we both studied at University of Cape Town, him in geology. Being a member of the university mountain club with it's slew of cross discipline members I knew a few geologists and we started throwing names at each other and grinning when hits were made.
I was amazed that back in the mid seventies when he graduated he decided he wanted a farm in the Cedarberg and with his dads help bought this farm and made a comfortable living over all those years. Not for the faint at heart as it is remote and hard work.
Next day we went out for a hike, I would have liked to have ventured up to one of the ridges but the lack of a trail and too much bushwhacking kept us on the farm roads.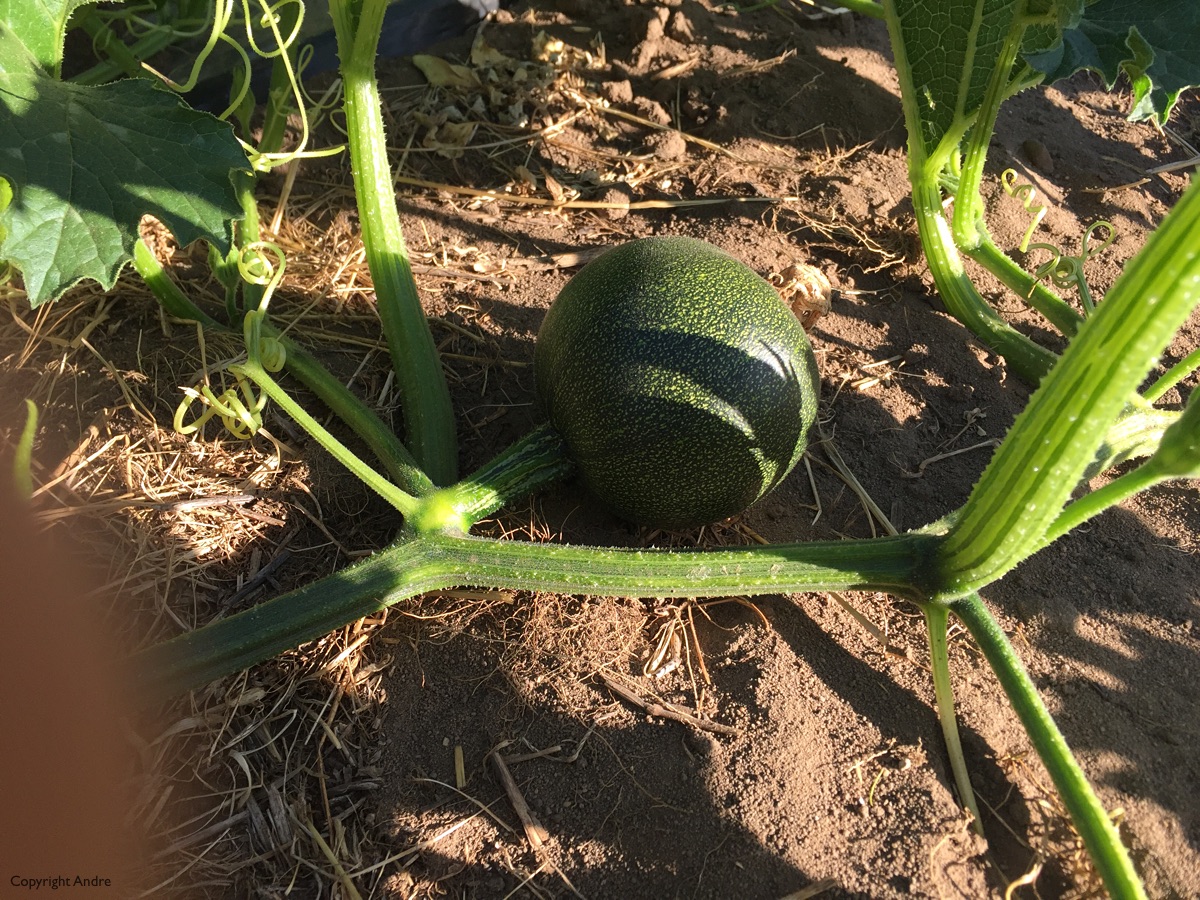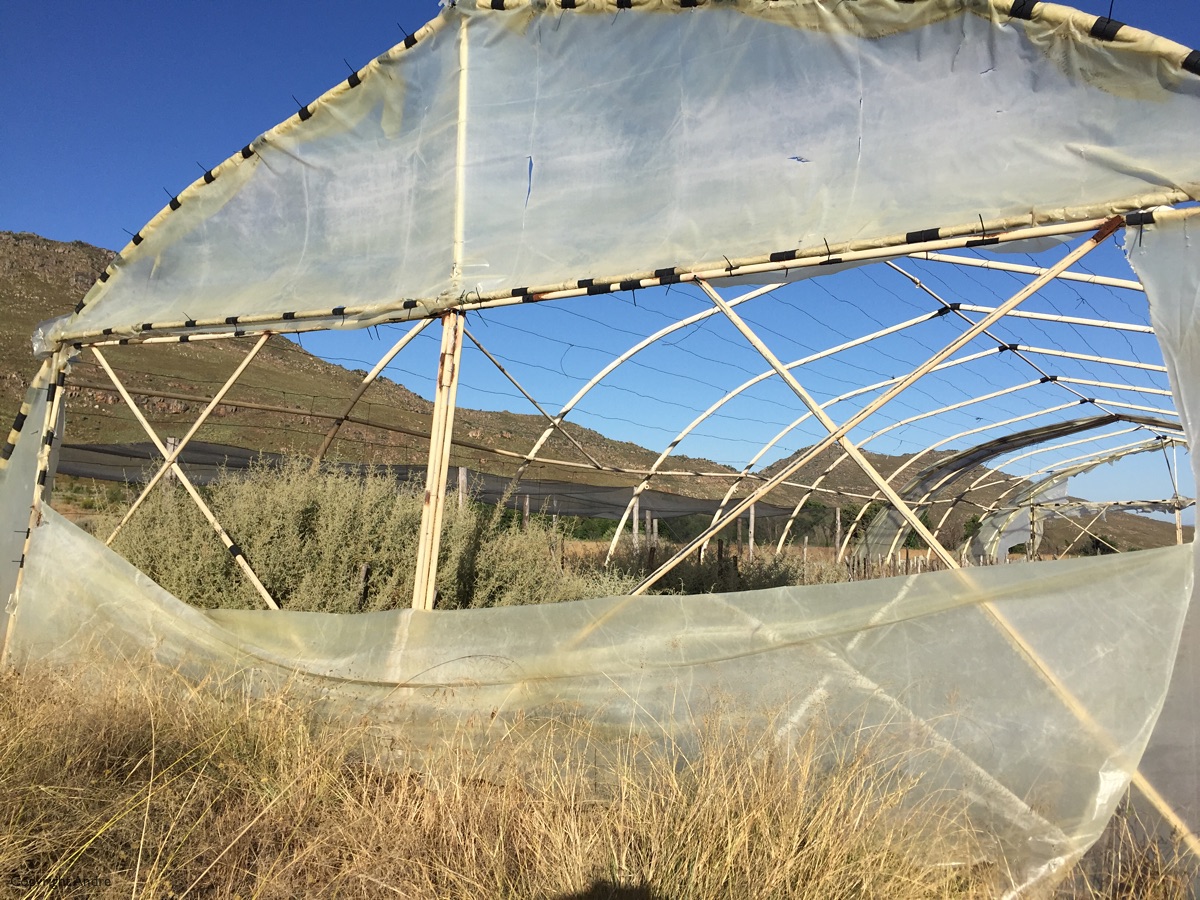 The farm seems to have struggled over the years, small fields were being worked but there was plenty of evidence of projects tried and abandoned for whatever reason. Les did tell us that two years ago a fire came through from a neighbors farm to the south and wiped out his citrus orchards which was one of his staples – tough life being a farmer.
We ventured out beyond his boundaries but only because my trusty GPS showed a dotted trail, something had once been here. A few wrong turns here & there and when it started to head back in the direction whence we came I breathed a sigh of relief.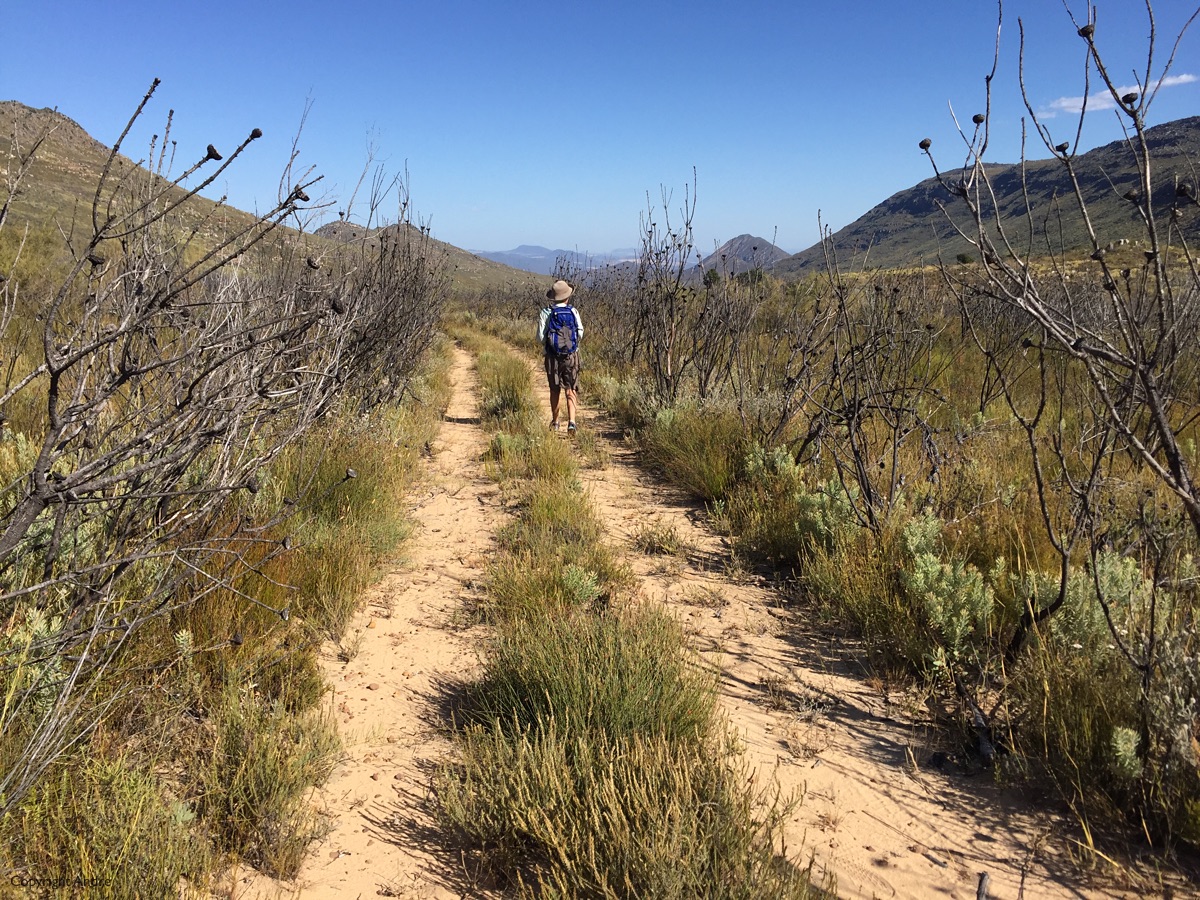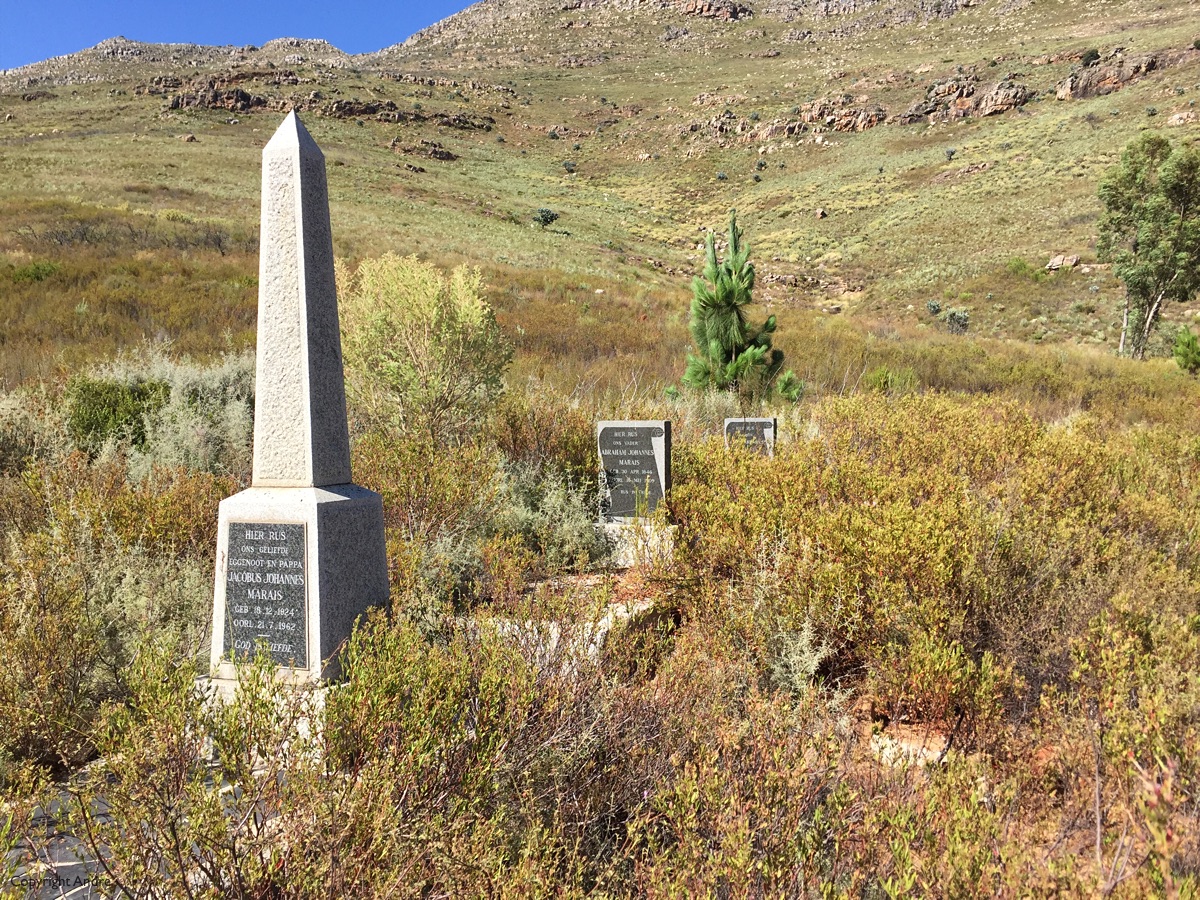 Graveyards, especially remote ones like this, fascinate me by the history they harbor. Here three members of the original? Marais family lie forever.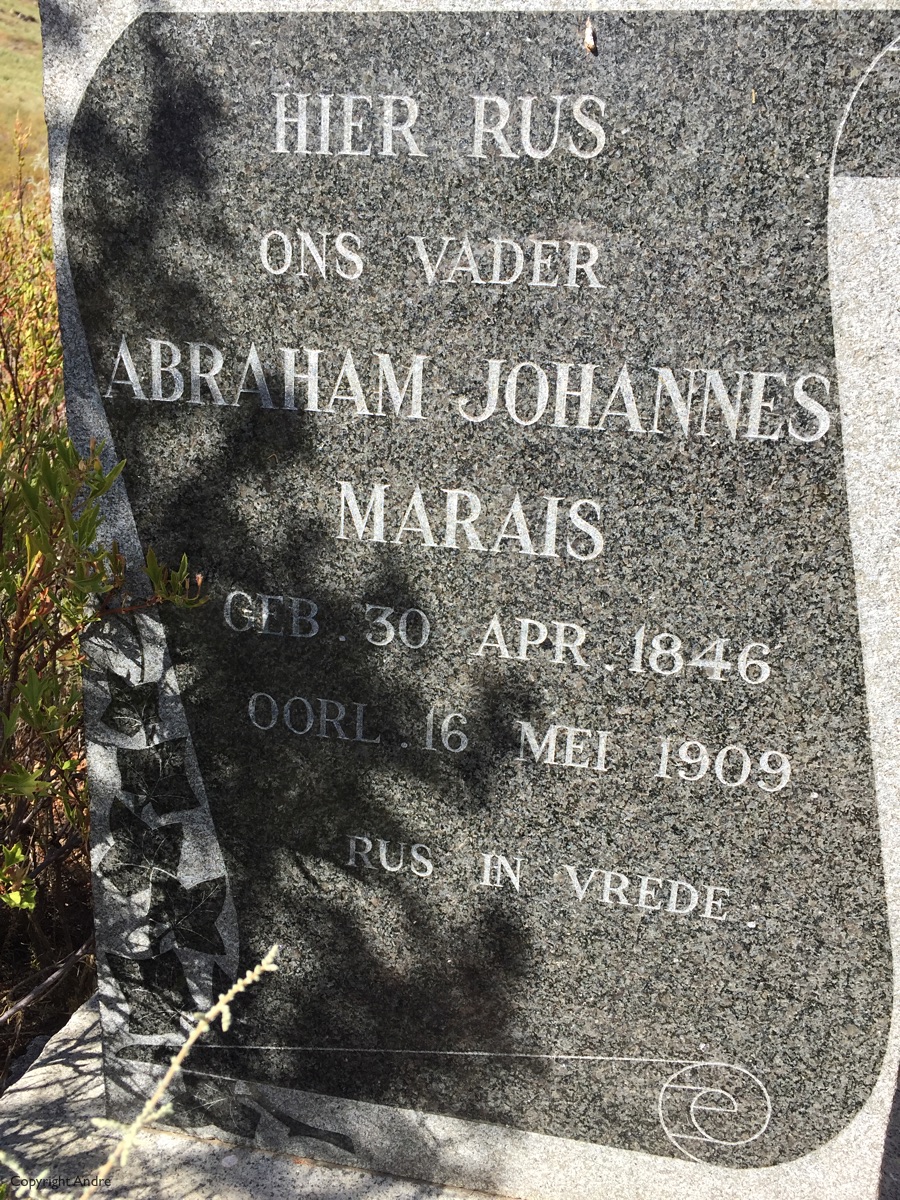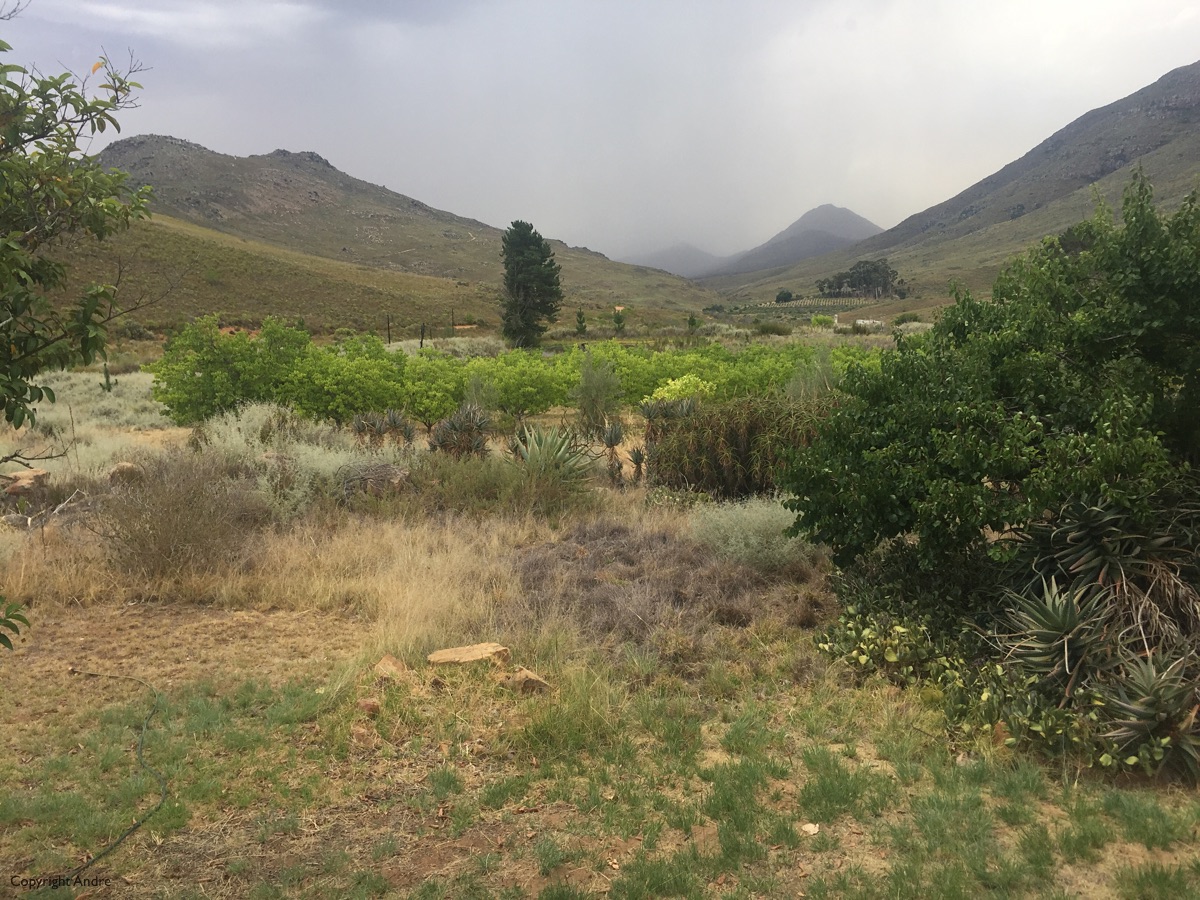 The afternoon heat brings an attempt at a thunderstorm but little moisture falls amid the rumbling thunder and swirling wind.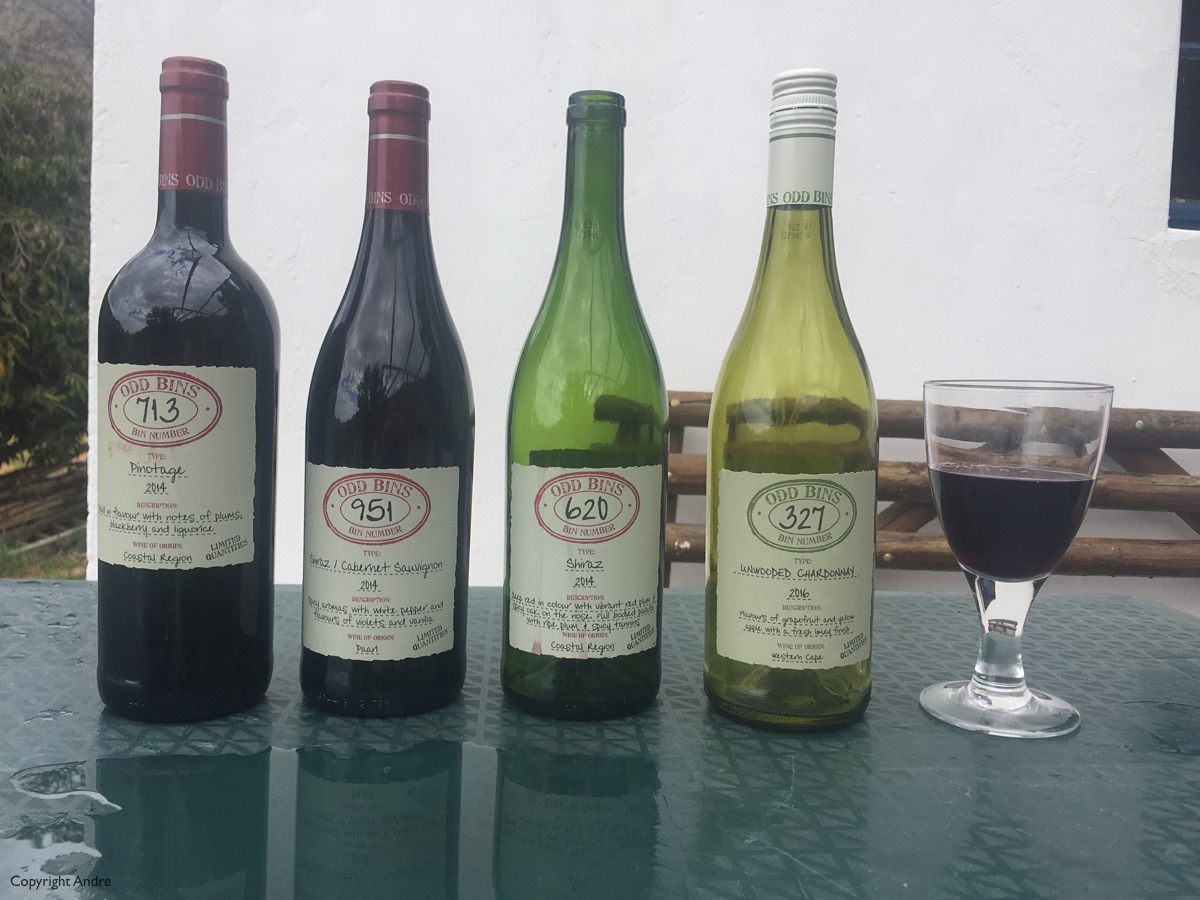 Cape wine is good and affordable. A local supermarket chain has taken this one step further by creating their own mystery brand, Odd Bins. They selectively buy up overstock, are sworn to secrecy as to which vineyard they came from, and give it their own label with a few clues on it. The lots are pretty small because each time I go in the numbers change but each lucky dip is a pretty good bet. At R40 ($3) to R60 ($4.60) a bottle worth the chance.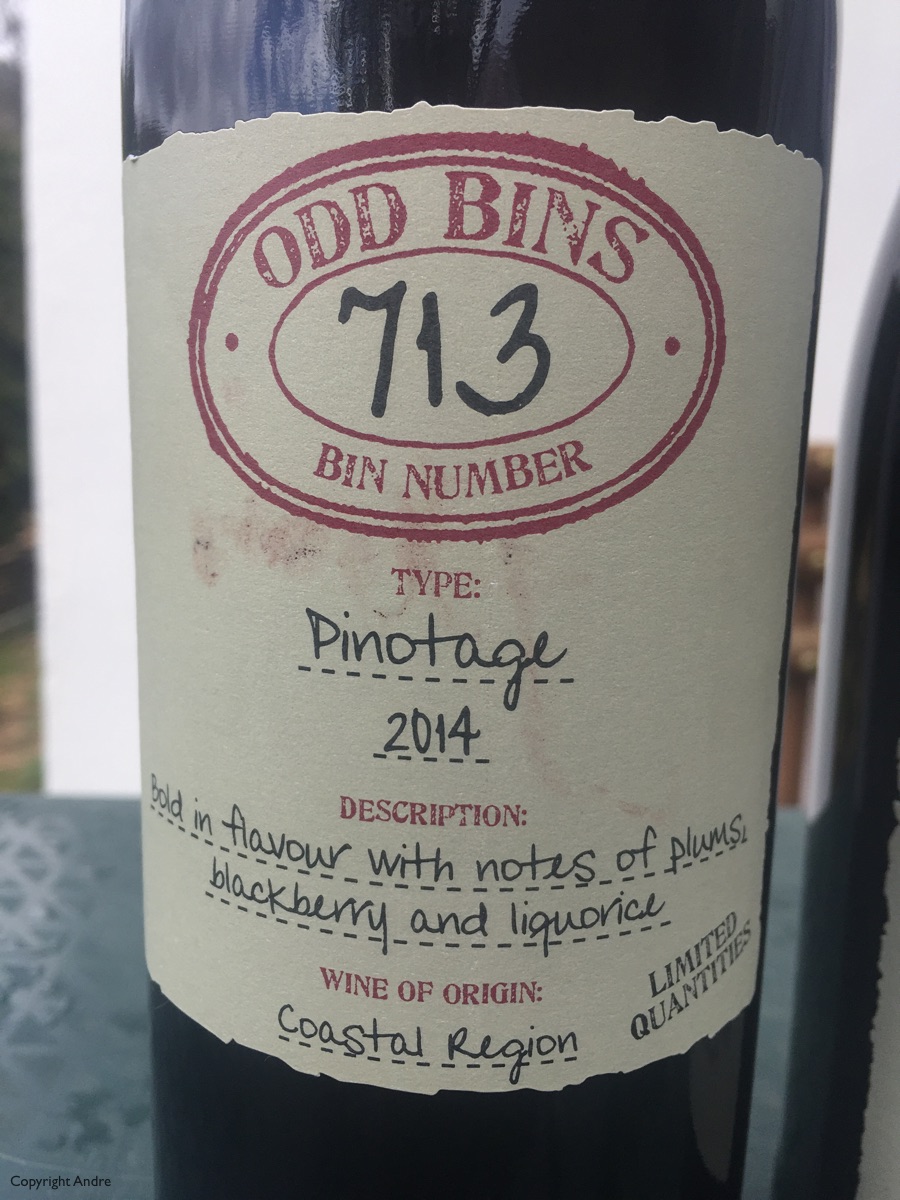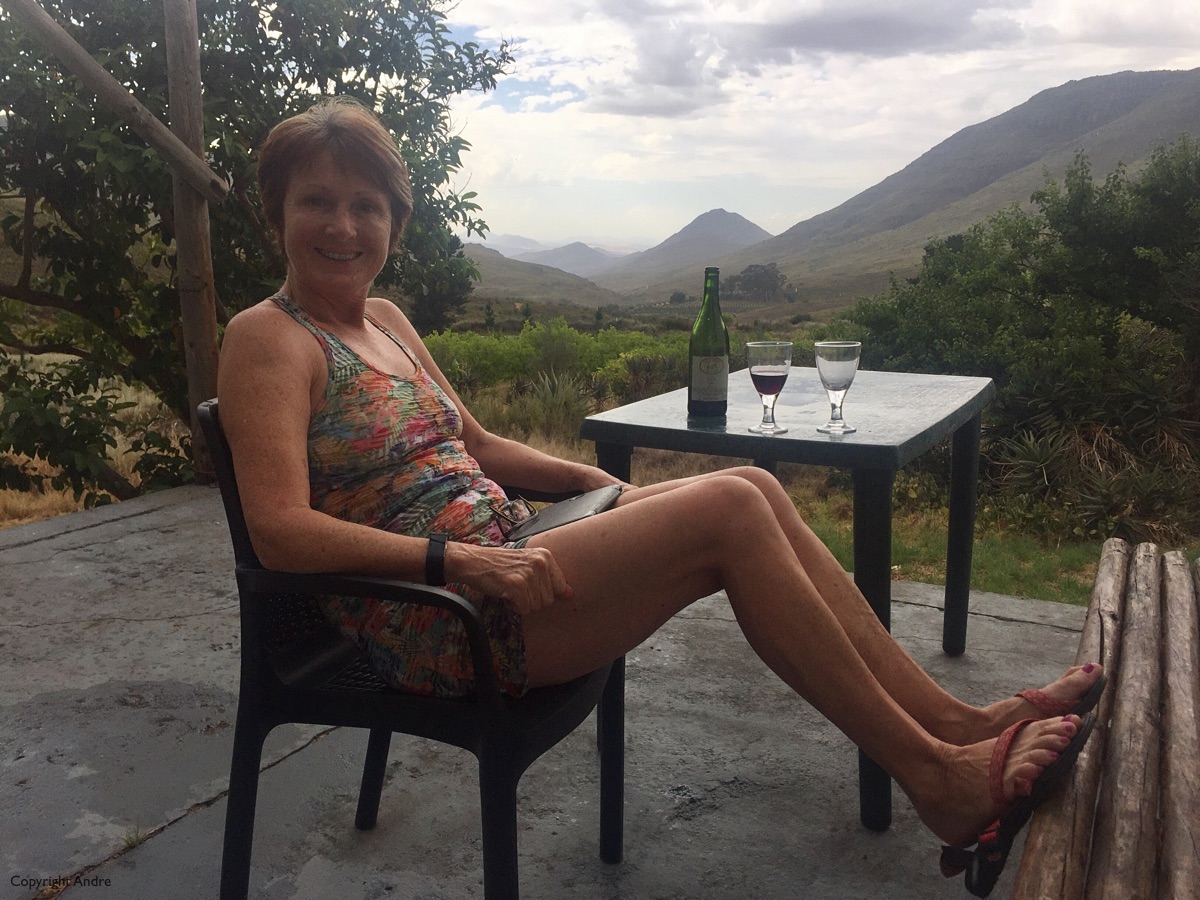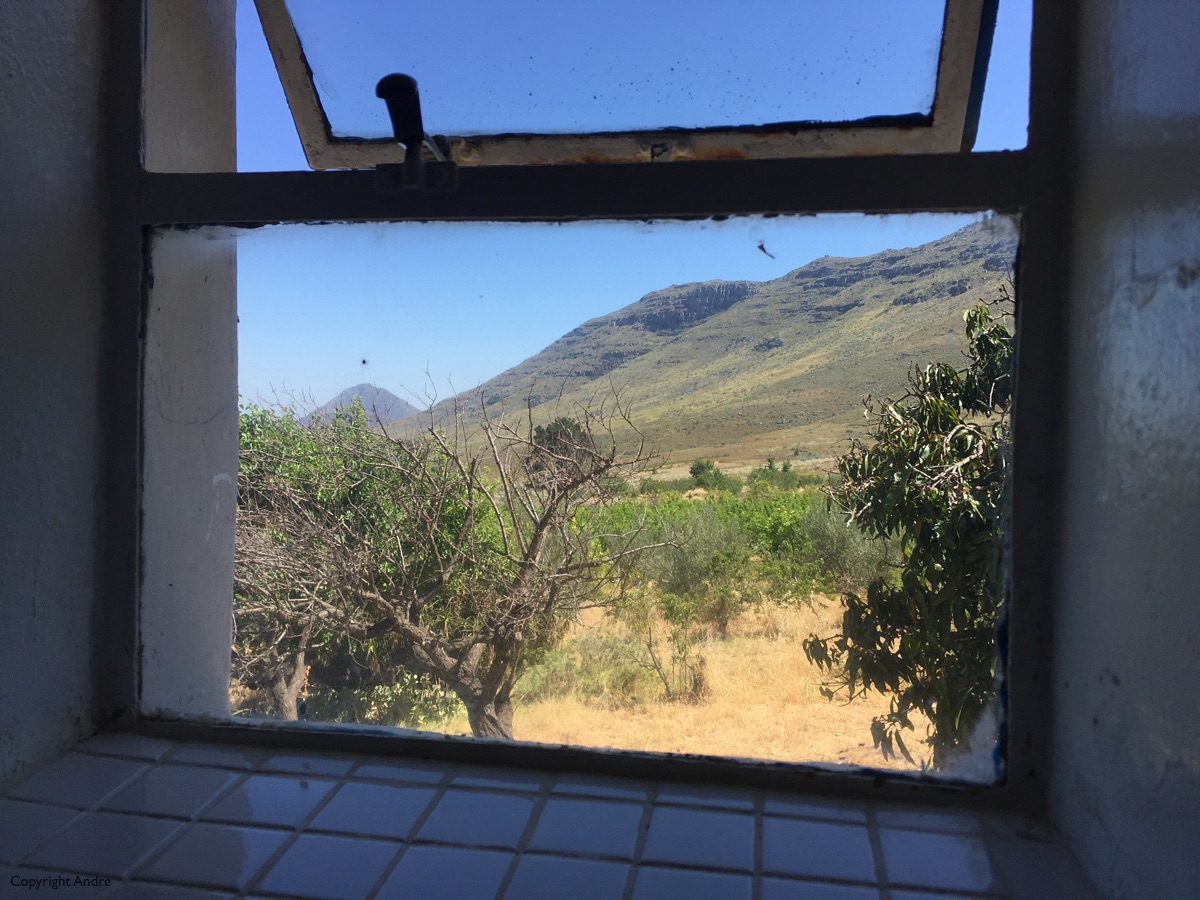 We bid Les goodbye and head over to the other side of the N7 road north.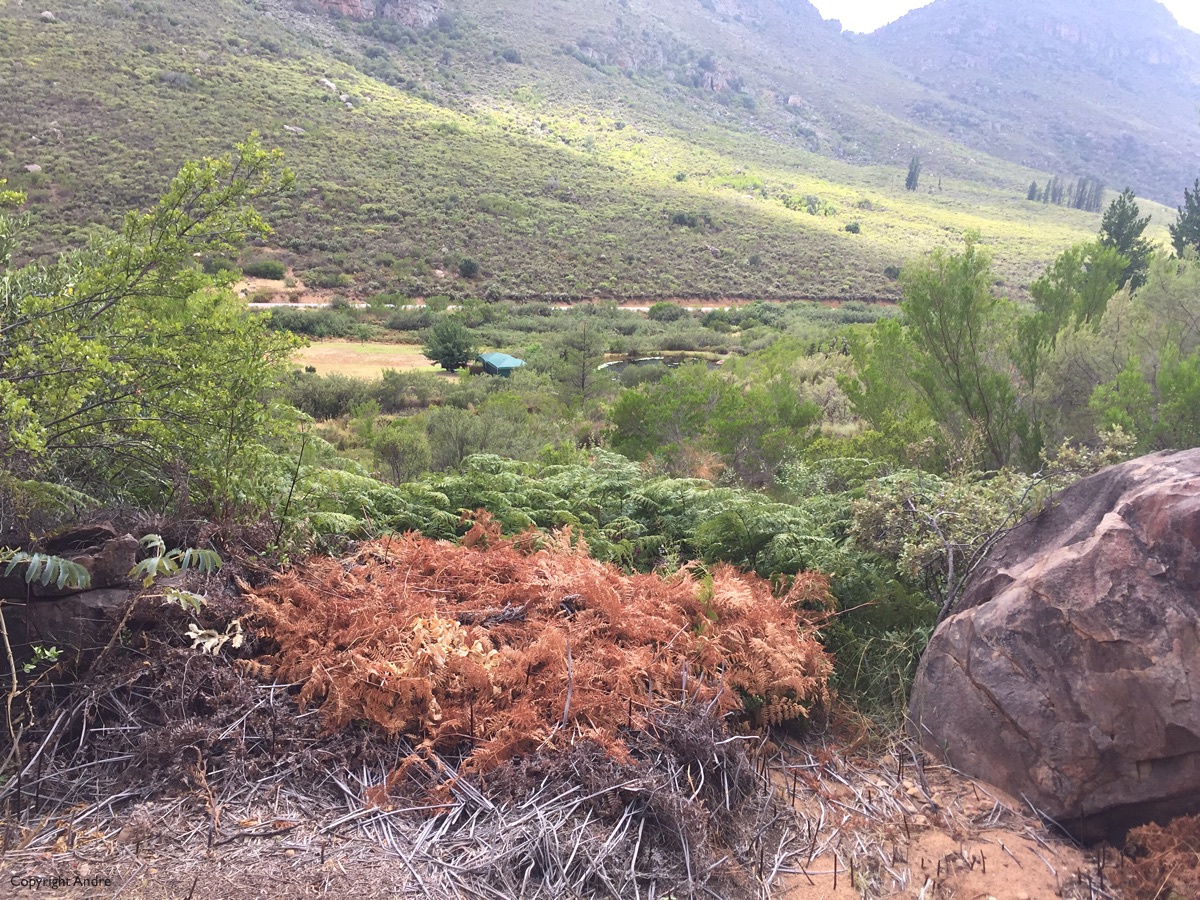 We arrive just as Derek and some help are fixing his sun shades that protect the caravans from the sun. Story goes that some baboons were using them as trampolines and they came loose from their supports!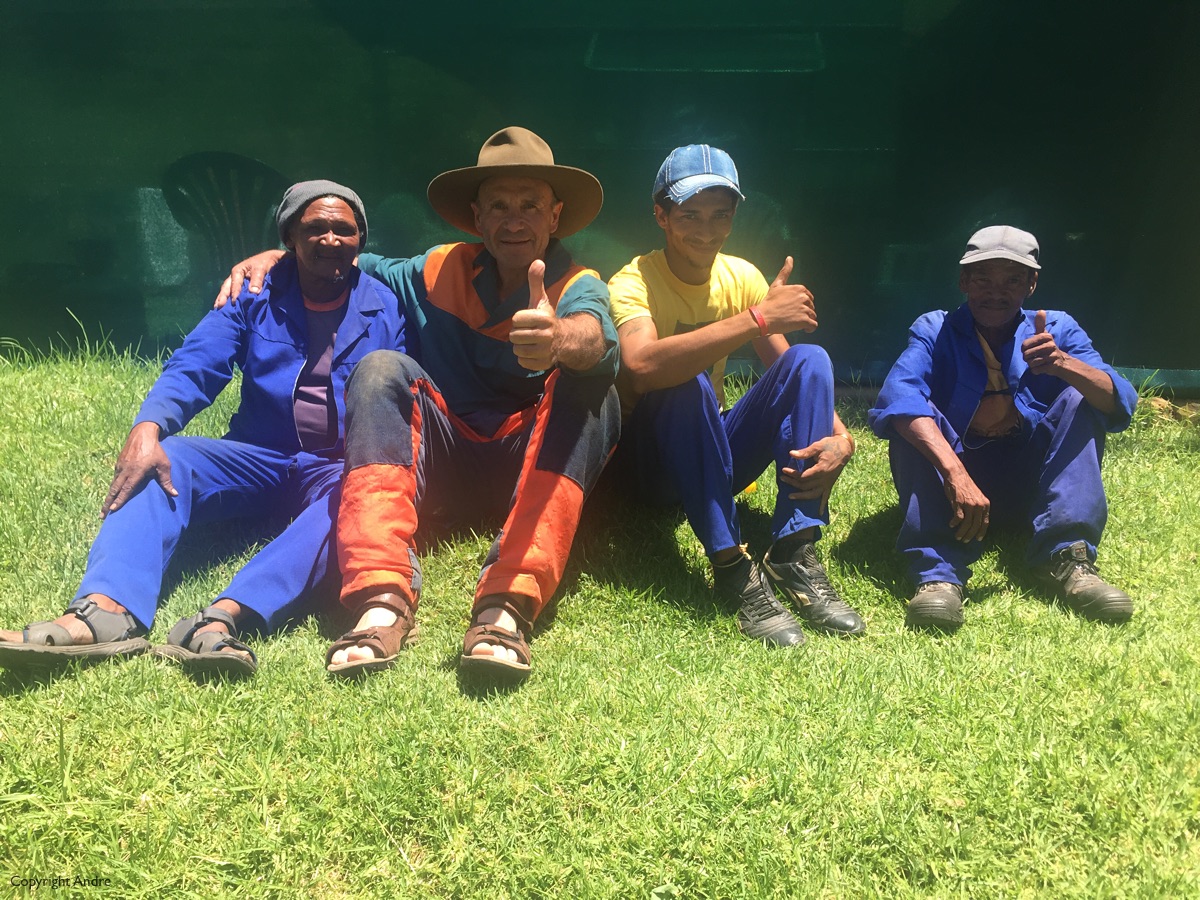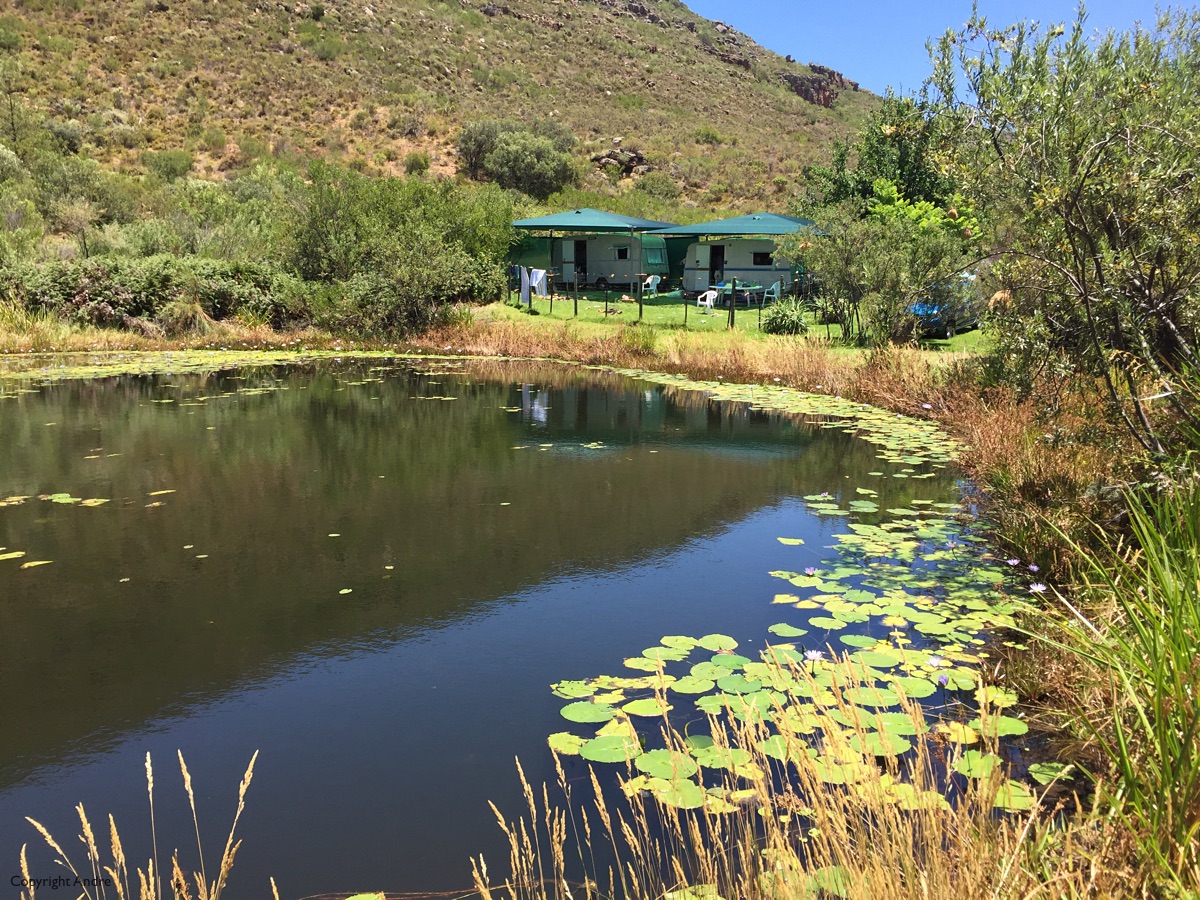 Most of the "farm" is natural with a few abandoned orchards hidden in the surrounding fynbos. There is a really picturesque earth dam that provides coolness and tranquility in the hot summers. It is fed by a natural spring from a gully above.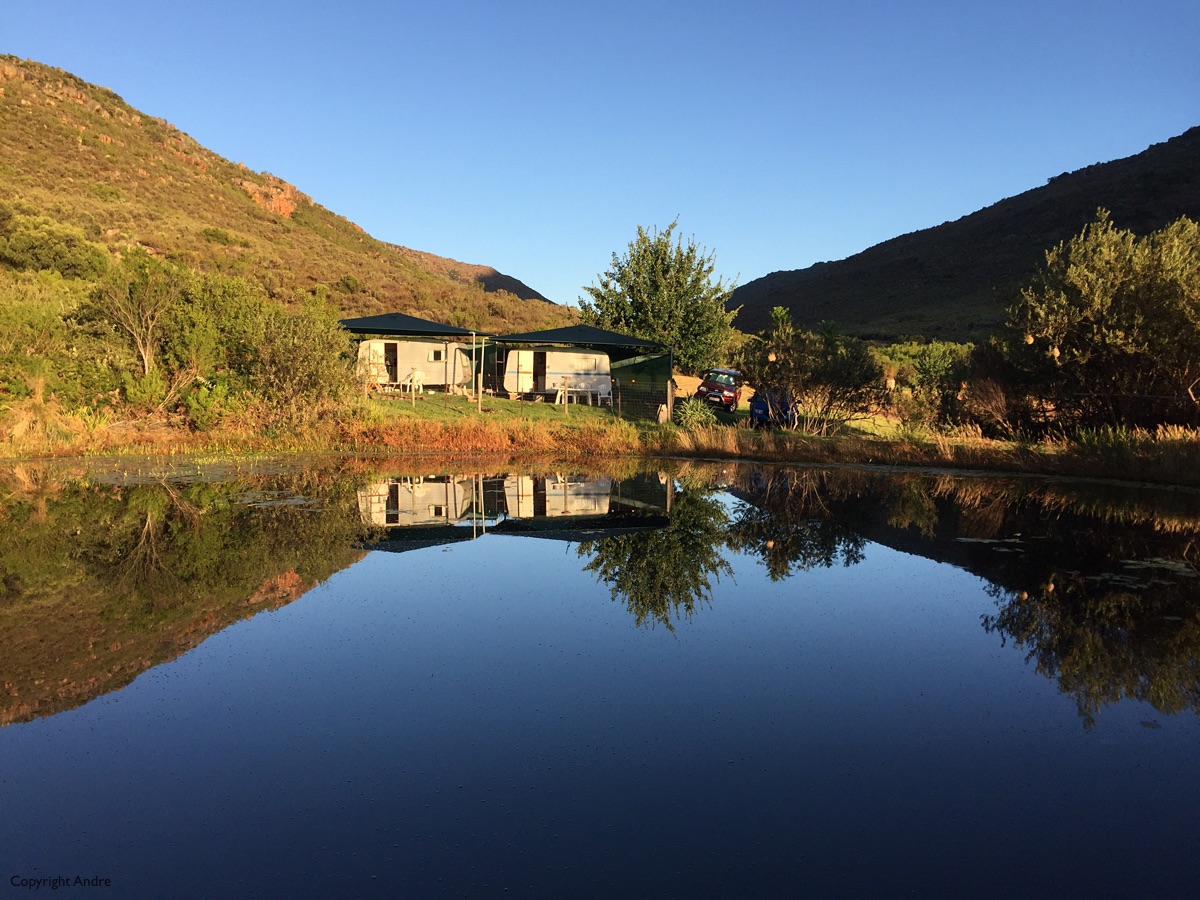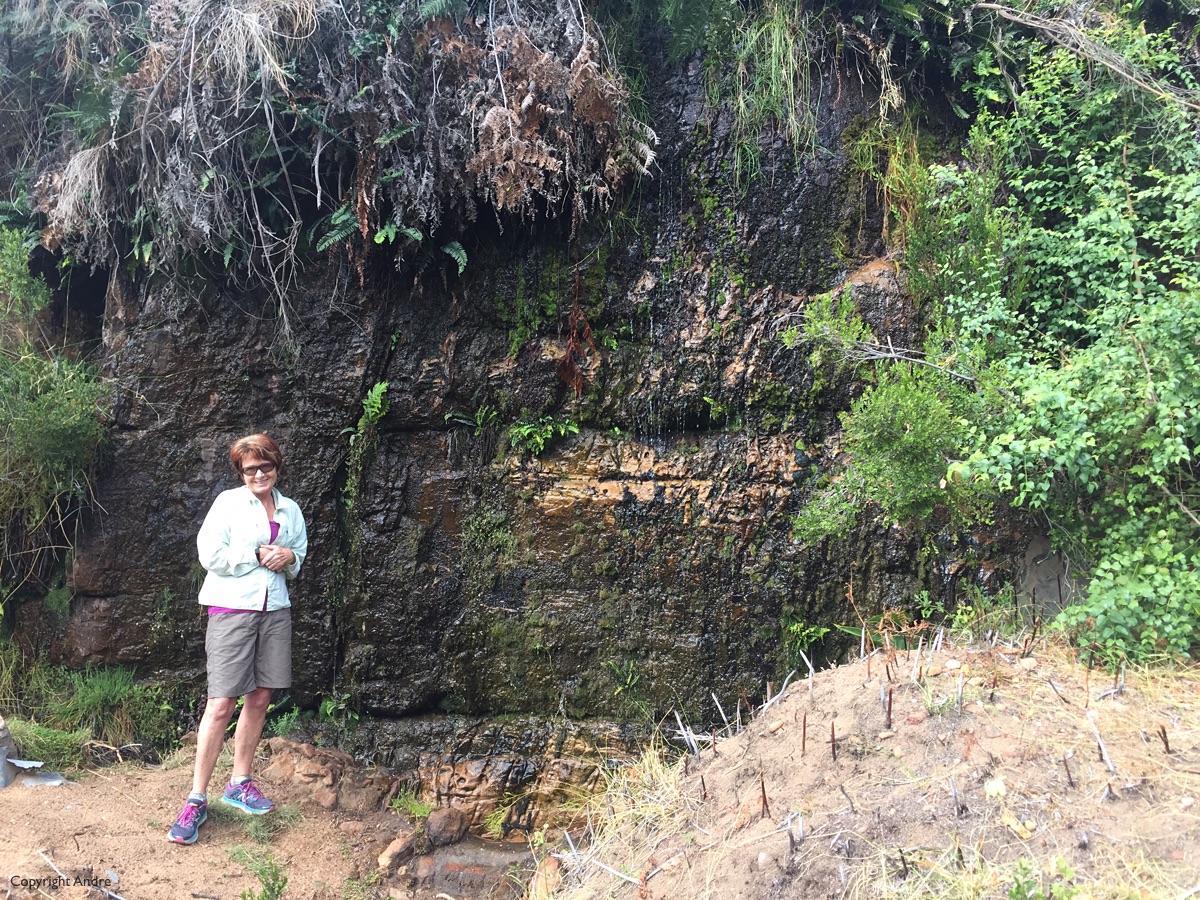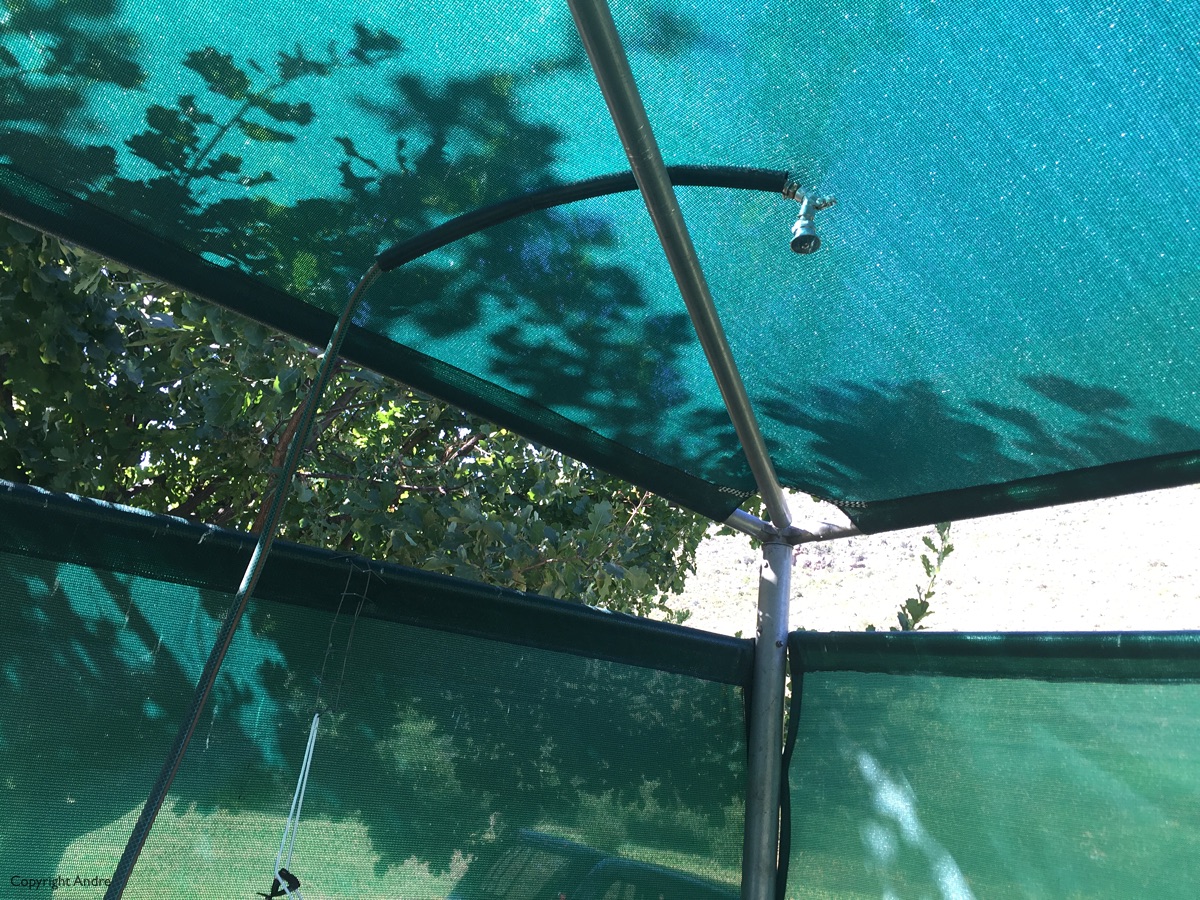 There is a permanent makeshift shower adjacent to one of the caravans. A nozzle jammed under the sunshade and fed by a tankless water heater hanging off the back of the caravan. Main thing is that it works and provides relief after a hot sweaty day.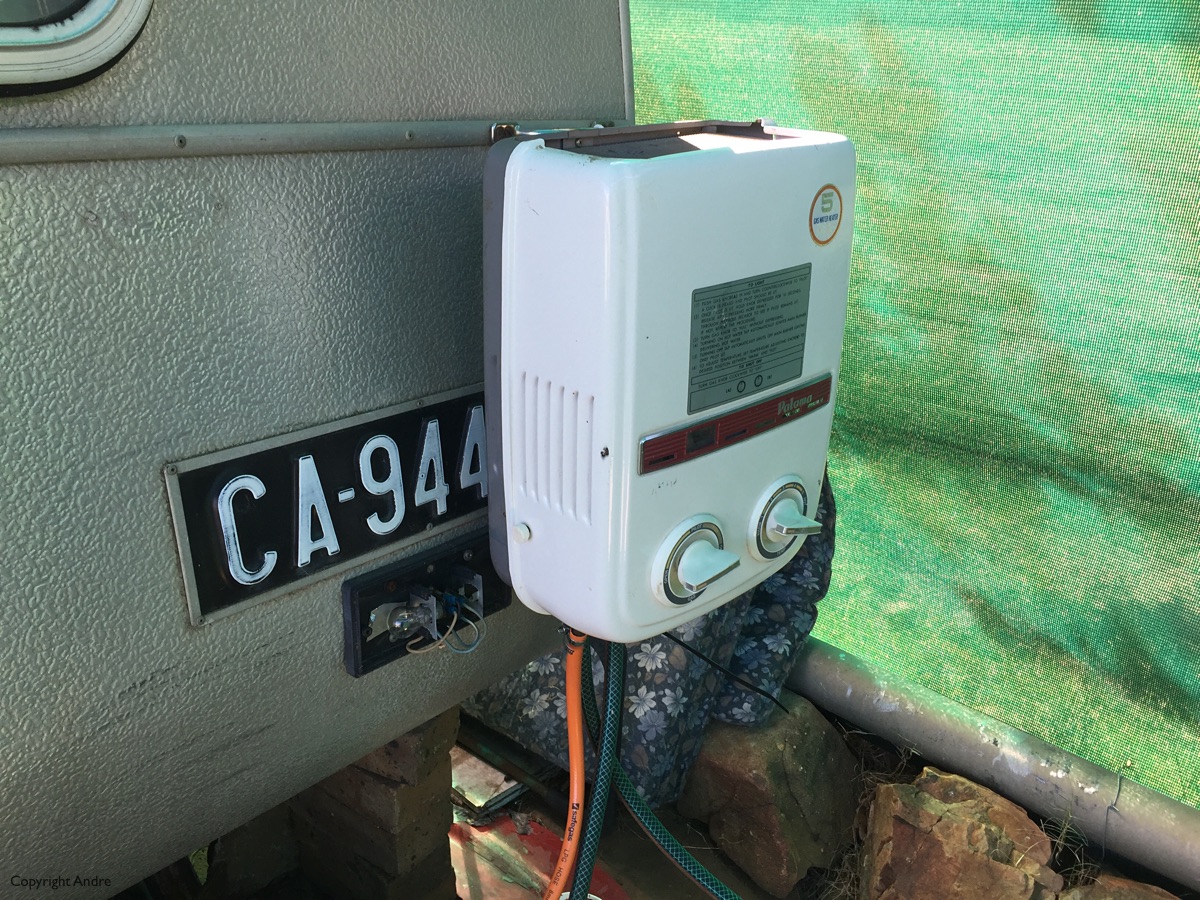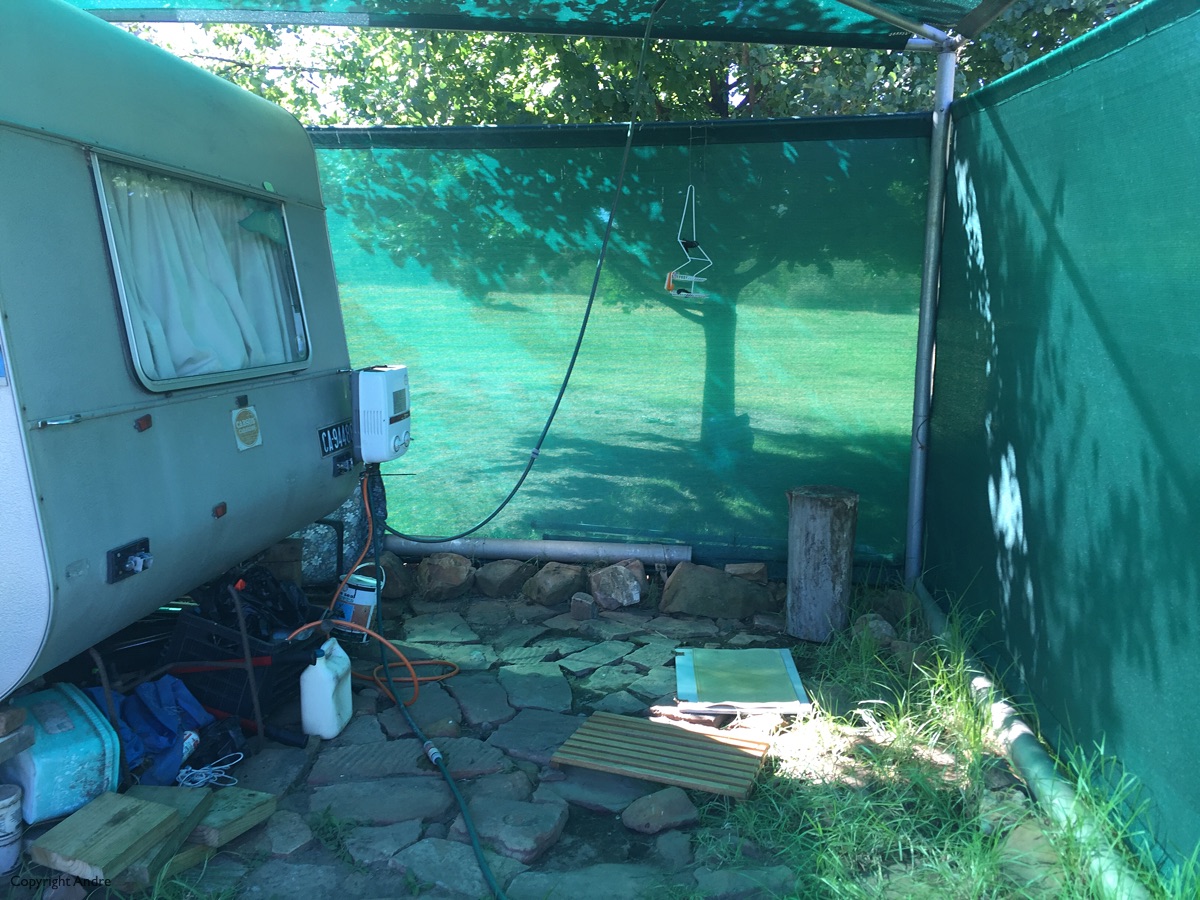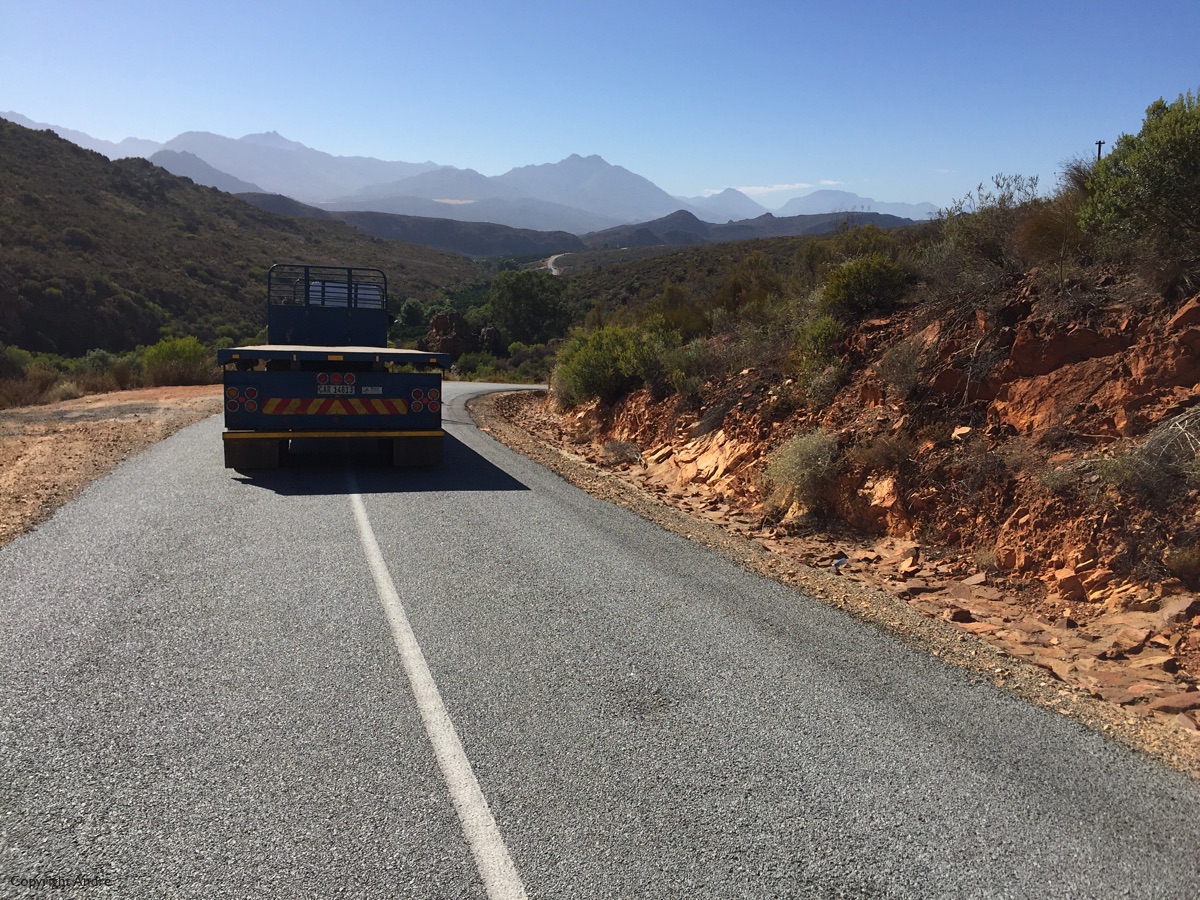 We depart and head back down the little feeder road to the N7 below. At the top of a grade we are blocked by a truck in the middle of the road. I get out and find the driver up ahead. He had stopped because a similar truck coming up was stopped and could not get traction on the road. He reassures me that I can get by as a bakkie had just gone by.
Got around the first guy OK but the second required the side mirrors to be in and guidance to keep the left wheels on the road and right side of the car unscathed. Always a story to tell.