First we had to say goodby to our cabin on the beach and a farewell supper prepared by Alvaro & Inger.
I took only one photo on the way down. I'm not a fan of pointing a camera out of a moving train and as anal as it sounds I was focused on not screwing the train connections and end up standing on the wrong platform at the wrong time.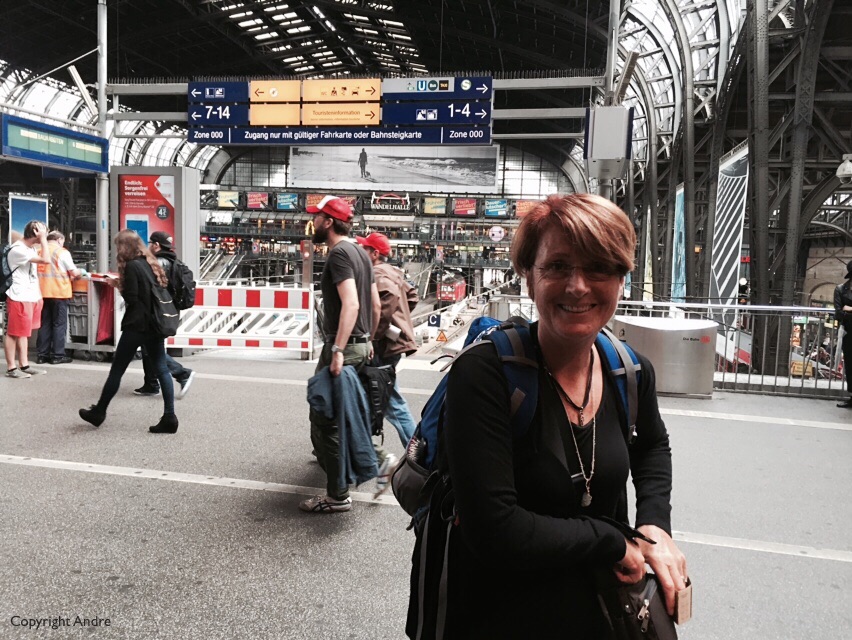 Al  & Inger gave us a ride down to Flensburg down across the border, a great help to get us onto the first of three trains. No reservations so we sat down and waited for the conductor to appear. I had a bar code on the phone and had never bought a ticket this way before – will it work or will we be held to ransom and forced to flash VISA cards to get down to Hamburg? No need to worry, it scans in OK and he barely looks at us.
It rains on and off on the way down and we pull into Hamburg Hbf which is all under cover. Up the stairs to change platforms and that's where Rose spots a Starbucks, say no more, and we also grab some enticing sandwiches to go. Double check the platform # which was #8 and now we have to find our carriage # as we have seat reservations. I finally work out that they have large letters (A, B, C, etc) down the platform and a diagram of all the Inter City trains showing where carriage #9 will be, between F & G. It works! we find #9 and even two window seats waiting for us.
The announcer on the train apologizes that we are 8 minutes late but we make up time and our connection is also a bit late so we make the 15 minute connection with easy albeit in the rain for some fun. Amsterdam Central rolls around at 17:00 Hr and we emerge from the station into a semi familiar view I'd seen on Google maps street view. Isn't technology great?
GPS in hand we drag our cases over the cobble stones and find Jeroen at the boat. He welcomes us in and gives us a tour as if we were friends making use of his house – nice welcome and we immediately crack open two Amstel's he had left us and sit up on the deck to assimilate into our new home.