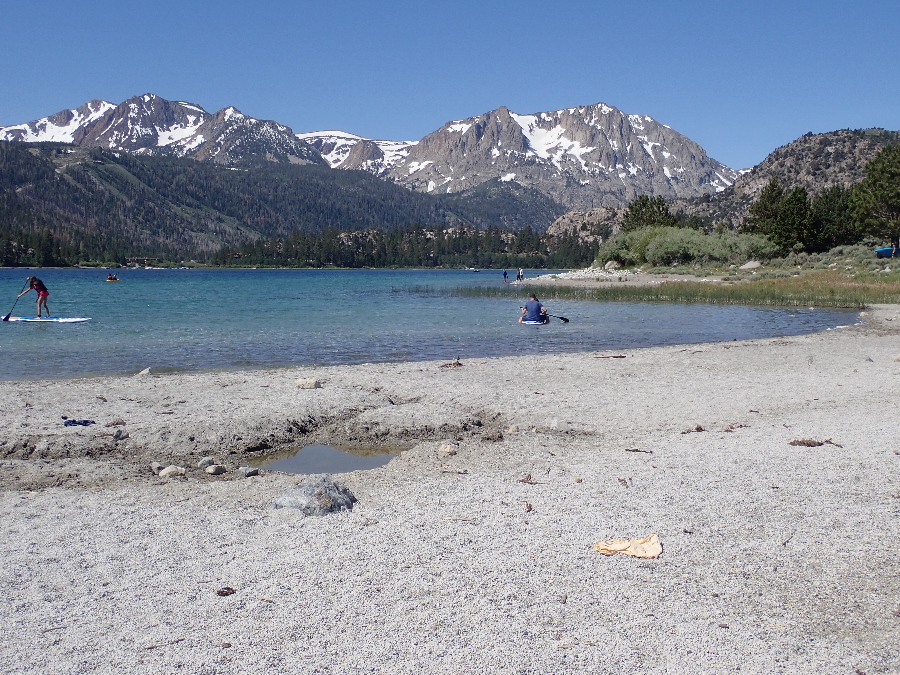 The story starts about 6 months ago when Jerry asked if we would like to join them for a July 4'th camping trip up to Mammoth Lakes. "Sure", I replied. "If you can get some campsites reserved we'll be happy to join you". We were in Europe at the time and I knew that to get reservations for a popular weekend you have to be ready to book as soon as the window opens, 6 month in this case.
Well I get an affirmative email from Jerry and I assume that all we have to do now is be there on Friday June 30th.
Campgrounds were meant to be open on June 1st but because of the exceptional snowfall they push the date to the last week of June. OK, I thought, cutting it close but I'm sure they'll be open for the 4'th. On the Tuesday before our Friday reservations Jerry emails and says a message board he has been watching has alerted him that they will not open for the weekend. He is on top of it and finds us two of the last sites at neighboring June Lake, a private campground called Pine Cliff Resort.
"Grab them" I reply, otherwise we'll be camping at Walmart.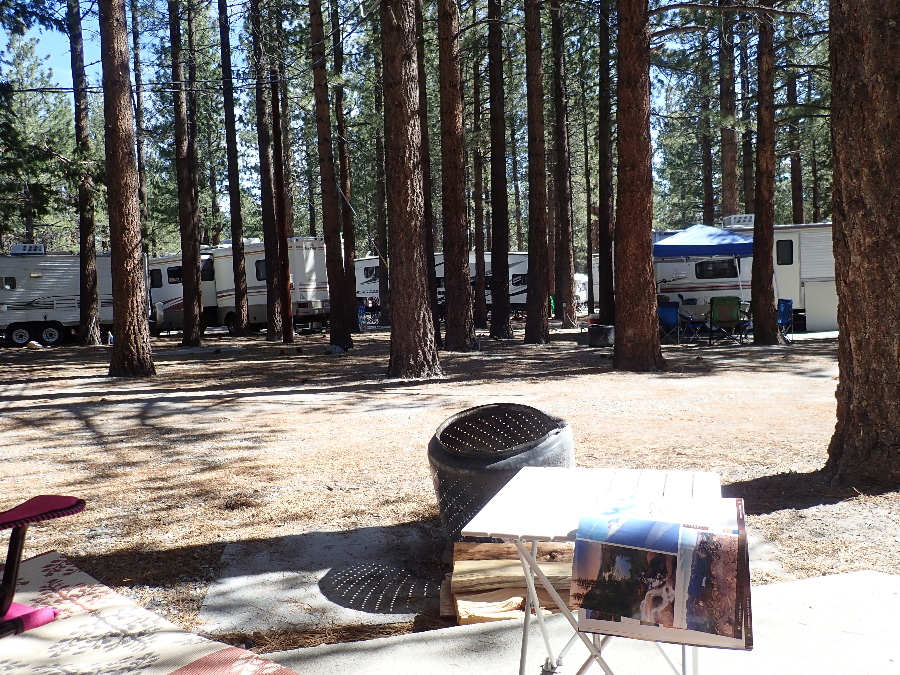 Pine Cliff is chock-a-block full with rigs all over the place and wedged in-between the many pines on the campground.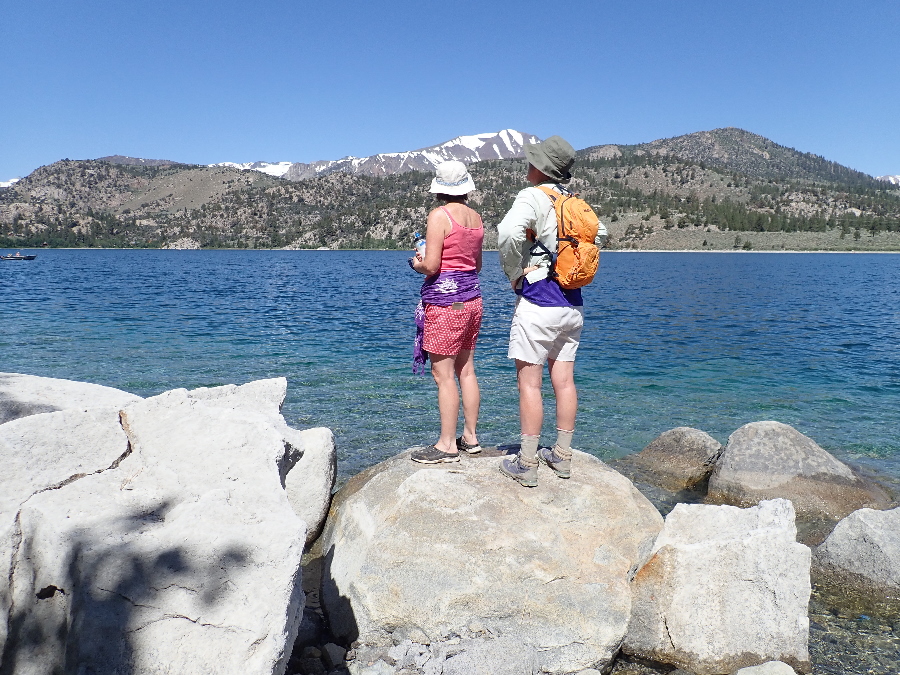 Afternoon walk around the lake with a stop at the brewery for liquid sustenance.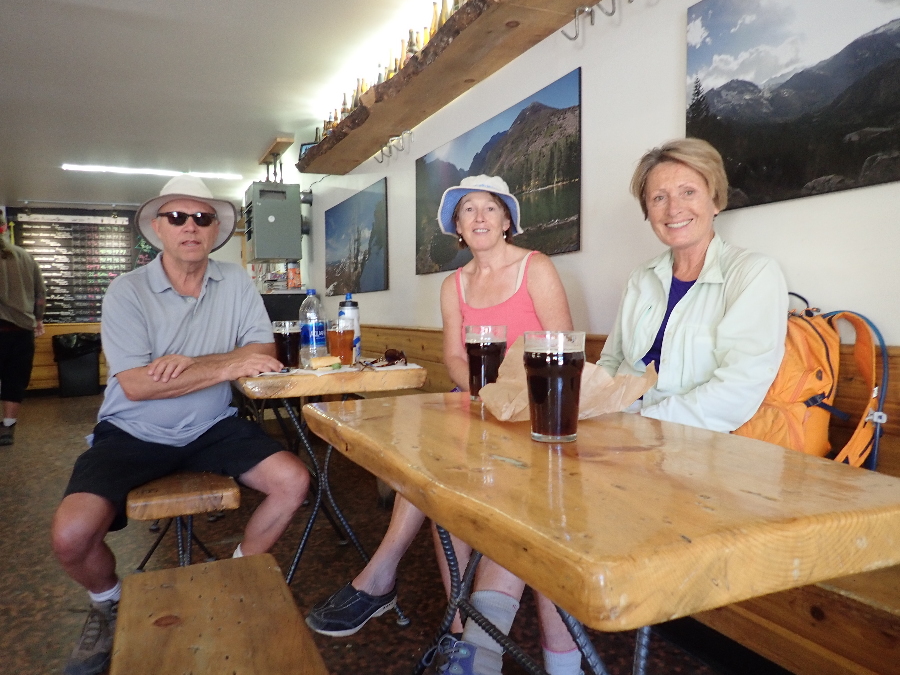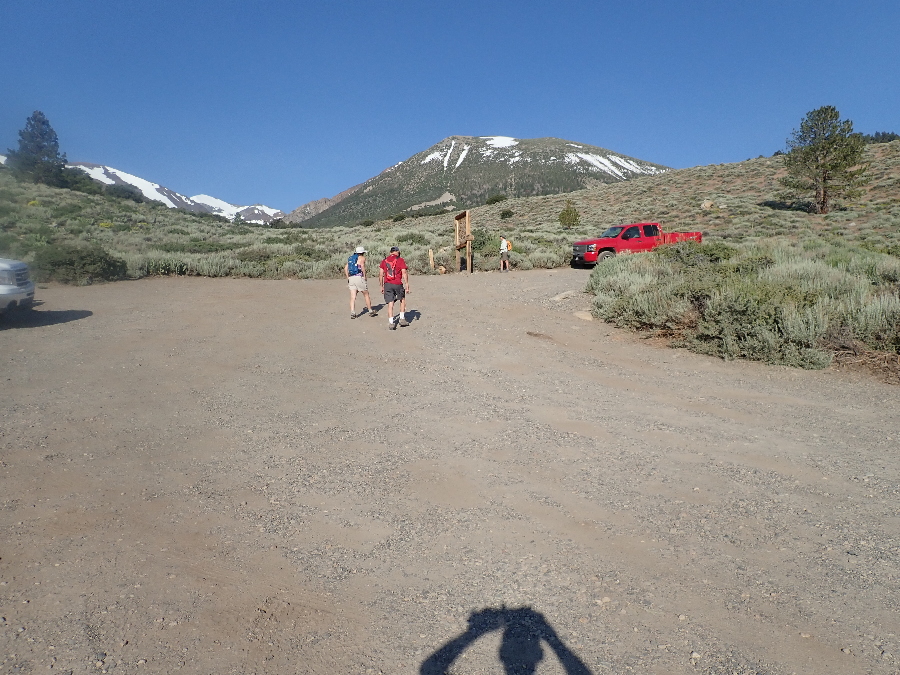 Parker Lake trail is billed as an easy 4 mile round trip hike. We set off at 7:30 am and reached the lake before the heat of the day set in. Unfortunately the place was beset with energetic mosquitoes. No, we were not going to stick around here for long and we beat a hasty retreat back down the trail.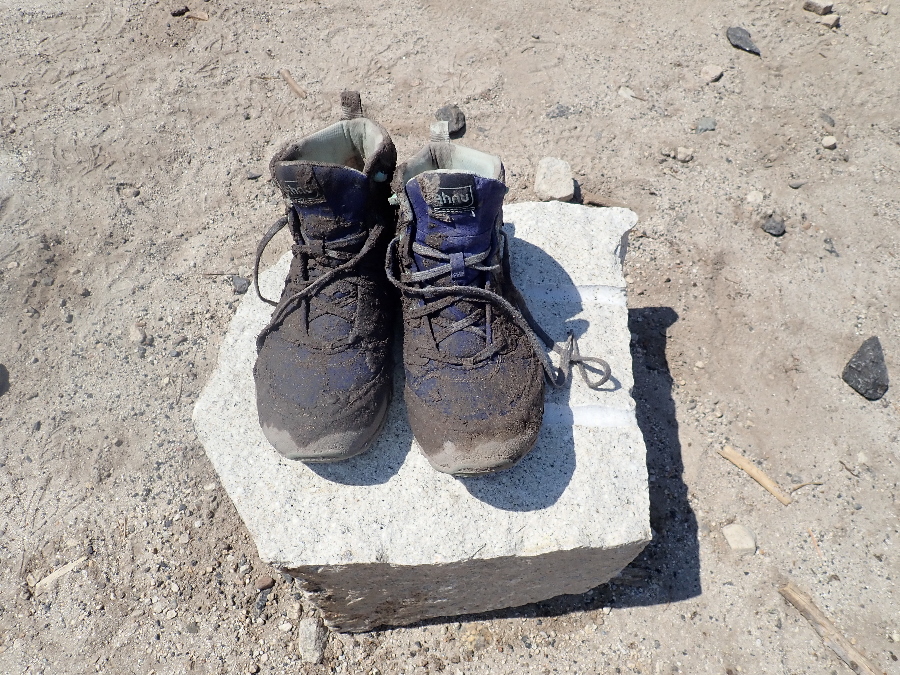 This is a case of a story with no photo's. One of those cases of when it's all said and done you wish you could go back an snap off a few choice pictures for your blog.
The trail head is 2.4 miles up a dirt road with a challenging rutted section towards the end. On the way up we were bouncing around in the Subi and hugged the high side of the road trying to keep clear of the muddy mess on my left. We made it and went on our hike as described. Now we were headed back down and we spy this white sedan stationery in the crux. We wait a bit to see what happens as he has to get out of the way before we even attempt to get through.
Driver gets out and starts mucking around one of his wheels. "He's stuck". Might as well go and see what he has got himself into. Left front wheel of the Passat is up to it's axle in liquid mud. Wish I'd taken a photo but you'll just have to use your imagination. We all got in front of the hood and pushed and lifted till it slowly moved backwards on to firmer ground. Rose looked down and saw that her feet were now where the left front wheel had been. Tough being a good Samaritan but the road was now clear and we could get out of there before there was any more drama.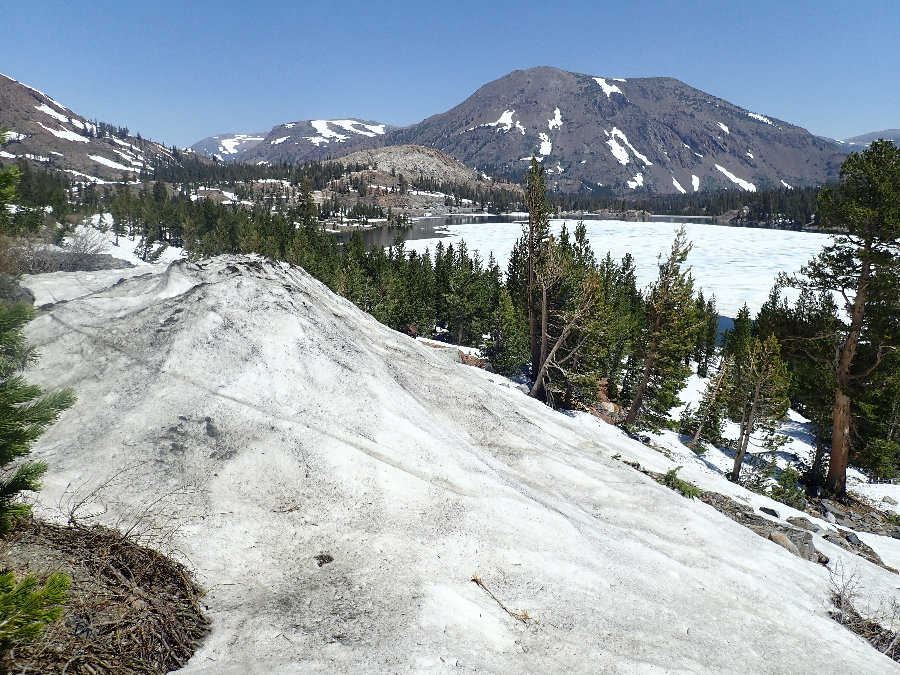 Took a drive up Hwy 120 to see how much snow was up at the 10,000′ crest. Geezer pass got us into Yosemite and we marveled at the summer snow capped peaks till we turned around at Tuolumne Meadows.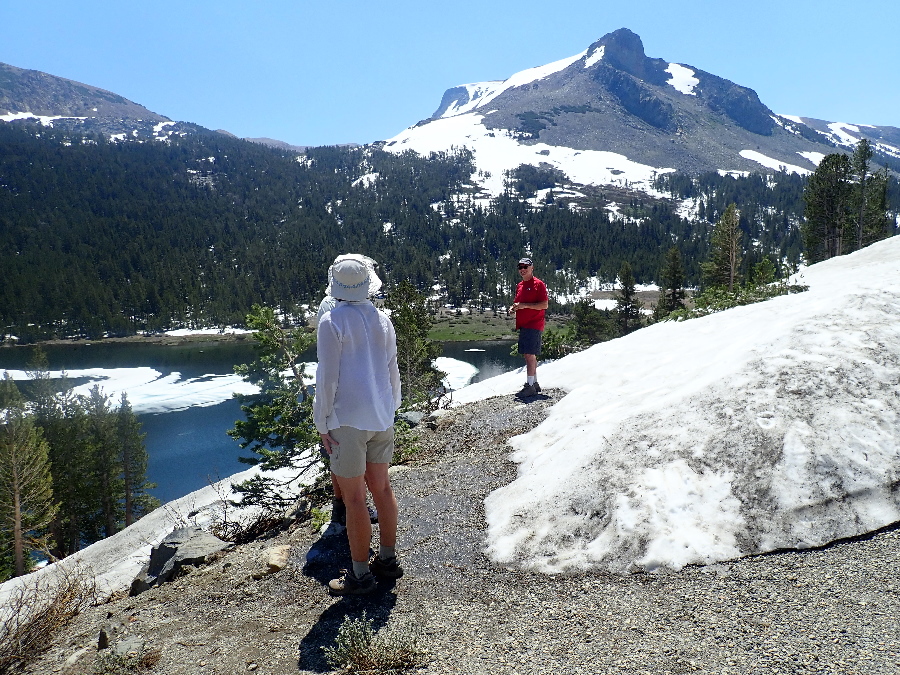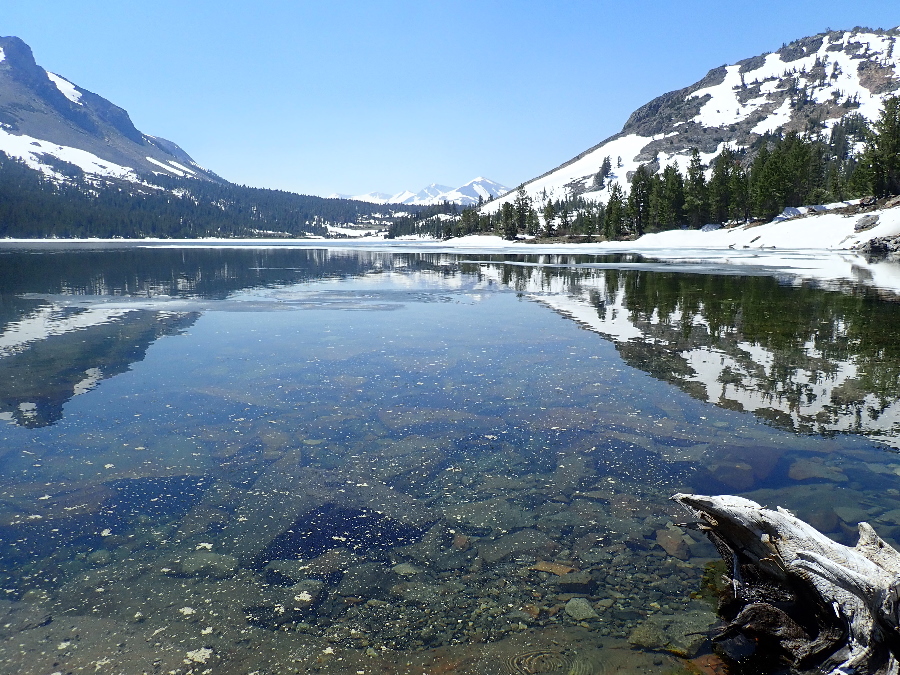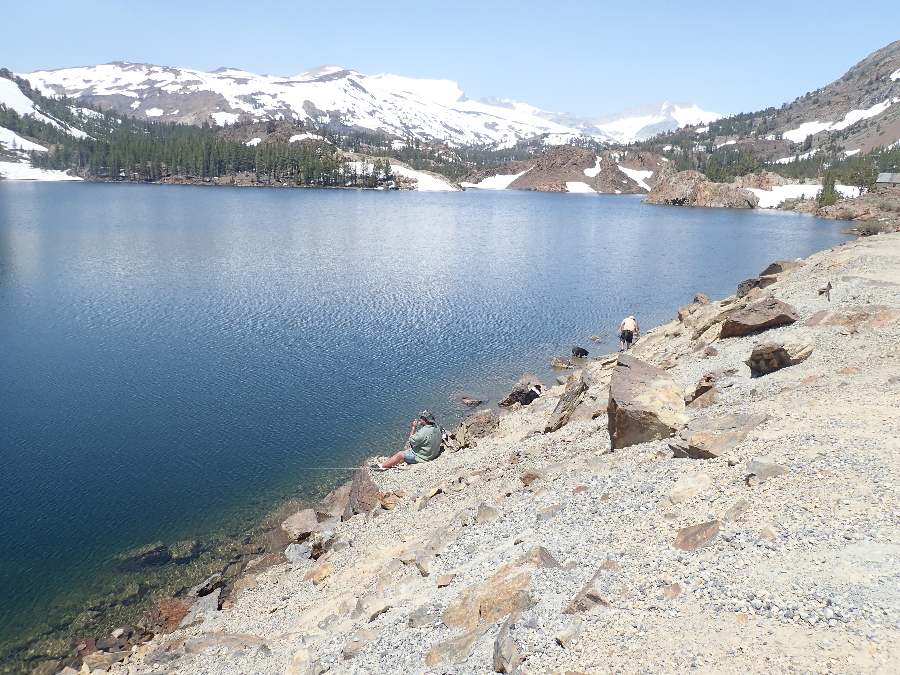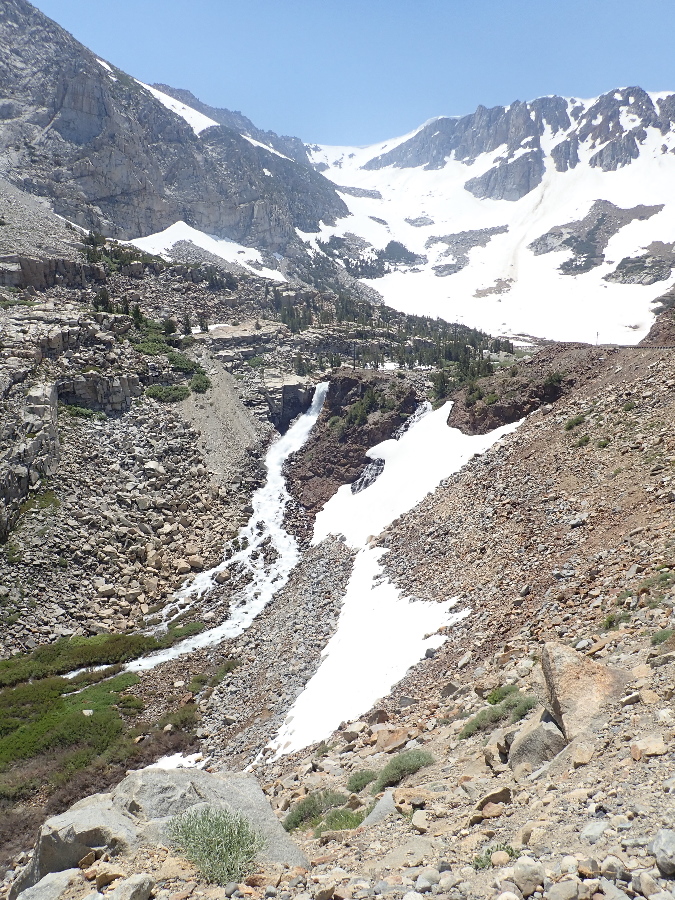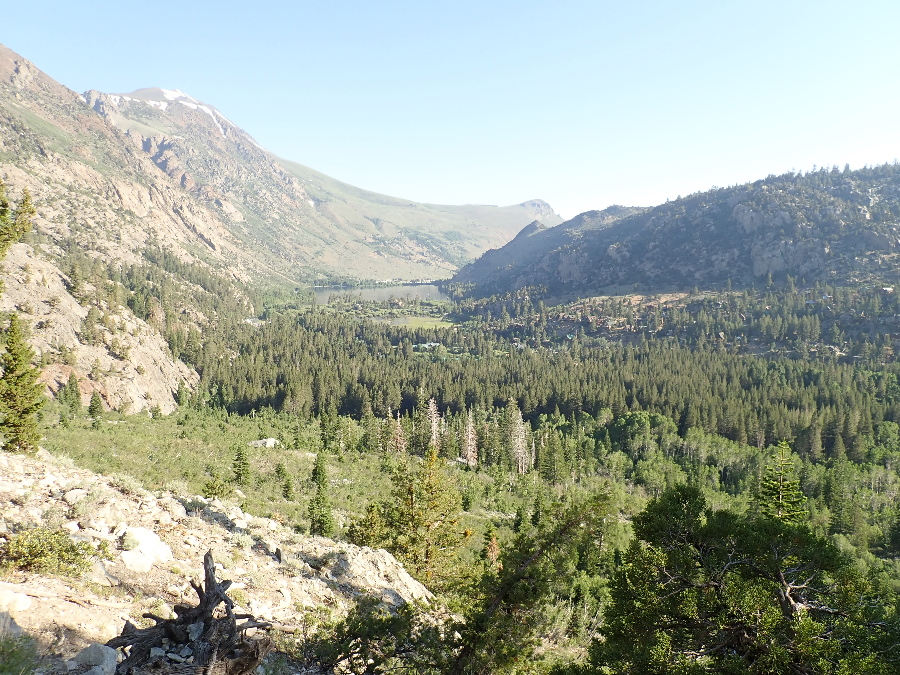 Sunday hike was up to Fern Lake, a bit more uphill, about 1,600′, in the same 4 miles round trip.
Map shows an option to branch left and take in Yost lake as well. Thing was the "branch left" went over a wet, slippery log with a raging Fern River below it. Not wanting to become tourist statistics we played it safe and branched right up to Fern Lake.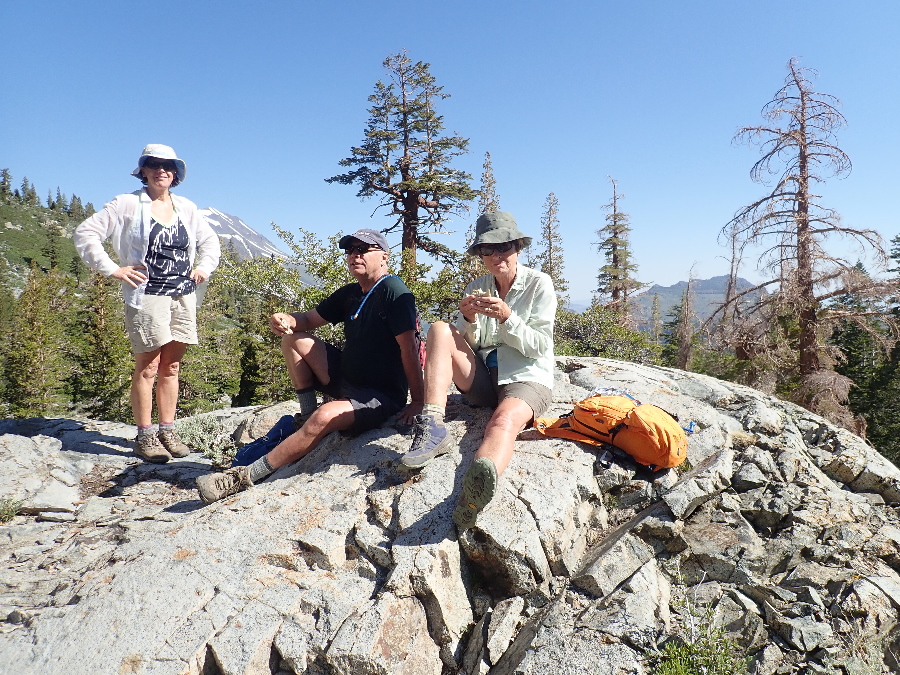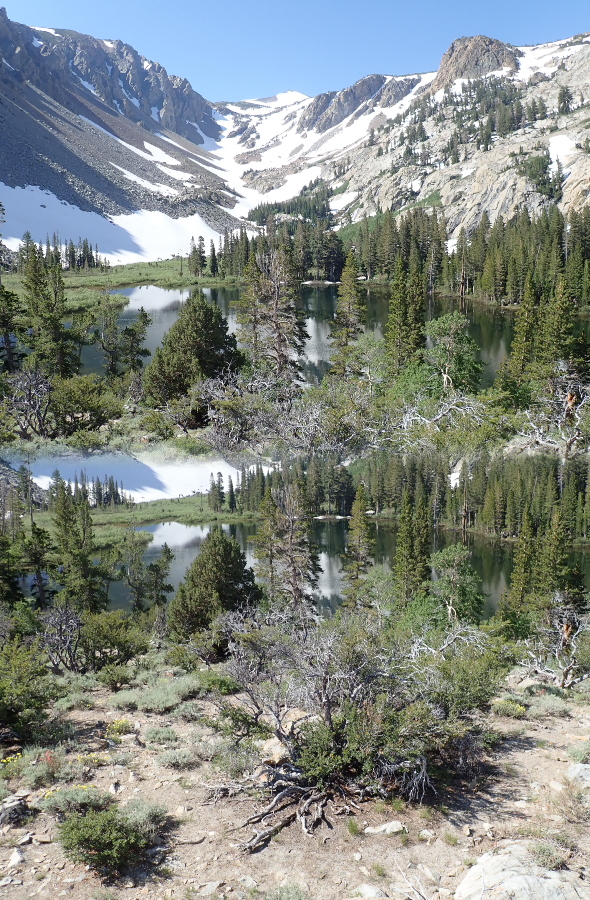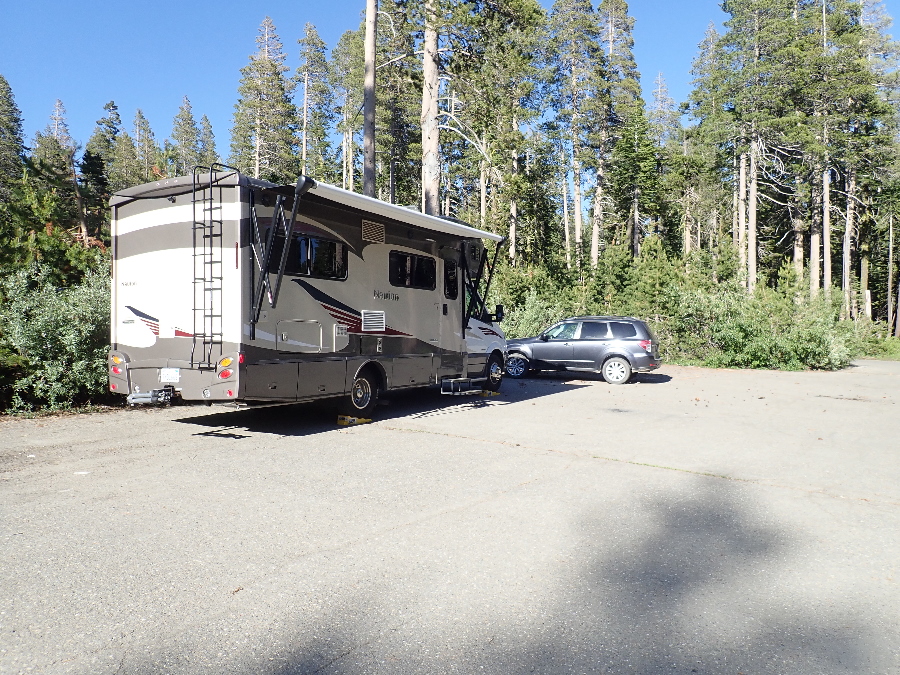 July 4'th trip came to an end, Ann & Jerry headed south and we went north on Hwy 395. It was still Tuesday the 4'th and we needed a place to overnight somewhere up at Lake Tahoe to escape the heat of the valleys. After that we had stops in Santa Rosa and then Ukiah before we make a run for the Oregon border way up Hwy 101.
My AllStays app on the iPhone said we could overnight at Echo Lake SNO-Park, permits required for winter but none for summer. Place was quiet and deserted as we settled the RV into a corner and set off for a walk in search of Echo Lake.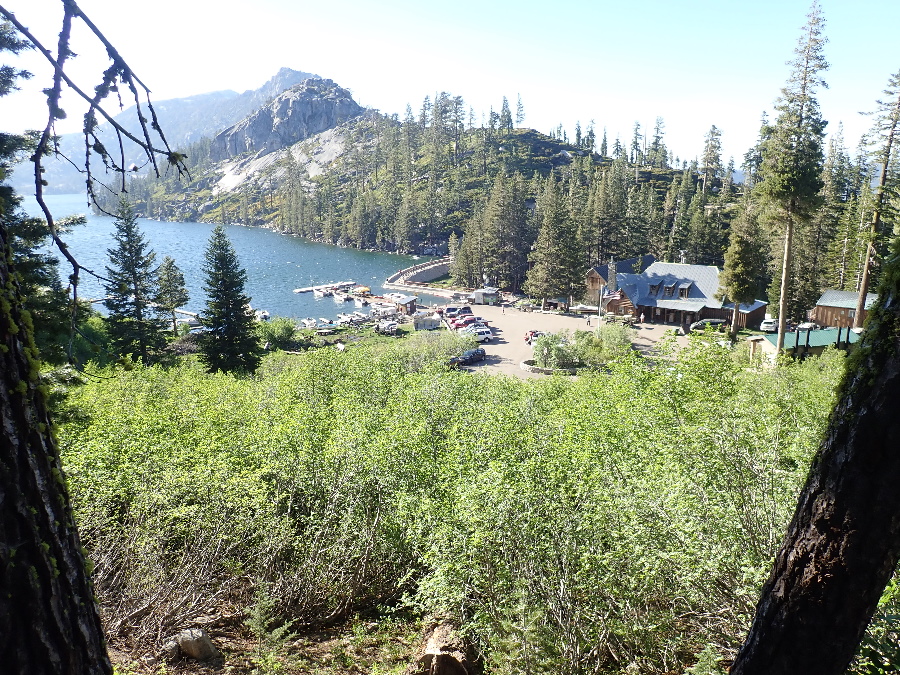 Walked up a winding road and found the lake which was also a straddling point for the circumventing Tahoe Rim Trail. Watched the raging overflow for a while and then had a quiet night amongst the pines.