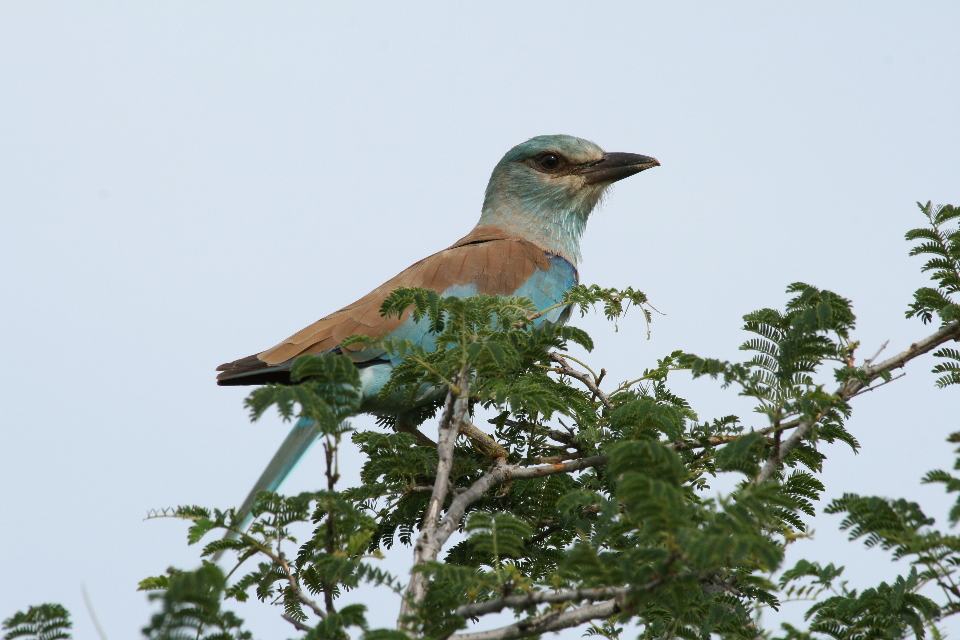 The Kruger Park  is large. About 220 miles north to south and 60 miles west to east. A framework of tarred roads and a number of gravel/dirt roads interconnect but their current condition is always questionable as we found out by arriving during some heavy rain and flooding closes roads till they dry out.
I was not sure how to "do" Kruger, where to stay, what roads to drive, when during the day, etc. In the end we booked 3 day stints at 5 camps, drove early, out the gate by 6 am, some days and later when changing camps. We even had tour guides ask us where the game was and swapped stories with anyone willing to talk. As of now we have had some great encounters but no big cats, Lion, Leopard & Cheetah elude us.
We have a cheat sheet of animals & bird names and we guess a lot. Take my naming convention with a grain of salt and please correct me when you think other wise.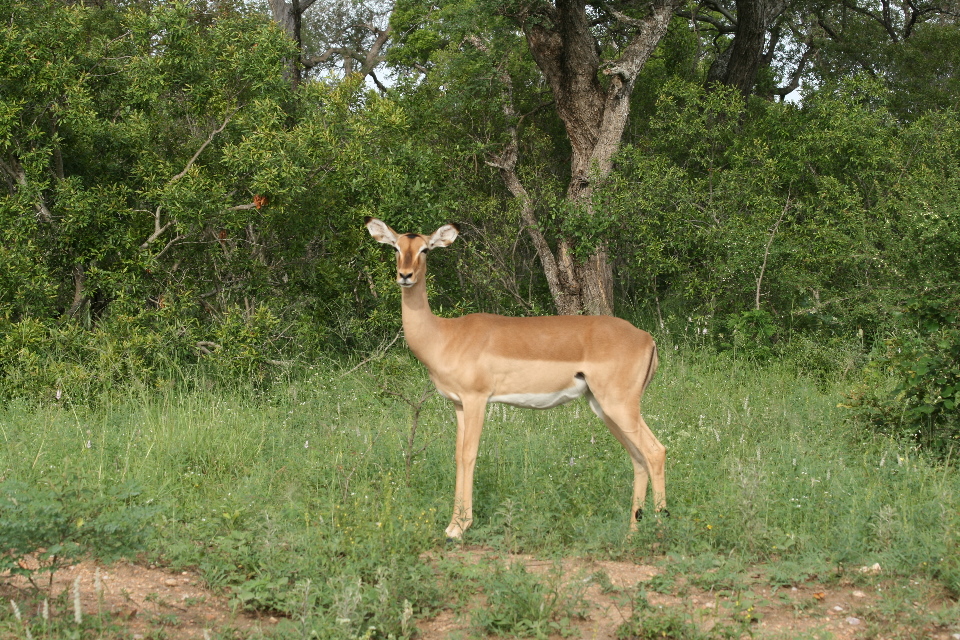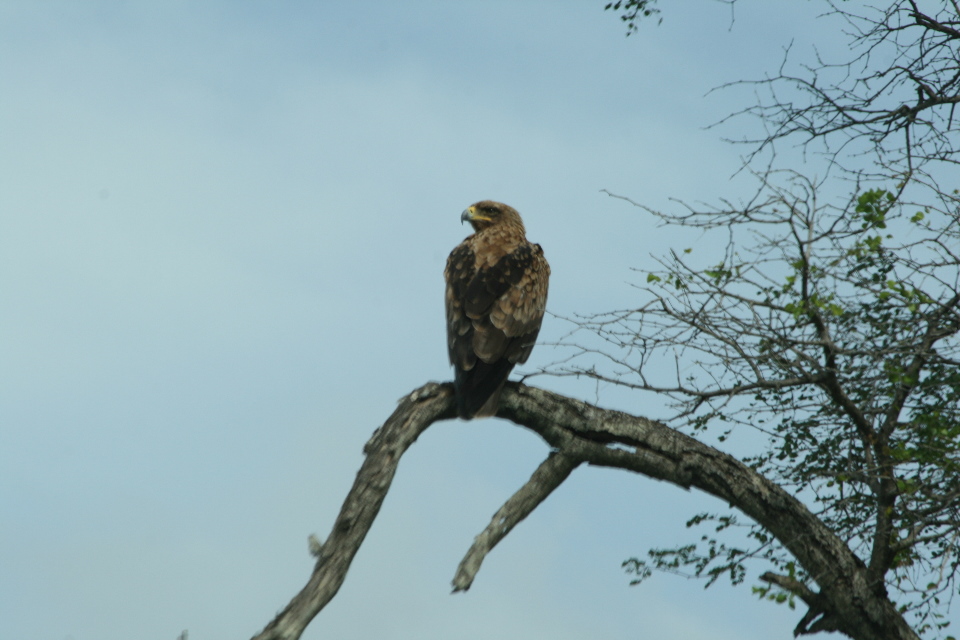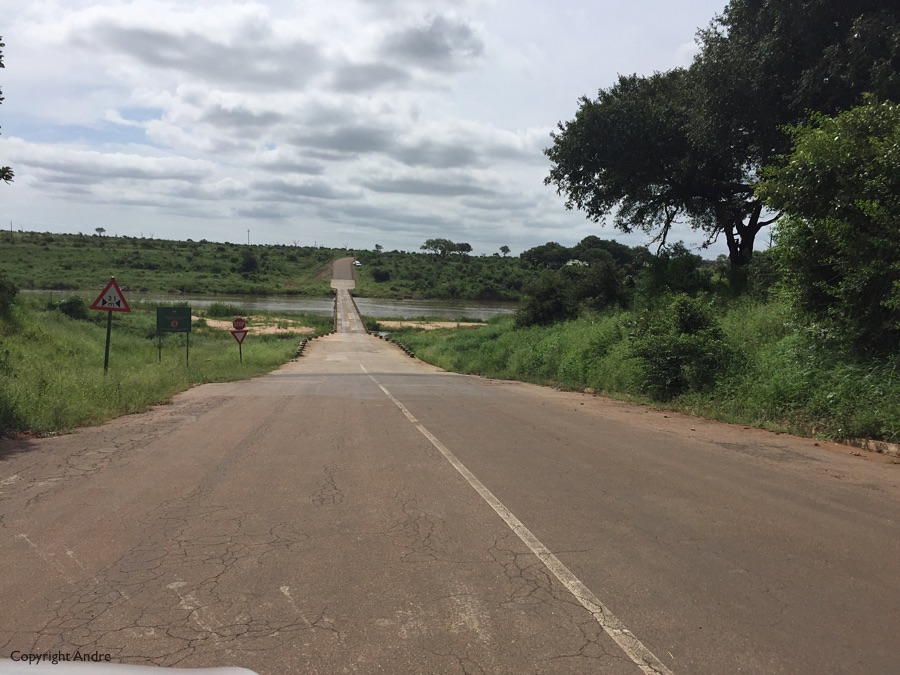 On the way from Skukuza to Lower Sabi we detoured out of the park down to Komatipoort on the Mozambiquem border primarily to go grocery shopping as the shops in the camps are rather limited.
On the way back near the camp we ran into a pack of wild dogs on the run towards us. Snapped the photo below as one ran by not looking left or right.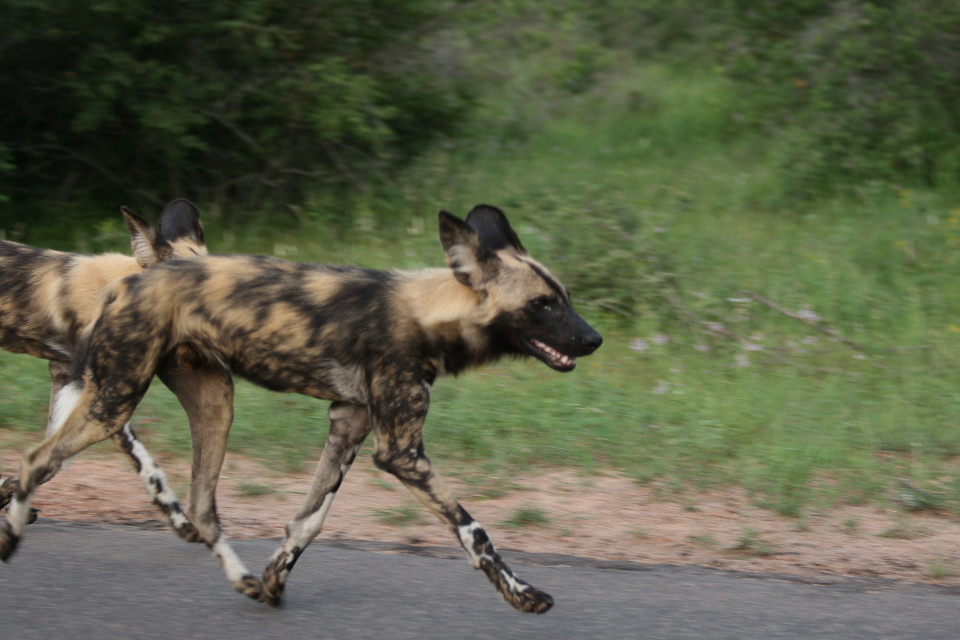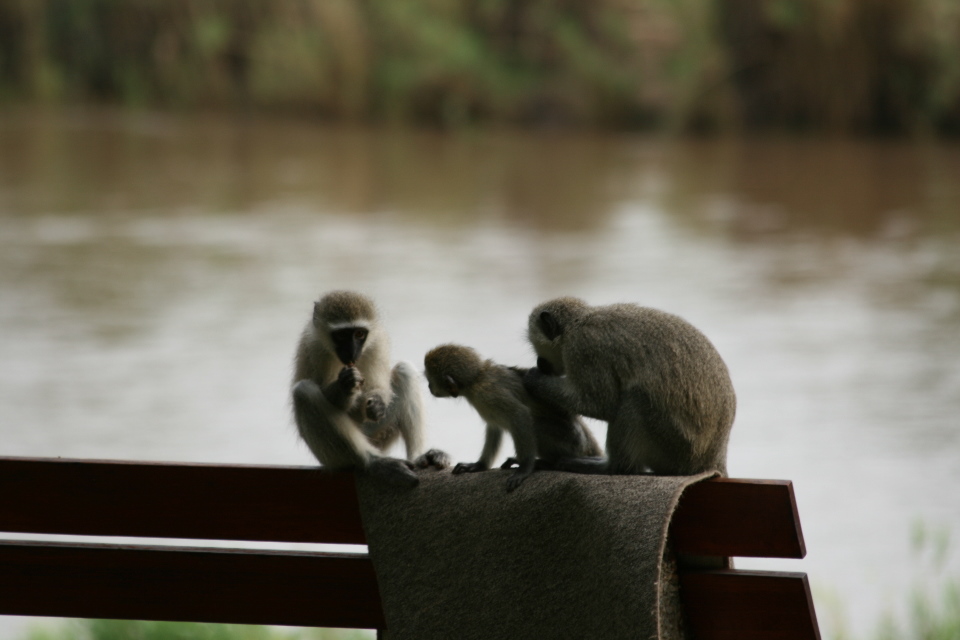 Next morning watched Vervet Monkeys playing on a bench in front of our bungalow. Earlier one had come close to our door and I lunged at him to scare him away. Had the exact opposite effect and he lunged at me and I bolted for the glass sliding door, closing it as he arrived and then banged on it with his fists. Learn't my lesson – don't tease the animals.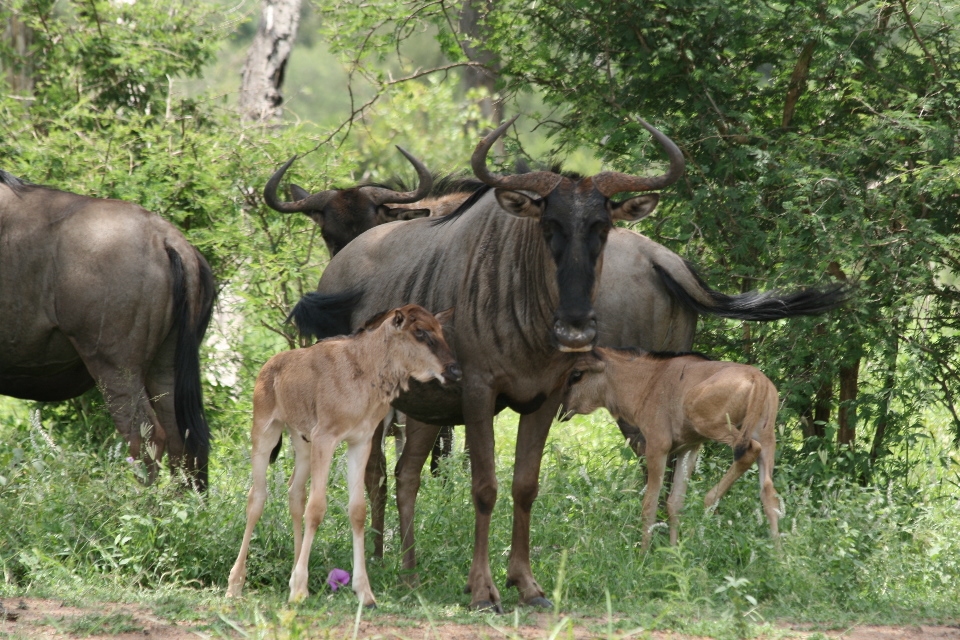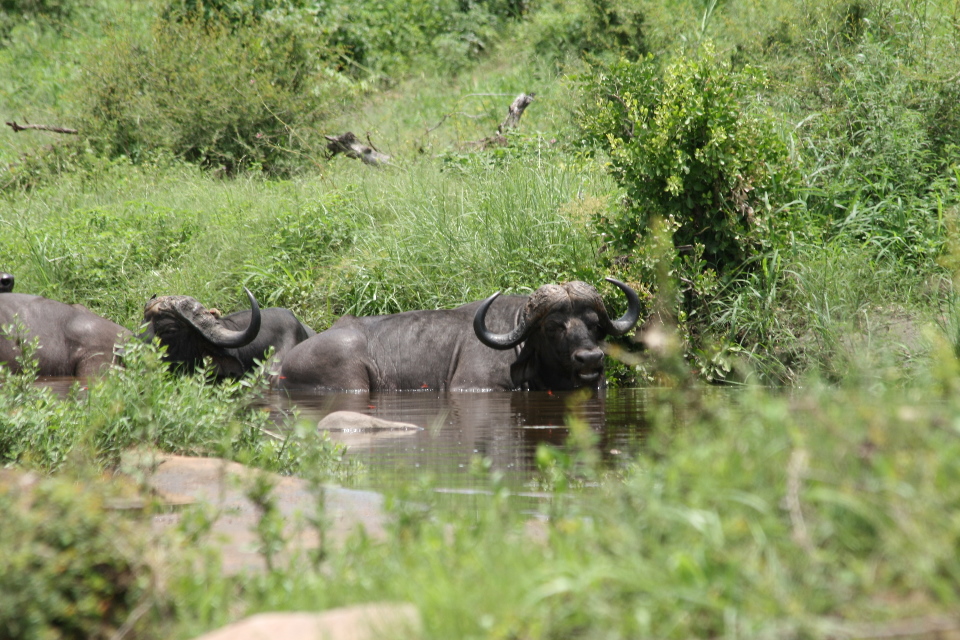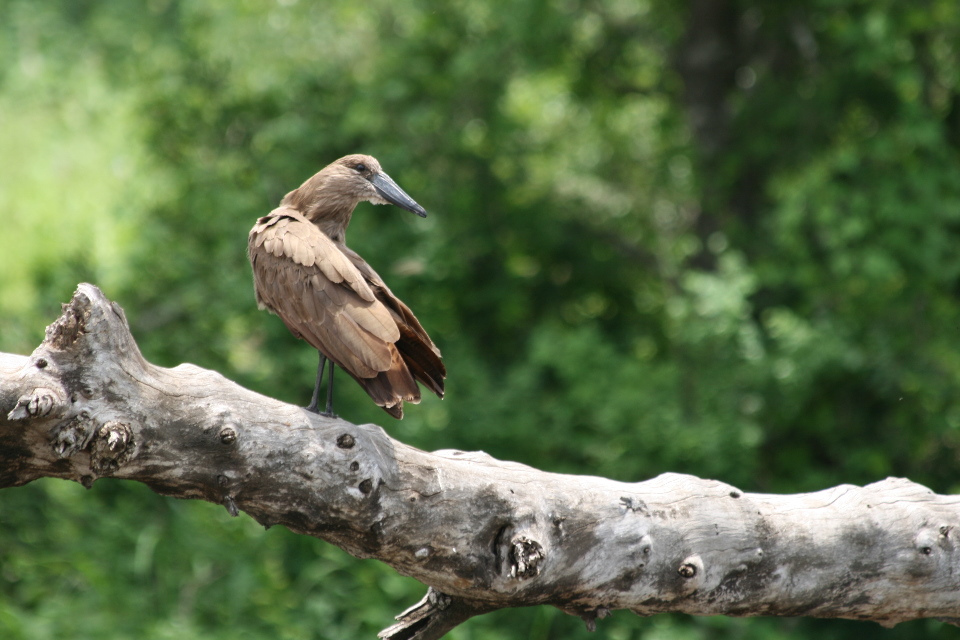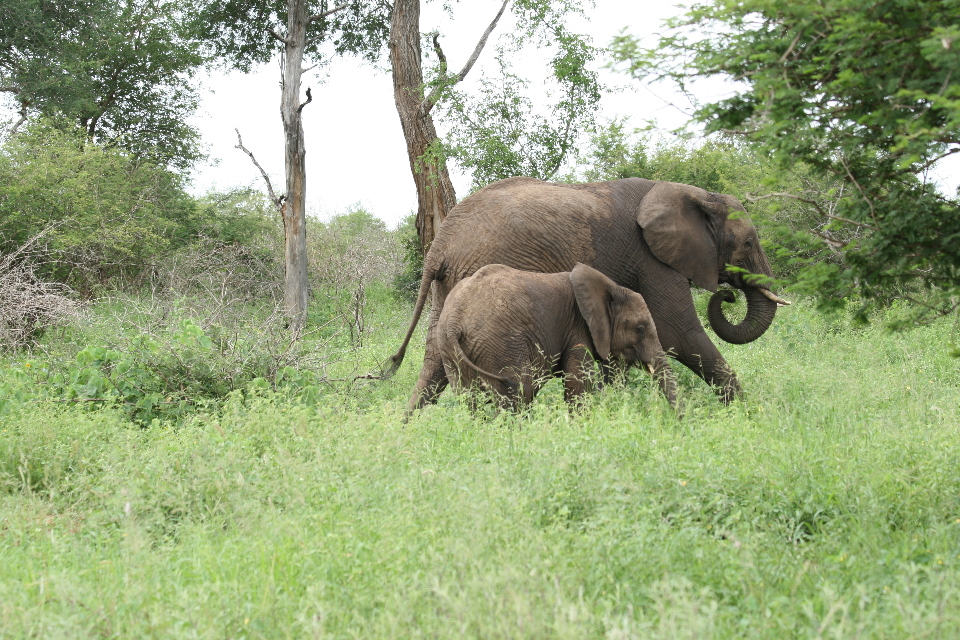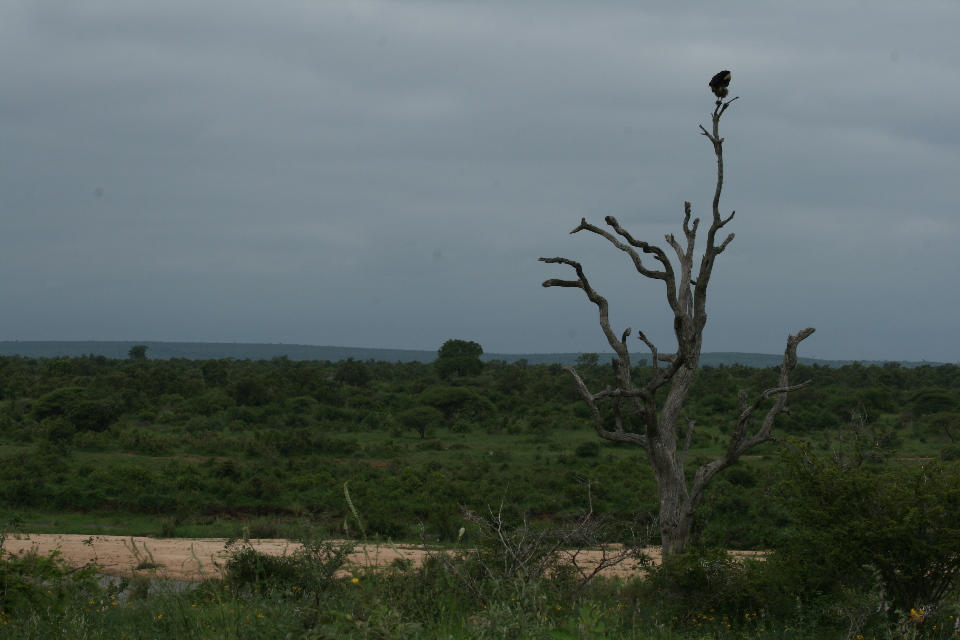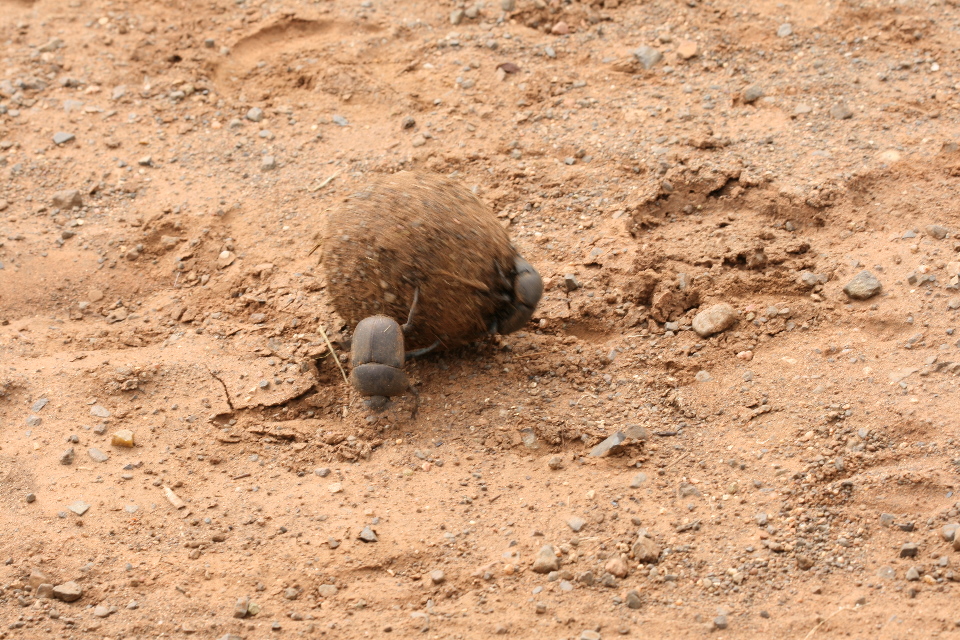 I lifted this from Peter's book: "The male collects the dung and rolls it into a ball. When it is large enough he releases a scent that attracts a female. She clings onto the ball while he rolls it away to softer soil. To make sure he rolls it in a straight line he climbs on the top every now and then and orientates himself to the sun. The female lays her eggs in the ball and they both bury it. The young eat the ball as they metamorphize."
You can see the female beetle on the right side and the male pushes it while upside down. His front feet are on the ground and rear feet above him pushing the ball. Now who would have ever thought that!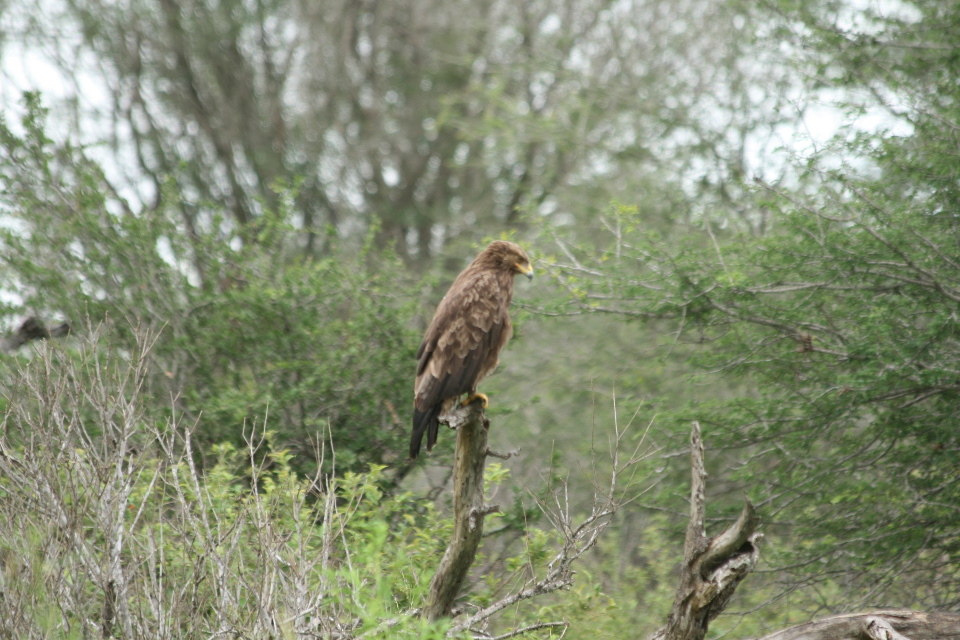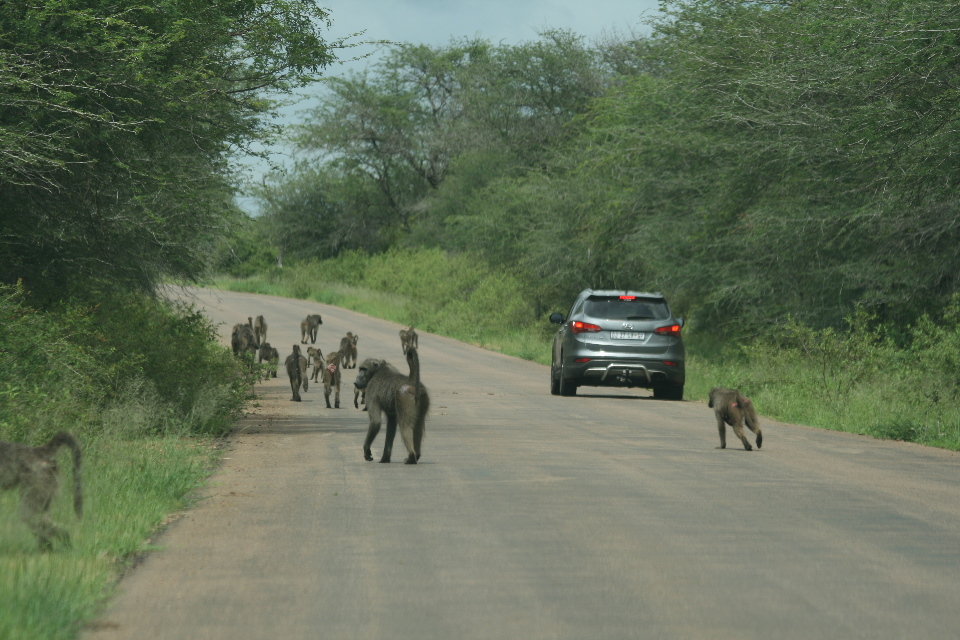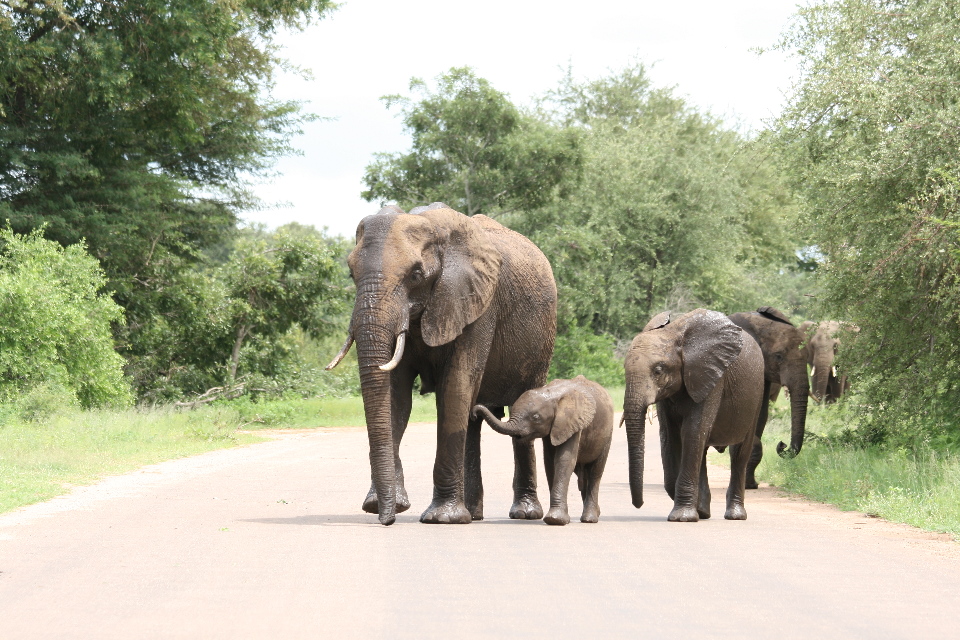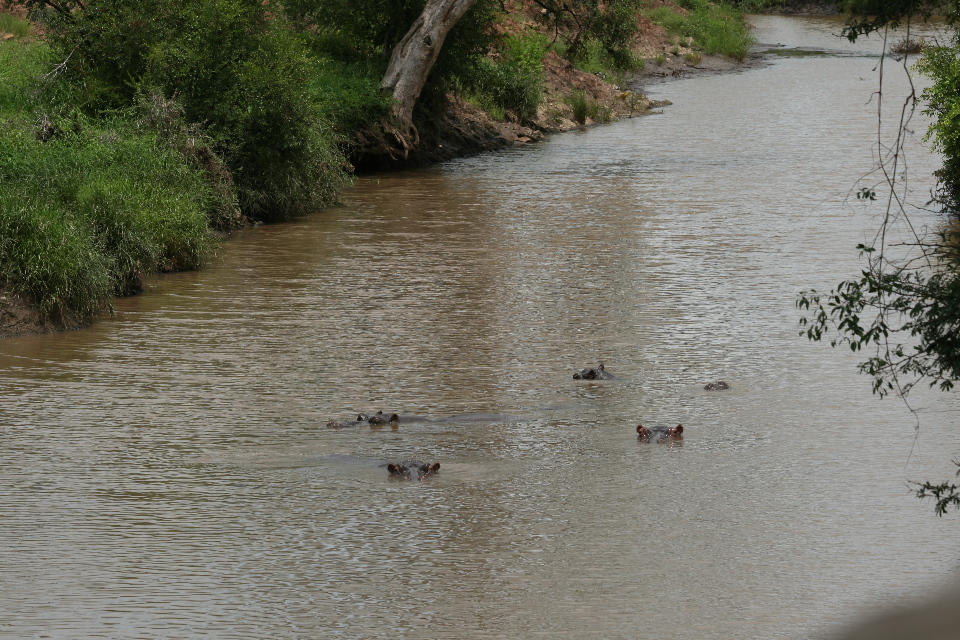 At Ntandanyathi Hide you can get out of the car to view from a hide overlooking the river. The hippos usually surface only enough for their eyes & snout to be seen before submerging for a few minutes and repeat. Then one moved away and was more physical in his movements and I caught him "yawning" on the second time round.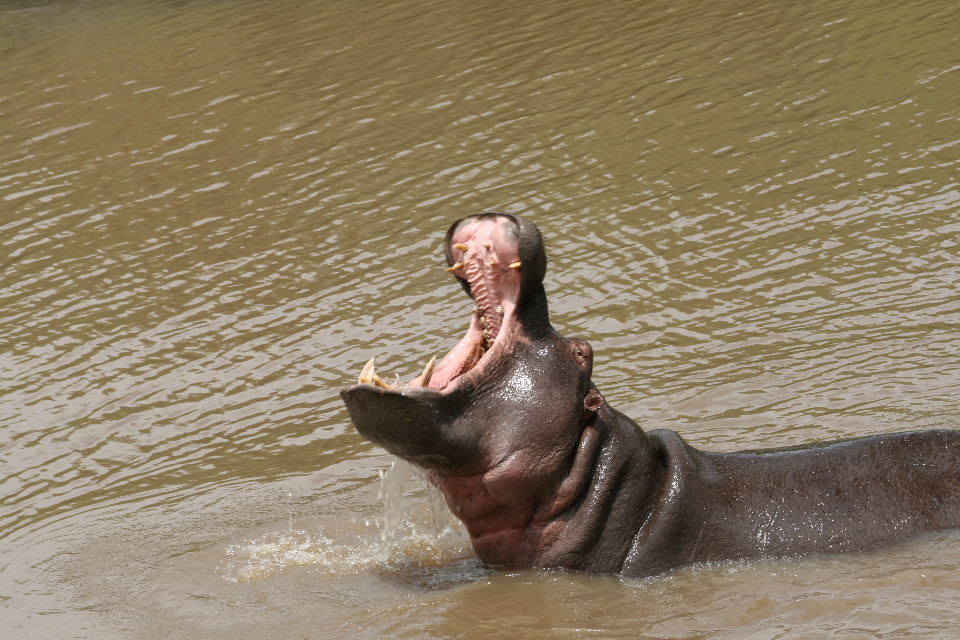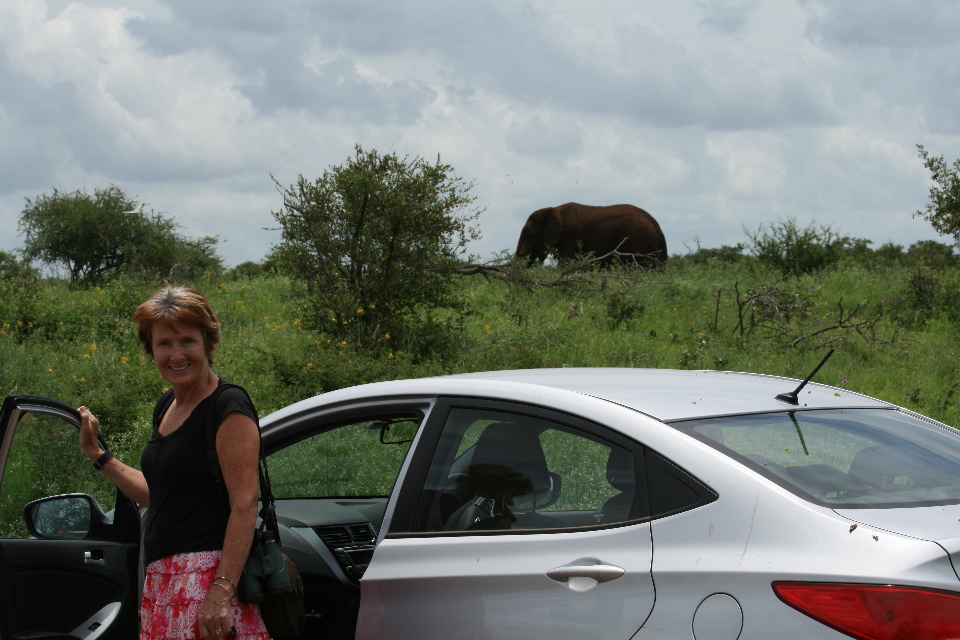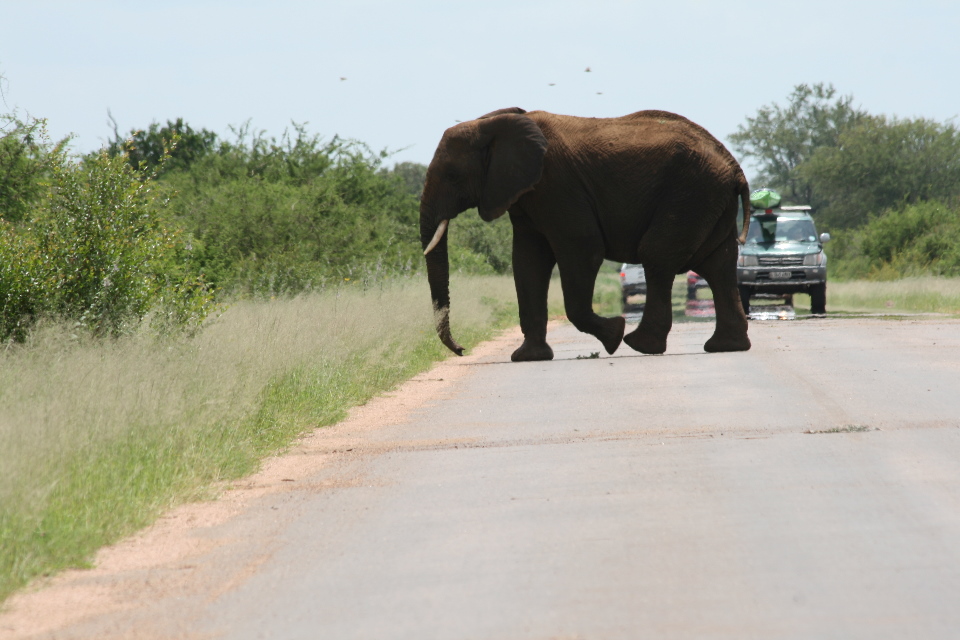 Just before Lower Sabi camp a herd of Elephants crossed the road. They have no interest in cars. We have more than once been looking at them when one appears out of nowhere and crosses past us on the opposite side. Pretty unnerving the first time but Rose now thinks they are cute, especially in the water.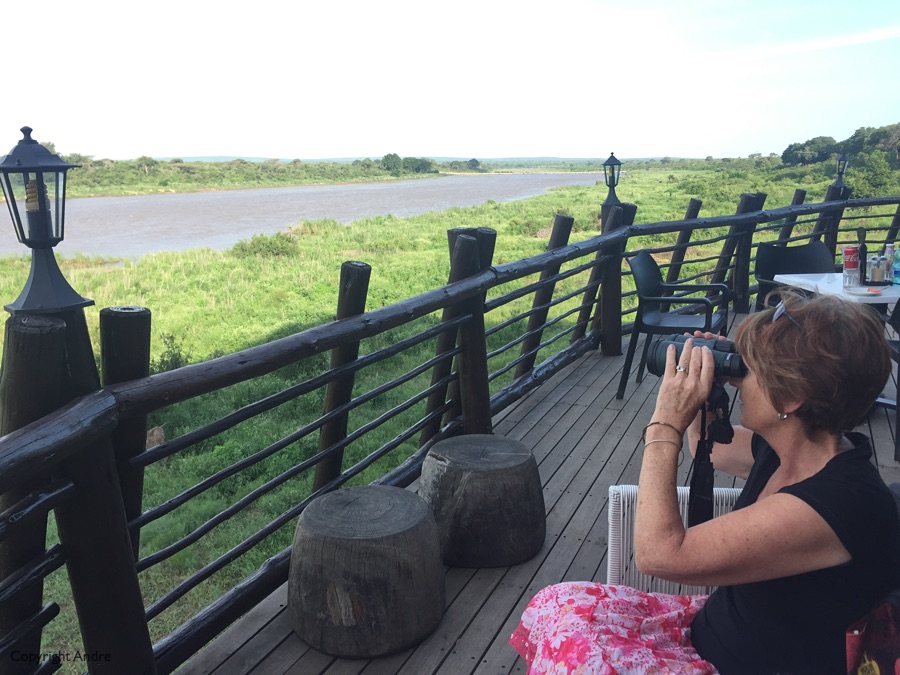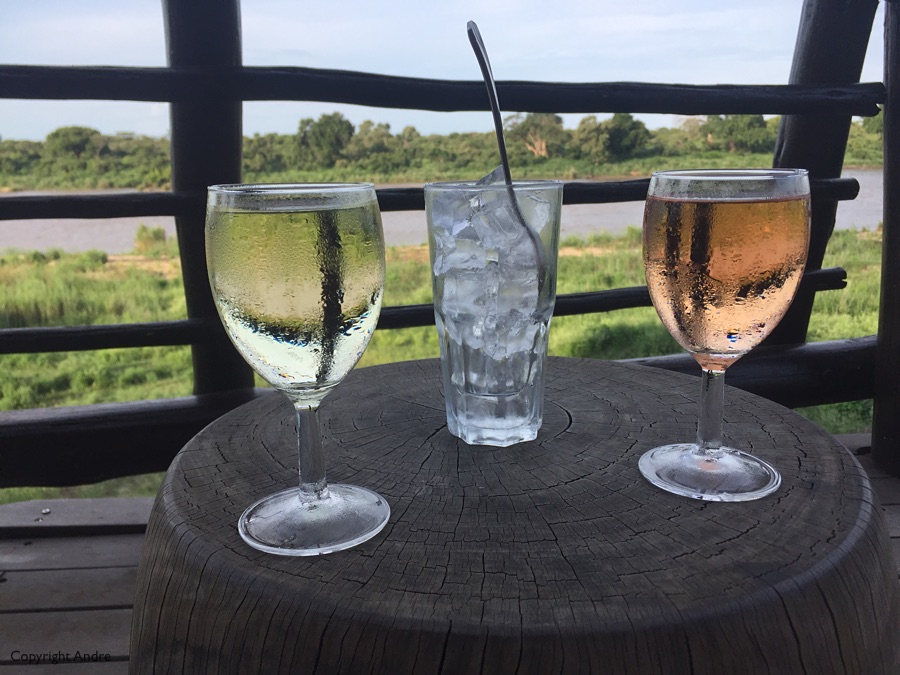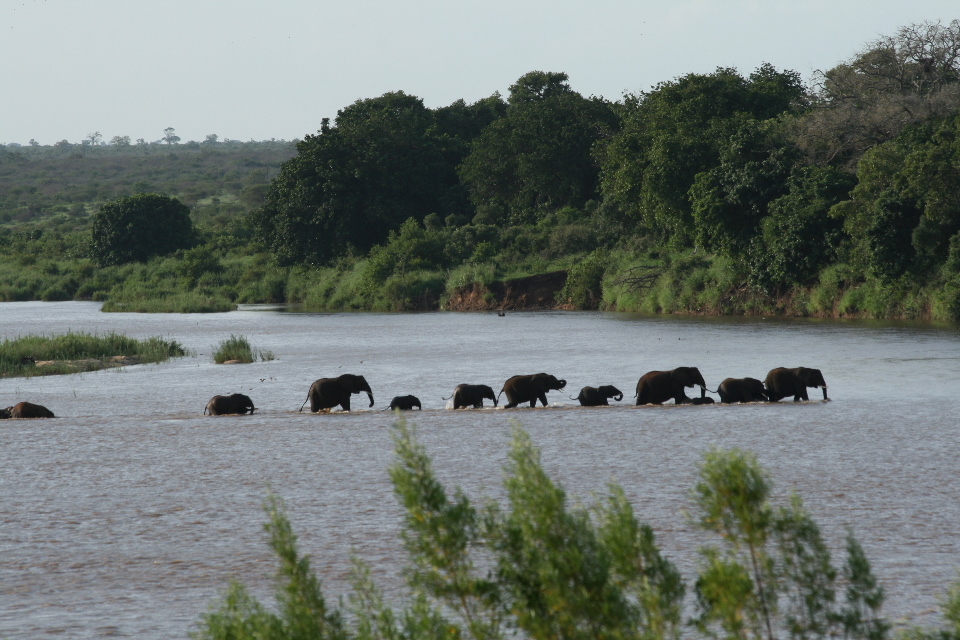 Absolute brilliant scene watching a herd of Elephants cross the Sabi river in the late afternoon. It was just so "African" to me. You can see some of them holding onto the tails of the one in front. They reached the other side to scramble up and continue their grazing. Others stopped in the water to play, roll in it and suck up water into their trunks and spray themselves. Absolutely memorable!!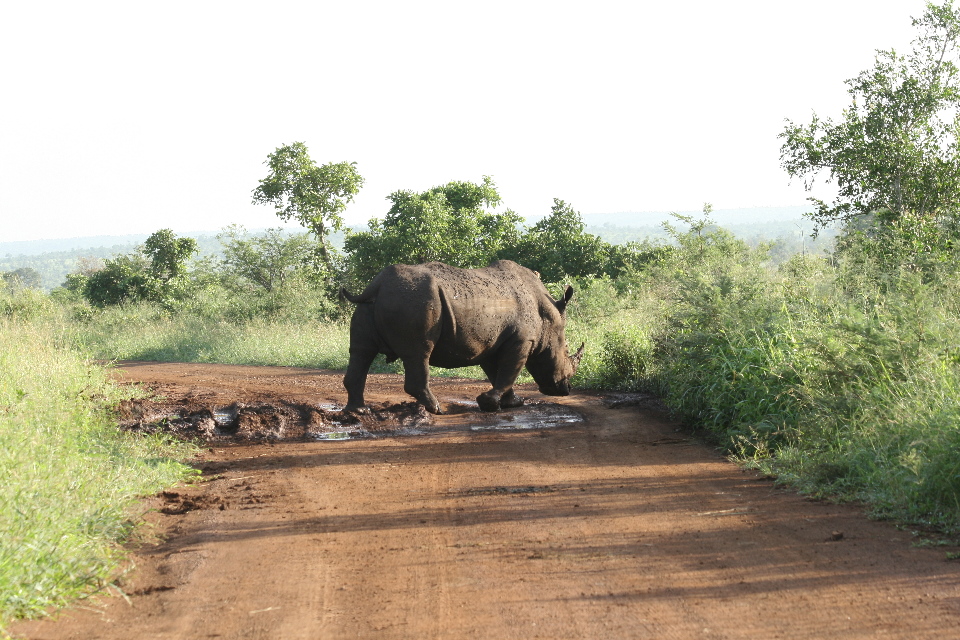 Next day we're out for a drive and see this fellow ahead. Most of the time he was trotting along the road ahead of us. I stayed a healthy distance behind and it took 15 to 20 minutes before he went off into the grass and allowed us to pass.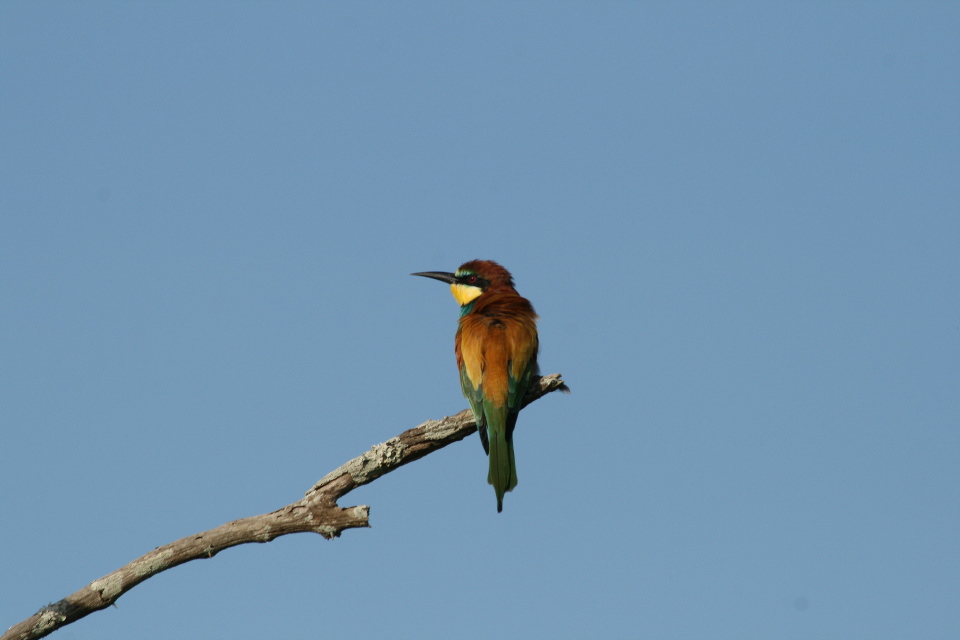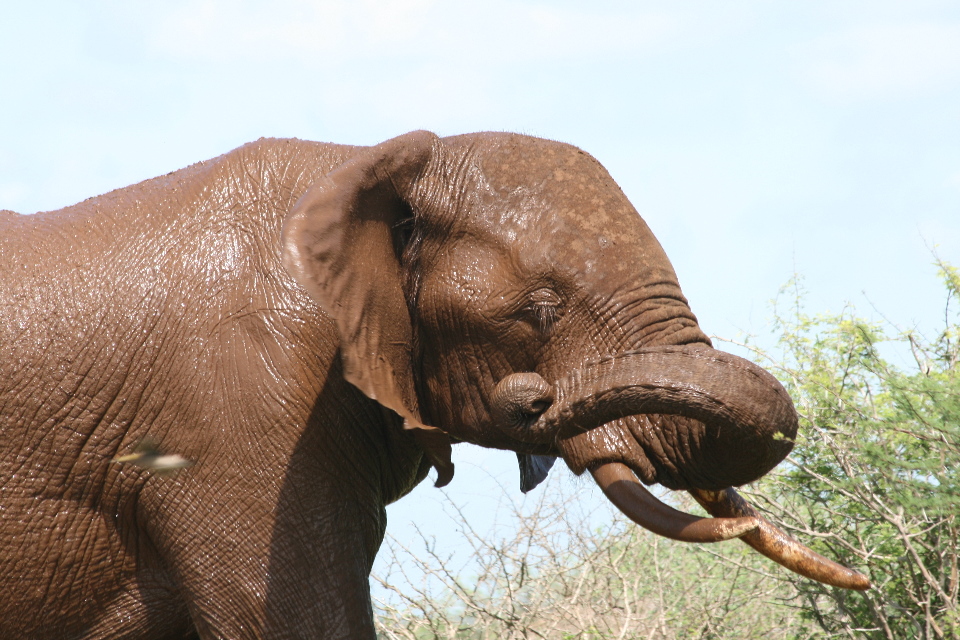 This post might need editing for corrections.