Almost five years ago we purchased our RV and have been thoroughly enjoying it's comfort and mobility. But it has also been more than five years since we went backpacking and it was time to change that. Dusted off our packs, did an inventory of all the items we would need and got a permit to hike out of Lake Sabrina above Bishop, CA to spend a few nights at Dingleberry Lake.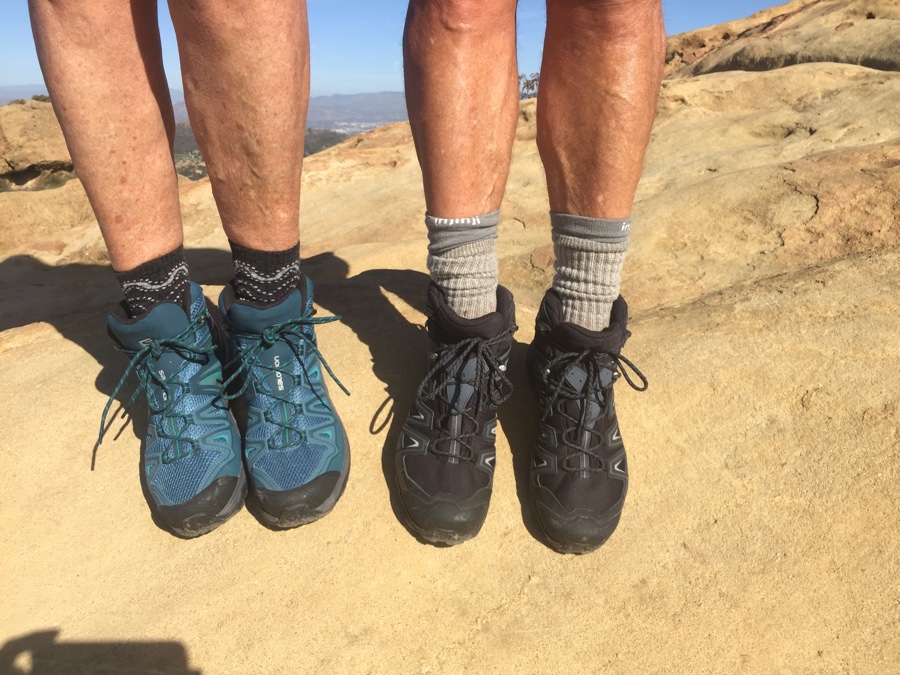 We also both recently got light weight hiking boots from Salomon, yes the ski equipment guys make a very nice boot that has a very grippy sole. Rose has a friend who has a house in Aspendell that is about 3 miles from the trailhead so we drove up on a Saturday and spent the night with her. It was brutely hot coming up Hwy 395 and the temperature hovered in the high 110's F but cooled off as we climbed up to Aspendell situated at 8400′.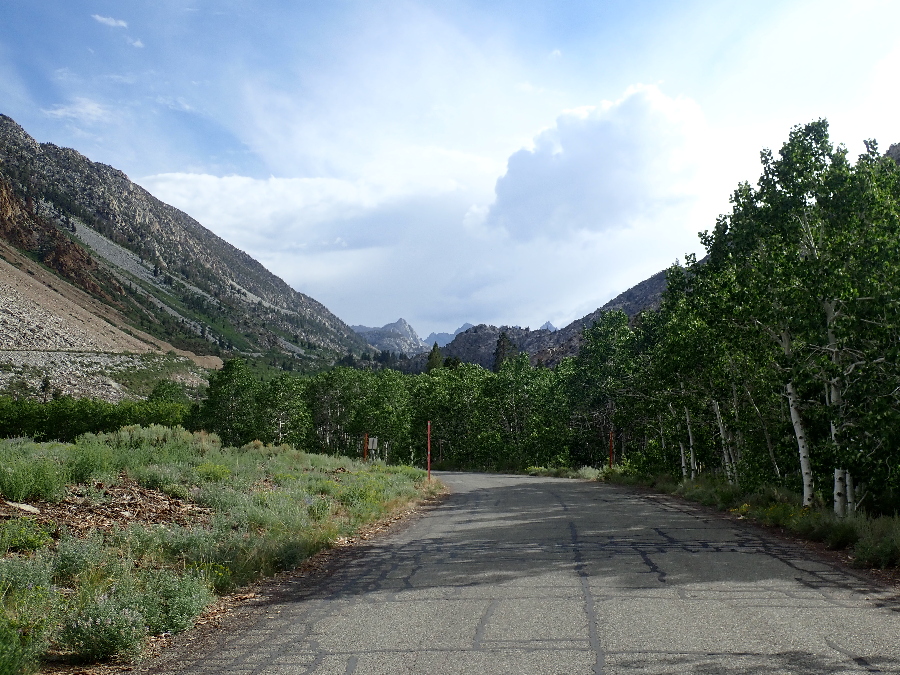 The Cardinal Resort has a cafe and a "pizza buffet" night on the weekends. There are two sittings, at 5 pm and 7 pm, you pay your entrance fee and then select from a stream of pies all very different, great fun!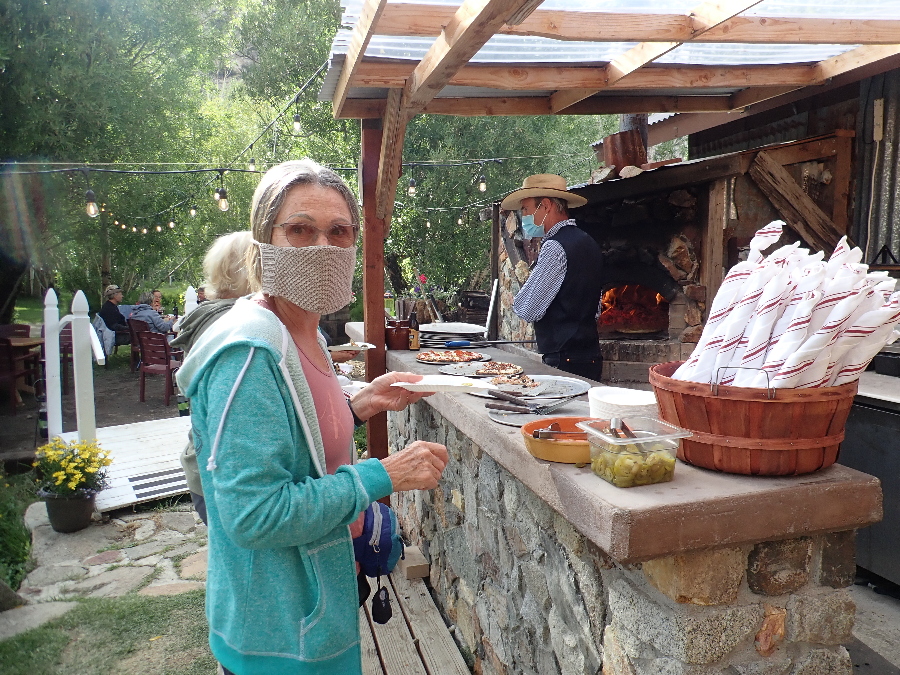 Rose, with her homemade face covering, ready to sample a few slices. Over the course of the meal we tried pulled pork, Thai, pine nut. Then just when you think you can't eat another slice they come out with desert pizzas: peaches & cream, cinnamon, powdered sugar and more.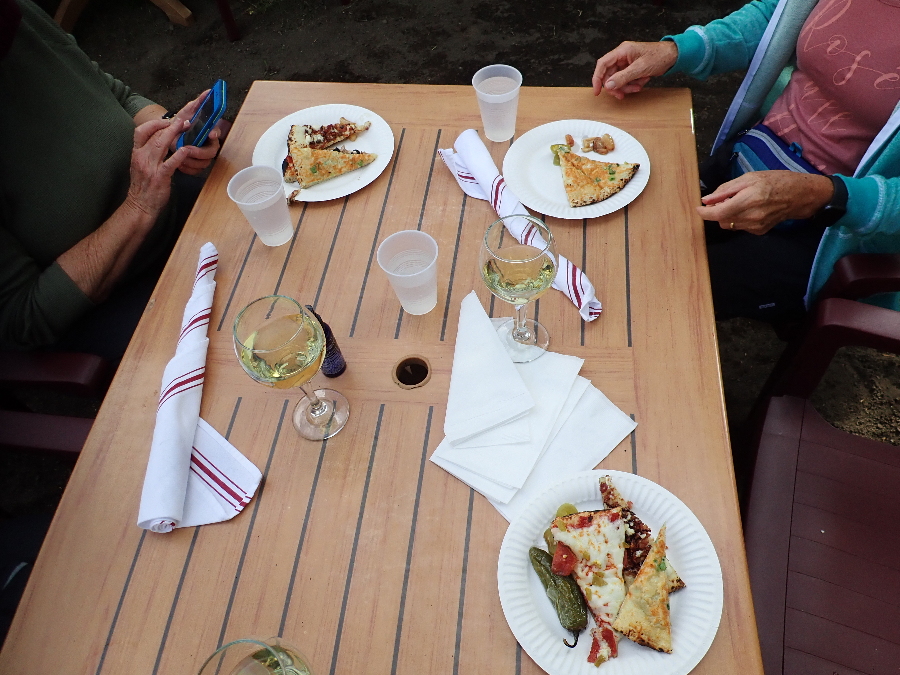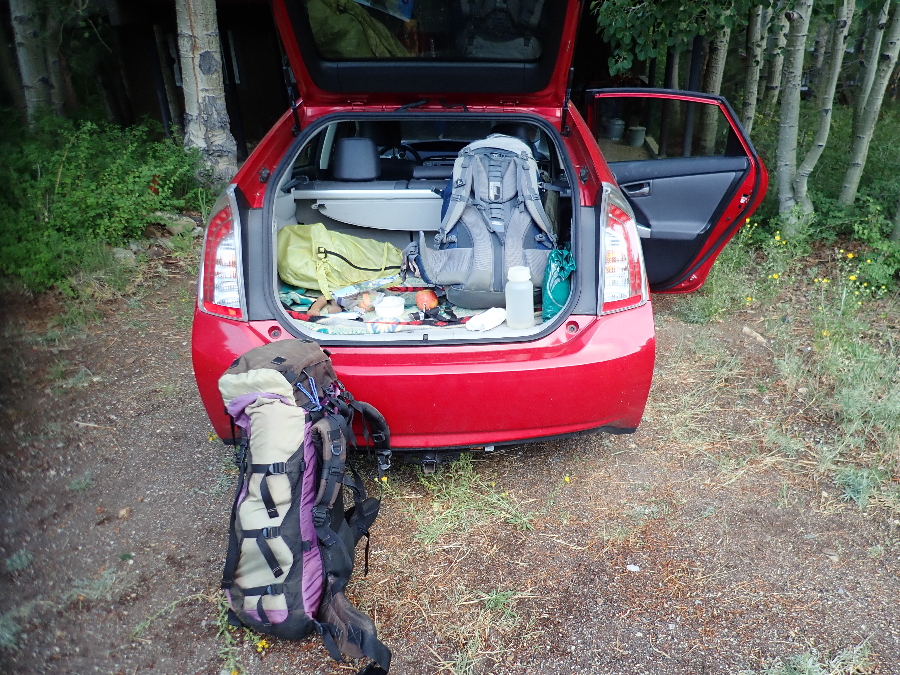 Sunday morning we get an early start and do a quick car shuttle at the trail head as all overnight parking is restricted to about a mile from the trail. 7:30 am and we work into our pace as we follow the trail alongside the lake.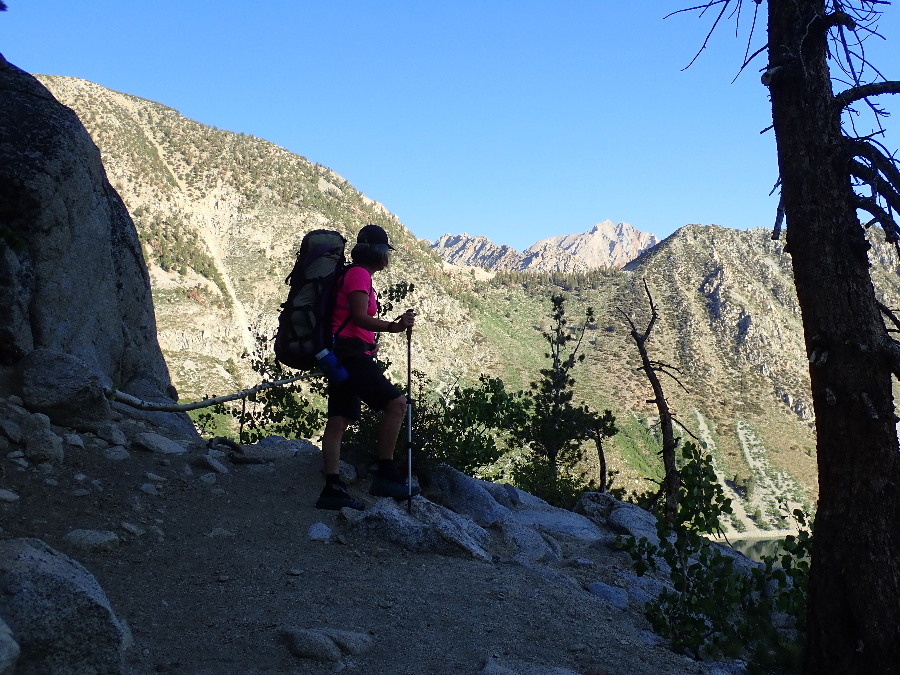 After 2 hours we reach Blue Lake and a choice of trails: Straight on takes you to Donkey lake and we opt to turn off and head over to Dingleberry Lake about another hour of  trail. We see one other group at the lake and pick our own spot with a view of the water. Yachting, RV'ing and backpacking all have one thing in common: After you have selected your spot and made it yours, you sit back and watch as subsequent groups come in and decide where they should spend the night, always fearful that someone will plant themselves right in "your space" and become a thorn for the duration. Luckily none of that but around 3 pm the cumulus clouds finally produced thunder, lightening and plenty of rain. We huddled in the tent which held it at bay for 2 hours but then started to drip-drip on the inside and runoff started to seep under the groundsheet. Around 6:30'ish it abated and I got out to fire up the stove for an abbreviated meal of soup and hot chocolate. Tossed and turned during the night but stayed dry inside the wet tent.
Before making the decision to pack up and get "rained out" we headed further up the trail to see what Hungry Packer Lake looked like.
Hiking poles certainly helped us balance over the river crossings and Rose quickly learned how to fly over the rocks.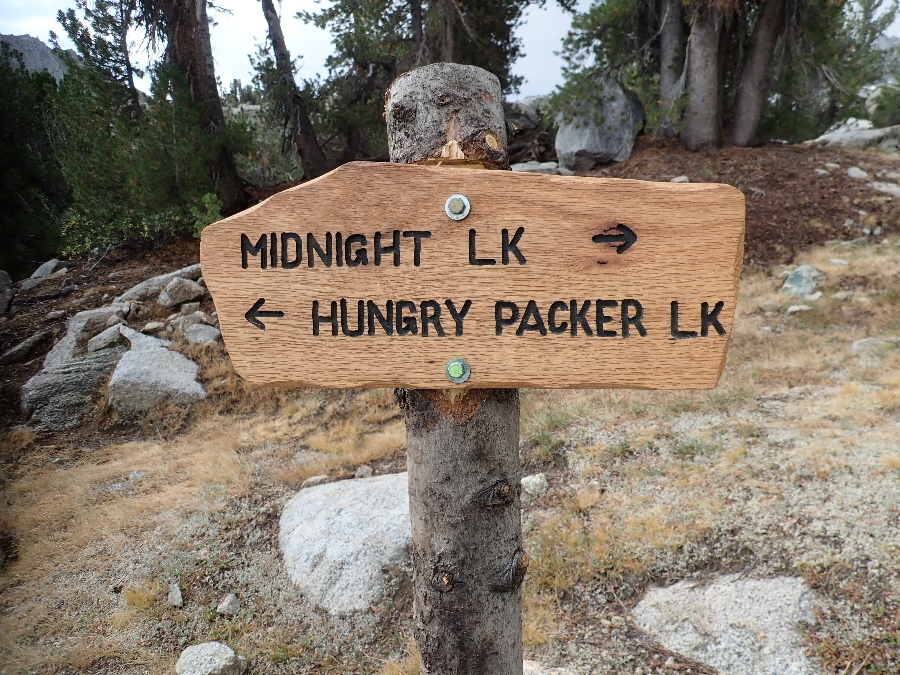 Dingleberry was at 10,500′ and our trail slowly crept up to 11,000′ which also crossed into the Alpine zone as the trees diminished. I love this more open terrain, still with grassy meadows, but more space as the trees recede.
I'm told the peak behind the lake is unofficially named Picture Peak with more prominent Mts Haeckel and Wallace hiding behind on the east-west Sierra watershed.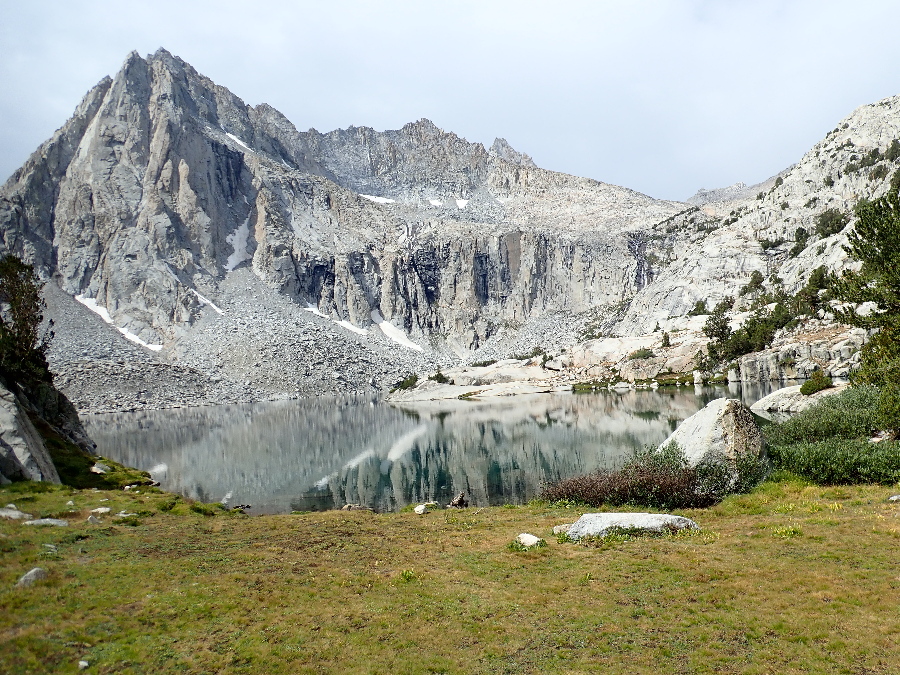 Scamper back to our camp as I though that if we could get out of there before noon we might escape the next rainstorm. Halfway to Blue lake the heavens start to spit and we stop to put on anoraks. No point in stopping now, the die is cast as we pass others huddled under dripping trees. Once past Blue the trail drops and we leave most of the wetness behind as we head for our car and a late drive home down Hwy 395.