Checked into the RV park in Bluff to cleanup and fill up with water for the next few days in the bush. Rose found a restaurant across the road, Comb Ridge Eat & Drink, so she had fish & chips and I had The Korean Cubano sandwich – always good to shake it up a bit.
Next day was a fun day. My RV buddy Mark had given me a location that he frequents up on Comb Ridge off Hwy 95. Google says the turnoff is on 228 which I overshoot and have to comeback to. I know the location is 5 miles from 95 and am happy that the first section is paved. Turn left, still on 228, and start climbing the dirt up into the hills keeping a sharp lookout for the rough sections and minimizing the rattling of cutlery behind me. Sure enough we crest after 5 miles and there is a rough little trail to our right. Decide to walk it first and quickly find out that the first site is occupied but find another a few 100 yards further on. Walk back and give a shout-out to our neighbors. He tells me he is a local from Blanding and this is his favorite camping spot. Quite happy to let us be his neighbor.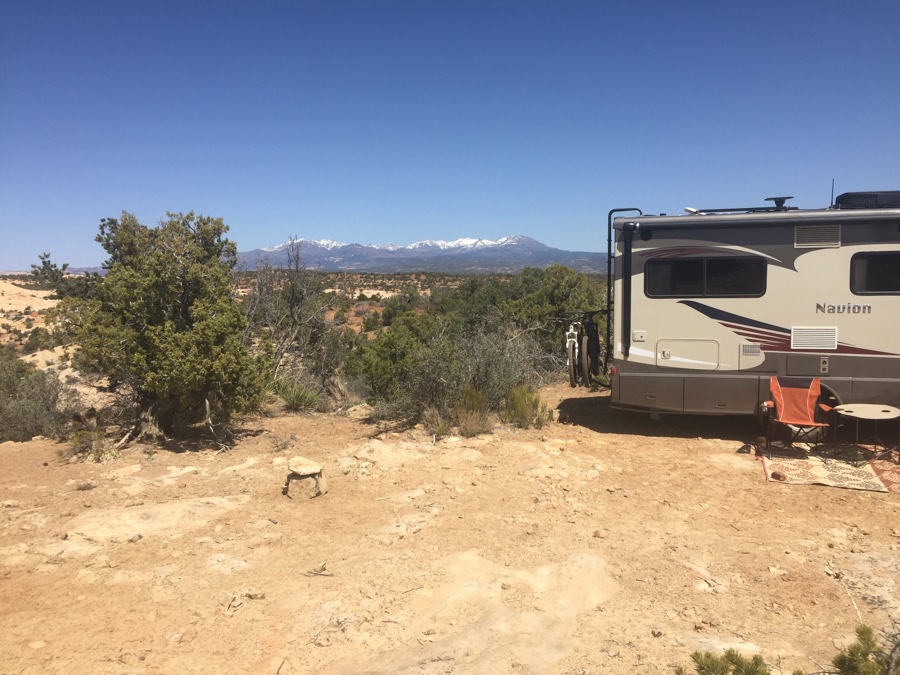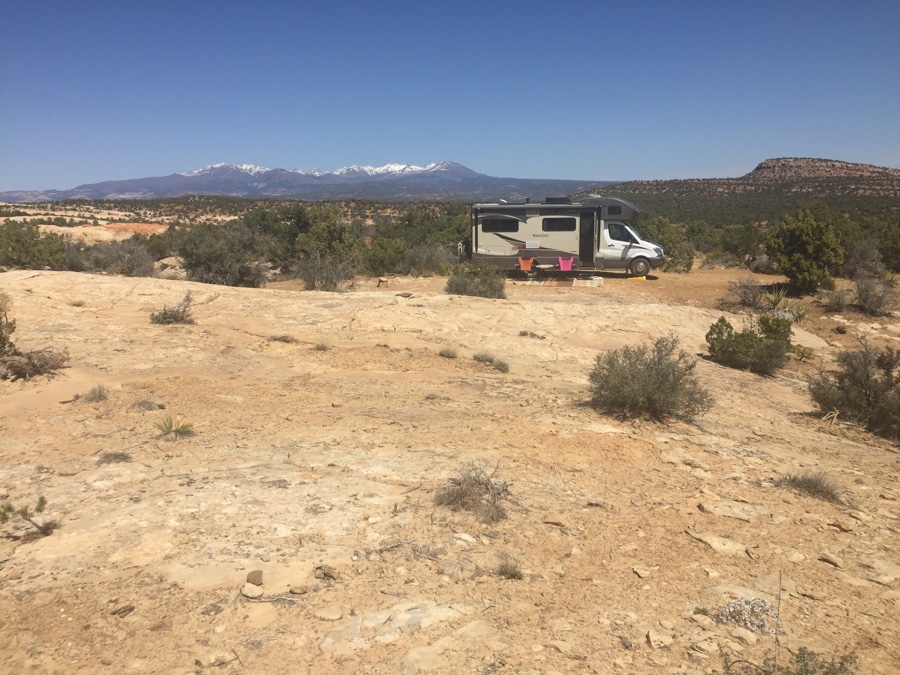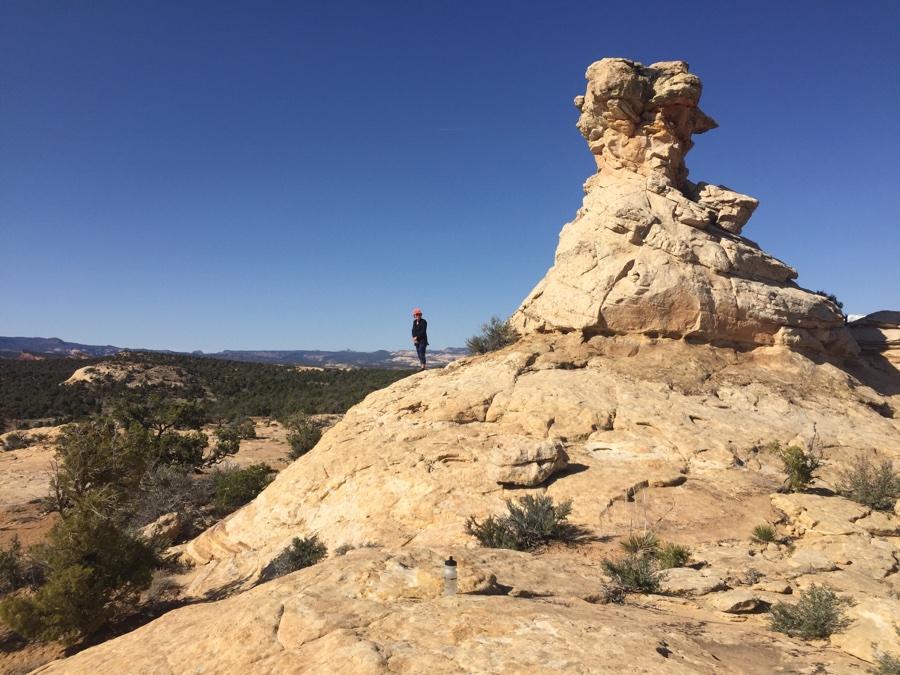 Perched on a ridge and just managed to get level up on the third position of our levelers. Do a short hike along the ridge to get the feel of our new home for 4 nights. Wind picks up and drives us inside and then proceeds to rock the RV with each rhythmic gust. Still blowing, cold, in the morning and by lunchtime we don wind jackets and venture out for a hike.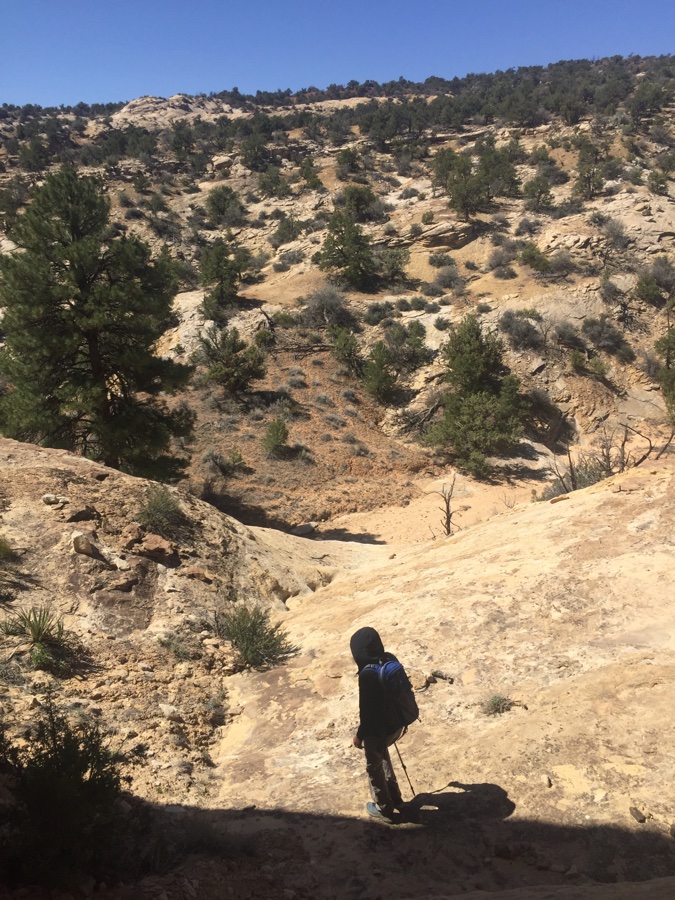 There is a canyon nearby that ends in a "header" or "pour over" as is locally known. We take a longer route down the road a bit and then pick a ridge down into the wash floor. Start walking back to the pour over and scour the canyon walls for any signs of ancient civilization. Up near the end is a known site and it's always fascinating to marvel that though the human inhabitants have moved on parts of their structures live on 700 odd years later.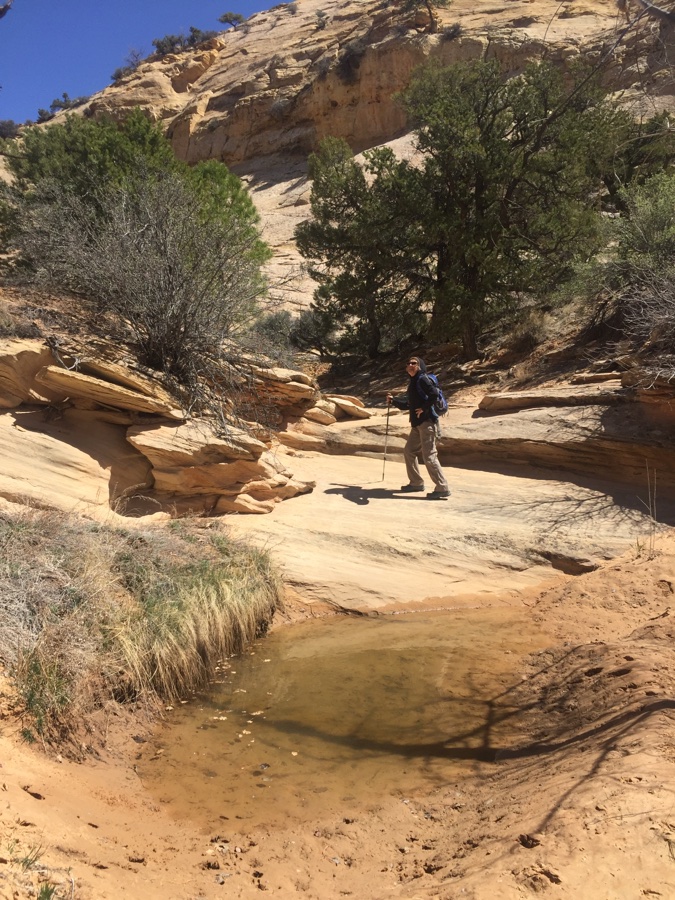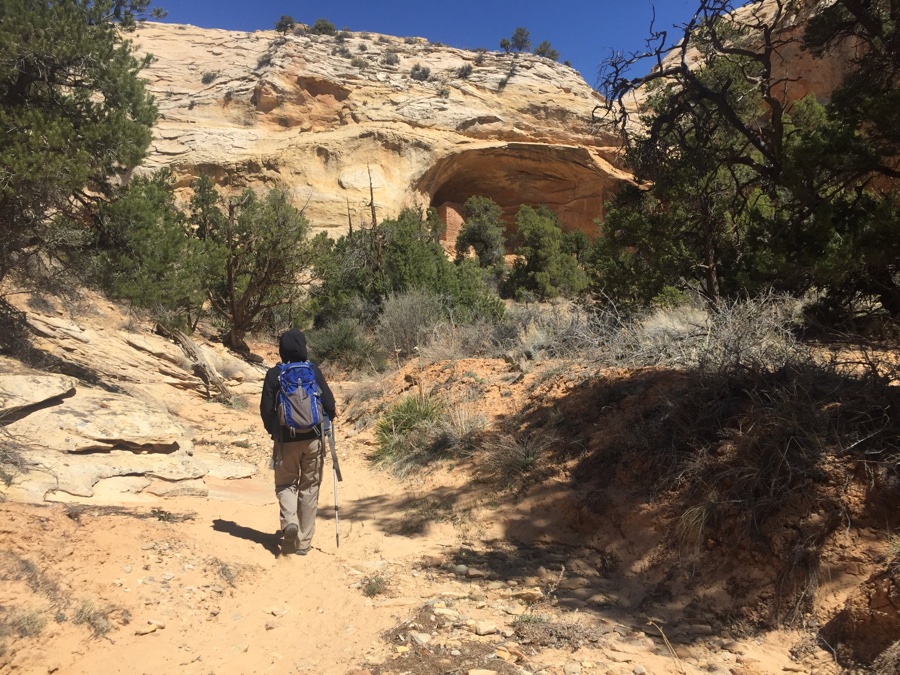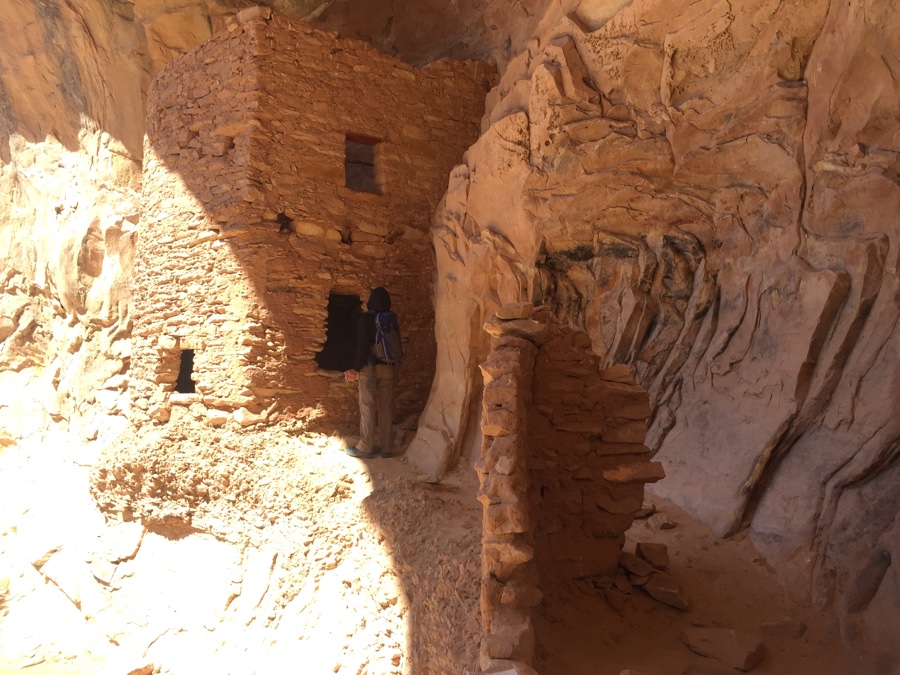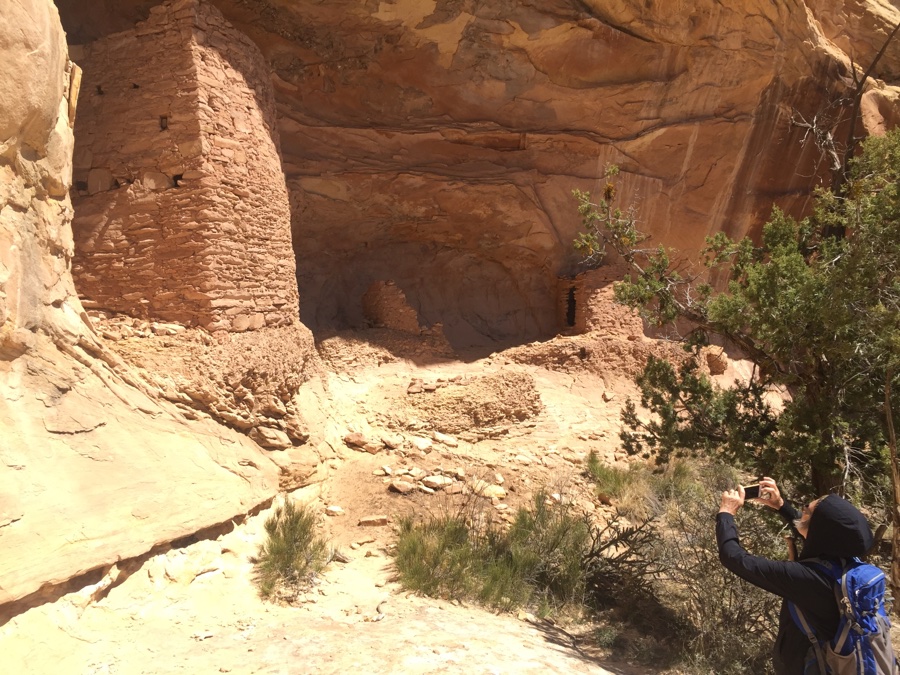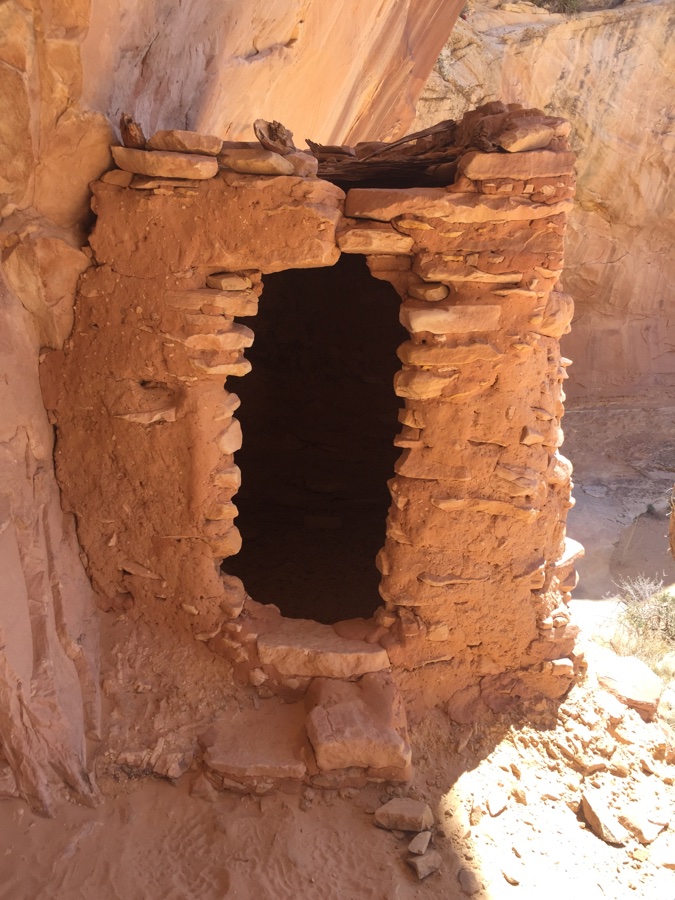 Another pair of hikers happen down and we nose around the cliffs on the sides. The "quick" way out is up a ridge line but we start exploring up a dry slick rock wash wondering if it will cliff out forcing our return and up & out the easy way. Some stagnant pools and tricky slick rock foot work make for a successful exit but I would not want to venture down it for the fist time.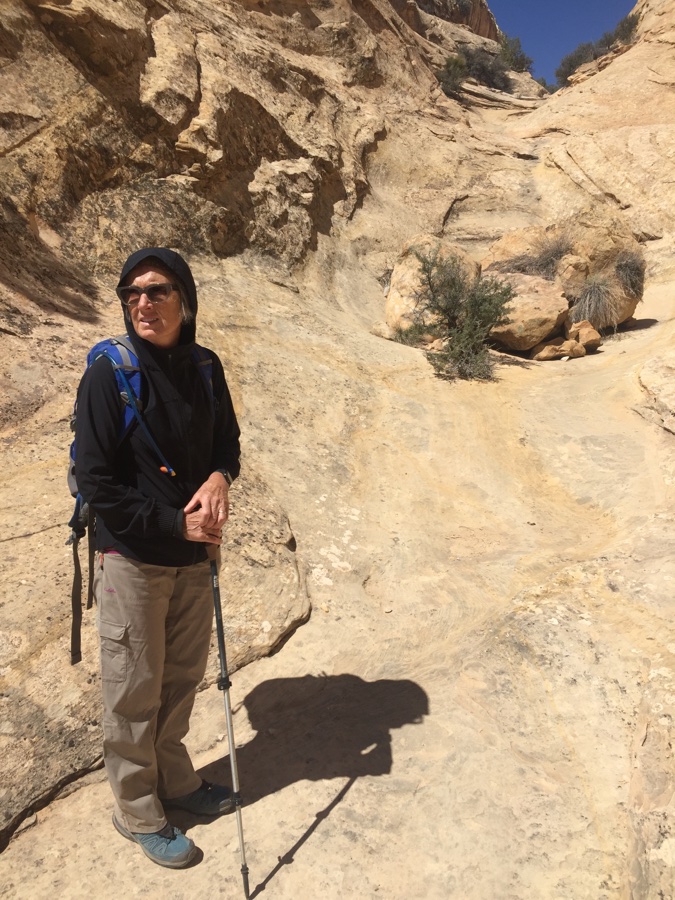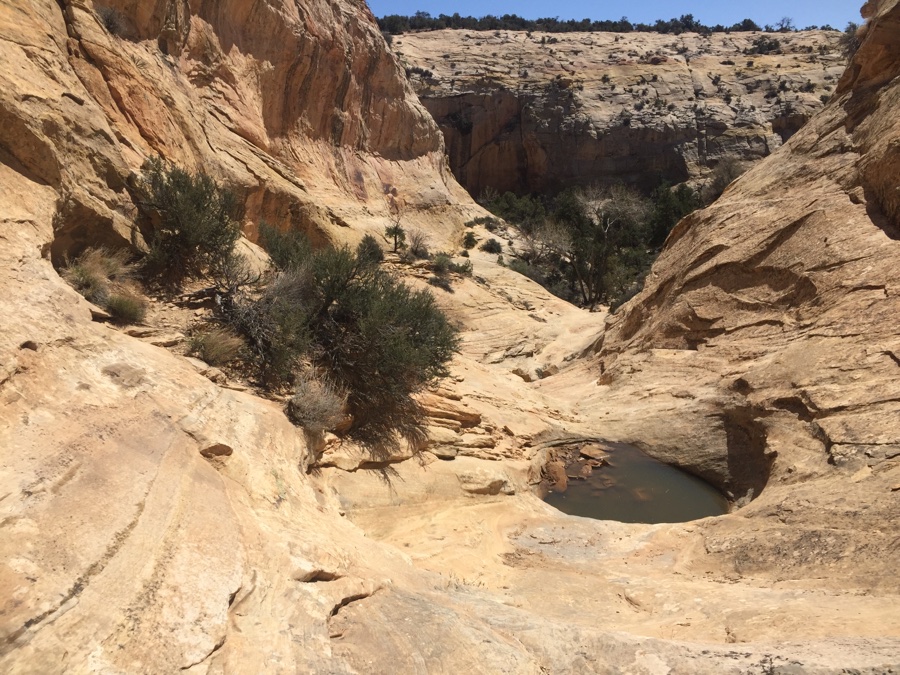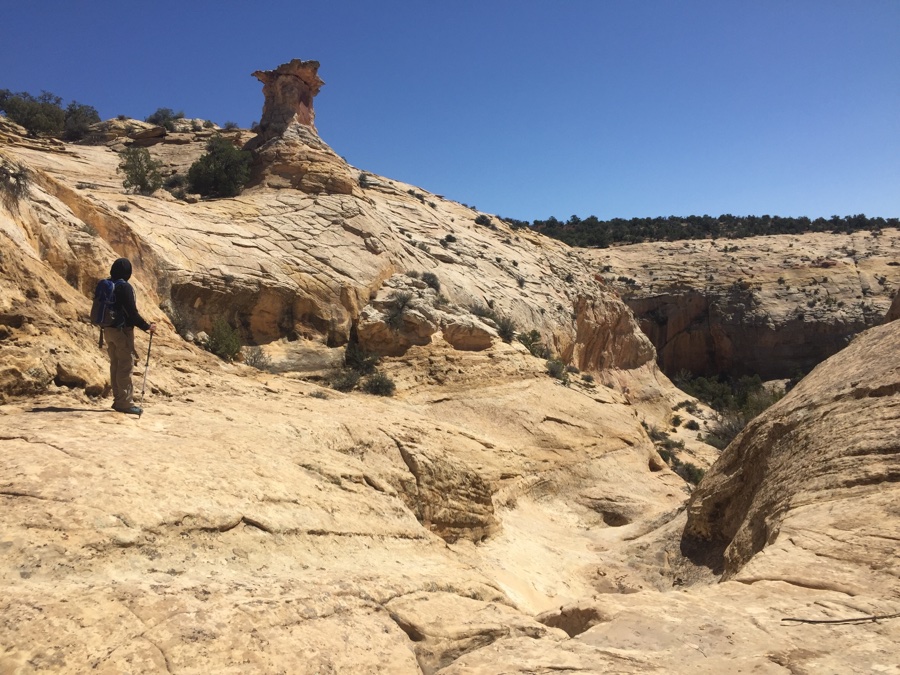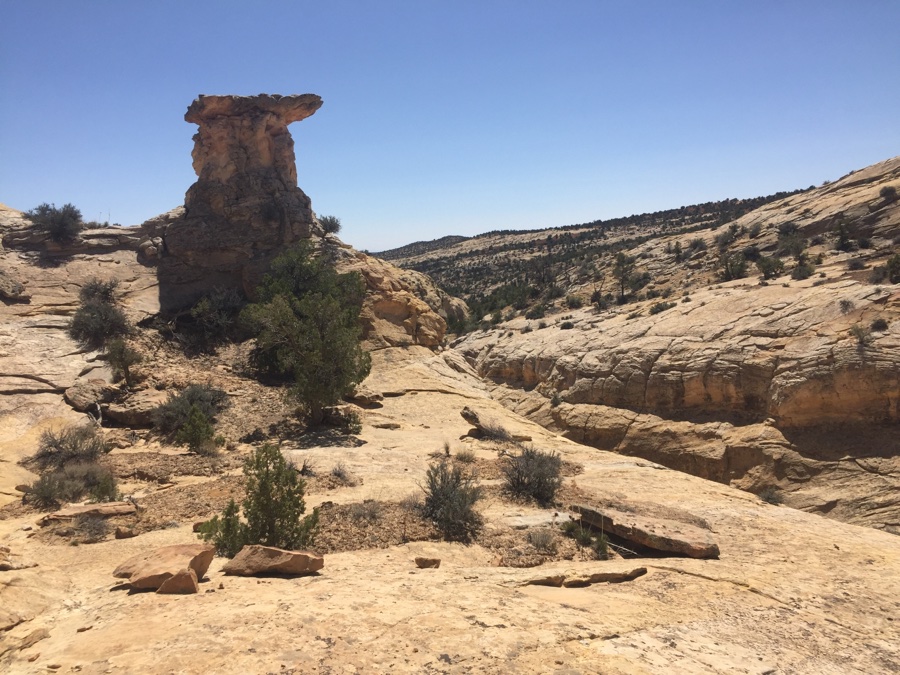 Next day the wind has died down and we plan a more further afield hike. Mark had sent me an image with a route and a pin drop for some more archeological sites and so off we go. In my mind we were to follow a road for a while, turn left and drop into a canyon and find the site, hike out the other side and head back till some point when we turn left again and meetup with our original road and back to camp. 
Even though its after 10 am it feels cool and the road which has been swept by the wind is full of footprints that have mysteriously appeared during the night.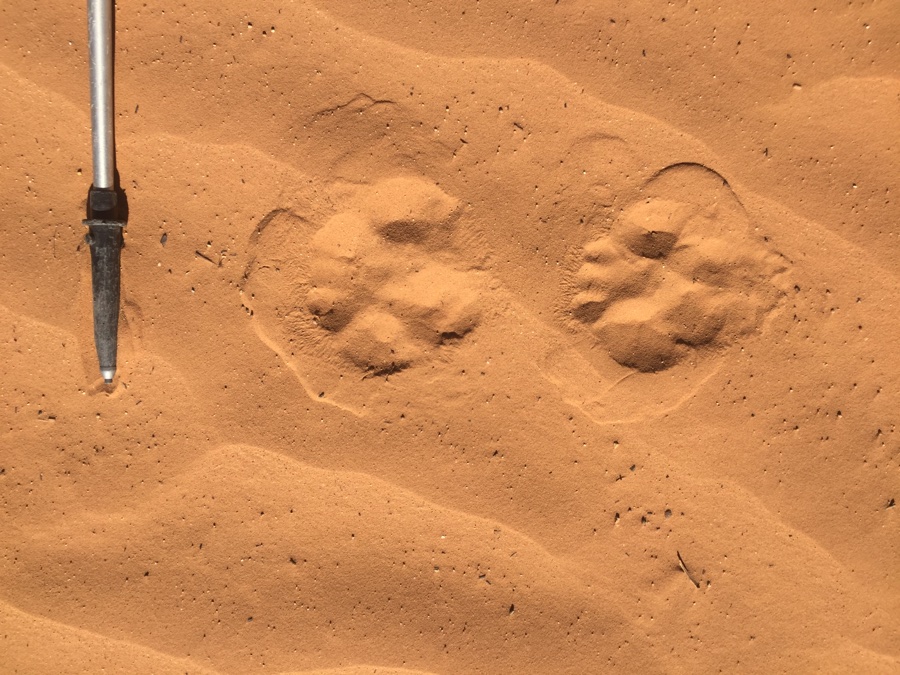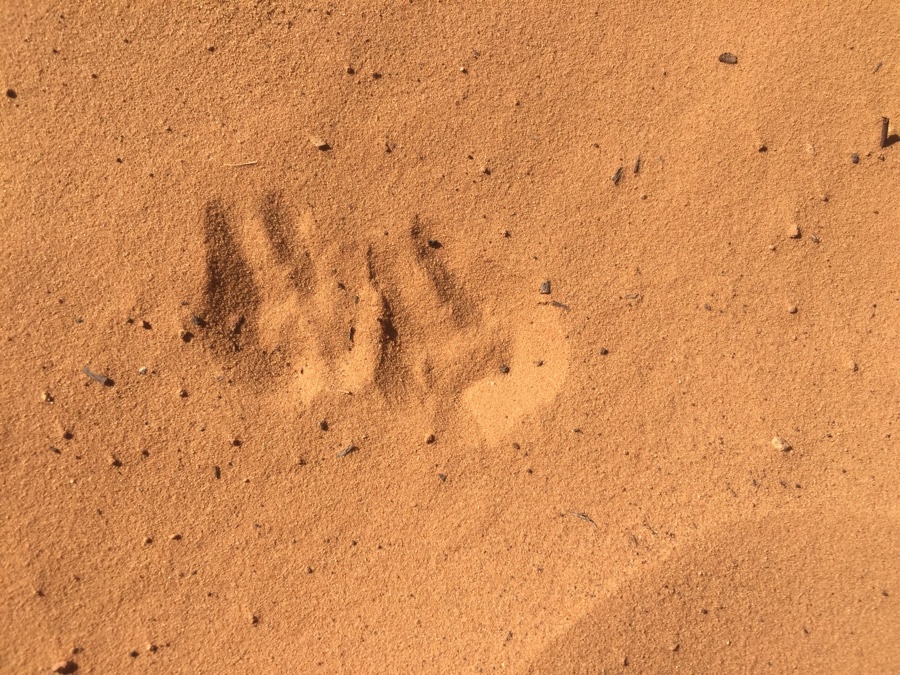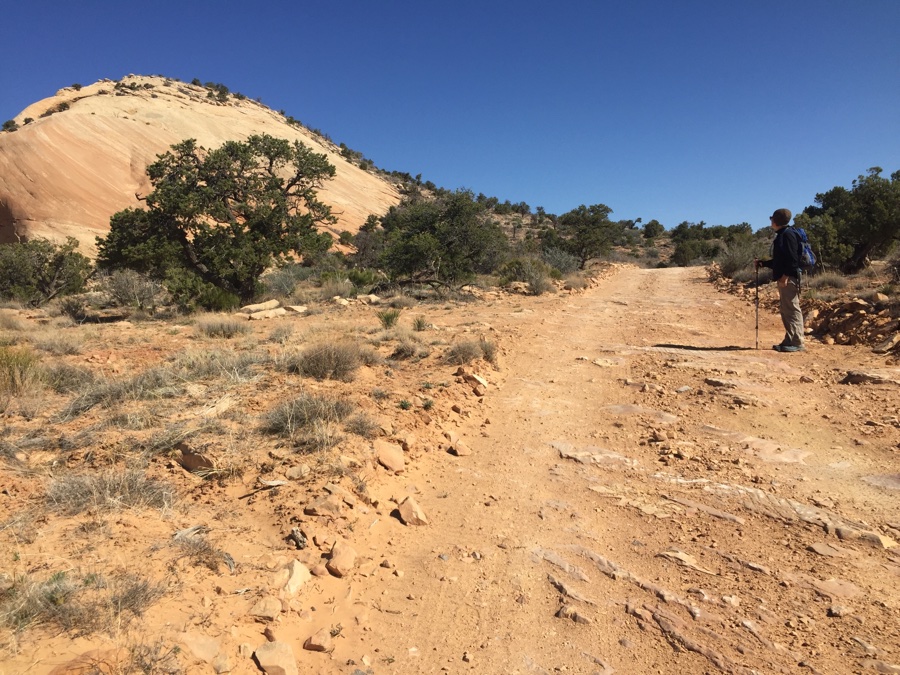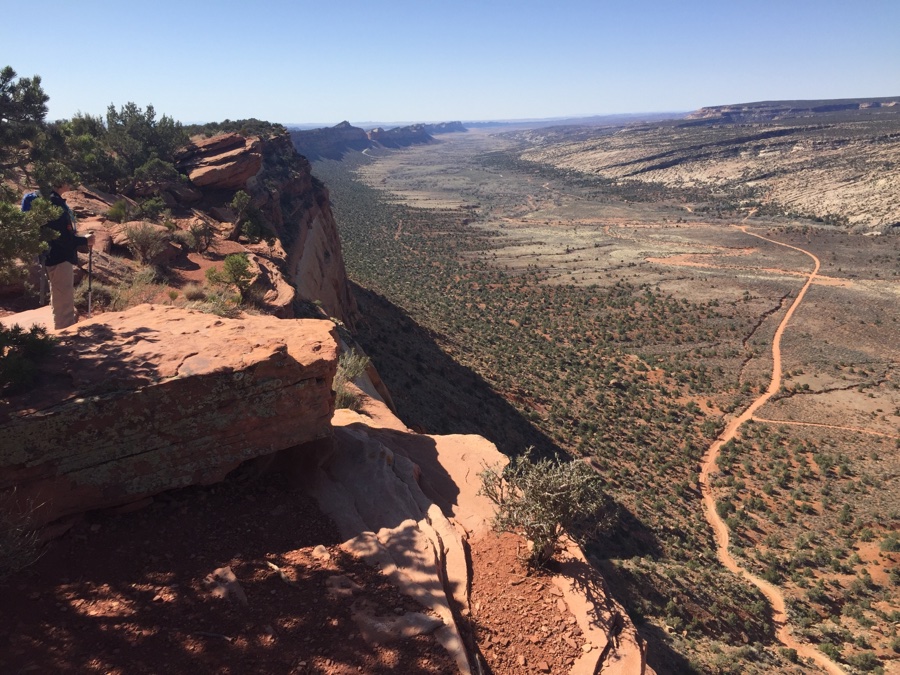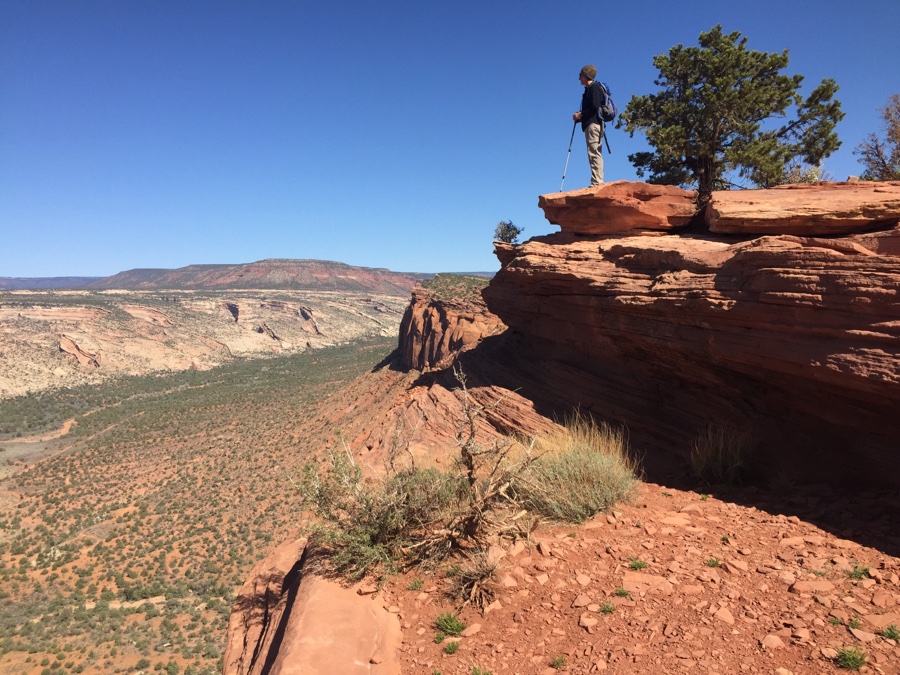 Find a ATV trail, I would call a "jeeptrack" but Google does not think that is a common term so ATV it is. It is near where I expect to come back onto the road so it is reassuring that there is a return trail for at least part of the way. Stay on the road and find another ATV trail where I think I need to turn left into the canyon. After a while it turns away from where I think we need to go so I go left where ther are only cattle trails. I am now off my planned route but we putz around looking for clues to our intended destination. Finally we simply go down to the floor and see  what is there.
Couldn't have been luckier, spot on, and around the corner this suspended cliff dwelling comes into view. It's position up in the sunlit cliff face is magnificent and whatever else you look at, your eyes are drawn back to this wonderful view.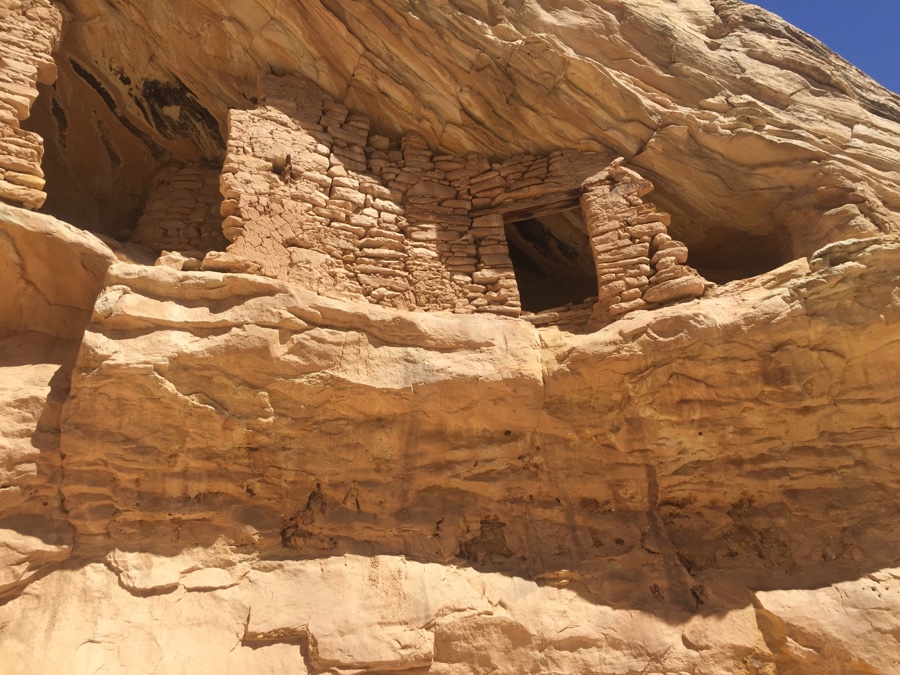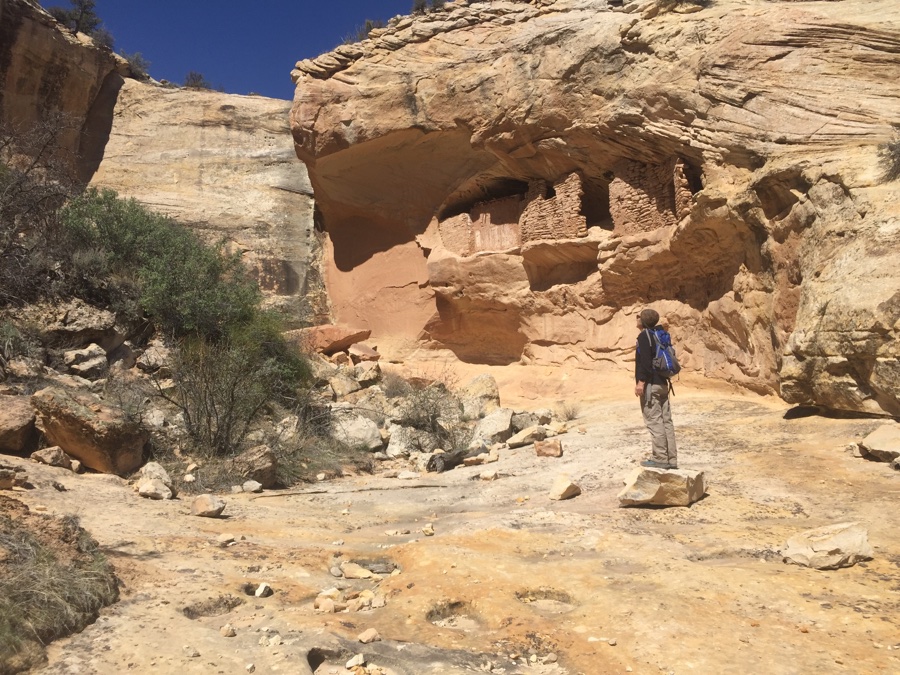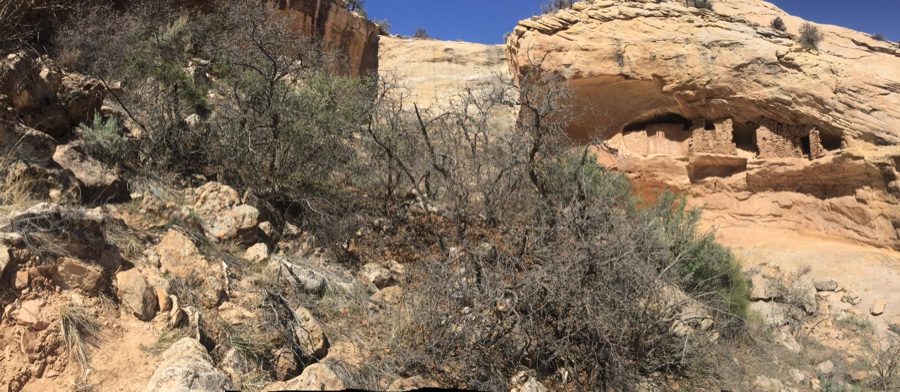 No one else around as we bask in the glory and have some lunch, then it's time for the return journey. We are on the wrong ridge as I survey where we want to be in order to hike up the "other" side of the canyon. Down into a glen of maybe Cottonwood trees and we walk "out" of the canyon waiting till the ridge slopes sufficiently for us to climb out.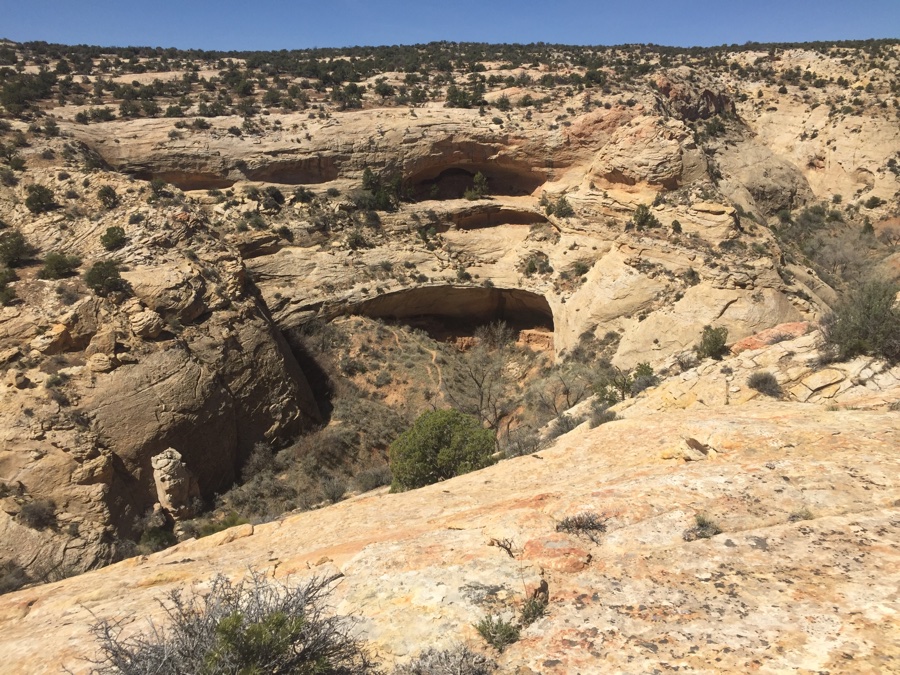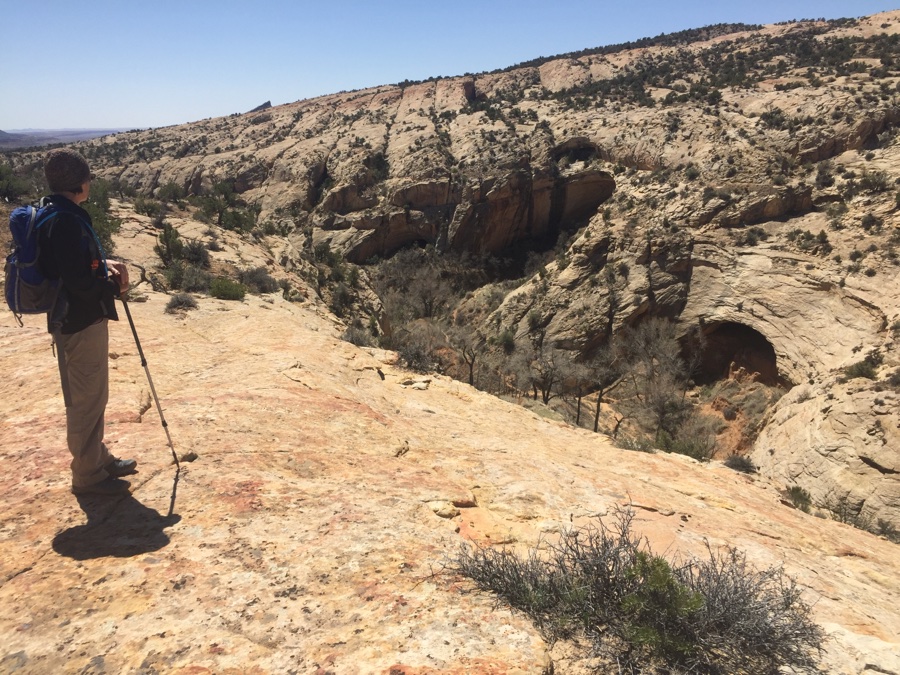 Only my Garmin GPS shows a track about a mile away that will take us back to the road. Head in that general direction and gaze at the canyon now on our left. I'm pretty sure you can't easily get out of it but it sure would be fun to have more time and explore its hidden treasures. Rose spots an ATV trail going in our direction and it turns out to be the same one my GPS says is out there. Meet a guy on a mountain bike who was not keen to stop & talk just before our trail turns left towards where we want to go. Meetup with our main dirt road and we know we are on the way home as we trudge back to our perched RV.