We pulled out of Venice at 9am on a Sunday morning and headed up I-15 to Nevada and then Utah. An hour out at the 215 and 15 intersection an accident where a class A motorhome had rear ended a car – a sobering thought as we crawled by and headed up the Cajon Pass.
Making good time as we pass thru Las Vegas only to be greeted by highway signs saying there is an accident ahead and the freeway is CLOSED. Really? Rose checks Google which reaffirms the accident and a 30 minute delay. Shows no alternative routes so we soldier on. More Google updates and still the same 30 minute odd delay. Does that mean that the road is open and traffic is getting through? Cars are whizzing past us either ignoring the signage or know something we don't.
There is a long detour through Valley of Fire but we're not sure where the closure is and if it will get us around it. Still want to believe Google but only have a 51% confidence as we pass the last chance at detouring via the Valley. Bad decision. 3 miles south of Glendale the traffic comes to a dead halt, not a slowing, a HALT with people walking all over the place to stretch their legs and see whats going on.
Every now and then we inch forward a 100 yards or so and stop again, like a teaser to keep you optimistic about actually getting through. By now we have lost all faith in Google and have resigned ourselves to the Highway Gods with eyes glued ahead for any signs of movement. Some cars cross the median on a gravel cut thru and head back towards Las Vegas but even if I wanted to I would not chance getting the 11,000 lb RV stuck in such an embarrassing maneuver.
It was around 4pm that we came to a stop and once the sun set it was no longer fun. At 9pm we had crawled 2 miles and could see the crash site on the hill outside Glendale. Two cars coming south had had an encounter, roadrage?, and one lost control, crossed the median and took out a Mini Cooper traveling north killing it's driver. So unnecessary and sad.
Both lanes were opened at 10'ish as we crawl past all the emergency vehicles and finally get to our night stop at Mesquite 30 miles away.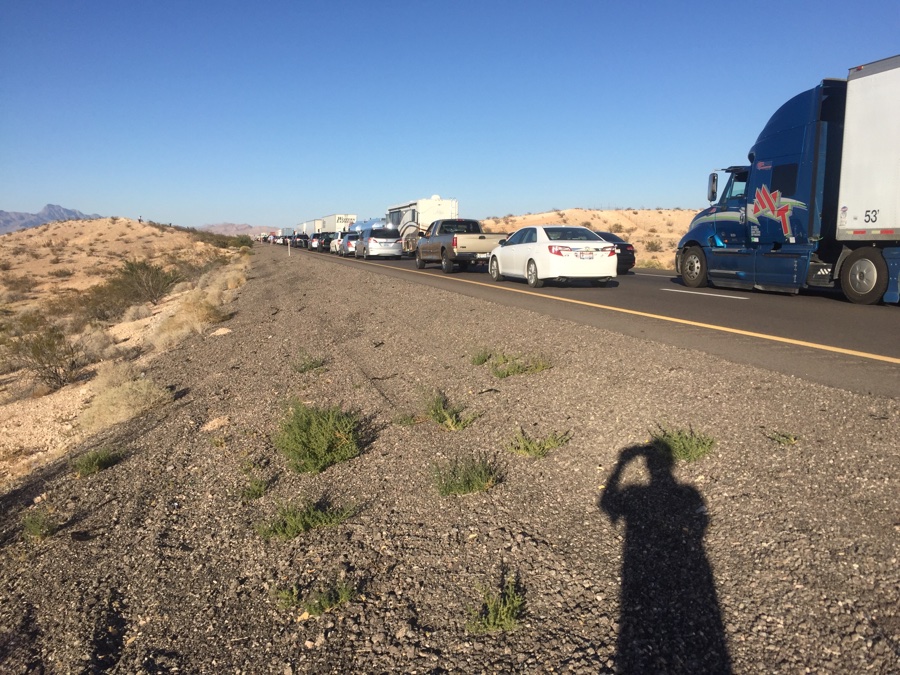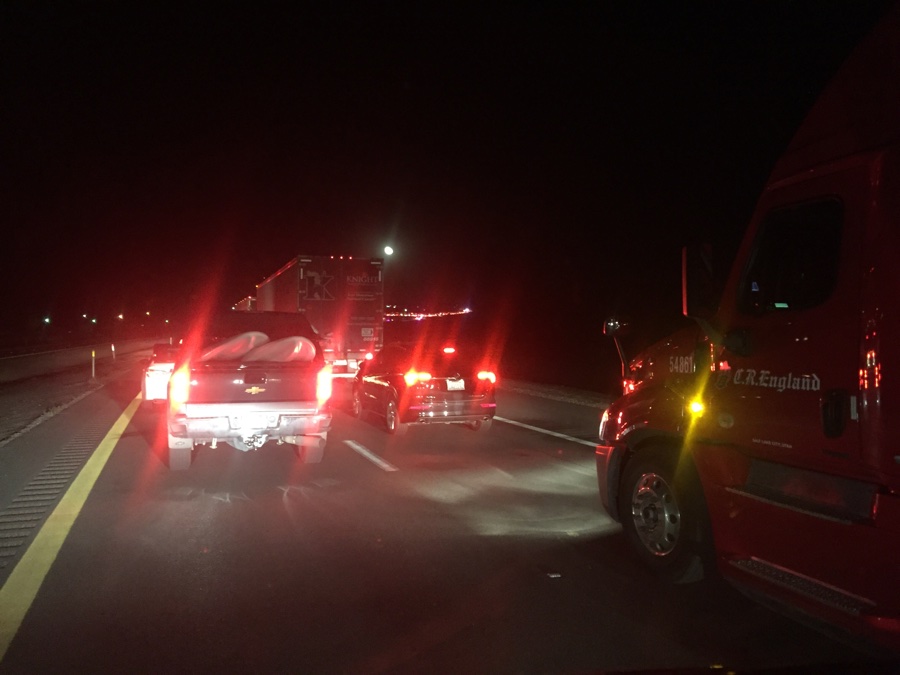 If that  wasn't enough the next day climbing out of St George we see a trailer on it's side in the southbound lanes decimated. Found out later the pickup hauling it had lost control, there were high winds at the time, and the driver was ejected and killed. Maybe if he'd had his seat belt buckled it would have saved him?
Pardon the sobering thoughts but it was unusual to have so much of it in such a short period of time. We are headed for Escalante and hopefully 3 days of peaceful hiking in the area.