Tuesday the 8th of September and it's time to leave Paris for Ireland. Train to Cherbourg is at 12:10 pm so we enjoy our included breakfast and fill up for the road. One stop for the usual wine/baguette/cheese padkos and we venture inside Gare St Lazare to find our train. All the boards & departure monitors show plenty of trains but not our Inter City #3307 departing at 12:10. Walk around, ask a few people but nothing connects. It is now 11:45 and I stumble upon an Information counter that does not have a queue a mile long. "No platform yet but go and wait at #24" which happens to be at the other end of the hall. Trundle down there and find a board which has our train displayed, no "voie" yet, and a growing bunch of travelers in front of it. Guess the French SNCF is different from the decisive Swiss, and they just keep you waiting till the last moment.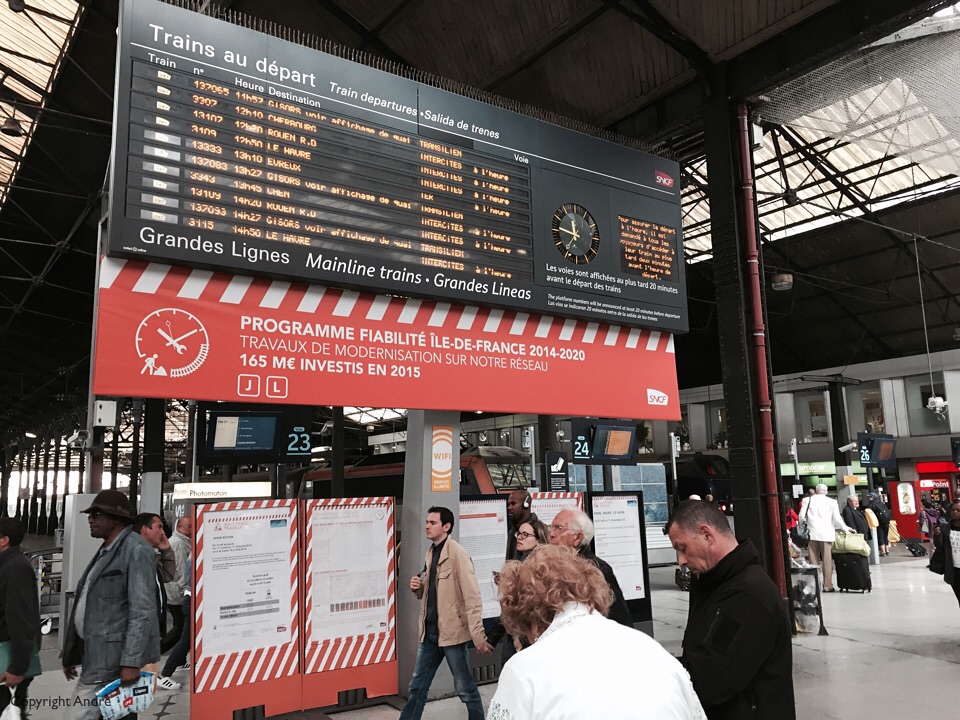 Around 10 minutes before departure the platform #23 pops up and the horde of passengers start walking down the platform looking for their carriage number, we are number 14 and have side by side seats 11 & 13 reserved. About 5 coaches down, we're walking from the end of the train as Lizare is an "in & out" station and not a "through" type configuration, we find ours, get on and stow our suitcases in some racks. Sit down and start to relax for the 3 odd hour ride. 12:10 comes & goes and so do some announcements in French, sounds like they're confirming the train we're on but I can't work out any more. 15 minutes late we pull out and slowly wind our way through Paris suburbia for another 20 minutes before picking up speed for a regular type train, this ain't no TGV 300 Km/hr machine. There is a 1 hr 30 minute connection in Cherbourg to the ferry so as of now we have no need to worry.
Pull into Cherbourg 15 minutes late, at lease consistent with the departure time, and head outside. No hordes of people heading for the ferry so I stand at the deserted taxi rank while Rose goes back in to look for "Information".  "They don't speak English but it's only a 25 minute walk" she says clutching a one page road map of the city. I was a bit wary of trying to walk to the ferry but we set off anyway. Halfway there we do a map check and ask if we're on the right track, "No, go back and follow the car signs" a friendly man says. The road does a big loop and we finally find a gate through the fence and over to where some cars are queuing. I start to follow the line of cars expecting to literately walk to the ferry's gangplank. "No, follow the crosswalk over to that terminal building" Rose says and I dutifully comply. Sure enough it's the terminal for foot passengers and we checkin at the Irish Ferries counter. Checks our passports and gives us two cabin keys and a boarding pass for the two of us. "At 5 pm a bus will take you to the ferry". OK, we have 30 minutes to kill and look for a bar. Two drafts and a final French cheese plate relaxes me and wait for instructions.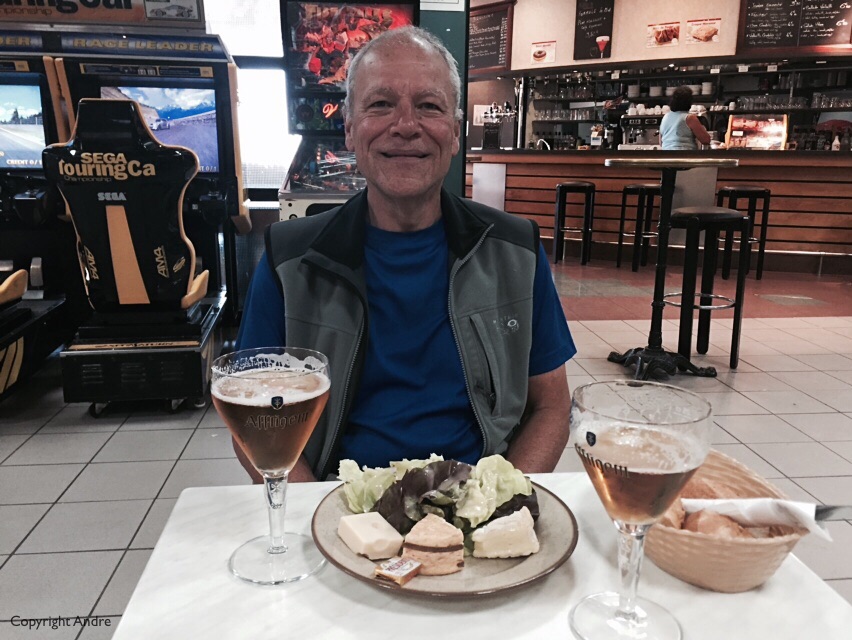 At 5:10 we're herded into a departure room and we survey our fellow foot passengers. There are two young German girls with backpacks and an air of confidence about them. "Barefoot Guy" really stands out; think he's French because he talks to the Girls in English indicating a difference in mother tongue. Somewhere in his 20's with a disheveled look and, yes, barefoot with no sign of footwear about him. Amused we keep an eye on him and board the bus for the ride out.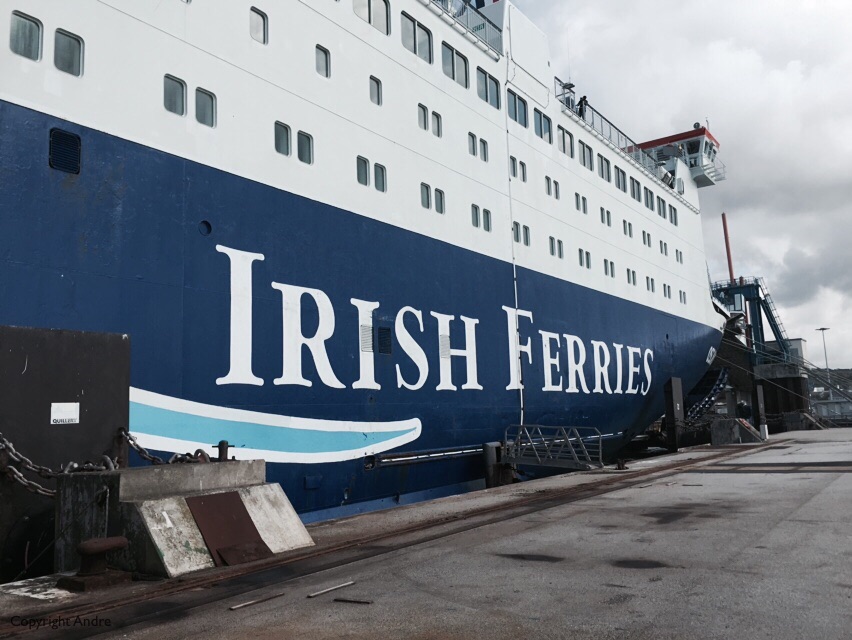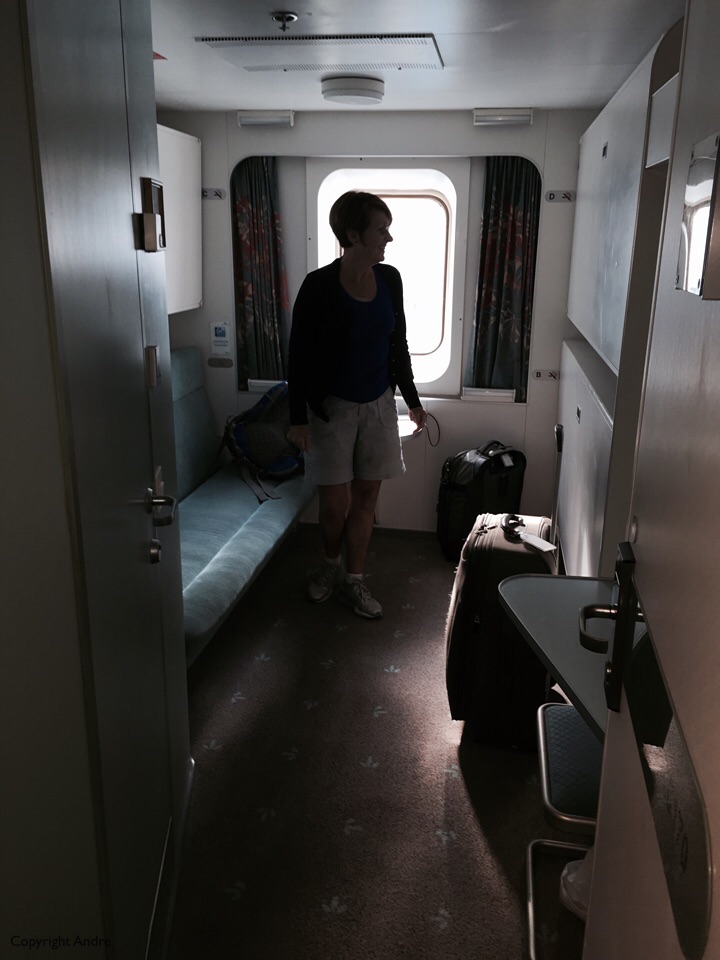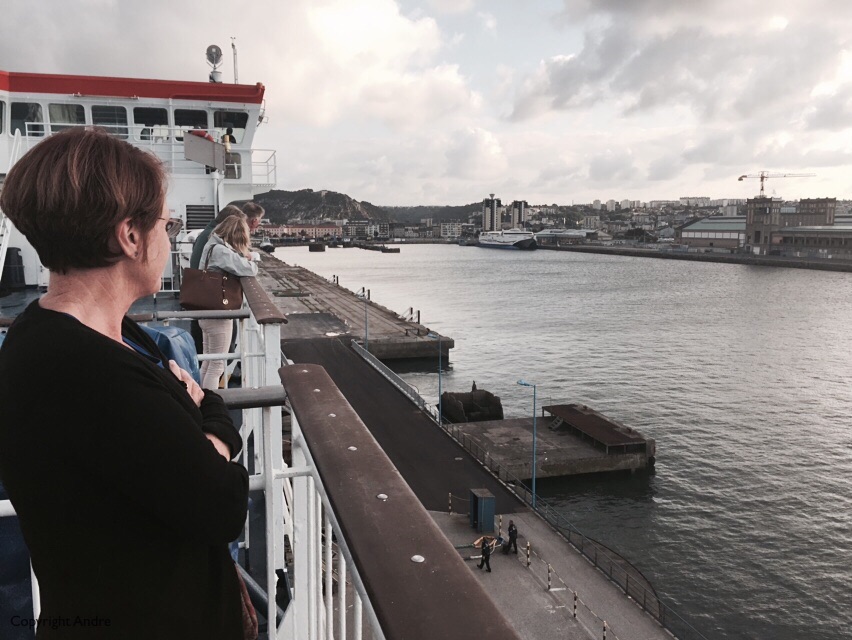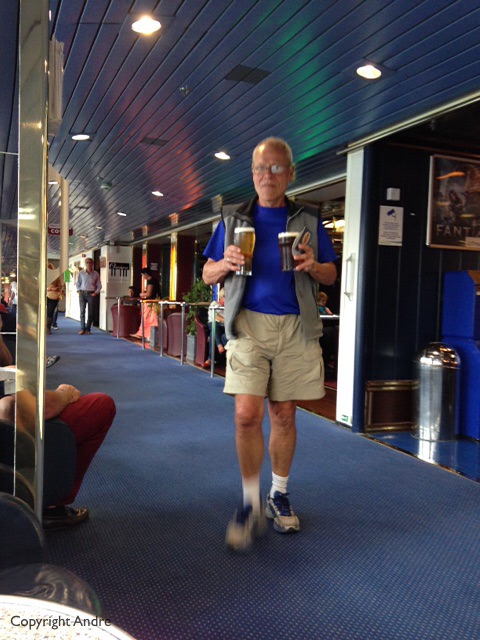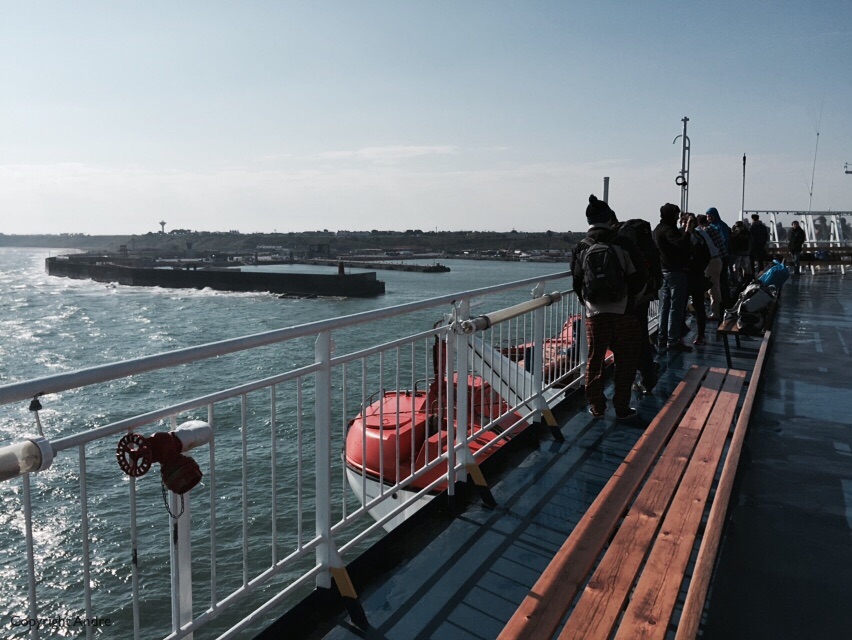 An hour before disembarking they kicked us out of the cabins and started cleaning them for the return trip. The foot passengers, all 14 of us, waited at the information on deck 5 and after the first load of cars had driven off they took us down to one of the car decks and shuttled us off in a bus. Our driver is a big Irish fella who, even if you understood English, was a challenge to understand as he loaded our bags and got us inside.  All the cars are queuing for immigration & customs and we pull up along side them. An official comes in and wants to see passports. We're seated in the front and show our passports which he casually looks at. We hear him asking other foreign holders the usual "why are you here" and "for how long". Then he gets out and takes one of the passengers with him and tells the driver: "You go, I'll bring him over myself". OK no big deal but the fun starts when the driver pulls up the "train station" which looks more like a disused siding to me but as the train passengers get off one slightly scruffy chap who does not speak English so well and certainly does not seem to understand our driver, tries to get off muttering that his friend, the one immigration has, has his phone and he wants to go and get it. Since he & the driver have problems communicating the driver almost pushes him back on the bus and tells him to "Sit Down". He sits near us and and a number of us reiterate the drivers instructions and persuade him all will be OK. He is allowed off at the terminal building with the rest of us and as Mike & Rachael drive us out we see the two of them on a bench near the road as well as barefoot guy who has a half made sign with "KERRY" written on it – Good Luck to them all.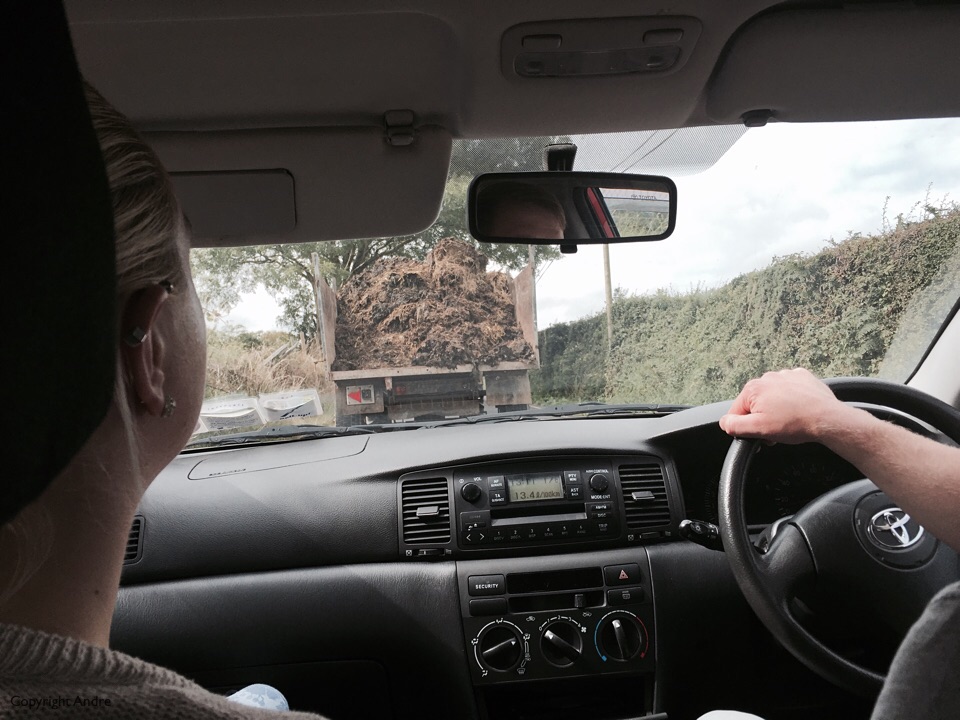 We were in gratitude to Mike & Rachael for coming to pick us up and take us over to Ballykillaboy where we were staying.